Things looked bleak for the Manheim Township School District in 2011.
The school board warned of a looming $4 million-plus budget deficit, then voted to cut spending on programs, freeze teacher pay, and raise property taxes.
The moves were drastic but necessary because of the weak economy and federal and state funding cuts, school board members said at the time.
"It's going to affect programs, it's going to affect staffing, it's going to affect everything, pretty much," one board member said before the decision. "We're trimming down to the basics, but we're also reducing some of the things we offer that make kids want to come to school, and that's going to affect achievement."
After all the talk of doom and gloom, the district ended the year with money to spare — $3 million to spare, to be exact.
The pattern has repeated itself in Manheim Township every year since: Officials project substantial deficits, raise taxes on property owners, and hold off on restoring program and staffing cuts.
The result: The district has been building up its reserves.
It had $7 million in total reserves in 2011. By the end of 2015, the district had more than tripled its reserves and was holding on to $25 million — one of the largest balances among the 16 school districts in the county, records show.
At the same time, the district was the only one here in which spending on students declined, according to Department of Education data. The "actual instructional spending" — which has a direct bearing on student instruction — dropped to $50 million in Manheim Township in 2013-14, down from $56 million five years earlier.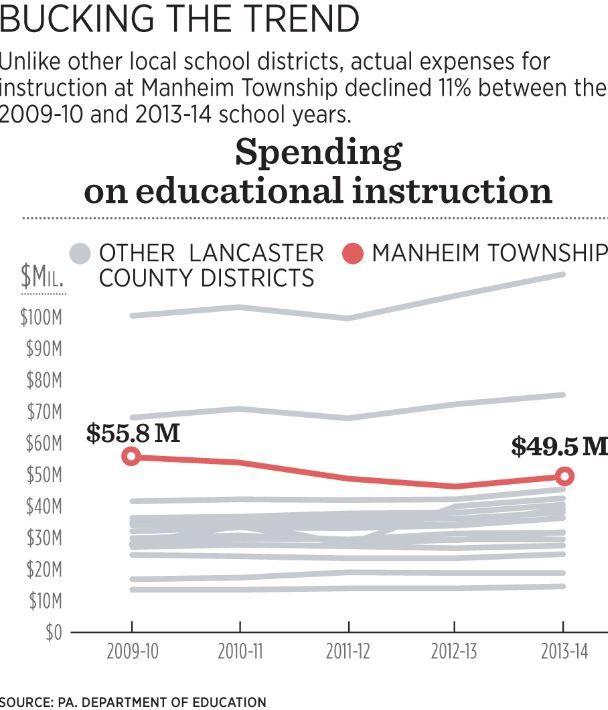 The size of Manheim Township's reserve funds has gone largely unnoticed by parents and taxpayers alike, many of whom have protested the loss of art, music, physical education and library classes in the district's elementary schools.
The $25 million sitting in reserve has also gone unheralded by the school board, which continues to portray its financial situation as gloomy. At a meeting in late March, the board again projected the district would be nearly $1.7 million in the red at the end of the 2017 fiscal year unless it raised taxes again.
Board President Bill Murry blamed the projected deficit on escalating pension payments into the Public School Employees' Retirement System, an issue that schools across Pennsylvania face and which has caught the attention of the Legislature and governor.
Those costs, Murry said, "are rising faster than we can raise taxes."
Walking a fine line
Manheim Township is not the only district that has been setting aside millions of dollars in reserves since federal stimulus money dried up, the recession took a bite out of investments, and pension costs started to climb.
But the size of the district's reserves, along with with its tax increases and program cuts, have caught the eye of Pennsylvania's top fiscal watchdog, Auditor General Eugene DePasquale. "Any time art and music go away, regardless of the district, I get concerned," he said in a March interview with LNP.
In a high-profile audit of the Pittsburgh School District in 2015, DePasquale's office took note of its $129 million in reserves, despite reports from the school district that it was nearly broke.
"School districts must walk a fine line between being prepared for emergencies, increasing fixed costs or interruptions to revenue and being responsible to their students and taxpayers," DePasquale wrote in the audit of the Pittsburgh schools.
"Responsibility to their students means ensuring that available funds are being used for education."
For almost four years, some parents in Manheim Township have decried the scant time elementa…
Manheim Township's elementary school students spend less time in art, music and library classes than any other public school here.
The money set aside every year by the school district is being held in accounts assigned to cover debt service, capital reserves and pension and insurance costs during a financial emergency. But the district hasn't tapped into them, and the reserves continue to grow, records show.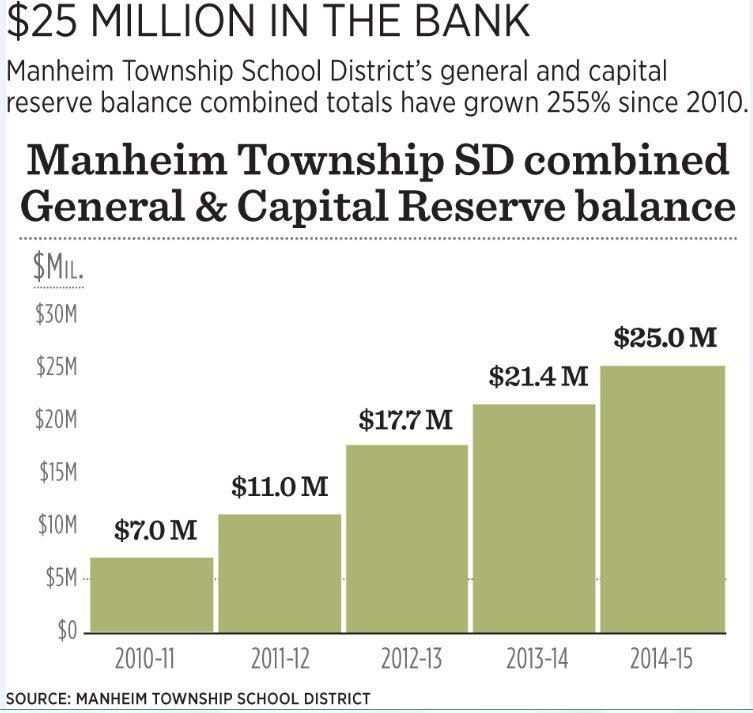 Murry, who has been on the school board since December 2003, defends the level of reserves.
"You don't know what the future will bring," he said. "You don't know what health care costs will be in the future. There may be rainy days."
Few million 'fudged' in budget
The growing reserve funds were a point of contention between the board and the district's last superintendent, John Nodecker. In an interview with LNP, the former superintendent expressed frustration with the board's decision to consistently raise taxes even as it amassed larger and larger surpluses.
"When I got in and really looked at the budget, I found that the district had already received taxpayers' money in excess of operational costs for the previous four or five years," Nodecker said.
Nodecker was hired in April 2014 and resigned abruptly in late January amid what the district described as "health and medical challenges."
Nodecker, who spoke to LNP in March, said he felt the school board should have been able to reinstate cuts to elementary arts, music, physical education and library programs without having to raise taxes.
"I felt, by redeploying staff and not filling some administrative positions, we could keep taxes from being raised and eventually bring back the programs that were eliminated," he said.
In an email exchange between Murry and Nodecker obtained by LNP, the school board president favored raising taxes for the current budget year even with the growing reserve funds and, as he put it, additional money "fudged" into the spending proposal.
"I think there is a few million fudged into the budget. I am okay with raising taxes, regardless of whether or not we have an excess, we don't know what the future holds with respect to healthcare or PSERS," Murry wrote to Nodecker on Dec. 31, 2014, as the board was preparing its budget proposal for the 2015-2016 fiscal year.
But Nodecker insisted on the no-tax-increase budget, and the board, including Murry, voted in favor of it.
It was the first budget in 10 years not to include a tax increase.
Asking families to pay more
There's nothing uncommon or even questionable about school districts wanting to save for rainy days.
Jay Himes, executive director of the Pennsylvania Association of School Business Officials, said this year's protracted state budget stalemate can serve as a "poster child" for the need to maintain a healthy reserve fund.
As the impasse between lawmakers and Gov. Tom Wolf wore on and state money stopped flowing to public schools, some districts were forced to take out loans to stay open.
Himes said districts are prudent to maintain reserves in healthy years "as long as they are doing it with transparency."
While the state places caps on "unassigned" reserves in districts that intend to raise taxes, it allows unlimited sums to be held in other accounts designated for capital projects and unexpected expenses.
In at least one case in Pennsylvania, taxpayers are challenging the unrestricted flow of money into those accounts. Earlier this year, attorney Arthur Wolk filed suit against the Lower Merion School District, alleging it provided "false and misleading budget information to taxpayers."
The reason?
The district, one of the wealthiest in the state, claimed budget deficits totaling $58 million since the 2010-2011 school year. In reality, it has a combined surplus of more than $55 million in reserve funds over several years, Wolk said.
"School districts have gotten the word (that) to accumulate surpluses, you understate your revenues and overstate your expenses. It looks like you are going to have a deficit to justify a tax increase," Wolk said in an interview with LNP.
"The other thing they do is stick it in a fund called 'special ed' or 'pensions,' when those contributions are already accounted for in the budget," Wolk said.
Lower Merion officials have defended the reserve fund by saying part of it is put aside for pensions and retirement liabilities and some is already marked for capital projects and other items.
"Having a committed fund balance for the future is a prudent strategy," Lower Merion School District Communications Director Doug Young said.
Anti-tax groups, though, are critical of school districts that stockpile funds while raising taxes.
"It does seem a number of schools are doing this," said Nathan Benefield, the vice president of policy for the Commonwealth Foundation, a conservative think tank in Harrisburg.
"Their fund balances grow at the same time they are increasing taxes and asking families to pay more while they are stockpiling money. That's money not getting to the classroom; that's cutting staff and services that students need. It's very hypocritical," he said.
New tax hike looms
In Manheim Township, actual spending on salaries, benefits, utilities, transportation and debt service in the past five years has come in millions of dollars under projections. At the same time, revenue from earned income and property and transfer taxes came in millions over budget.
School board members, a majority of whom are Republicans, increased taxes on residents by 30 percent during that time.
Board President Murry defended the tax increases and said the growing fund balance does not factor into the decision.
"Just because you have a surplus one year doesn't mean you will have a surplus the following year," he said.
But financial records provided by the district show Manheim Township has had just that — ending each year by adding money to its reserves. The district ended 2013 — the second year of the teacher pay freeze — with a $7 million surplus. It ended 2014 with a $5 million surplus, and 2015 with a $4.3 million surplus.
Murry said building budgets is an inexact science, one meant to ensure coverage of all the costs of running a school district in the year ahead, factoring in uncertainties.
"It's a matter of tweaking over a couple months until you have a final budget, but it's still difficult to forecast when you are 18 to 22 months out," he said.
The $25 million in reserves that the district has amassed is a figure that surprises some district residents.
"Wow, I had no idea about the surpluses," said district resident Shelby Witmer, who has attended school board meetings regularly and leads a group of parents pushing for full reinstatement of elementary programs.
"I just know the years I've attended board meetings, the budgets passed appeared to have a deficit or minimal surplus," she said.
Planning has begun for the next fiscal year, beginning July 1. District officials are warning of a budget deficit of nearly $1.7 million unless they raise taxes.
Laura Heikkinen, director of business operations, told school board members they would need to raise property taxes by 2.4 percent, a move that would add an additional $72 to the annual tax bill of $3,009 on a property with the median assessed value of $161,400.
The tax increase — the 10th in the past 11 years — would generate an additional $2.1 million in revenue.
The budget is set for adoption June 16.