On her 101st day in third grade, 8-year-old Valeria Morales settled beside her teacher for a reading assessment.
Her brown hair in a ponytail, Valeria softly read aloud from a list of words that children two years younger would be expected to know.
Although she had no trouble recognizing many of the first-grade level words, including "run," "map" and "sing," she stumbled over others.
"Oh, no," she sighed.
"It's OK," instructional coach Christine Linden assured her, keeping track of words she missed. "This just helps me to know what I need to teach you."
It was early February 2020 at Lafayette Elementary School, where educators knew time was running out to get students ready for a battery of high-stakes tests Pennsylvania requires public schools to administer in reading, math and science.
The week of testing was only two months away. No one anticipated the coming disruption of COVID-19.
Most days, Valeria divided her time with Linden and three other teachers in a conventional classroom or small group. Each one sought to help her catch up with third grade-level work. 
Across Pennsylvania, about 38% of elementary students read below grade level. But the problem is magnified at 500-student Lafayette, which serves a working-class neighborhood in Lancaster's southwest that offers last-resort housing for some, but is also a launch pad for refugees and immigrants pursuing the American dream. 
In 2019, 61% of the school's third, fourth and fifth-graders were behind in reading; 76% were behind in math, state data shows.
Lafayette is not alone. The school is representative of the underperformance plaguing the other 18 schools, spanning all grades, in 11,000-student School District of Lancaster. Test scores for the four middle schools are particularly a concern, ranking in the bottom 5% statewide. 
The lag persists year after year, making it easy to assume something is broken. 
But the issue is complex.  
Low test scores could signal incompetent instruction, of course. But academic gaps can also be resistant to superior school effort. Studies show that societal dysfunction is in play where schools perform poorly on standardized tests. 
While appearing objective, Pennsylvania's test is a measure of performance that entertains the fantasy that schools are equal. The scores are silent on the significant variation in the percentage of students whose ability to learn is compromised by poverty, housing insecurity, unfamiliarity with English and other challenges. 
Social conditions are outside a school's control, even as schools are charged with helping kids rise from adversity. In Lancaster, the schools largely reflect a legacy of segregation and white flight that for decades concentrated thousands of low-income households within the 13 square miles the school district serves. 
The median household income in Lancaster City in 2018 was $42,600, Census Bureau data shows. It was $63,800 for all of Lancaster County.
Throughout the reporting for this series, three things stood out. One was diligent instruction and engaged kids most of the time.
Another was a staff attuned to the backdrop of poverty and childhood anxiety in a school where 95% of students are economically disadvantaged and 8% lack a stable home.
Third was a palpable sense of purpose, one reinforced by district Superintendent Damaris Rau, a chief executive who is best understood as a kind of czar of high expectations, pushing her staff to do more and to do it better and believing that, despite so much history to the contrary, they can make a difference.
---
Breakfast and math
Jody Charles was reading "Meet the Fraggles" to six youngsters. It was 8:37 a.m, and her voice competed with upbeat, wake-up-your-brain tunes playing over the public-address system. 
The first-thing-in-the-morning initiative is called WIN, for "What I Need." Charles, who is bilingual, often starts the 40-minute session by reading aloud, but her primary focus is familiarizing English language learners with math terms and word problems. 
As she read, a boy who had been a refugee in Africa pulled plastic wrap off a container of cantaloupe, part of a grab-and-go breakfast from the school cafeteria. 
Similar breakfast-time instruction was happening elsewhere at Lafayette, a two-story school that opened in 1961 and was renovated 10 years ago, its corridors wide and bright. 
The WIN class was Valeria's first stop most days, rather than her third-grade classroom. 
Although she was reading at a first-grade level, her teachers don't perceive her as failing. Valeria saw herself as learning and growing, having started kindergarten at Carter-McRae Elementary three years earlier as a Spanish speaker from Puerto Rico. She wears a hearing aid for partial hearing loss. 
While Valeria has become fluent in English, Spanish is spoken at home, and she remains eligible for extra support. 
Arriving about 20 minutes late that Friday, Valeria took off her backpack and jacket as Charles was leading a lesson in making change for a $20 bill. 
"Did you need breakfast?" Charles asked Valeria. She didn't. 
Charles read a problem to Valeria. She had to add the value of four items for sale and subtract the sum ($16.50) from $20. 
Valeria got to work, counting on her fingers. 
"You have it wrong," another girl told Valeria. Valeria ignored her. 
---

Small-group instruction
At 9:10, Charles dismissed Valeria and the other students to their classrooms. Her classmates were reading silently when Valeria arrived. 
"Did you do your reading last night?" Elizabeth Fredericks, Valeria's third-grade teacher, asked. Valeria showed that her dad signed her reading chart. 
Gentle and approachable in managing her class of 22, Fredericks had an uncanny knack for heading off trouble before it gained traction. 
Four of her students had disabilities and individualized education plans. Four others needed extra support, but their disabilities hadn't been documented. And three, including Valeria, were English language learners. 
Only 10 of Valeria's 22 classmates in February were reading at a third-grade level, able to recognize such words as "character" and "anxious." No one was reading at a higher level. 
Fredericks says she teaches at high-poverty Lafayette by choice. 
"I don't think (other districts) need me," said Fredericks, who has taught since 1993 and been at Lafayette since 2001. 
Fredericks transitioned the class to math and a lesson on using a ruler to measure the length of objects to the half-inch. It was a step toward the state's standard for third grade: measuring to the quarter-inch. 
Denise Dougherty, who, like Charles, teaches English language learners, arrived and settled at a corner table to work with Valeria and two others. 
Valeria used a paper ruler to measure the length of a picture of a pencil. She drew one-inch arcs along the length of the pencil and counted them. She concluded that the six-inch pencil was six and one-half inches long. 
At 10:10, Dougherty moved the math lesson to her own classroom down the hall after gathering children from other classrooms.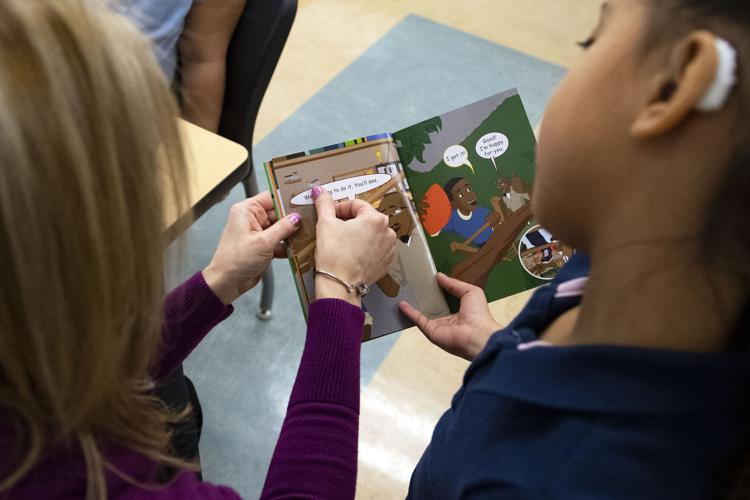 Change agent
The WIN initiative and small group lessons are ways Lafayette squeezes extra instruction into the day to help kids catch up. 
A school's score on Pennsylvania's spring assessment is a snapshot that misses what really matters: whether students are keeping up and catching up.  
At Lafayette, teachers feel pressure to get kids who are behind to achieve more than a year's growth during the year they have them, and something was working. 
Lafayette in 2019 ranked fifth in Lancaster County for third-, fourth- and fifth-graders exceeding a year's growth for the school year.  
Students at six other of the district's 13 elementary schools, however, gained less than a year's growth and ranked near the bottom in Lancaster County. 
Pressure on the schools to close achievement gaps comes from an office across town, where Rau, in her fifth year as superintendent, wants every poor and marginalized child to defy expectations. 
Rau is a doer who people see as tough, direct and impatient with excuses. 
The progress she envisions has meant disrupting the status quo. At her first address to the faculty in 2015, Rau, an outsider from New Haven, Connecticut, told teachers they weren't getting students ready for what awaits them as adults. 
"You need to stop loving them and start teaching them how to read, write and do math," she recalled of her remarks. "Look at our assessments. Our kids aren't competing." 
That kind of abruptness doesn't sit well with some, Edith Gallagher, school board president, said. But she thinks Rau's no-nonsense style is needed. 
"What we've been doing is not acceptable," said Gallagher, who joined the school board in December 2015 as Rau was learning her way around the district. "Our kids are not succeeding." 
Rau says the schools can do better. Her personal story convinces her of that. 
---
Overcoming adversity 
A New Yorker, Rau spoke Spanish, not English, when she entered kindergarten. She lived in a foster home as a teen. But she overcame adversity and thrived in school and college. 
After college, Rau's first teaching assignment was in a second-grade classroom in the South Bronx. She pushed them. 
"I used to tell my kids, 'You will read if it's the last thing I do,' " Rau said. 
At times, she butted heads with colleagues and supervisors. 
"I just felt like many of the adults didn't care as much as they should have," Rau said. "I would get into it with some of these people. If I saw them manhandle a kid or something like that, I would intervene. I remember my principal even saying to me, 'You need to stop doing that.' 
Rau brought that fighting spirit and moral clarity to Lancaster. 
Her task is to try to improve instruction in a district that's the 13th largest in Pennsylvania and that has an obligation to educate whoever walks through its doors. To do it, she has to navigate the shoals of demanding parents, a prodding school board, cost-conscious state lawmakers, skeptical union leaders and beleaguered taxpayers. 
Rau, so far, has convinced the school board to come up with the money for her initiatives, and she's required staff to participate in an unprecedented level of professional development. 
The effort is a work in progress. Best practices in education are subject to reevaluation and are ever-evolving. 
But Rau thinks that the right tools and practices will keep students on track. If they get tripped by outside influences, she believes robust interventions can help them dust themselves off. 
Rau accepted her greatest professional challenge when she came to Lancaster to get thousands of students like Valeria ready for a family-supporting career or higher education. Few students have any idea who Rau is and what she's trying to accomplish. But their superintendent is their champion. 
---
Instruction overhaul
Fans of the comedy "Ferris Buehler's Day Off" know the scene. A high school teacher, played by Ben Stein, stands before his economics class and drones on and on. 
"Anyone? Anyone?" he asks, failing to solicit responses to questions he then answers himself, oblivious to eyes glazing over. 
That kind of sleep-inducing lesson won't cut it at School District of Lancaster. 
Rau hired Carol Powell as assistant superintendent to lead an overhaul of instruction. Teachers were to abandon habits like spouting facts that students regurgitate. 
Powell says teachers, instead, must be challenging students to think, question, analyze, collaborate and create. Principals are expected to spend much of their day visiting classrooms and coaching teachers. 
"When we walk in a classroom," Powell said, "we look around and say, 'Who's doing the work? Is it the teacher, or is it the students who are owning their learning and working hard?'" 
"Productive struggle" and "rigor" are her watchwords. 
Lancaster's change began when Pennsylvania in 2013 required districts to evaluate instruction according to objective, research-based measures. Lancaster chose an evaluation model developed by education guru Robert Marzano. 
Under Marzano, teachers may be evaluated poorly if their students are simply recalling facts rather than engaging in higher-level thinking. The goal is to have students draw inferences, find relationships, experiment, debate and solve problems, all of which deepen understanding. 
The classroom becomes more of a real-world experience where success comes from interpreting data, collaborating with colleagues and meeting goals. 
The Marzano model is not new to Lancaster. What's different now is Rau and Powell are Marzano zealots. They're convinced that following Marzano "with fidelity," as Powell likes to say, will make every teacher more effective. Higher student achievement should follow. 
The school board, following Rau's recommendation, has invested almost $1.5 million in consultants from Florida-based Learning Sciences International. They are experts in teaching school leaders how the Marzano model works. 
Southeast (formerly Hand) Middle School, Lancaster's lowest-performing school, is ground zero. The district three years ago designated it a Demonstration School of Rigor. Consultants led leaders and teachers in Marzano-influenced professional development to learn practices that wake up brains, stir curiosity and reward perseverance. 
"We did get pushback," Rau told school board members in January. "But the early adopters helped to spread the message about how this is helping us to be better teachers. That helped change the culture. In Year 3, everyone (at Southeast) is doing it, some better than others. It is no longer a choice." 
What started at Southeast was rolling out districtwide. 
A tool the district has adopted for embedding Marzano principles into teaching practices is called instructional rounds, inspired by the medical rounds used to train doctors. 
A team of school leaders and teachers view a classroom lesson for less than 10 minutes. Afterward the team holds a debriefing to discuss how students were engaging with the lesson and identify what went well and what could have gone better. 
The teacher receives feedback, but the learning extends to the entire team, Powell says. Those who observe the instruction and discuss it afterward are likely to gain insights useful for their work or classrooms. 
A look at the school year of Valeria Morales [photos]