Economic development strategies over the past 15 years that revived Lancaster's moribund downtown may have caused precipitous decline throughout much of the rest of the city where mostly minorities live, a new report says.
The result is two Lancasters split by growing disparities in wealth.
One Lancaster is the celebrated downtown and James Street corridor, where the commercial, professional and leisure classes live, work and play.
The other Lancaster is a hodge-podge of aging, distressed neighborhoods where homeownership is the exception and joblessness and poverty are increasingly the norm, particularly among blacks and Latinos.
While these distinct divisions in a city of only 59,000 residents have deep, historic roots, decisions since 1998 to invest $1.5 billion in the more successful parts of town appear to have widened the chasm, say researchers at Franklin & Marshall College's Floyd Institute for Public Policy.
They say the data show that neglected neighborhoods, notably Cabbage Hill and the southwest, are increasingly distressed.
"Far from trickling down and spreading out generally, the commercial development strategy of the last decade has in itself likely contributed to rising inequalities and to the fraying of the community fabric of the city," they say in a 19-page analysis of U.S. Census Bureau tracts.
The report — titled "Lancaster Prospers?" — faults City Hall for outsourcing economic development to commercial interests and failing to promote "an inclusive and sustainable vision" of development.
The authors in an interview said they documented the economic divide and wrote the report, funded entirely by the Floyd Institute, as a service to the community to call attention to the problem.
---
Read the "Lancaster Prospers?" report.
---
Mayor Rick Gray, who earlier this month said he will be appointing a Mayor's Commission to Combat Poverty, criticized the report's "limited analysis of rather narrow data" based on Census tracts in a four-square-mile city.
"A more interesting and valuable analysis would compare Lancaster with our neighbors in Harrisburg, York and Reading," cities seeing less progress, Gray said. "We can only wonder what the city would look like today without the economic development and investment Lancaster has seen over the past 10 years."
The report zooms in on 14 neighborhood-sized Census tracts, providing some striking comparisons.
Tract 1, for example, comprises most of downtown between Walnut and Vine Streets. In that improving neighborhood, per capita income rose 20 percent between 1999 and 2013 — from $19,552 (in 2013 dollars) to $23,505. As a result, the poverty rate declined 13 percent.
But in Tract 10, along Manor Street, just west of downtown, per capita income fell 28 percent — from $17,806 to $12,800 — and the poverty rate surged 46 percent.
The report also offers this sharp contrast for the city as a whole: Inflation-adjusted median family income for white residents rose 2 percent between 1999 and 2013, to $58,668. But for blacks income fell 12 percent, to $30,884. And for Latinos, it dropped 20 percent, to $24,924.
Citywide during that 15-year span, only the downtown Census tract saw income grow.
"If you take the numbers at face value, they're challenging, and they're shocking," said Sam Bressi, president and CEO of Lancaster County Community Foundation. "I think they're a call to action."
"While part of the city has developed rapidly, and it's a nicer place for middle and upper-income people to live and hang out, at the same time it's becoming less nice for a large percentage of the population," said Jonathan Coleman, director of programs for nonprofit Assets Lancaster. "And that's breaking down along racial lines. That's what the report highlights."
Downtown Lancaster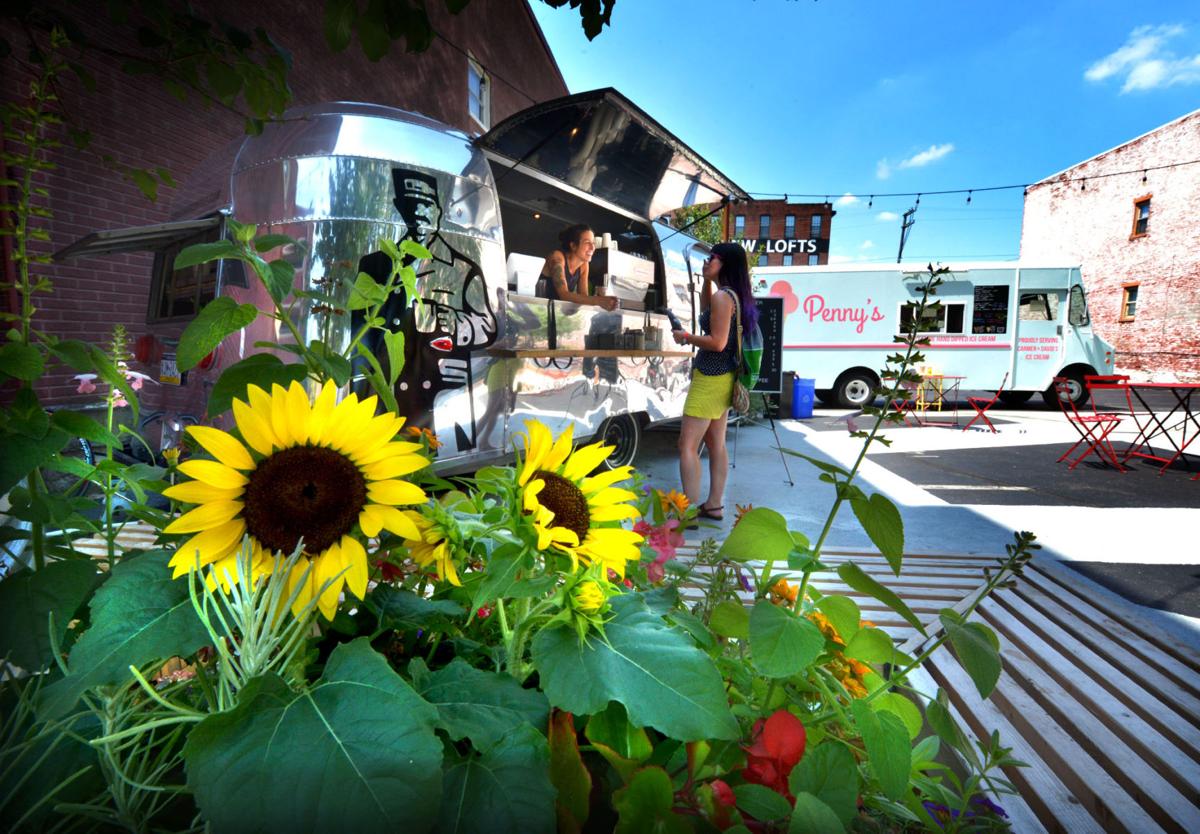 The report's authors — Antonio Callari, Evan Gentry and Berwood Yost — say Lancaster's experience mirrors a national "city beautiful" trend of burnishing downtowns while outsourcing anti-poverty work to nonprofit and faith-based organizations.
In Lancaster in the past decade, downtown revitalization gained traction as City Hall and business interests, led by a group called the Lancaster Alliance, worked to implement a 1998 economic development report.
While most of the specific ideas in the 17-point plan never came to fruition, the Marriott/ convention center, Clipper Magazine Stadium, gallery row and the burgeoning restaurant and arts scene were fruit of the plan's overall strategy of making downtown a destination for visitors and a nice place to live for the well-to-do.
Two months ago, the Lancaster City Alliance, a more broad-based successor of the Lancaster Alliance, released a 188-page economic development update, called "Building on Strength," that seeks to "leverage (the city's) track record of success."
But the Floyd Institute report pointedly challenges the Alliance's characterization of success.
It says the Alliance's new agenda calls "for more of what has been happening," including amenities for visitors, college students, artists and the college-educated.
But that strategy, they argue, will likely only make economic stress worse for everyone else.
"Lancaster cannot afford yet another series of development initiatives that are out of step with the economic reality being experienced by its citizens," the researchers write. "Instead, we need an economic development plan that elevates and unites Lancastrians of all backgrounds, economic classes and neighborhoods."
Lancaster unemployment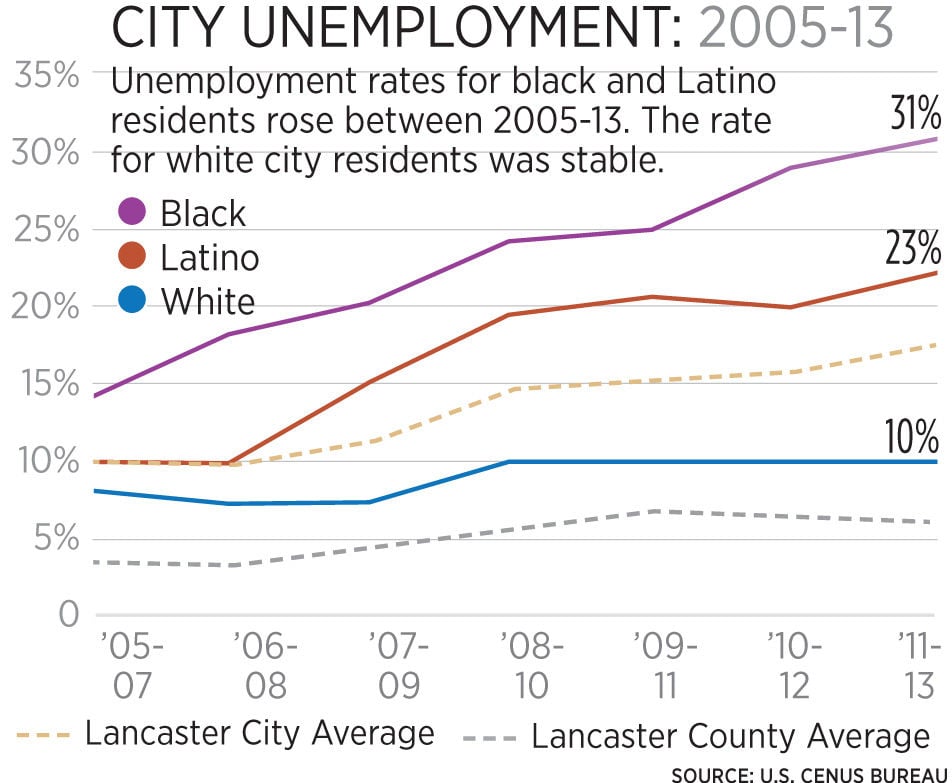 "There's been a lot of terrific news about Lancaster city," said Yost, Floyd Institute director, in an interview. "I was surprised that we didn't see more economic benefits flow throughout the city. When you look, it's really clear that where investments were made, there were some gains, and unfortunately that didn't translate to other parts of the city."
Callari, an economics professor, said that when the city turned economic development over to a business group, "it was almost guaranteeing that issues of poverty were not going to be paid attention to."
"This is a community," Callari added, "that has not paid attention to poverty for a long time, and we really shouldn't be surprised by what we're finding."
"Now I think there's an opportunity to move forward and perhaps do things in a different way," he said.
Alliance responds
The Lancaster City Alliance's new plan is not silent on the city's 31-percent poverty rate. (By comparison, poverty in Lancaster County, minus the city, is 9 percent.)
But the Alliance's economic plan says addressing poverty directly is not in its scope. Instead, it says, finding ways to reduce the concentration of poverty in the city requires a comprehensive, multi-prong approach involving many groups both in the city and neighboring municipalities.
In an interview, Bob Shoemaker, the Alliance's president and CEO, said his organization is "not indifferent towards poverty by any stretch."
But he added that "every organization has a limited bandwidth."
"We're economic developers, trying to increase the tax base for the good of all," he said. "It's only natural that economic development will not occur evenly throughout any community."
Marshall Snively, the Alliance's executive vice president, said, "You can't have a strong city without a strong downtown. That is the tax base of the city."
The new plan calls for extending development along corridors that reach to more parts of the city.
James Shultz, who co-chaired the process that led to the Lancaster Alliance's 1998 report, defended that earlier effort's focus on revitalizing downtown because, at that time, "it was in pretty lousy shape."
"If downtown is looking good, then people look at investing in the community," Shultz said. "I think that's happened over the last 15 or 20 years. As a result, (the 1998 report) did what it was supposed to do. It was not supposed to deal with poverty. "
Poverty emphasis
Shultz said he's encouraged that Mayor Gray recently put a spotlight on poverty by proposing a poverty commission.
As director of program development for Lancaster Housing Opportunity Partnership, Shultz is leading a new, foundation-funded study of southwest Lancaster with the goal of addressing poverty and crime in that neighborhood.
"Poverty now is going to be the focus," Shultz said. "We have to start talking about it, educating ourselves and, most importantly, coming up with strategies to deal with it."
"This F&M study, coincidentally, fits hand and glove, reinforcing the importance of trying to do something," he said.
Carlos Graupera, the long-time CEO and executive director of the Spanish American Civic Association, a nonprofit provider of human services, housing, job training and economic development in the city's southeast, said he agrees with "a great part" of the report's findings.
"We need the business community," Graupera said. "They are a thriving engine, but they don't have all the answers. And if you develop an economic plan driven by business, you can't expect it to cover all the bases."
The data shows that the Census tract where SACA has made significant, broad-based investments is not as distressed as others.
"I would say we made investments, but they haven't been deep enough," Graupera said. "This is not an opportunity to gloat or to feel satisfied. There is just a whole lot to do."
Urgency needed
Daniel Betancourt, president and CEO of nonprofit lender Community First Fund, said the Floyd Institute's report is valuable in bringing a sense of greater urgency to issues of poverty alleviation.
"It will force people to pay attention to the fact that it's not acceptable to have a city prospering, and some of its residents left behind," Betancourt said.
The report's authors in an interview acknowledged that the city alone is not responsible for the rise of poverty within its boundaries. Federal, state and county governments also share responsibility.
But policymakers at the local level shouldn't "throw up their hands and say, 'Hey, we can't deal with this. It's so big,'" Gentry said.
"We don't have a solution," Yost said, "other than it's time to pay attention to this. So we hope it sparks conversations in the community and action."
Per-capita income