In 1950, Kenneth R. Stuck went to war.
More than 65 years later, he's finally coming home.
"I am so elated. The thought of my brother coming home — it's awesome," says his brother, Clarence Stuck of Manheim.
"He was the greatest buddy you could ever have," he adds, his voice crackling with emotion. "We were really close. ... I'm just glad he'll finally be home."
He pauses, considers the word and smiles broadly, repeating it with extra emphasis: "Home."
Kenneth Stuck — "Kenny" to his younger brother — enlisted in the U.S. Army early in 1950 and was sent to fight in Korea. He served as a corporal with the 1st Cavalry Division, which was pinned down later that year by Chinese forces in the Wonsan River valley.
The Battle of Unsan, as it's known today, was a devastating loss for American and UN troops. Multiple engagements, beginning on Oct. 25, 1950, in the North Pyongan province, resulted in heavy losses among the 1st Cavalry.
Kenneth Stuck was 24 years old when he was declared missing in action on Nov. 2, his brother says.
For decades, his fate remained unknown.
Years passed, and Clarence Stuck's hopes that his brother might be found alive waned. But he still wanted his brother's remains to be found, identified and sent home.
He needed that resolution.
Mass grave
Kenneth Stuck was found among some 322 bodies in a mass, trench-like grave outside North Korea's notorious Camp 5 in Pyoktong, his brother says.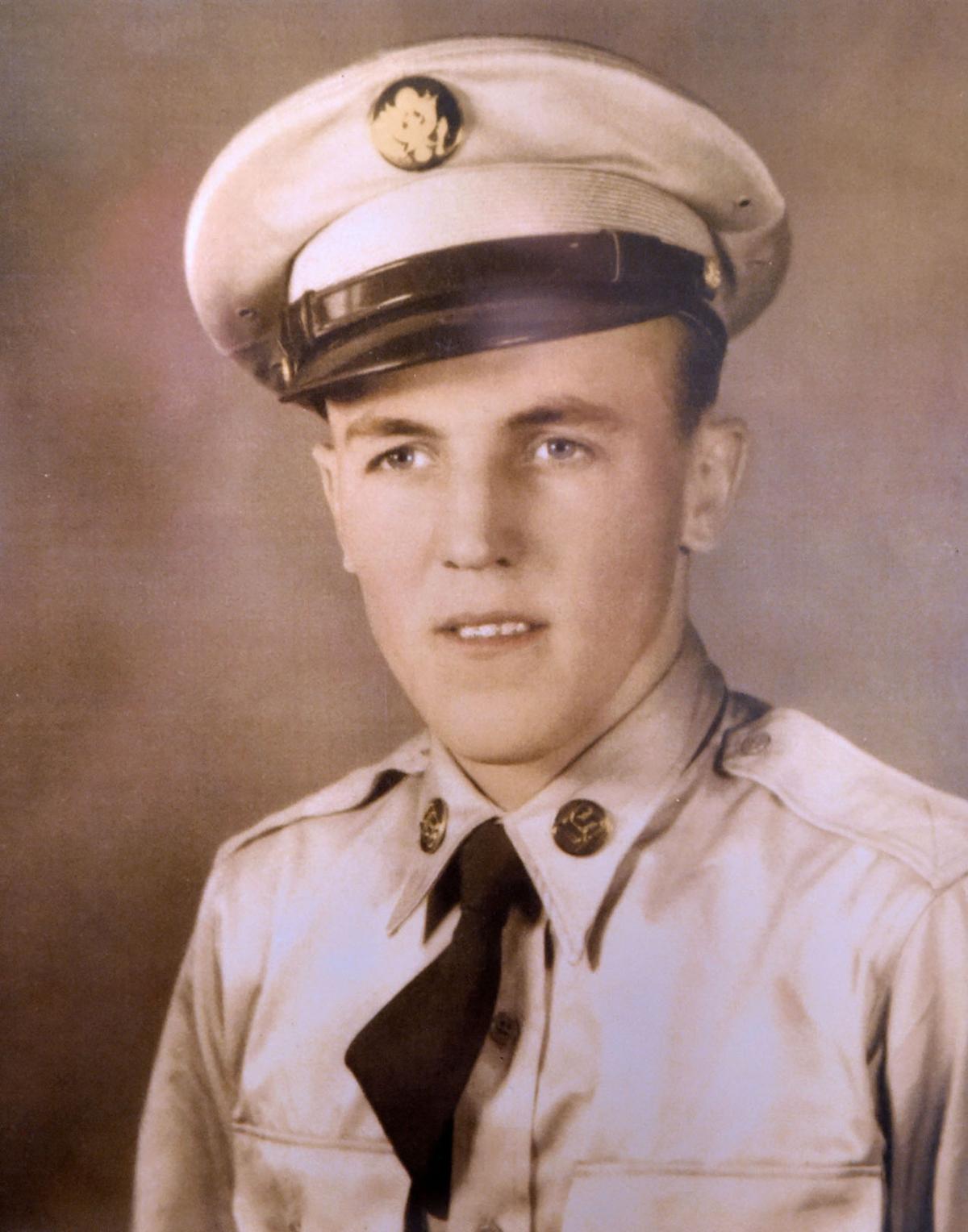 Kenneth Stuck, 1950
"He's been there for 65 years," Clarence says in a hushed voice, wiping his eyes.
The U.S. military began recovering skeletal remains from the site in the 1990s, shipping the fragile bones to a lab at the Joint POW/MIA Accounting Command station at Hickam Air Force Base, Hawaii, for DNA testing.
Clarence and his wife, Kathy, have been to Hickam several times in the past few years, building relationships with the people who work there.
"The bones are pretty well preserved, because it's so cold up there," Stuck says.
Kenny's bones have been in Hawaii for several years, Stuck explains, but DNA testing — to identify positively each soldier whose remains were found in that grave — is a ponderous process.
Army Maj. Rumi Nielson-Green, a spokeswoman for the Joint POW/MIA Accounting Command interviewed in 2006, said the lab identifies, on average, two individuals a week.
RELATED: The military provides clarification on the timeline of Kenneth Stuck's death
Starvation appears to be the cause of his brother's death, based on the condition of his remains, Stuck says he was told.
"So many times, it goes through my mind what he must have went through," he says.
Close call
Clarence Stuck was driving to Hershey to visit his youngest son when his phone rang.
He didn't recognize the number but answered it anyway, he says. A woman identified  herself as a representative of the Army's department of Casualty and Mortuary Affairs in Fort Knox, Kentucky.
He immediately felt his heart pound in his chest, he recalls. The woman asked if he was driving and, when he said yes, told him to pull over.
"She told me about Ken," he says. "I couldn't believe it. I was numb ... I couldn't even talk."
It was Nov. 5 — 65 years and three days since his brother was declared MIA.
The day before, Stuck says, he and his son Ken attended a ceremony of the Korean War Veterans Association at Oak Leaf Manor, where he received an Ambassador for Peace award for his service in Korea. His son — named Ken in his brother's memory — accepted a similar award in his brother's stead.
The younger Ken Stuck also served in the military, Clarence says, retiring as a crew chief with the 193rd Air National Guard in Middletown.
He lives in Linglestown, and a memorial to his brother that once stood in Clarence's front yard is now maintained by his son.
"He has all his uncle's medals, Purple Hearts, everything," he says.
Overcome with emotion and unable to drive after getting that call from Kentucky, he phoned his son to come and get him, Clarence says.
"I was drowning in tears," he says.
Korean service
Clarence Stuck, now 83, followed his brother to Korea in 1952.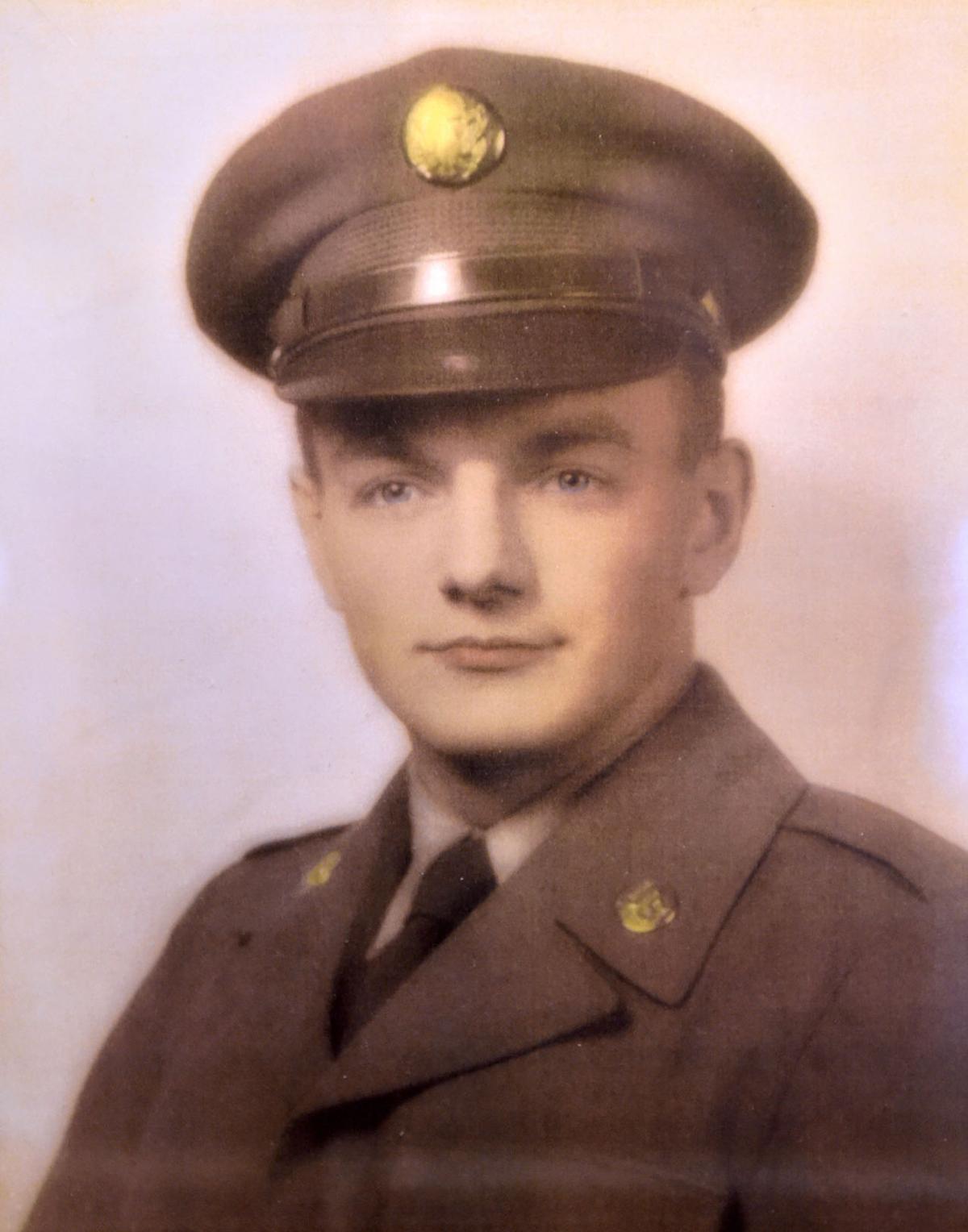 Clarence Stuck, 1952
It began a 28-year career in the military for Stuck, who retired as a master sergeant.
"I loved the military. The military was good to me," he says. "I was a cocky son of a bitch when I went in — they took that out of me."
He spent 16 months in Korea during the war, he says — seeing "just enough combat to make you sick."
His tour of duty took him within 18 miles of the camp where, unknown to him, his brother languished, he says.
"I can't fathom it," he says, shaking his head. "Being up there, being so close, and still not knowing."
Approximately 83,000 American service personnel are missing in action from wars dating back to World War II, according to online sources. Nearly 8,000 of those MIA soldiers served in Korea.
Eighteen POW/MIA command teams track down and exhume suspected American remains from around the globe, according to published reports. Soldiers missing in Korean present special problems, officials have said, because of tense relations with that nation.
Coming home
The Stuck brothers grew up in Hummelstown, and that's where Kenneth Stuck — born 85 years ago, on the Fourth of July — will return.
"That's where my brother's final resting place will be, with my mom and dad," Clarence says, holding a photo of his parents' gravesite. "Mom and Dad deserve to have him back, and this way I can go visit."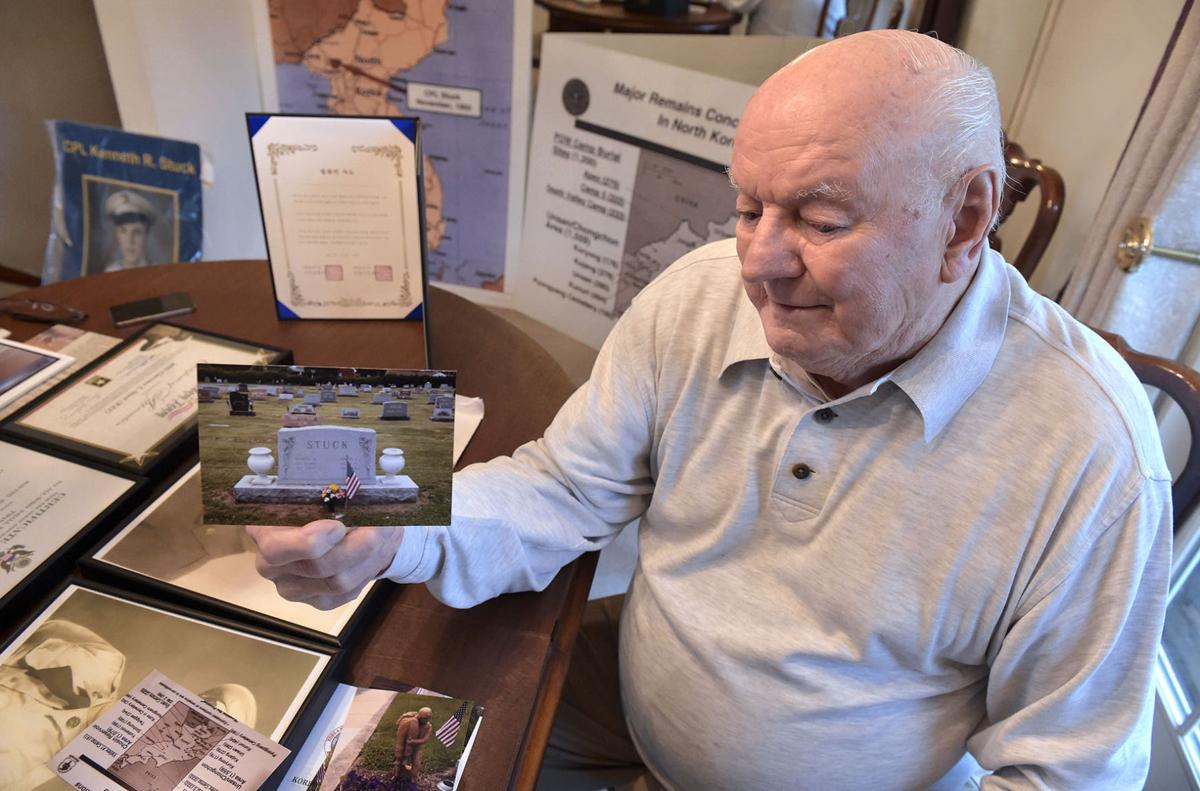 Clarence Stuck shows a photo
of his parents' gravesite
One of nine brothers and sisters, he is the last of his siblings to survive, he notes sadly. His sister Mary died most recently, he says, and she too held out hope that she'd live long enough to see Kenneth come home.
"My mom — she flew her gold star faithfully right until she died," he says.
The gold star is a banner provided to mothers who lost a son or daughter in combat.
The remains are expected to arrive home within the next few weeks, Stuck says — probably no later than early January.
They'll be flown into Harrisburg International Airport, he says, where they'll be greeted by a military honor guard and state police escort.
Clarence Stuck says he, too, will be there when the plane touches down.
"I just want to touch that casket and say, 'Welcome home, brother. Welcome home.' "
His voice breaks, and Clarence takes a moment, staring down at a photograph of his brother, in uniform, taken before he left the States in 1950.
"I always knew there was hope," he says quietly.
This story was edited Monday to clarify details on Kenneth Stuck's death.