Charles Reddig loves to swim and play pinochle, do jigsaw puzzles, collect miniature cars and motorcycles, and grade coins for friends as part of his numismatic hobby.
Not bad for a guy who turns 92 today and flew his U.S. Army Air Force bomber over the mushroom cloud created by the atomic bombing of Hiroshima, Japan, in 1945.
Like many World War II veterans, Reddig, of Ephrata, spent many years not wanting to talk about all that happened to him and his fellow soldiers in the Pacific Theater.
There are horrific things he saw during his 69 bombing missions over Tokyo, Okinawa and Japanese- held islands that he will still only discuss with others who were there.
But, sitting in his cozy den in Ephrata on a sunny Sunday afternoon, Reddig has what seems like a lifetime's worth of other experiences he is willing to share from the two years he fought in the Pacific.
Surprising orders
Reddig, whom friend call Charlie, was always interested in airplanes.
Because a friend's father owned a small plane, he started practicing flying around Lancaster County when he was just 14.
During one flight, he recalled, the engine quit right near his grandfather's Reamtown farm. He landed in a wheat field, and refueled the plane with tractor gas.
That near-disaster was good training for what was to come.
Reddig enlisted in the military 73 years ago today — his 19th birthday.
He said he and a group of close friends from Stevens, where he grew up, decided to enlist in the Army together, hoping to fight in the infantry.
"All of us hunted together and played ball together, we did everything together," the East Cocalico High School graduate said. "It was a small town. Everybody knew everybody.
"We went to St. Petersburg, Florida, and went through training – hand grenades, machine guns, the whole bit," Reddig said. "My bunk was a cot on the ballroom floor of a hotel."
One weekend, the Army administered two days of tests to the guys from Stevens, among hundreds of others.
"Monday morning, there's hundreds of guys out on this field; they call out just two names - me and a guy from California," Reddig said. "They said, 'We'll give you two 20 minutes to pack up your things. We're going to put you on a train, and then you can open your orders.' "
Reddig never got a chance to say goodbye to his buddies. He learned he was one of only two men being chosen to be pilots in the U.S. Army Air Forces.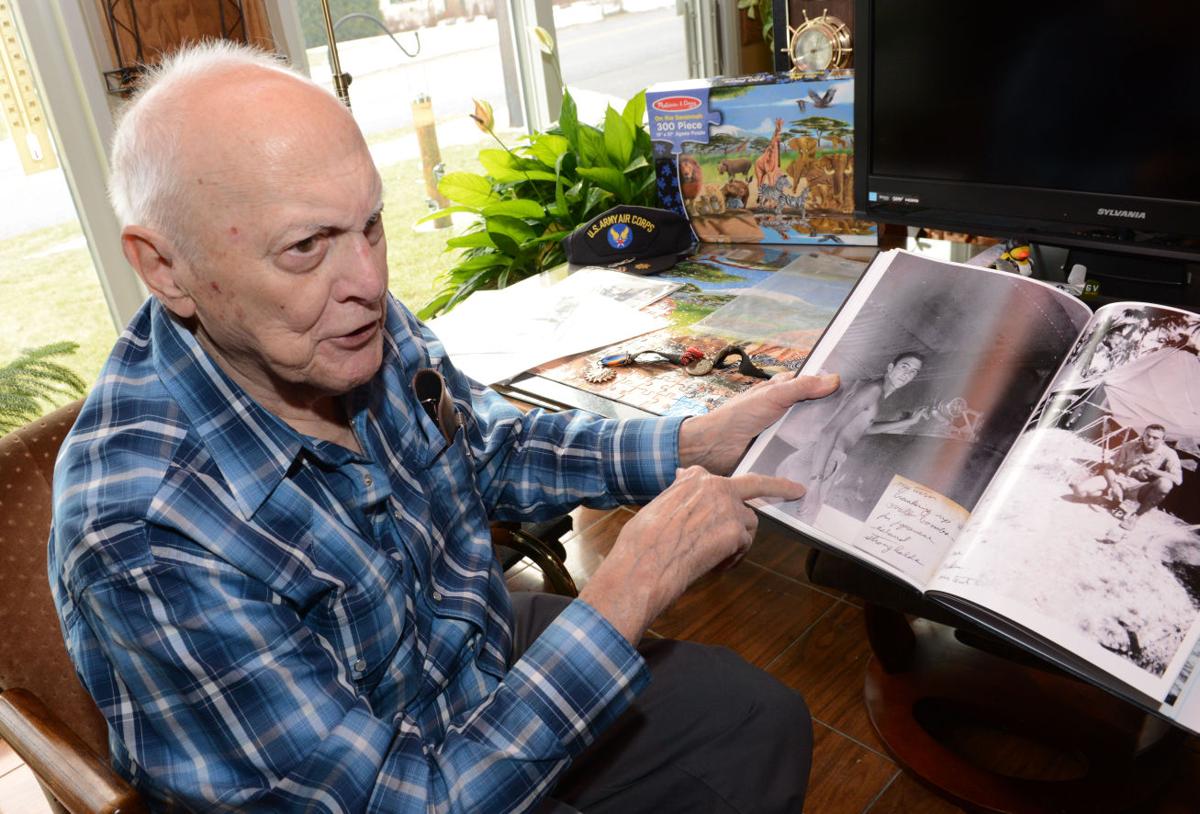 Friendly natives
After training in South Carolina, Illinois, Texas and Hawaii, Reddig found himself piloting B-25 bomber planes for the 47th Bombardment Squadron, part of the 41st Bombardment Group of the Seventh Air Force.
His first plane was called "Pauline," named for a girl he was dating back home. (She wound up marrying someone else during the war.)
Reddig was stationed on Makin Island in the Gilbert Islands, from which he flew his plane equipped with machine guns, bombs and a cannon.
"It was near the equator, and it was stinking hot," Reddig said. "I worked in my shorts to load bombs and check out the plane.
"And the natives were very friendly," he said. "I befriended one of them, and his name was 'Chitabu' - don't ask me how you spell it - and he had a stick through his nose and he had his teeth filed. It hurt me to think about it.
"Every morning ... he'd go up a coconut tree and chop down some coconuts so I could drink the coconut juice. So I gave him Hershey bars."
Once, when his plane was grounded by storms, Reddig swam to his native friend's island and impressed the local chief with his Zippo lighter.
With Chitabu and his family, Reddig said, he ate fire-cooked fish and slept on a bed of sailcloth.
Reddig said a missionary in the area told him his new friends were headhunters. They did have a couple of Japanese heads in their possession, he recalled.
Reddig also had a small pet monkey while on the island, who used to go around to all the soldier's beds, grab the lizards that had crawled between the sheets and throw them onto the ground.
The animal also liked to steal the men's cigarettes, breaking them up to make little pyramids, and to make faces at himself in Reddig's shaving mirror.
"He was a naughty monkey," Reddig added.
Firefights
Reddig also has memories of the battles he fought in those islands.
"I remember my tail gunner," Reddig said, "who sometimes had tears running down his cheeks while he was firing on Japanese Zeros (fighter planes).
"In the beginning, I didn't like killing anybody," Reddig said.
But one day, he noticed an American soldier parachute from a plane, and watched Japanese soldiers riddle him with bullets. He saw other examples of the brutality of the Japanese military, as well.
"And then I became what you might call a professional killer," Reddig said, lowering his voice. "I couldn't stand it. Maybe I shouldn't say that, but that's what made me feel that way."
He and his crew bombed a lot of Japanese military targets.
A dark cloud
Reddig and his crew were eventually assigned to bomb the Japanese-held parts of Okinawa.
He and his crew would load up bombs on the American-held portion of the island, fly over to bomb targets on the Japanese side, and return.
In August 1945, Reddig was assigned to drop bombs on Tokyo.
"I was on my way back from bombing Tokyo when I saw the cloud," Reddig remembered.
"I came back, I'm looking for (Japanese) Zeros, because that was my danger point, you know," he said. "I was already partially over Hiroshima, I guess, and I wasn't looking down. And my tail gunner calls me on the intercom and said, 'Sir, are we lost? Look down there.' "
When Reddig aimed the nose of his plane down and flew a little closer, he noticed a dark cloud of fine debris and total destruction beneath him.
"It looked like rubble. Burning rubble," Reddig said. "Fires everyplace, smoke everyplace. Occasionally, you'd see a wall standing. All the trees were gone. All burned to a crisp. … Even the railroad tracks were gone."
He wondered for a moment if, perhaps, an earthquake or a meteor had hit the city.
"I thought, what could have done this?" he said. "I knew what damage my bombs could do, but I couldn't imagine a whole city was like that.
"And then I heard later, on my little Philco radio, that the first atomic bomb had been dropped on Hiroshima," Reddig said. "Then, they dropped the second bomb on Nagasaki, and the war was over."
After the war
Of the 28 crews in the 47th Squadron, Reddig's was the only one to have all its members come home alive.
The war stayed with Reddig when he first returned from the Pacific.
"Back at home, I used to wake up under the bed, and I didn't know why," he said. "And one night my mother heard me get out of bed, and she got my arm. (It turned out that) the mail plane was going over our house, and I thought it was the Betty Bombers," the name the Allies gave to a type of Japanese navy bomber.
Reddig went into the military as a private, and retired from the Army in the late 1950s as a major. He earned many medals, including the Distinguished Flying Cross, and taught missile classes at Fort Indiantown Gap and in Germany.
He also retired after many years as an engineering tech at RCA in Lancaster.
Luckily for Reddig, he also repaired radios at a department store for a short time. That's how he met his wife of 68 years, the former Carmen Steininger.
"I met her at Sears & Roebuck, and I got her on a sale," Reddig joked. "We got married in 1947. And she's been with me ever since. I should give her all my medals."
Carmen Reddig said, "I was the office manager at Sears, and the first thing I ever said to him was, 'I need to see your Social Security card.' I thought he was good-looking and nice. That hasn't changed."
They have three children: Jim, Connie and Vicki; and four grandchildren, one of whom lives with them.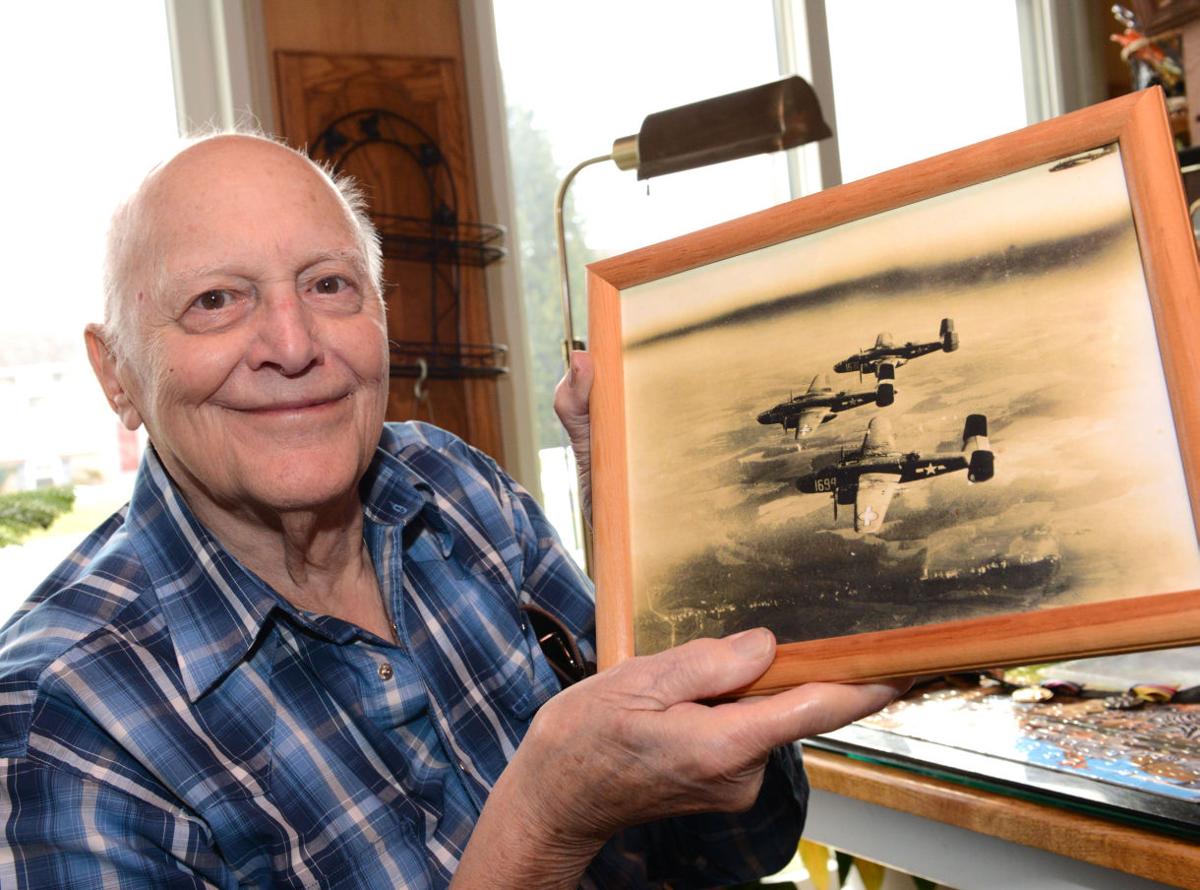 Wistful wishes
After the war, many veterans didn't want to talk about what they'd experienced. Sometimes, Reddig said, he wishes he'd stayed in better touch with those he knew in the Pacific.
He did get to talk about the mushroom cloud with a fellow veteran from Denver he got to know at the Ephrata Recreation Center.
"He told me he was coming back (from Tokyo) in a B-24" that August day in 1945, Reddig said. "He said, 'I saw the cloud on my left.' And I said, 'well, doggone it, I saw it on my right.' I said, 'You and I must have only been a few miles apart going back to Okinawa.' "
That veteran has since died, Reddig noted.
"I'm the only one left of my crew," he added wistfully. "My tail gunner, he was the last one to pass away, and he's been dead about 10 years. ... Most of my buddies are gone, really.
"When the war was over, my crew and I made a pact that we weren't going to talk about it," Reddig added. "But after about 20 years, I thought I would have liked to have reminisced about some things with them, you know."
With a relatively new hip and knee, Reddig gets around well.
His health problems are minimal; he said he has had cancerous lesions removed from his face several times since the war, adding some have speculated he may have had some lasting effects from the Hiroshima radiation he flew through.
"I don't smoke, I don't drink, I exercise, and I'm careful what I eat," Redding said, explaining his longevity.
'A real hero'
Reddig's friend, Dennis Denenberg, knows a hero when he sees one. Denenberg, a professor emeritus at Millersville University who co-wrote the book, "50 American Heroes Every Kid Should Meet," calls Reddig "a real hero and a real gentleman."
Denenberg was the supervising professor for an independent study project for Reddig's daughter, Connie Kirby, now of Lititz. Denenberg invited Reddig over to see his Christmas decorations a few years ago, and they struck up a friendship.
"He's absolutely fascinating," Denenberg said Wednesday. "When he first told me the story about seeing the mushroom cloud, I said to myself, 'I honestly can't believe I have somebody who was part of one of the most momentous events in world history sitting right across from me.' "
Denenberg said he's taking Reddig and his wife out for breakfast today, in honor of the veteran's birthday.
Denenberg and Reddig went to the Hollywood Casino at Penn National recently, along with a couple of other veterans — all three vets wearing their military caps — and stopped at a restaurant on the way back.
Denenberg recalled the salutes and the respect current military personnel from Fort Indiantown Gap showed the veterans in that restaurant.
"While these people are alive," Denenberg said, "we really need" to listen to their stories.
"They saved the world."