"If my books teach you anything," said bestselling author Paula McLain during the 19th annual Author Luncheon at Calvary Church in Manheim Township, "it's don't marry Ernest Hemingway."
McLain, author of "The Paris Wife" and "Love and Ruin," books about Hemingway and two of his four wives, got a laugh from the crowd, but said she feels like she's been married to him, too.
"In order to embody those characters, you live with them for years," she said. "I've read everything he's ever written. I'm in his head. I'm writing from his point of view."
Most people know Hemingway, but Martha Gellhorn might not be a name most people recognize. In her most recent book, "Love and Ruin," McLain rights that wrong and introduces readers to a woman who is much more than just a wife in the shadow of a literary lion.
Gellhorn, an accomplished novelist and the only war correspondent to set foot on the beach of Normandy during the D-Day invasion, covered nearly every major conflict, from the Spanish Civil War, when she was in her late 20s, to the U.S. invasion of Panama, when she was in her 80s.
McLain also spoke about finding herself as a writer and how she was too broke to go to Europe to research her first Hemingway book. She wrote not from a Paris cafe, like Hemingway, but from a Starbucks in Cleveland. She is now enjoying some much-deserved commercial success.
During the luncheon, as McLain enjoyed her cheesecake before the main course, she talked about the importance of local libraries.
"I lived through books as a kid," said McLain. "And now that I've written books, I can live in the world. That's poetic justice."
She'd be glad to know that the author luncheons, sponsored by Council of Friends of Lancaster County Public Libraries and Aaron's Books, have raised more than $87,000 for Lancaster County's public libraries since 2011.
McLain chatted with us while she signed some copies of her books.
This interview has been edited for length and clarity.
How did you identify with Martha Gellhorn's writing struggles and triumphs?
The dirty secret about "Love and Ruin" is that everything about being a writer in that book is actually me. I was finding a way to dramatize her actual struggles, but they're mine, too. One of the ways I connected to her was that she never stopped. Can you imagine what that must've been like to be a writer under the same roof as Ernest Hemingway? He said "For Whom the Bells Toll" sold like daiquiris in hell. And then her books would come out and nobody would read them. And she had to write them anyway and follow her convictions and be ambitious.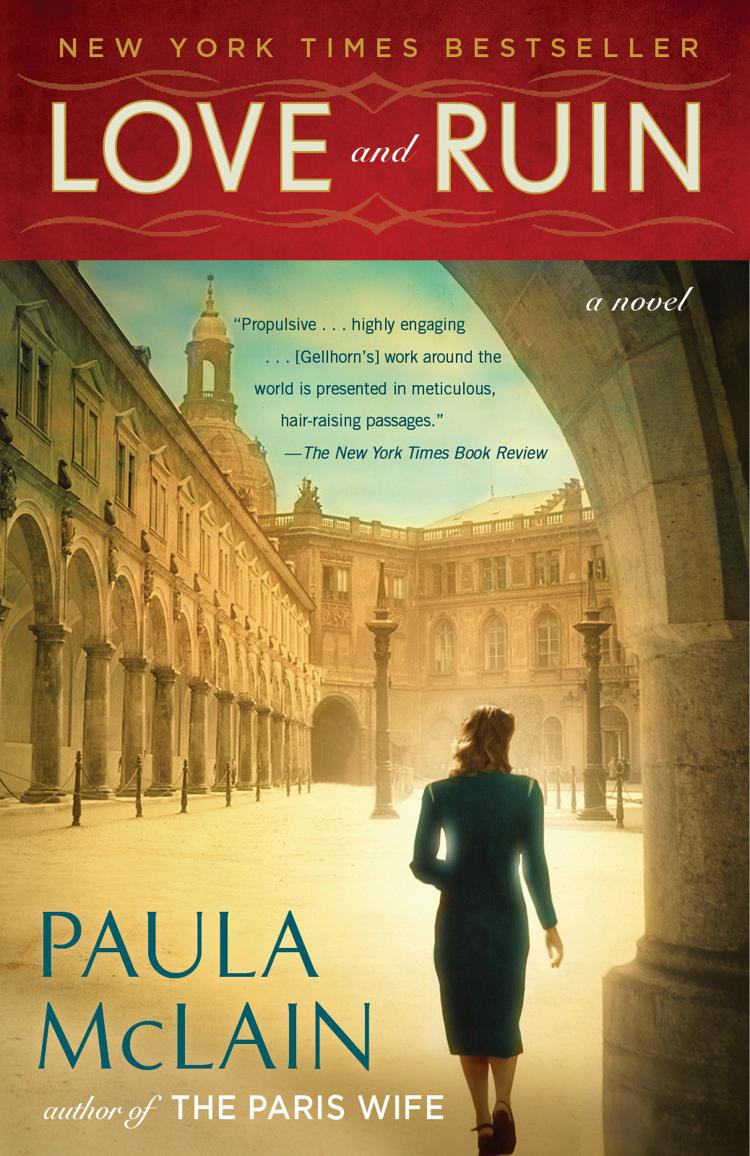 What did you learn about writing from Hemingway and Gellhorn?
It was fun to understand Hemingway's process. In ("Love and Ruin"), he tells Martha, "Even if you're not on fire, you need to do your five finger exercises." Whether or not the lightning strikes, you still have to sit at your desk and do that work. Some days it feels like moving bricks with your face and some days it feels like magic. He's actually taught me a lot. I think Hemingway's work was the love of his life. (And from Gellhorn), pure grit and determination.
Can you talk about Gellhorn as a feminist hero?
Gellhorn would never have called herself a feminist. She wanted to say who gives a damn about gender and really, it should all be equal. But the other thing about her, which I think is also admirable, she used her femininity when it worked for her to get her to places she needed to get to. Then when she got there, she was a badass. Hemingway called her the bravest woman he had ever known.
Can you talk about defending Hemingway?
I don't think anyone needs to exonerate him or attack him. He was incredibly flawed. He was absolutely human. My first writing teacher told me "no villains and no heroes, no black and no white." Every character has to be flawed or they're not recognizable.
Do you still write poetry?
I do write poetry — I just write it in novels. The images, the language, all of that stuff is informed by poetry. Words are my first love.