Ushering in a new chapter of leadership in Lancaster, Danene Sorace took her oath of office Tuesday night to become the city's first new mayor in a dozen years.
Three-term Mayor Rick Gray swore in Sorace in a celebratory City Hall packed with roughly 300 people and even more flowing out the doors of the council chambers.
In her impassioned inaugural address, Sorace pledged to work tirelessly for the city that she said has seen "tremendous growth" in the last decade but needs to take strides to address "the pressing moral and economic crisis of poverty."
"Now is not the time for rest," said Sorace, 45. "There can be no rest until all of the city is flourishing — every neighborhood, every corner of every block. There is so much more to our city than a few downtown blocks."
In succeeding Gray, she replaces a mayor whom civic leaders called enthusiastic and visionary. Gray did not seek a fourth term and endorsed Sorace in a three-way Democratic primary last spring.
"I know our city is in good hands for the future. I couldn't be happier," Gray said in brief remarks during Tuesday's ceremony.
Sorace, a four-year City Council member who headed the finance committee, won the mayoral election in a landslide.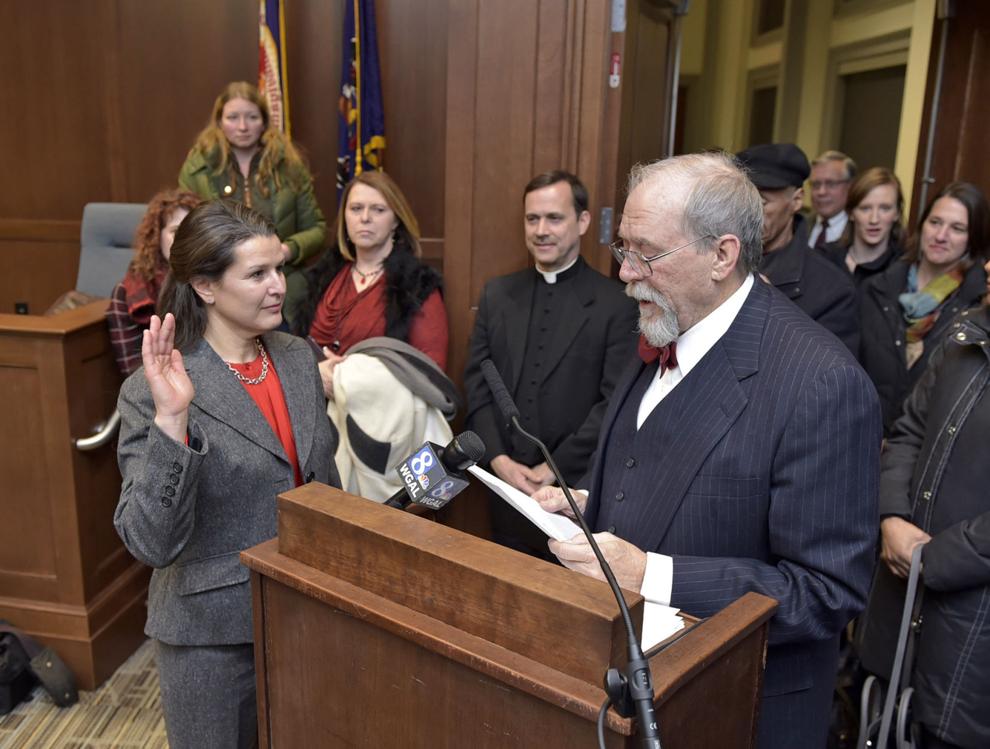 She secured 73 percent of the vote, while Republican Cindy Stewart garnered 23 percent and three independent candidates combined earned 4 percent. Just 18 percent of the city's voters cast ballots, a typically light number for a municipal election year.
On Tuesday, she became the city's second woman to hold the post. Democrat Janice Stork, who served from 1990 to 1998, was the first.
In her first act as mayor, Sorace swore in three new members of City Council who were elected in November — Faith Craig, Janet Diaz and Ismail Smith-Wade-El — council member Pete Soto, who won re-election, and returning controller E. William Andrews, all fellow Democrats.
Their oaths marked the official retirements for council members Tim Roschel, Louise Williams and Barbara Wilson. Chris Ballentine, who was re-elected treasurer in November, was appointed to the council when Wilson resigned in November.
One of Sorace's first duties will be to hire new chiefs for the fire and police departments. She also plans to create a position of director of neighborhood engagement, a campaign promise that she hopes will aid in addressing residents' day-to-day problems.
Job descriptions will be posted as recruitment efforts begin for all three positions in the coming weeks, she said.
Sorace also announced her chief of staff will be Matt Johnson, who ran an unsuccessful primary campaign for City Council, and Gray's chief of staff, Pat Brogan, will stay on through March to help with the transition.
After new council members were sworn in, council member James Reichenbach was elected as the new council president. Former President John Graupera said he had previously committed to serving two terms in the role.
Council also voted to re-appoint some administrators to continue their roles in the new term and re-appointed Cheryl Holland-Jones to serve as treasurer.
Chris Ballentine was elected treasurer in November when Holland-Jones didn't run for another term. But when council member Wilson resigned, Ballentine was appointed to fill her position and the council solicited applications for treasurer.