The garage at Eileen and Milner Sosa's home in Columbia is usually filled with all sorts of things.
"It's always chaotic in there," Eileen says.
They are not embarrassed by the way the garage looks. It's truly not the forgotten room of their home. In fact, it's perhaps one of their favorite spots, as it houses the much-needed donations for Outreach Paraguay.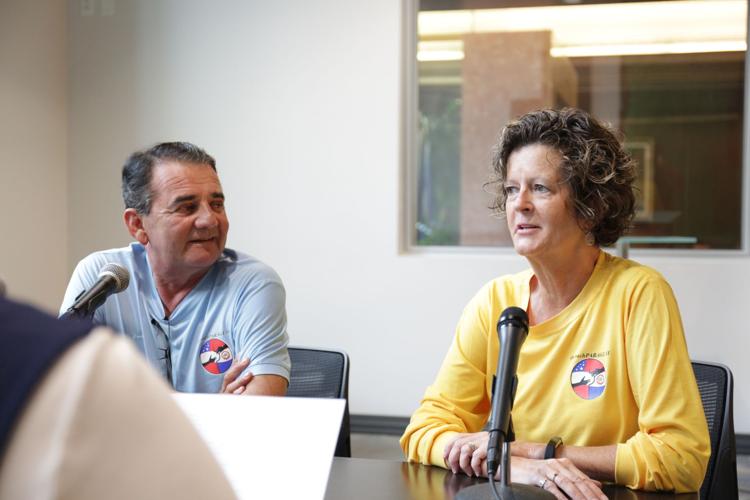 Outreach Paraguay is a local nonprofit that this husband-and-wife team officially established in 2012 to bring needed resources to poor communities in Paraguay, particularly in the area of Caazapá and Caaguazú, while working with partners on sustainable projects that make a long-lasting difference in those communities.
"We also work to establish friendships and mutual respect between the people of Paraguay and the United States," Eileen says.
Eileen, 62, is a family nurse practitioner at Penn Medicine Lancaster General Health. Milner, 60, is a foreign language teacher at York Catholic High School.
"I am from Paraguay. I was born there to a poor family in the jungle of San Joaquin," Milner says. "I met Eileen there when she participated with Peace Corps. When we came back to the States, we decided we wanted to do something, do more for the people of Paraguay. I always remember my life there as a child and want to do what I can to help."
The Sosas recently returned from their annual trip to Paraguay. This year, their team of 10 volunteers included students from Penn State University and Austin College in Texas, along with health care professionals from Harrisburg and Lancaster.
"The services we provide are sustainable, they have lasting impact," Eileen says. "When we go into the schools in those rural areas we talk about dental and personal hygiene. We go into the elementary schools and do programs on simple things such as hand-washing to help prevent the spread of illnesses."
Through Outreach Paraguay and the help of a York youth soccer team, the Sosas were able to open a library in a rural school.
"We keep growing that library every year we go, and those communities know we will be delivering books," Eileen says. "It's exciting to see children reading books in those rural areas."
Outreach Paraguay has partnered with Paraguay's Ministry of Public Health, the Ministry of the Exterior and the Ministry of Education to do service work.
"We work very hard to establish relationships with the proper agencies there," Eileen says. "We have what is called a 'convenio' or an agreement with the Paraguayan Ministry of Health where they vet us before we go every year to make sure we are who we say we are, that we are not sending a clinician to their communities to practice their trade without first being vetted by the ministry."
One of the projects the couple has been working on is equipping a mobile health clinic.
"When we provide equipment and materials to a Paraguayan clinician, we need to make sure it is equipment that they are familiar with and can be repaired over there if needed, and they can get more supplies for," Eileen says. "So we've gotten to the point where we are purchasing more goods in Paraguay, which also helps us support the local economy."
Recruiting volunteers can be a difficult task, as people don't always know what opportunities exist. They may also think they don't have the particular skills that are needed, or that they are not able to commit to the responsibility because they are already busy.
"The students recruiting is not as difficult because at Austin College, for example, they do the recruiting for us. In Lancaster, however, the recruiting effort is harder due to work commitments and the financial implications of the trip," Eileen says.
When she speaks about the work they do, Eileen says she prefers not to use the terms "missionary" or "mission" in relation to their outreach project.
"It is nothing negative against missionaries at all," she says. "I guess it's just semantics. Milner and I are definitely on a mission to do something when we are in Paraguay and then here at home.
"But the term 'missionary" to me sounds more as if I'm going in to provide this service that is not replicable and it's one-sided. What I really want to come across in the way we do these trips is that it's about going and learning from Paraguayans, providing resources and engaging with them, sitting at a table to share stories."
Those stories and experiences are then shared by volunteers in their local communities to create change.
"I am an experienced traveler throughout Latin America and I have traveled with the group on two occasions," says Jennifer Sherwood, a physician assistant at Lancaster Health Center. "Traveling with Milner and Eileen has offered insight into a culture and a community that I have not had before.
"It is a humbling experience to be welcomed into a community, who seemingly has so little, with such hospitality," Sherwood says. "It makes one reevaluate what we deem important in our lives."
What is expected of volunteers?
"Part of the experience is to explore a new culture and its people," Milner says. "The people there are very friendly and welcoming. They are resilient, optimistic in the face of adversity and they are the happiest people in the world."
In preparation for their trip, volunteers with Outreach Paraguay are trained through a series of meetings and a video, which includes an evaluation of their motives for going abroad.
"They learn about Paraguay, what it means to be an ambassador for our country and your community," Eileen says.
Fluency in Spanish is not required of volunteers.
"We work with translators. That's usually my job as well," Milner says. 'Because in Paraguay, most people who live in the countryside speak Guaraní."
According to the CIA World Factbook, Guaraní is Paraguay's first language and Spanish, its second. Paraguay is also one of few South American countries to retain its native tongue as an official language.
All volunteers who travel with Outreach Paraguay must fund their own trip.
"That way all donations to the program are strictly used for outreach," Eileen says.
Volunteers are expected to be flexible and open-minded, she says, as there are many fluctuating factors that are out of their control.
"For example, during rainy season the dirt roads are impassable. If it rains, children do not go to school, so if we have an outreach program in a local school, it will not happen," she says. "In addition, it can be very cold in the winter in Paraguay so you have to be OK with sleeping just in your sleeping bag, or gathering at night around an open fire to have your evening meal. You have to be willing to give up a lot of your comforts."
The Sosas agree that everything the volunteers go through offers a learning experience.
"If you find yourself working in an area where it rains a lot and the electric is down due to a storm, that means you won't have hot water perhaps for days. Are you OK with having to take a cold shower? These experiences will change you, they will open your heart and your mind to what those people have to live with," Eileen says.
Thus far, none of those occurrences has discouraged the work of Outreach Paraguay. The Sosas' passion for the work they do lies in their enjoyment and understanding of a blessed and plentiful life.
"Every time we return home from Paraguay, we are reminded that we are coming back to our comfort. It haunts me," Eileen says. "They are not just a face or a name. Once you get to know those people, they become a motivation you just can't turn off.
"That's why I tell the volunteers I want them to be uncomfortable," she says. "Take it all in and let it change you."
For information on Outreach Paraguay, visit OutreachParaguay.org.