With a single sentence at Sunday night's annual Martin Luther King Jr. celebration service at Holy Trinity Lutheran Church, the Rev. Patricia Ann Southerland McAlister brought people to their  feet.
"Make America what it ought to be," she said.
McAlister, pastor at Mount Zion African Methodist Episcopal Church in Columbia, offered a list of offenses that continue to plague the nation: wage inequality, the government's failure to fully fund public schools and the redlining of neighborhoods where financial institutions refuse to offer home loans.
Citing  a verse from Matthew 11:12 — "And from the days of John the Baptist until now the kingdom of heaven suffereth violence and the violent take it by force" — she rhetorically asked "Who are the violent?"
The violent, she told the approximately 200 in attendance, are those who march for justice, who are desperately hungry, who cannot afford health care, whose children attend deteriorating schools and "the wrongly accused black and brown men locked up in concrete plantations."
Paraphrasing King, she said those who passively accept evil are as much  to blame as those who commit evil.
Her sermon fit with this year's theme "When we fight, we win."
Growing up in segregated North Carolina in the 1960s, McAlister faced racism and discrimination. And while some things have changed, much has not. She said she has been profiled by police, as have her sons.
Her sermon followed an extraordinary recitation of King's "I Have a Dream" speech by businessman Champ Hall. His voice and cadence reminiscent of King's memorable address at the Lincoln Memorial in 1963, Hall asked the audience to "imagine you are there."
It was a reminder of King's passion and the power of his words as he spoke of his "dream of a symphony of brotherhood" in this country.
As part of the event, a resolution honoring the late Rev. Robert O. Bailey was read. Bailey was an civil rights activist and served in a number of organizations, including as president of the Lancaster NAACP. Bailey died Sept. 30.
Blanding Watson, president of the Lancaster NAACP branch, reminded the audience that King entered the national spotlight in 1955-56 when he helped organize the Montgomery, Alabama, bus boycott following the arrest of Rosa Parks, who refused to yield her seat to a white man on the bus.
Quoting King, he said, "Our journey continues."
Prior to the service, Watson said society needs to address a multitude of issues from criminal justice and mass incarceration to the economy.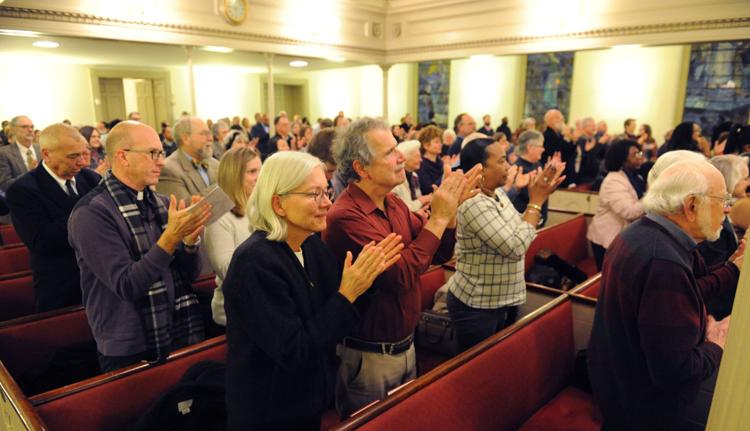 This year's offering honored the late Millersville University professor Rita Smith Wade-El. The funds are earmarked for a scholarship.
The event was sponsored and hosted by Holy Trinity Lutheran Church and the NAACP Lancaster Branch.