At 5:19 a.m. Wednesday, a 4.0 tremor was recorded in the area of Ponce, Puerto Rico. Subsequently, another 4.1 earthquake was recorded at 6:33 a.m. south of Guánica.
Experts at the Puerto Rico Seismic Network say that almost all strong earthquakes are followed by earthquakes of lesser magnitude. These aftershocks occur as the rocks accommodate themselves to the new stress regime.
"The only thing predictable is that they are unpredictable," says Dr. Elizabeth Vanacore. "Therefore, the population should expect to feel more of these events in the immediate future, some as strong or even stronger as Tuesday's earthquake."
With time, the frequency and intensity of these events will gradually decrease. However, it is anticipated that this will not happen quickly, so residents of the island are urged not to let their guard down.
"The tremors could last for weeks, sometimes months. They will decrease over time unless we get another major shock," Vancore says.
The most destructive earthquake ever recorded on the island was the 1918 San Fermín 7.1 earthquake, off the northwest coast that sparked a tsunami that killed 116 people.
According to the U.S. Geologic Survey, there have been more than 950 earthquakes and aftershocks recorded in the area as of Tuesday night since Dec. 31, though many were weak and could not be felt.
"My sister's house in Juana Diaz was shaking so much they decided to spend the night outside. Their house appears to be fine but they say it's a safety issue for them," says Lancaster Township resident Carmen Cedeño.
Cedeño's relatives are not alone. Many citizens throughout the southern coast of Puerto Rico chose to sleep outdoors Tuesday night for fear that a new earthquake would happen, while they slept.
A magnitude 6.4, Tuesday's earthquake killed at least one person and injured at least nine others.
Most of the island was left without electrical power after the earthquake.  The Puerto Rico Electric Power Authority says that the majority of its customers will have power Wednesday, but anticipates selective blackouts.
The tremors have sparked a wave of panic throughout the communities in southern Puerto Rico.
Luz Montañez, of Ponce, says she woke up Tuesday morning to objects falling off all surfaces. "It felt like the entire house shifted and everything began to fall as the earth shook," says Montañez.
Montañez immediately reached out to her son Jose Rivera, of Lancaster, to tell him about what had happened. She is worried about potential mudslides in the mountainous region where she lives.
Lancaster resident Christina Maldonado spoke by cellphone about how she was awaken out of her sleep Tuesday at her mother's home in barrio Playa, Añasco, when the earthquake shook the island.
"We felt it, we definitely felt it. I couldn't speak, I couldn't move. Our house was rocking back and forth. It felt like a ship out in the ocean," Maldonado says.
Maldonado's friend Aidalis Lopez, of Lancaster, is visiting relatives in Mayaguez, about 28 miles northwest of the town of Guánica.
"This was very scary. We are still wondering what's going to happen next," López says. "This morning, there was a 4.2 at 8:41 and another at 7:44. We have no power right now. We are charging our phones in the car. If you have no power, it could be minutes; days or it could be months before it's restored again. It's frustrating," she says.
Elsewhere, former Lancaster resident Carlos Crespo says there are several homes in the municipality of Guánica, among the worst hit towns, that completely collapsed and numerous buildings that sustained severe damage, such as the apartment complex where his mother lives.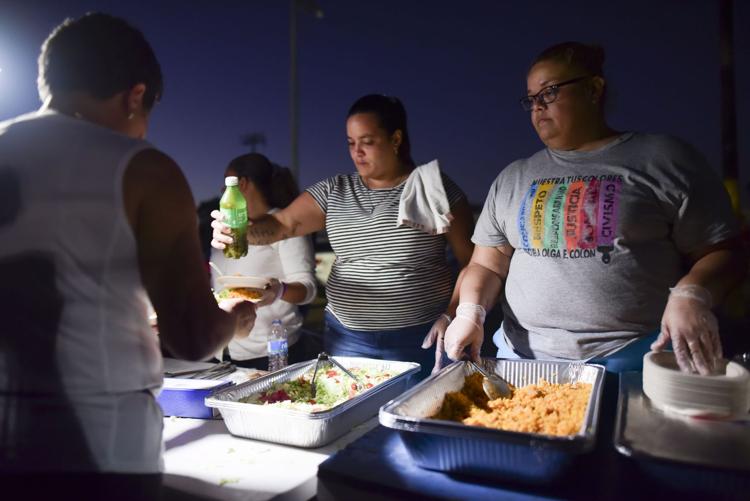 "My mother is now staying with me in Ponce, but lots of people had to go to shelters," Crespo says.
"Luckily, we've had no additional misfortunes in terms of loss of life, but we are nervous, we are not at peace," Crespo says.
"People are sleeping on mattresses in their front yards while others spend the night under white tents and tarps. We are not taking any chances; no one wants to sleep inside. Last night we slept in my car," Crespo says.
Through it all, Maldonado says, the sense of community is very much alive in the U.S territory that has seen its share of grave difficulties.
"Everybody is checking on everyone, making sure they are ok. The sense of community is outstanding. Whether or not they are struggling, they open their arms and offer what they have to make sure everyone gets what they need," Maldonado says.
The Federal Emergency Management Agency announced aid has been made available to supplement local response efforts.