This week, the General Sutter Inn in Lititz removed the wooden statue of its namesake, and owners announced that they were considering changing the name of the local landmark.
The moves were made in solidarity with the people of Sacramento, California, who recently have been removing Sutter's name and likeness from various properties, and out of respect for Native American and indigenous people of California, whose ancestors Sutter is said to have treated brutally during his time as a colonizer of the American West.
But how did the name of this man - who was once lauded as a pioneer hero of the California Gold Rush before his legacy became one of cruelty and enslavement - end up on a hotel in Lititz?
Well, the short answer is that Sutter spent the last few years of his life here, and in that time became something of an "adopted native son" of the town.
For the long answer, we turned to the LNP | LancasterOnline archives. Though little mention was made of Sutter in local newspapers during his lifetime prior to moving to Lititz, retrospective stories long after his death painted a fuller picture of the man and his life.
Sutter's story was long and convoluted; at times brutal and horrifying, at other times almost comically absurd. 
Here's what we learned.
---
Coming to America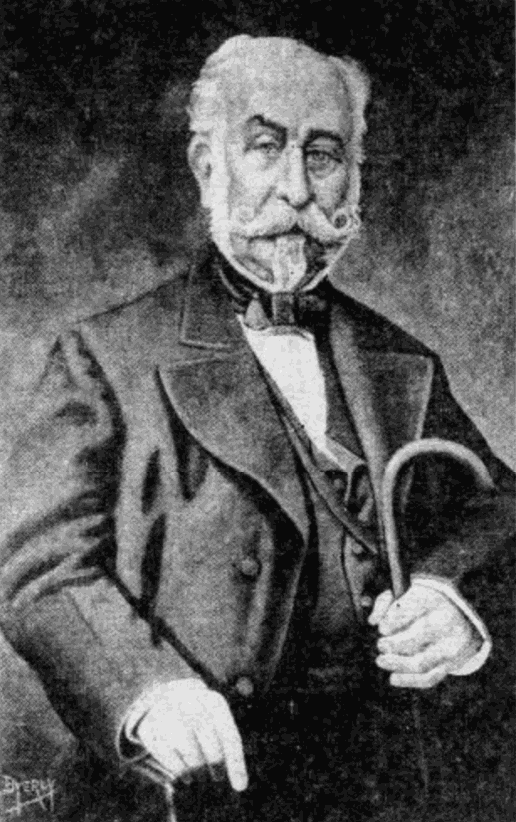 Born Johann August Sutter in 1803, Sutter was of Swiss origin, though he was born in what is now part of Germany. He went to Swiss schools, and as a young man went into business running a cloth and haberdashery shop in Burgdorf, Switzerland. He married at 21 and fathered four children before fleeing Europe because of mounting debts, abandoning both his failed business and his young family.
Calling himself "Captain John Augustus Sutter," he arrived in New York in 1834, intent on heading west. He settled in St. Louis, where he once again opened a shop and, once again, failed to turn a profit.
He kept moving, relocating several times before eventually following the Oregon Trail to Fort Vancouver in the Oregon Territory. From there, he hoped to travel to California.
He ended up booking passage to Hawaii (then known to Europeans as the Sandwich Islands), where he stayed for several months, ingratiating himself with native leaders as well as Europeans who were living there.
From Hawaii, Sutter booked passage to New Archangel (now Sitka, Alaska, but then a Russian colony) and, after a month there, finally made his way to California, arriving in 1839 at Yerba Buena, which is now San Francisco.
---
Brutality and war
When Sutter arrived in California, the region still belonged to Mexico. The territory's governor, Juan Bautista Alvarado, granted Sutter permission to explore the area, and after living there for a year Sutter was granted Mexican citizenship.
In 1841, he began the three-year construction of Fort Sutter, in what would later become Sacramento. The Mexican government granted him 48,000 acres, which he built into a colony called New Helvetia, in honor of the Latin name for his Swiss homeland.
It is at this time that Sutter's controversial legacy was forged. Some historians, such as the late Jack Forbes of UC Davis, have asserted that Native American workers were kept as slaves in New Helvetia, and that Sutter raped Native girls as young as 12 years old. 
(Contemporary accounts of Sutter's actions vary widely. Some accuse him of enslaving hundreds of Native people and employing posses to hunt and kill any who escaped; while others assert that he paid his Native workers fairly and treated them well. Regardless, his role as a white colonizer during a time of widespread brutality against indigenous populations is what has called his legacy into question today.)
When the Mexican-American War broke out, Sutter was a Mexican citizen and landowner, before deciding to support an independent Californian state and later changing allegiance to the American side - possibly because he foresaw the likely outcome of the conflict.
---
The Gold Rush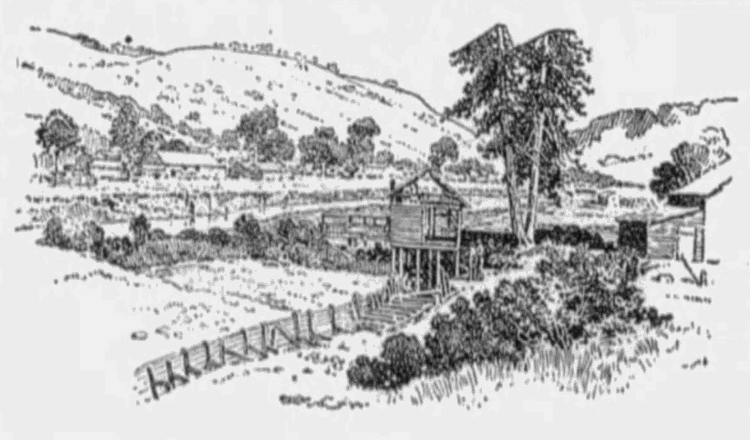 The thing Sutter is most known for, of course, is his role in the 1849 Gold Rush - one of the most transformative events in the history of the American West, which Sutter set off by accident.
(Here's the first mention of Sutter in Lancaster County media, describing the find.)
When enlarging a sawmill Sutter had built along the Sacramento River, one of his workers, John Marshall, discovered gold in the water. Despite Sutter's efforts to keep the find secret, word got out and Sutter's workers deserted the camp to seek their fortunes. The colony was soon overrun by squatters.
The state declined to assist Sutter in removing the interlopers, so he moved onto a small portion of his property before fleeing entirely, settling nearby at Hock Farm on the Feather River near Yuba City. He finally brought his family from Switzerland to America, and was commissioned an officer in the California State Militia.
Sutter intended Hock Farm to be a retirement haven for himself and his family, however the gold rush depleted local manpower, eventually leading to Sutter's business going bankrupt and his decision to head back east.
---
Moving to Lititz
After a disgruntled employee burned down his house in 1865, Sutter finally booked passage for himself, his wife Anna, and three of his grandchildren on a ship sailing around Cape Horn. (Sutter's son, John Sutter Jr., had abandoned his family, leaving his three children to become wards of his parents.)
The family settled in Washington, D.C., for five years, which Sutter spent engaged in a bitter battle with the government. He tried to get reimbursement for the lands and properties destroyed by the would-be miners of the gold rush. He tried to secure payment for his service of housing and maintaining government troops. He tried to regain ownership of disputed lands in the Sacramento area, which he believed to have been rightfully his.
After a summertime stay in the Lititz Springs Hotel, Sutter decided to move his family to the Pennsylvania town. He liked the small-town feel of Lititz, and believed the Moravian schools would serve his grandchildren well.
He also believed the waters of Lititz Spring had curative properties, an important factor for the elderly and increasingly frail Sutter.
He built a two-story home across from the hotel for the cost of $10,000, complete with hot and cold indoor plumbing and an extensive wine cellar for his collection of California wines.
At this time, Sutter remained a tireless self-promoter, granting lengthy interviews with newspapers, locally and in other cities, in which he described in detail the circumstances around his inadvertent launching of the 1849 Gold Rush.
Throughout his years in Lititz, Sutter made annual trips to Washington, hoping always to win one of his battles for money or recognition from the government.
---
Death and legacy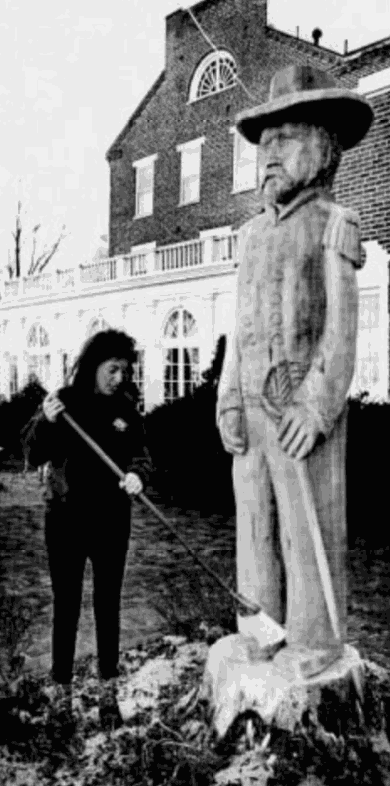 On one of those trips to Washington - on June 18, 1880 - Sutter died at the age of 77. He was eulogized in glowing terms in local newspapers, including by way of this epic poem published in the Lancaster Examiner, which painted him as a hero of the highest caliber.
Upon his death, the Intelligencer Journal had this to say: 
"His has been a strangely contradictory career, the turbulent scenes through which he passed in the days when his name and fame were familiar as household words being in striking contrast with the quiet retirement of the latter portion of his lifetime, from which he has passed almost unnoticed into the sleep which knows no waking."
His body was returned to Lititz and interred in the cemetery of the Lititz Moravian Church. Even though he was not a member, the congregation allowed him to be buried there along with his wife, Anna, who died seven months later.
Several years later, according to this Sunday News article from 1980, Congress resolved to honor Sutter's legacy by erecting a seven-foot-tall marble fence around his gravesite. When workers arrived in Lititz with the pieces of marble, Sutter's daughter, Anna Eliza Hull, refused to let them construct it, claiming that the quiet beauty of the graveyard would be ruined by the "misguided monstrosity."
(A compromise was reached, or so the story goes, in which the wall could be erected but had to be sunk into a six-foot trench, leaving a one-foot wall around the gravesite, which still stands today.)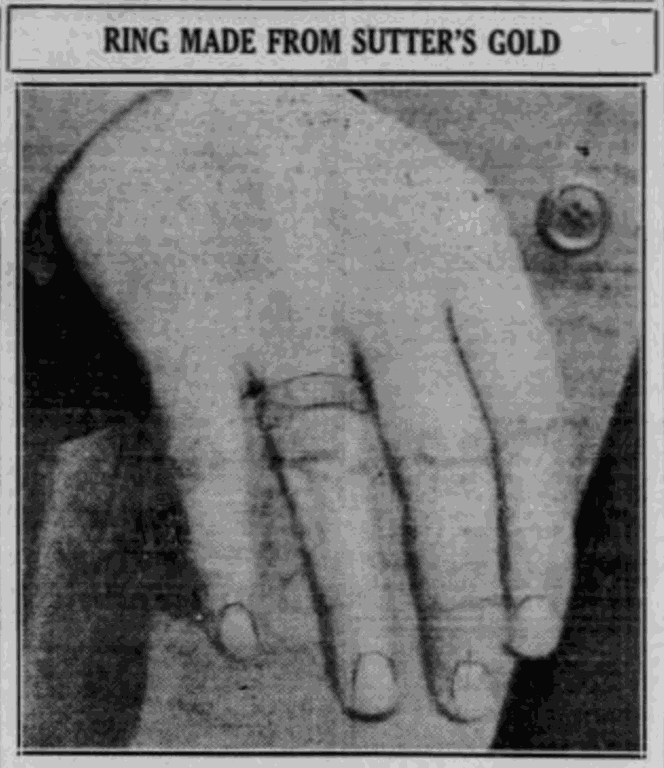 Other local legends about Sutter persisted as well - this 1930 Intelligencer Journal story includes a photo of a ring owned by a local man who claimed it was made from the first nugget of Sutter's gold, sent back to Lancaster County by the colonizer to relatives of a workman to which Sutter was especially grateful.
(This tale likely was at least partially garbled by time - the newspaper story refers to Sutter living in Lancaster County prior to heading west, an event of which there is no other apparent record.)
Also in 1930, the former Lititz Springs Hotel was renamed the General Sutter Inn.
The more problematic aspects of Sutter's legacy are not new to the public eye this year - here's a 1998 Associated Press story in the New Era about efforts to begin purging Sutter's name from institutions in California.
And the statue that was taken down this week? That's a relatively new addition to the local Sutter lore. It was carved in 2002, by H. Dean Fox of New Holland, from a dying tree on the property.
Sources: LNP | LancasterOnline archives; Sacramento Bee.