What do you see when you think of a hotel bar? Is it a lively lounge or a lonesome place to grab a quiet drink? Is it ornate or tacky, in step with the hotel that it inhabits? Most importantly, is it merely an extension of a hotel, or its own independent entity?
When it comes to The Exchange, the newest bar and lounge in downtown Lancaster city, it's fair to ask all of these questions and more. Open for just over a week as of this writing, The Exchange is the newest chapter for the Lancaster Marriott's food and drink division. Formerly home to (deep breath) The Penn Square Grille and Rendezvous Lounge in Downtown Lancaster, The Exchange is the first of the Marriott's planned overhaul, to be followed by a new restaurant, Plough, in the fall. The defining characteristic of The Exchange is also the bar's main selling point – it exists 130 feet off of the ground, embedded into the 12th floor of the Marriott building.
An elevator is the only way to enter or exit the rooftop bar, giving it extra points right off the bat for the sheer unlikelihood of attracting already-drunk bros to mosey inside. An inviting lounge area contains spacious seating to watch cooks do their work in the open kitchen. On the opposing side of the lounge is a bar area, complete with two sides for those who want to sit inside or out. Of course, if you have the option to sit at a rooftop bar in the summer, why bother being inside?
The actual rooftop bar portion of The Exchange is smaller than one might think, with a number of couches and fire pit tables arranged in a classy manner. Though I was looking out through the parapet glass on a weekday afternoon, it's easy to see how this portion of The Exchange could quickly become a Lancaster Instagram Hotspot™, right up there with the White Cliffs of Conoy and the basket of a hot air balloon. From The Exchange, you can see out past the city towards the green pastures of Lititz if you look far enough, but it's also possible to witness the everyday ant-sized people walking up and down King Street. For the philosophical drinker, it would serve as an excellent place to think about both the wonderment and banalities of life.
Of course, it's also a good place to bring a group of friends, acquaintances or business partners, especially if said group is hungry or thirsty.  Bar manager and head bartender Frank Fontaine has seen seemingly all of Lancaster from behind the bar, whether it was at John J. Jeffries, Annie Bailey's or the departed Aussie & the Fox. Fontaine has also been renowned as everything from one of GQ Magazine's "Most Imaginative Bartender" as well as a top bartender in competitions at Woodford Reserve and the Nightclub and Bar Show. Along the way, he's picked up a knack for invention and originality in his drink-making exploits.
"We're not trying to reinvent this town, this town makes places," explains Fontaine. "You can try to be whatever you want to be, but at the end of the day, Lancaster makes these spaces what they are."
In the same way that much of the local dining scene has gone all in on the concept of "farm-to-table," so has Fontaine with the art of drinkmaking. Nearly every cocktail on the menu has some ingredient more than likely gained from down the street at Central Market or from one of 30 Lancaster farms that The Exchange is partnered with. Take the "Pepp In Your Step," for example, which combines rum, yellow pepper simple syrup, thyme, basil, white pepper dust and white balsamic vinaigrette, or "Midnight Rider," which features blackberry, mint, dry vermouth, egg whites and Woodford bourbon.
However, don't get too attached to certain drinks on the menu – Fontaine plans on cycling through drinks at a somewhat rapid pace dependent on both ingredient availability and the whims of customers.
"I'd like to get at least one new drink on the menu per week if I can," explains Fontaine. "It helps bartenders to learn one new drink at a time as opposed to overloading them with an entire new menu."
Changes to offerings are also old hat to Executive Chef Ryan McQuillan, who has already cycled through three different menus before The Exchange even opened its doors. Blame it on his pedigree – McQuillan has previously anchored some of the best eateries in the tri-state area, including Talula's Table in Kennett Square and Porch & Proper in Collingswood, New Jersey. However, it was his wife's move to her native Reading, PA, that piqued McQuillan's interest in shipping up to Lancaster.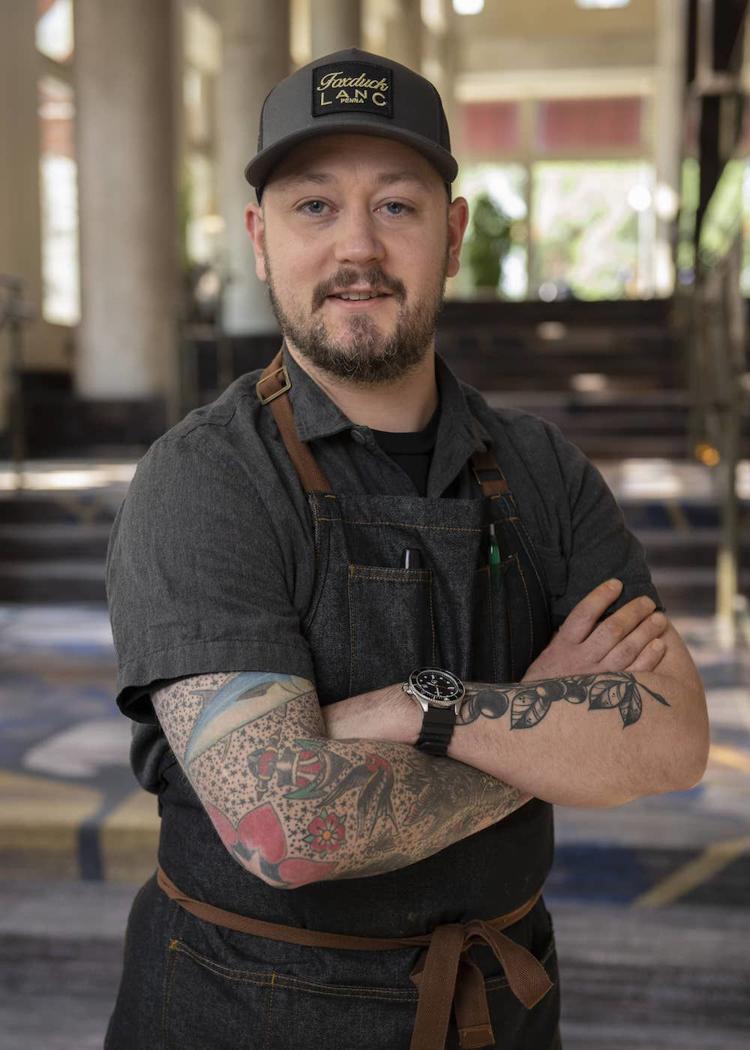 "I've always been attracted to the Lancaster food scene," explains McQuillan. "Being a chef in Philly, I always sourced my produce from this area anyway, so I figured, 'Why not come here?'"
As with Fontaine's contributions, McQuillan's dishes benefit heavily from fresh, local ingredients. The food on the "Exchangeables" menu stretches the definition of "bar food" into something potentially alien to the burgers 'n' fries crowd at first glance, but familiar upon the first bite. Crispy tofu is presented dripping with Tamari BBQ sauce, and the smoked salmon rice crackers are packed with chili, soy and pickled red onion. Other single-serve finger foods include "chicken fried" maitake mushrooms, Maryland crab rolls and Dijon Hollander mussels, among others. The wood-fired pizzas, of which there are currently three, each combine the regular with the unexpected. From personal experience, the sausage and corn pizza, with its slight honey glaze and smoked mozzarella, is a big winner.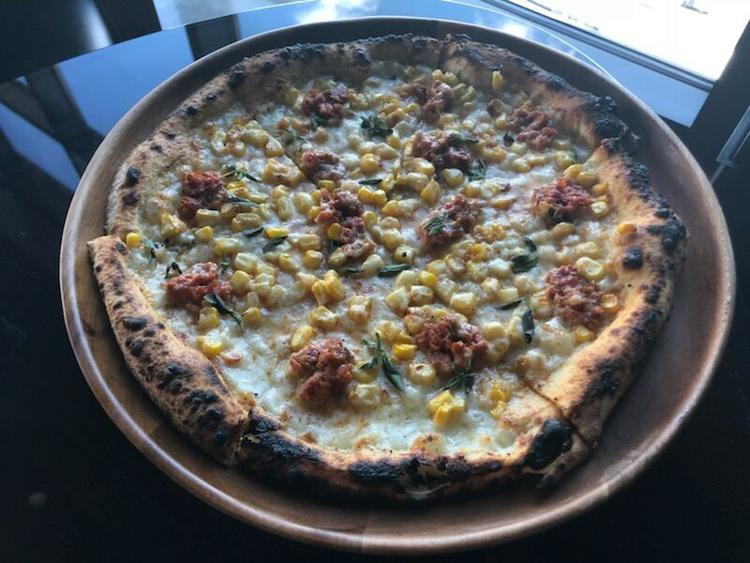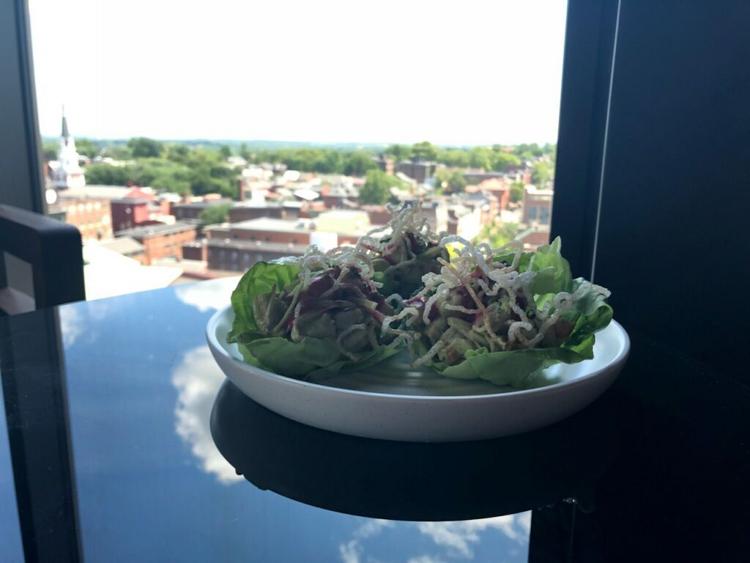 "With the way the food scene has grown in Lancaster, it's a good time to be living and cooking in this area," says McQuillan. "It makes our job very easy being in this area working with so many different farms."
Fontaine and McQuillan will both oversee the drink and food offerings, respectively, at Plough twelve stories down from The Exchange when it opens in the fall. The Exchange isn't way up in the sky re-inventing the wheel here – there are rooftop bars, fancy restaurants and intoxicating vibes throughout Lancaster city. However, there isn't another place in town that is as high up with a combination of fancy-but-approachable fare, interesting surroundings and, frankly, a variety of intensely comfortable couches.
The next time you find yourself downtown without a place to go, just look up.
Find out more about The Exchange here.