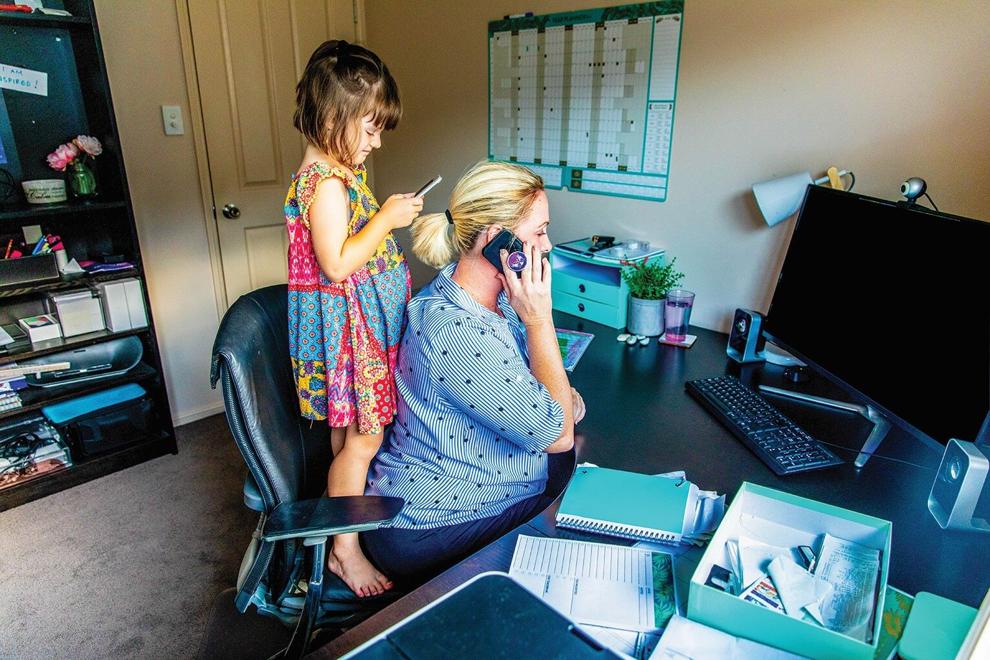 With work/life balance already a tricky concept for married couples who work, it's even more of a challenge for those of you doing it on your own. As a single parent, not only do you have to juggle all of the logistics of childcare and working hours, but there's the financial pressure of managing a household solo, too.
When you're juggling the same responsibilities that dual-working-parent households face, but all on your own, it can be very challenging. That's on top of dealing with the friction between needing to work to pay the bills and wanting to be a good parent who spends time with their kids. Single parents handle so much without having an in-house partner to share that load.
Historically, readers have told Monster that they feel their role as a parent has affected their job search, while others have said parenthood has impacted their overall careers. So to help you cope with these unique challenges, we share some strategies for balancing single parenting with a fulfilling career.
Identify Your Biggest Pain Point
Because every family's dynamic and financial situation is different, start by figuring out what type of support you need most. If you work in a job that requires a lot of travel, maybe childcare is your greatest obstacle. Your solution will likely rely on a network of helpers—siblings, parents, friends, daycare and after-school care workers, among others.
A flexible employer can make balancing your life easier, but flexibility can mean different things to different people. It might mean having predictable hours with no requirements to stay late; it could be working an earlier shift so you can hang out with your kids after school, or it might be working flexible hours a couple of days per week.
Ask for Flextime Strategically
If you're already at a company you love, think about asking for additional support that will help you be a better employee and parent. It all comes down to more control over when, where, and how you work. Time off and a flexible work schedule are routinely among the most-desired aspects of a job offer.
For example, perhaps your employer might make accommodations so you have more leeway with your daily start and end times—as long as your work is done. Or maybe you can explore an option that lets you work longer hours so that you can have one day per week off.
If you decide to talk to your current employer about flexible options, here are some tips to keep in mind as you broach the subject:
Make it about your work. Employers want to hear how working flexibly will make you a more productive, focused, and energetic worker. If there is someone else at your company who works this way, cite them as an example.
Anticipate your boss's concerns or fears and be ready to address them. Have a plan ready for how you'll communicate with them, what your schedule will look like, how you'll collaborate with your team, and how you'll be available for on-the-spot needs.
Suggest a trial run. Many managers may be hesitant to automatically allow you to use flexible work options, so suggesting a trial run of one to two months can help them adjust to the idea, and allow you to prove that flexibility is a great idea for both of you.
You might also consider nontraditional work situations such as scaling back to part-time hours while supplementing your income with freelance jobs that you can do on your own time—that is, if it makes sense for you. Freelance jobs can help you take on as much or as little work as you can handle, and that can fluctuate throughout the year depending on your needs.
Seek Out Companies That Can Meet Your Specific Needs
No matter what is most important to you—whether it's the ability to work remotely, good benefits, or access to (or even a subsidy for) daycare—it's important to do your research when looking for a job. Visit a company's website and Monster's company profile site and review areas that speak to the workplace culture and benefits. Often, when a company offers a flexible work arrangement or telecommuting benefits as examples, those perks will be evident on their employer and career pages.
To help find companies with a strong track record of hiring working/single parents, you can start by researching those included on the best companies for working mothers. Beyond that, read company social media pages to discover what values they highlight, and what their employees are saying about them.
Once you actually begin an interview process, it's also smart to look for evidence of people's families in their workspace—virtual or in-person—like photos or kids' art. This can be a clue that you're in a family-friendly culture.
Negotiate for the Benefits Most Important to You
In a Monster survey, 75% of respondents said they will ask about an organization's policy on flexible work schedules before getting a job offer (22% in the screening call, 53% in an interview). And that's perfectly acceptable.
A recruiter can also help you determine if the company fosters a culture that will be supportive. For example, ask if there's flexibility to arrive and depart the office, or if the manager or culture drives a set schedule (i.e. 7:30 a.m.–4:30 p.m.). This information is helpful in coordinating childcare.
Just be mindful that there is a fine line here between gathering the necessary information and unintentionally signaling a lack of commitment to the needs of your employer or demands of the job. It's better to explore these details as you get toward the end of the process and have already determined that there seems to be a good fit and a mutual desire to make it work.
Some experts say openly discussing your situation as a single parent can, unfortunately, open you up to conscious and subconscious bias from recruiters and hiring managers. That being said, you can absolutely ask questions about how the company approaches work-life balance, or what its flexible work policies are.
No matter what, if you're a single parent, you're facing complexities that other people in the workforce may not. You need to shop for, cook for, feed, dress, teach, play, and transport your children—all while holding down and tending to your career. By selecting an employer that provides benefits and flexibility to accommodate your lifestyle, you will be better equipped to do your best work both on the job and at home.
Find the Right Fit
Knowing the best companies to meet your needs as a working parent is a key step in the job search process. Need some help? When you join Monster for free, you can get job alerts from select companies sent to you when open positions become available, which cuts down on the time you'd spend searching through ads. Let us help you have a more streamlined job search so you can take care of what matters most.
---
Copyright April 1, 2023 - Monster Worldwide, Inc. All Rights Reserved. You may not copy, reproduce or distribute this article without the prior written permission of Monster Worldwide. This article first appeared on Monster.com. To see other career-related articles, visit https://www.monster.com/career-advice/.