At this yoga class, you can do downward facing dog …with kittens.
Evolution Power Yoga is partnering with York County SPCA to bring back cat yoga. The first classes in February sold out. A session scheduled in York Saturday has sold out and another cat yoga is scheduled for August 26, during the peak of kitten season.
Organizers want to bring yoga out of the studio while helping a nonprofit. Plus the first round of yoga cats all found homes.
Around the world, you'll find yoga with goats, bunnies, dogs and cats. Evolution's version of cat yoga is a 45-minute yoga session for all levels with the bonus of free-range cats.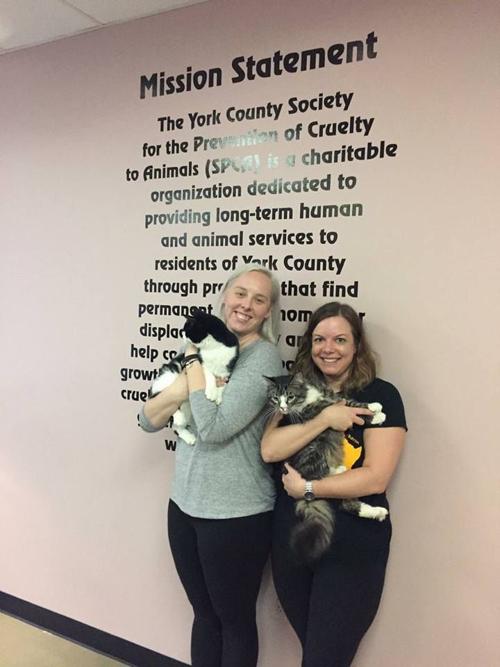 Instructor Stephanie Ellis came up with the idea. She worked with instructor Jenna Ritter to coordinate cat yoga.
"We both have a passion for animals and the SPCA," Ritter says. "We've both adopted from there. She adopted a dog and I adopted two cats."
 They focused on cats because there are so many in need of homes.
"We discussed having puppy yoga with them," Ritter says. "But unfortunately whenever they do have puppies, they're usually out the door right away."
Cats are also small enough to fit into the York County SPCA's conference room along with 20 yogis.
At the winter classes, five or six cats joined the yoga.
"Some of the cats were a little shy and found a corner to hide in," Ritter says. "But there were a couple in each session that would roam around, walk on the mat or play with toys. It was really, really fun."
Even the shy cats were adopted by the end of the weekend, says Hannah Beard, SPCA community outreach coordinator.
Studio staff noticed most of the students were newcomers and some came from Maryland for the chance to pose with cats, says Stefanie Kosakoski, the studio's brand manager.
This weekend's class and the August session are prime time for kittens, many which are conceived as days grow longer. Shelters see a surge of kittens in spring and summer and the SPCA plans to have 10 kittens in the next yoga class. The kittens have been in foster homes and should be less shy than the first yoga cats, Beard says.
"A roomful of people to a kitten is the best thing that's ever happened to them," she says. "We imagine them climbing all over everyone."
They'll be available for adoption after the yoga's finished.
Evolution Power Yoga is looking into offering cat yoga near its studios in Lancaster and Harrisburg.
Here's the scene of a cat yoga class in New York City from CNN: