The Architects' Alphabet is a 26-part series describing design elements featured in Gregory J. Scott's upcoming book "Urban Legend, The Life & Legacy of C. Emlen Urban," Lancaster's most renowned architect. Photos for the book are by Matthew Tennison.
ARCHITECTS' ALPHABET, PART 4:

'D' IS FOR DIAPERING
Question: What do babies and buildings have in common?
Answer: Diapering! Really? Yes.
Diapering is the architectural term used to describe a decorative wall treatment or pattern on masonry or wood that adds visual interest to what would otherwise be an unattractive surface. Its name is rooted in Middle English as "dyaper," referencing a diamond-shaped pattern like a baby's diaper (prior to the disposable type).
As a surface decoration, it is the repetition of one or more simple units of design, evenly spaced. To be truly effective, diapering requires the sun to create shade and shadow across a textured wall surface.
---
Examples of decorative diapering in Lancaster architecture [photos]
In architecture terms, diapering is the use of a repeating pattern — a diamond pattern, for example — in brick on a building. The architect C. Emlen Urban incorporated diapering into a school, a cafe building and a mansion in Lancaster. Here are some views of those buildings.
---
There are currently only three examples of diapering in the city of Lancaster, and all three examples are the work of architect C. Emlen Urban. Interestingly, all three are executed in distinctly different design styles from the years 1892 to 1927.
First is John Reynolds Middle School; at 605 W. Walnut St. in Lancaster, constructed in the Gothic Revival style in 1924. Urban applied the diapering surface treatment on four large, blank masonry walls to add texture and visual interest. The crisscross brick diamond pattern, reminiscent of espalier (see below), is a framed panel measuring 12 feet wide by 20 feet tall.
To accentuate the texture and shadows, Urban used a rough-cut tapestry brick. The framed panels add much-needed interest to a building exceeding 250 feet in length.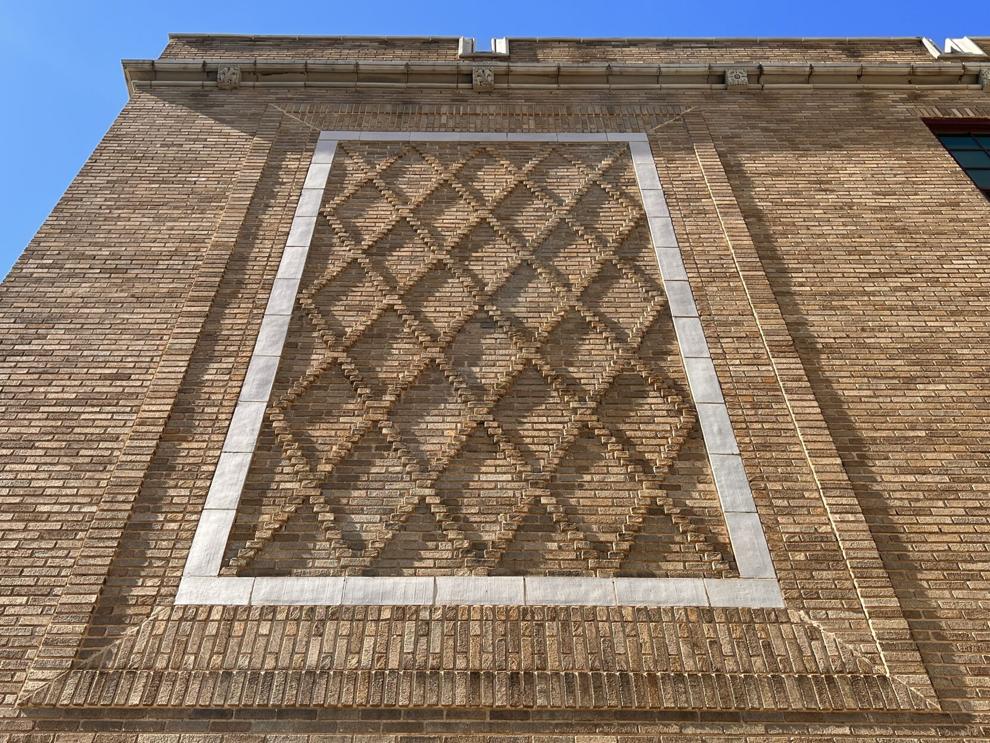 The second example is the three-story, red brick Elmer E. Steigerwalt mansion located in the 600 block of West Chestnut Street in Lancaster. It was constructed in the Chateauesque style in 1894.
Urban employed the diaper diamond pattern above the second-floor bay window to add interest to what would have been a plain brick wall between the window head and parapet. For additional interest, he inserted a brick medallion in the center of each diamond. The northern orientation limits the best shadow effects to early spring mornings and late summer afternoons.
The third example is Urban's first use of diapering.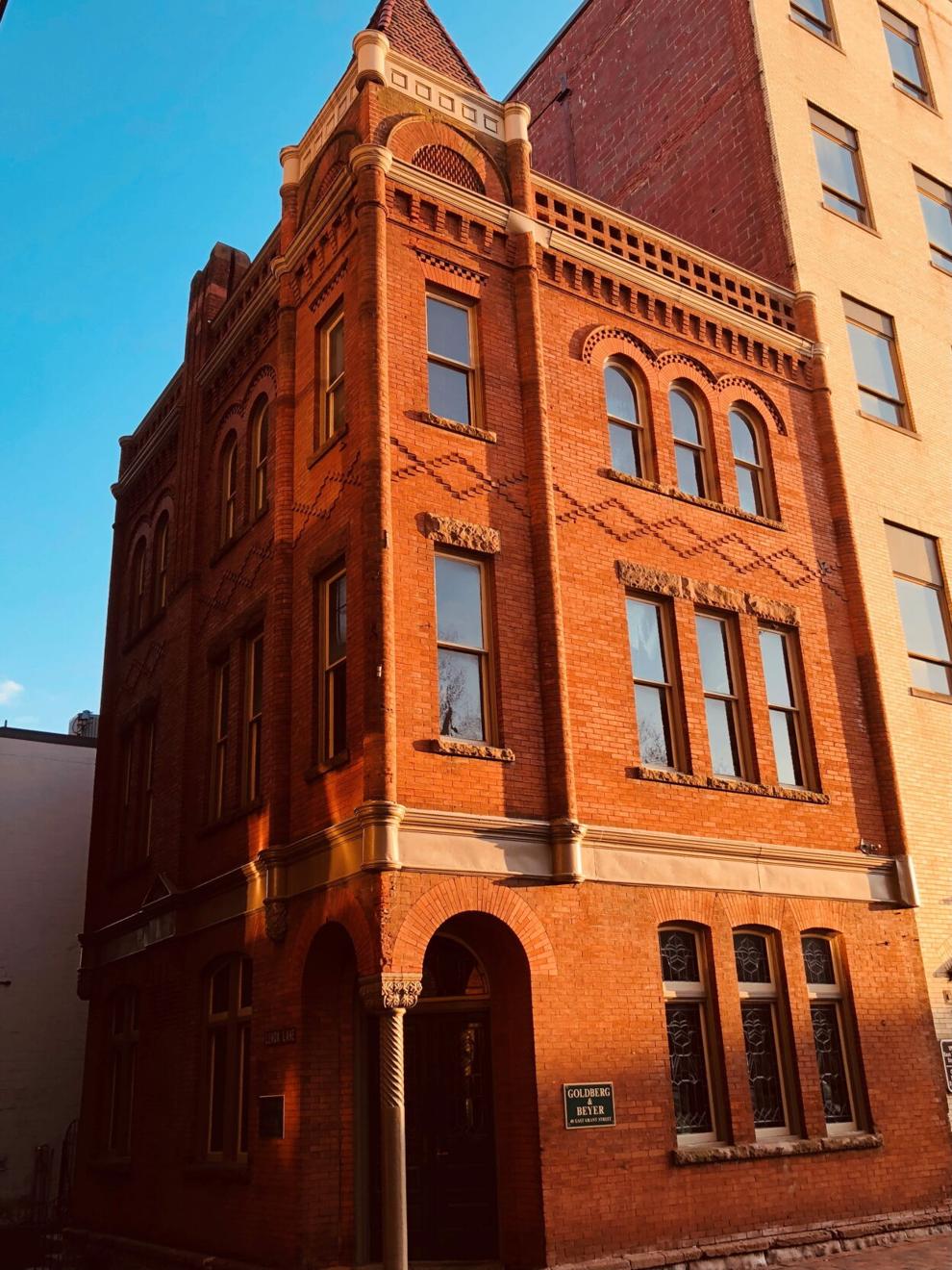 Charlie Wagner's Cafe, located at Lenox Lane and East Grant Street, was designed in 1892 and is his only example of Romanesque Revival.
The diapering is used as a "hat band" around the perimeter of the building, between the second and third floors. The single row of crosshatched brick adds interest and wall texture to the surface.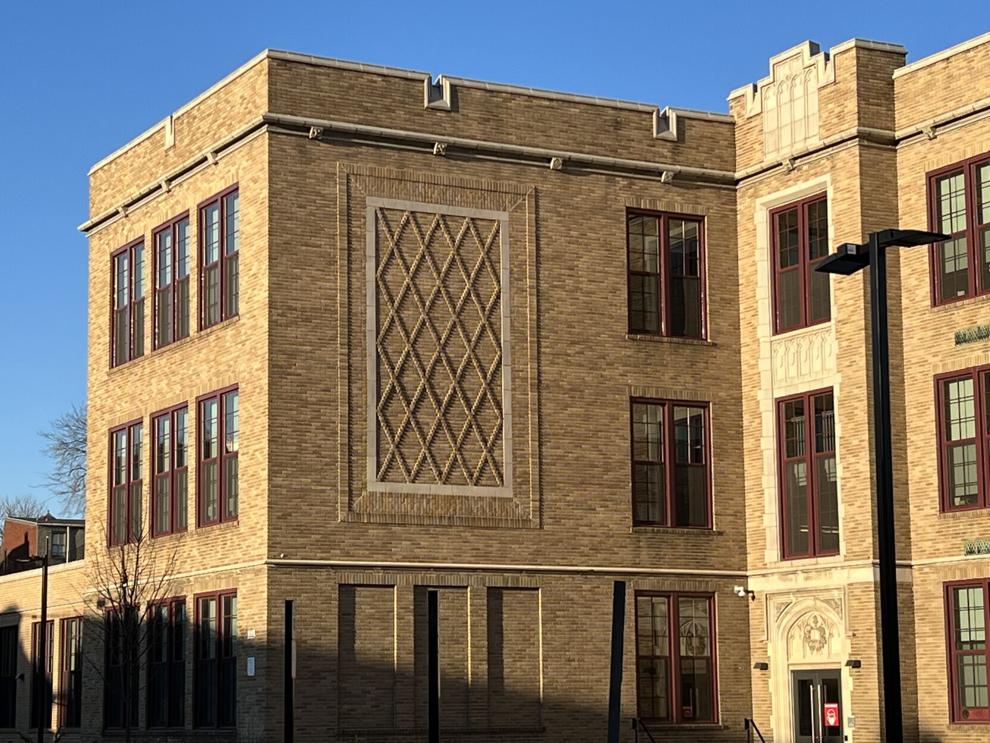 Similar to the Steigerwalt mansion, the cafe's northern orientation limits the best shadow effects to early mornings and late afternoons.
If our readers discover or know of other examples of diapering (excluding infants) in our community, please let us know! Enjoy!
What is tapestry brick?
The phrase "tapestry brick" refers to a rough-cut textured brick used to create a pattern effect. It was popular in the late 19th and early 20th centuries.
What is espalier?
Espalier (French) is the art of growing plants in a flat plane against a wall, often in a diamond pattern. 
Was Urban the only architect to use diapering in our community?
To date, we have identified over 100 architects with commissions in Lancaster from the 1800s to 1940, and Urban's three examples are the extent of what we know.
This column is contributed by Gregory J. Scott, FAIA, a local architect with 50 years of national experience in innovation and design. He is a member of the American Institute of Architects' College of Fellows. Email GScott@rlps.com.