Perhaps you've made your reservation for an upscale eatery or a favorite neighborhood hole in the wall.
Or maybe home is where the heart is.
Many people will be cooking dinner Thursday, when Valentine's Day rolls around.
They'll be trying to make things special — showing some affection to their new lover, a significant other, even their children.
We reached out to some people who have experience with home-cooked Valentine's Day meals, and they offered their suggestions, and recipes, for making the meal special on this day that is set aside to celebrate love.
Seafood
"The first thing I think of when I want to show someone a little extra love is 'seafood is sexy,' " says Joe Hess, one of the owners of Cracked Pepper Catering in Lancaster.
"I think seafood costs a little more," Hess says. "I think it makes someone feel special. It's not a chicken meal.
"I think of a really simple, creamy seafood bechamel with some scallops and shrimp," Hess says, "something simple that anyone can really pull off."
Bechamel is a white sauce made from butter, flour and milk.
"If you're making it for the kids," he adds, "you get the seafood, if you want, and just give them pasta with the bechamel sauce. Kids don't always like seafood."
For those making salads at home for Valentine's Day, Hess says, "I always say ... Google what is in season. Right now one of the salads that is just flying off our shelves, that people are loving, is our beautiful poached pear salad.
"We poach the pears in white wine and cinnamon ... and that goes on some beautiful greens with some candied nuts and a great, light vinaigrette," he says. "It just goes with anything. It's very simple to produce, and you can make it look like it's a $25 salad off a menu in a restaurant. It's all presentation.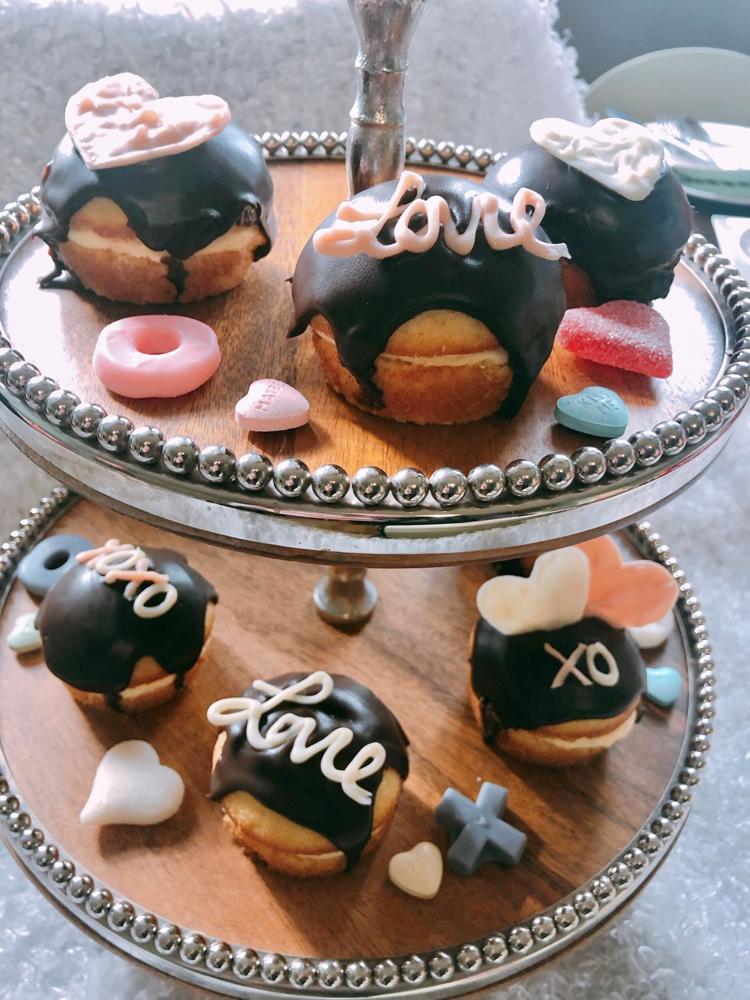 "Dessert is something that people don't treat themselves to often enough," Hess adds. "If it's smaller, you can feel as if you haven't done something wrong. I am a petite-dessert guy. ... You can do a mini tiramisu in a little cup that makes people feel special. It's your own little container, and it's made with love."
Another example is the "love cakes" Cracked Pepper serves.
"Our chef does this adorable twist on a cupcake," Hess says. "It's pound cake-based. She cuts out the middle, she fills it with a beautiful cream, like a custard, and then she puts chocolate over the top."
Home cooks can also make the environment of the dinner special with a little effort on the tablescape, Hess says.
"You always want to eat with your eyes first," Hess adds. "Even if it's a beautiful table presentation that's simple. The right lighting. It's an all-around package if you're on a budget.
"You have these things around the house," Hess says. "If you have something on a shelf — 'Oh, this vase is cool. Oh, this little sphere is cool. I have these little greens from the tree outside; I'm going to cut those and put them in something.'
"You can always make someone feel special on a budget," he says. "Use your environment."
Chocolate is key
Chef Meghan Young, who just closed her Characters Pub restaurant in Lancaster, where she cooked for others on Valentine's Day, says there are lots of fun ways to work chocolate into your holiday dinner.
"At Characters, almost every Valentine's Day, we had a cocoa-scented duck breast." she says. "I would get a really good, dark Dutch cocoa, but you can use Hershey's.
"Roll the duck breast in the cocoa powder and then give it a little dusting of salt," Young says. "The proper way to start duck is from a cold pan, fat side down. You're really able to control the color."
Young advises searing the duck on both sides until it gets crisp, which sears the chocolate into the flesh and seals in the juices.
Then put the duck, fat side down, in an oven at about 400 degrees for about 15 minutes, she says.
"You'll get a really lovely ... deep, bitter flavor," she says.
Young says she likes to serve the chocolate duck "with a sweeter sauce, just to complement it. You might want to do something like a raspberry (or blackberry) reduction ... or a raspberry puree or raspberry couli.
"And then, because I'm me, I'd add a little chipotle paste to it" and a pat of butter for extra richness, says Young, who has done a lot of Mexican cooking throughout her career.
Guacamole can be dressed up for Valentine's Day with chopped shrimp and crab and red cocktail sauce on top, she says.
For the salad course, Young recommends "a really good salad of arugula, sliced strawberries, sherry vinaigrette — made with sherry vinegar — and then you add cocoa nibs to it."
You can "up the ante" on the salad, she says, by serving it over fried mozzarella.
The cheese is rolled in flour, dipped in egg, rolled in panko crumbs and browned on both sides in some oil in a shallow frying pan and drained on some paper towels.
"Then you just build that salad on top of the slices of mozzarella," she says. "You get the sour from the berries, the bitter from the arugula, the sour from the sherry vinaigrette, and then the different kinds of fat that you get from the cocoa nibs ... and the cheese."
For a Valentine's Day dessert, Young recommends a boca negra — a dark chocolate cake.
These dishes, Young says, are all great for awakening the senses on Valentine's Day.
You can find Young's recipes in the sidebar below.
Main dish
Bob Gates of Denver says he can't take complete credit for one of his favorite at-home meals for two.
His friend, Neal Mease of Ephrata, first introduced Gates and his wife, Gloria — "who is an excellent baker and chef herself," Gates says — to an "absolutely wonderful" petite filet mignon recipe.
"We don't do this every year" for Valentine's Day, Gates says, "but I think it's time to bring it back."
Yes, he acknowledges, the recipe may call for searing the meat in cast iron before popping it in the oven, but Gates opts for grilling as the final step.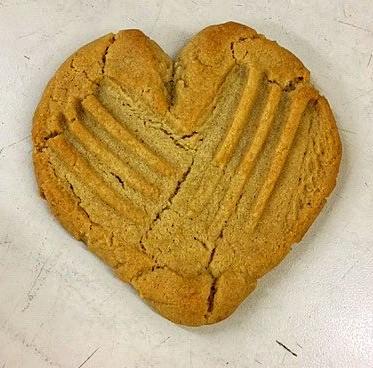 That isn't always the coziest way to cook for a February holiday. But Gates says the effort is worth it (directions for both techniques are in the recipe below).
"We will do the meat on the grill even if we have to move the grill to the driveway out of the snow piles," Gates says.
The recipe originally was developed by Susie Gall on the Simply Sated recipe blog. The Gateses finish off the petite filets with Gall's brandy peppercorn sauce with Parmesan. Check out both recipes in this story's sidebar below. 
Dessert
Jennifer Kiebler, of Lancaster city-based catering company Simply From Scratch, pulled her Valentine's treat suggestion from the list of choices her clients can choose from.
"We do corporate as well as social events," Kiebler says, "and I always like to include a dessert tray that includes something seasonal." That means her suggestion, an easy-to-grab-and-go cookie, would be perfect as a lunchbox surprise or sweet treat for the sweet tooth.
This cookie is a standard in her catering kitchen, but she "(puts) a twist on it for Valentine's Day.
"We take an everyday awesome peanut butter cookie and shape it into a heart shape," she says. "Sometimes we dip one side of the heart in melted chocolate for an extra-special treat." You can find Kiebler's cookie recipe below.