Like many people throughout Lancaster County, David Anderson lives in an old house.
He's been at this house on North Mary Street in Lancaster city for a decade, and knows it was built some time around 1870.
Anderson wants to learn more about the house, how it changed through the years and the story behind the grocer's alley shared with a neighbor.
He can research public records to find when the house was built and the price of the property long ago. There are records to understand dates, and there are more records that share more about the people who lived there, who they were and how they lived.
John F. Bennawit Jr., an archivist at Lancaster County Archives, reminds researchers to focus on the people, not just the dates.
"To me, that's really the coolest thing to focus on," he says. "Because you're finding the stories connected to the people."
Several times a year, Bennawit leads a class highlighting resources available online and throughout the county. Here are some highlights from a recent class about the tools you can use to unlock the history of a property.
Anderson discovered some answers to his questions and found some conflicting information, so his research continues.
"I want to make sure I really understand these relationships, how did the house really get passed down through the years," he says.
Deeds
Deeds are a great starting point, Bennawit says. These documents show who bought the property, who sold it, when it was sold and the price.
There is a pattern to find the most important information. The buyer's called the grantee, and the seller is called the grantor. The "recital" is also important. This part of the document starts with "being the same premises" and lists the former owner along with the previous deed book and page number.
With that information, those looking can trace the purchases through time to find the chain of ownership back to when the house was built. Knowing who owned the property is key to many of the other research tools.
Where to find: lancasterdeeds.com. Old records are handwritten and can be difficult to decipher. The originals can be found at the county archives.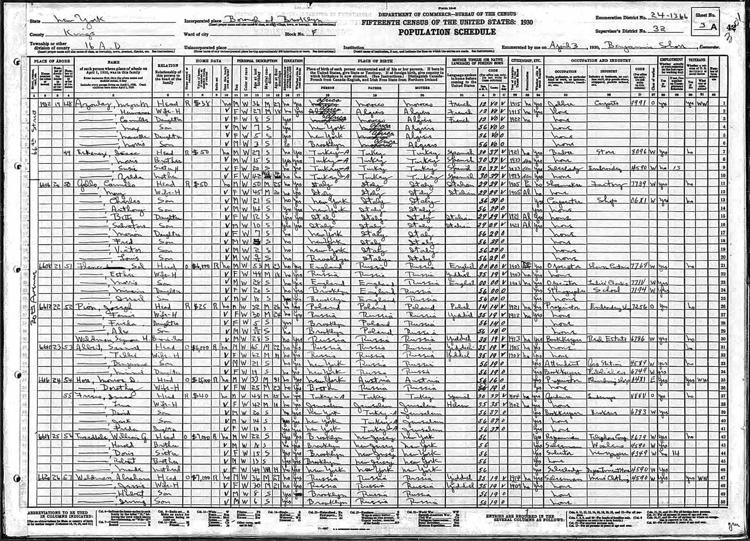 Federal census records
Once the property owner is found, census records will show who lived there, along with their occupation, age, race, ethnicity and the property value.
These records start in 1850 and are updated every 10 years. The records are public through 1940.
Where to find: Familysearch.org offers access to census records for free. Ancestry.com has them as well through a paid membership. Researchers can go to Lancasterhistory.org's library at 230 N. President Ave. to search the records. Daily research fees are $7 for nonmembers, $5 for seniors and free for members.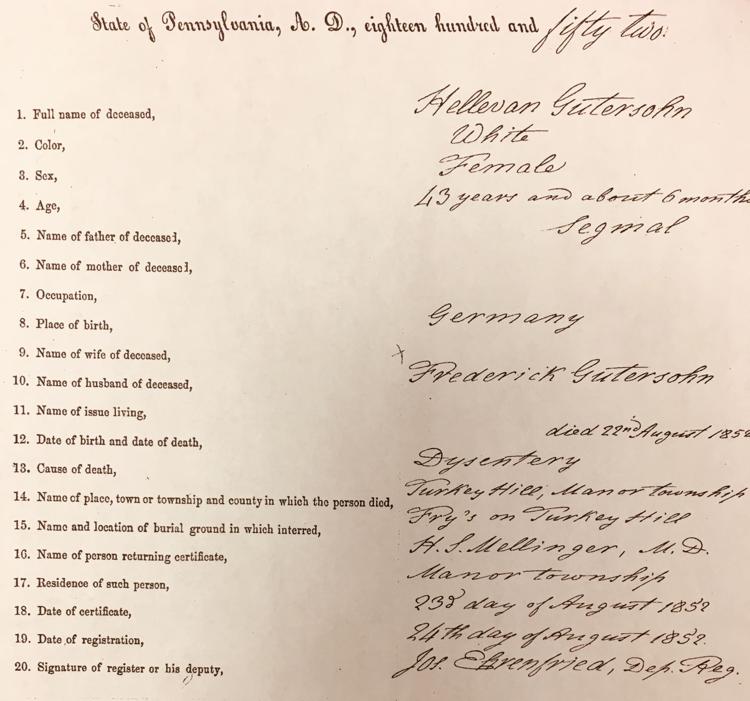 Death records
Search for the date of death of the people who lived at the property. Dates can lead a search in newspaper archives for obituaries, which can contain information like cause of death as well as their family and background.
Where to find: Find death records at bit.ly/LancArchives.
Obituaries can be found in local newspapers. Archives of Lancaster city newspapers back to late 1700s are available on microfilm at Lancaster Public Library's main branch. Copies are 25 cents a page or pages can be saved to USB flash drives for free.
Lancasterhistory.org's library has city and county newspapers on microfilm. See census records section above for cost information.
Wills and Orphan's Court records
When someone dies, his or her will might list possessions in the house, including an inventory. That can offer a picture of what filled the rooms, including furniture down to tea kettles.
When someone dies without a will, their estate goes through orphan's court. Searching newspaper records for an auction can reveal what's for sale, including details of the property and buildings.
Where to find: bit.ly/LancArchives.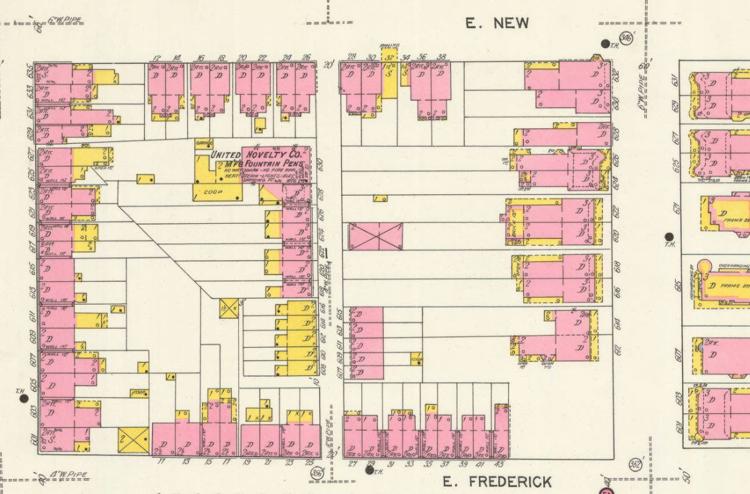 Maps
Historic maps literally give a picture of a property's buildings along with how they change. They show the neighborhoods, revealing things like schools, parks, churches and businesses.
"Maybe there was a railroad that ran behind his home that kept him awake at night," Bennawit says about an ancestor he researched.
Insurance maps, like maps from the Sanborn Fire Insurance company, show changes in buildings and are good for tracking additions or renovations.
Where to find: Lancasterhistory.org's library has Sanborn insurance maps (hard copies and microfilm versions) for Lancaster city and boroughs throughout the county. See census records section above for cost information.
The county archives has maps showing properties throughout the county. Also, Penn State University Maps Library has a nearly complete collection of Sanborn maps for Pennsylvania. The library is digitizing these maps and some in Lancaster County are already online at bit.ly/SanbornMapsPSU.
For more on local architecture and history, check out our LancLife section. 
Beautiful Lancaster: Scenes from around the county showcase history, nature [photos]
Lancaster County is a beautiful place to live. 
This is the beginning of a series of photos -- some new, some old -- highlighting the beauty, landscape and architecture of Lancaster County. In addition to a panoramic view from Breezyview Gazebo on 441 near Columbia, overlooking the Susquehanna River,  we've included photos from Quarryville and the Landis Valley Museum in the snow.
Let us know in the comments: Where should we go photograph next? What do you think is the most breathtaking view in Lancaster County?