Each one of Bryn Yeager's more than 20 tattoos tell the story of her 27 years: her past, her present and her future.
Her latest tattoo, a small semicolon on her wrist, will be a permanent reminder of hope, even on a down day when she might struggle with mental illness.
"Having that semicolon is like a good way to be able to look down and say, 'This isn't the end. There's more to come,' " Yeager says. " 'There's more to your story. This is going to get better.' "
In writing, the semicolon is a punctuation mark that connects two related independent clauses.
The Project Semicolon movement adds a new meaning: This is not the end but a beginning.
"A semicolon is used when an author could've chosen to end their sentence, but chose not to," says the movement's founder, Amy Bleuel, on her blog. "The author is you and the sentence is your life."
People like Yeager are making this idea a permanent part of their bodies with semicolon tattoos. Twitter and Instagram have thousands of photos of the tattoos, often on the inside of a wrist or hidden on the back of a neck or the side of a finger.
Mental health advocates in Lancaster County give mixed reviews about the tattoos, seeing them as a powerful symbol for hope or perhaps just a gimmick.
Yeager got her semicolon tattoo Friday, following the anniversary of the day two of her friends committed suicide.
"I've gone through a rough year personally and that anniversary hit me pretty hard this year, so I decided it was time for me to have something I could look down and make me feel stronger with," says the Lititz resident.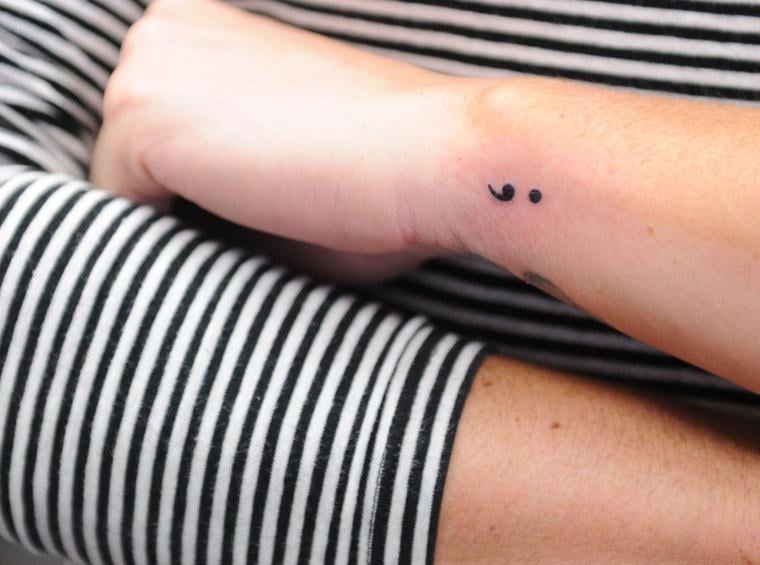 Bleuel started Project Semicolon in spring 2013, when she posted a flyer to social media, she told Mashable. She asked people to draw semicolons on their wrists on April 16 to show they struggled with mental illness. She soon got a semicolon tattoo to honor her father, who committed suicide when she was 18.
"Through my personal story of the struggle with mental illness, self-injury, addiction and suicide I strive to bring hope and love to those who are still struggling," Bleuel says on her blog. "My desire is that everyone knows they are loved and worth it. No longer will feelings of worthlessness hinder stories from being continued. Barriers will be broken and we will declare that hope is alive."
The nonprofit shares its message of hope on social media and online at projectsemicolon.com.
This shared message of hope is important, says Mary Steffy, interim executive director of Mental Health America of Lancaster County.
"People who have hope don't kill themselves," she says. "If we can give people hope that there's a way to live through it, then they can make choices to go on, to not give up, to not despair."
About one in four adults experiences mental illness in any given year, according to the National Alliance on Mental Illness.
Yet it still can be difficult for some to talk about their problems. In the depths of depression or a mental illness, it can be even harder to have hope and believe in the potential for change.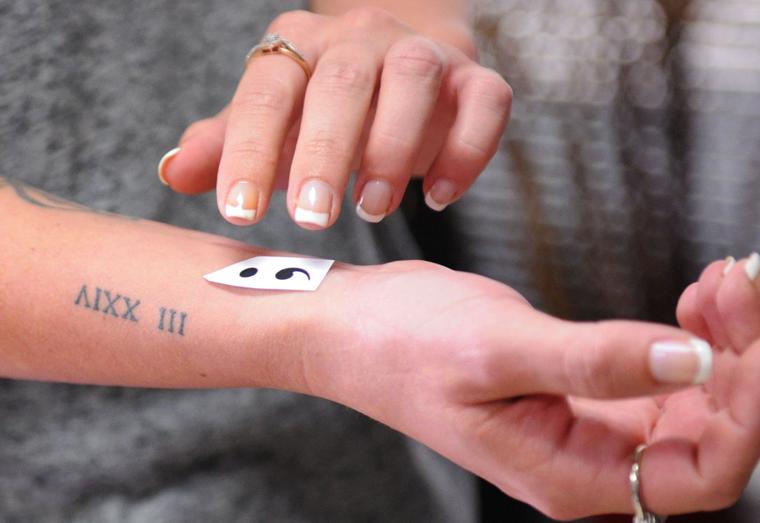 Something as simple as a small semicolon can make that connection and start a conversation, Steffy said.
Yeager's friend, Danielle Plank, also of Lititz, says she has family members who struggle with mental illness. She decided to get a semicolon tattoo because today she doesn't mind talking about their struggles. She hopes the dainty tattoo on her wrist will spark a conversation.
"I was slightly embarrassed about it because I didn't want people to think that there was something wrong with me because I had family members who had mental illness," says Plank, who got her semicolon from tattoo artist Joshua Constein at Lancaster's Skin Tonz Tattoo Studio.
"But I think I'm at a point in my life now, as I get older, where it's something that you have to talk about for the greater good and I don't want people to feel like they are alone in it. And I don't really want people to feel embarrassed to talk about it."
Steffy also likes the idea that semicolons can be found in writing and will be a constant reminder to those who understand the symbol.
But the symbol's meaning isn't widespread.
Vivian Spiese, president of the local affiliate of the National Alliance on Mental Illness, was puzzled by Project Semicolon. She called it an attention-seeking gimmick with nothing positive to bring to the problem of mental illness.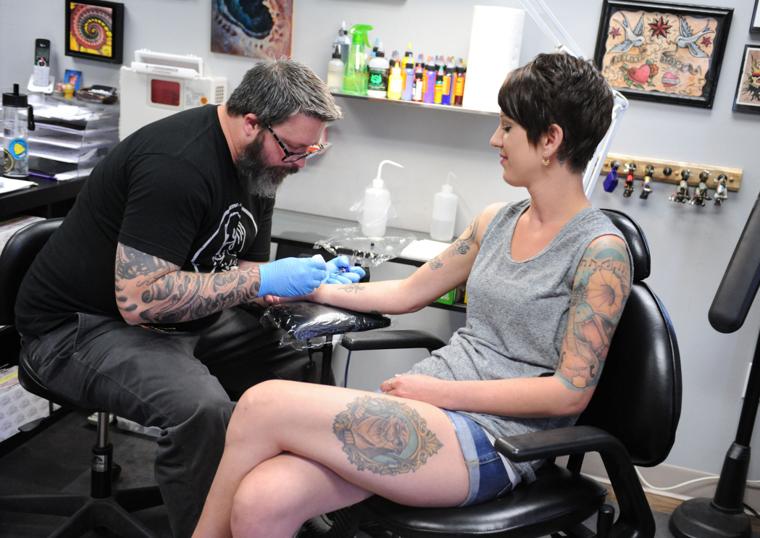 Bleuel has reached around 3 million people through social media and many want to continue their story. They've adopted the semicolon as a symbol of the will to endure.
Steve Lowery, owner of Transcending Flesh in Lancaster, says customers have asked for semicolons to be tattooed on their wrists, ankles and ribs. Sometimes they share the meaning behind the tattoo; Sometimes they don't.
"It seems like an interesting idea," he said. "We don't judge."
At Skin Tonz, a few people got semicolon tattoos last year and gave no explanation.
Two weeks ago, a couple asked for semicolons and said they had read an article about the project, says tattoo artist Sol Amstutz.
Last week, he tattooed semicolons onto a few people and sees the potential for the trend to grow, especially among people who get their ideas for tattoos from social media.
"This is definitely going to turn into a thing," Amstutz says. "When there's meaning behind that, people want to express that. It's a good way to start up a conversation and I see the value in it."