It's been more than a year since curbside recycling for newspapers, chipboard and magazines ended throughout Lancaster County.
Kristin Geissinger saw stuff pile up for a trip to the recycling center, and as she threw things away, it bothered her.
So she came up with a solution and a business.
In January, she launched West End Recycling.
Kristin, 11, makes rounds in her Chestnut Hill neighborhood after school — but not on days with musical practice.
On the weekend, she and her father take the recyclables she sorted to the city's recycling center.
"People were really disappointed and sad that they could not recycle these things," Kristin says. "So I said, OK, if they can't, I will."
West End Recycling is her way to help people and help the planet.
The need for a business like this came after Lancaster County became one of the first regions in the state to react to a market collapse for recyclables.
In the middle of 2018, the county's waste authority limited curbside recyclables to the Big Four: corrugated cardboard; plastic bottles and jugs with necks; metal cans; and glass containers.
The rest could be recycled at drop-off centers around the county. But who has time for that?
Dave Brown and his family, for example, try to limit the trash they throw away at home and at Splits & Giggles, the ice cream shop where he's owner-operator. They also recycle and signed up for Kristin's business.
"We don't have time to take this out to the recycling center," he says.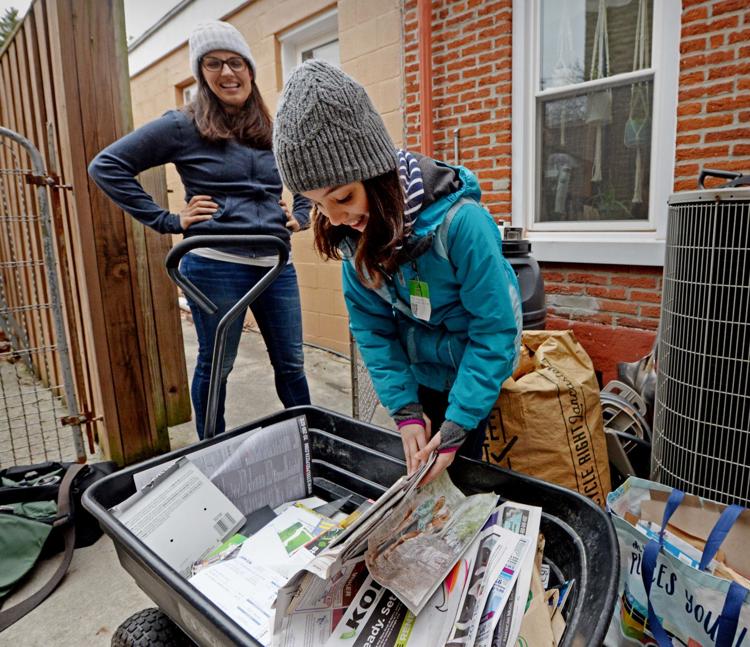 Taking a leap
Aside from being a business owner, Kristin is a sixth-grader at Reynolds Middle School, where she plays violin in the orchestra and is the secretary of the student council.
She just joined the crew putting on a production of "Willy Wonka Jr." When she has time, she likes to read and draw. She also has a pet goldfish, Bilbo Baggins Geissinger.
Kristin had talked about her business idea for months before her parents encouraged her to take the first step.
"I think we can all understand when you do something new, there's that moment of fear when you're like, 'If I don't move, then I don't have this expectation,' " says her mother, Sarah. "So that was, I think, part of encouraging her to actually just take a leap and get started."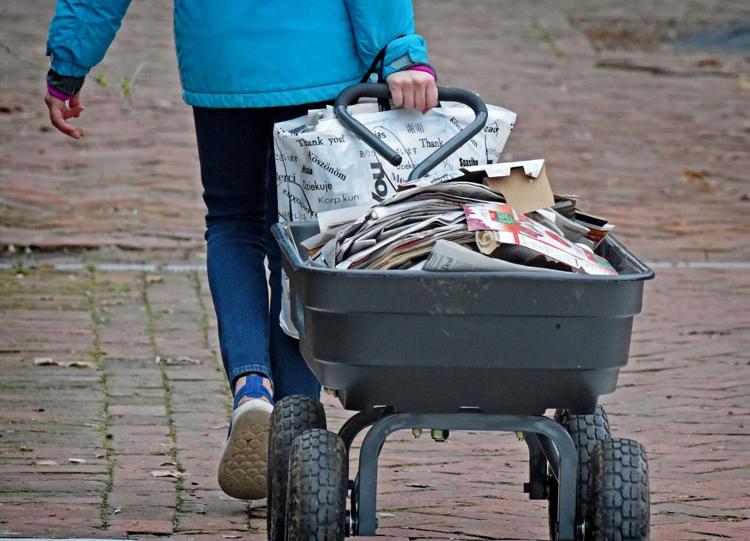 Running a business
Kristin's first customers were close friends and neighbors, like Brown. She found more through word-of-mouth and flyers she passed out in the neighborhood.
Social media's not part of West End's marketing because she's still too young for those sites. Still, she now has 17 customers.
Kristin worked with her mom to create a business website. They also came up with a checklist for new customers. When someone signs up online, Kristin sends a welcome email with the business' rules. Her mom screens incoming emails and texts pick-up reminders because Kristin doesn't have her own phone.
Each customer receives a bright green bag and a tag on the handle with the name, address and day of pickup. They also get a payment envelope for the $25 fee each quarter. Kristin's father, Justin, helped her set up a checking account for the business.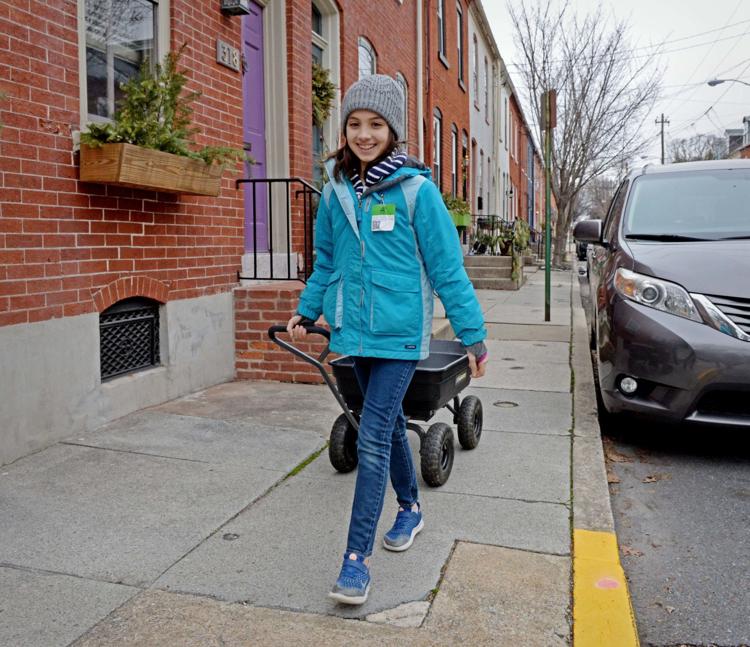 Recycling rounds
Kristin split her customers into three routes throughout Chestnut Hill. Every two weeks, Kristin goes on her rounds. A friend loaned a cart for the recyclables.
On a windy day last week, she made four stops by herself, dumping bags of newspapers, magazines and flattened food boxes into her cart. In her backyard, she sorted the junk mail, chipboard and newspapers into plastic totes.
Watching through a window were her siblings Ella, 7; Ethan, 5 and Alivia, 2. Kristin brought some of the recyclables indoors to protect them from rain and wind.
On Saturdays, she and her dad take the recyclables to the center on New Holland Avenue. He drives in exchange for a free membership for West End Recycling.
Even with weekly runs to the recycling center, Kristin's plastic bins are already filling up. It's not uncommon for new customers to have lots of recyclables saved for a while.
"We all use a whole bunch of chipboard and newspapers," she says.
Kristin's also learned a few lessons beyond what people stuff into their bags. She spelled "recycling" wrong in her first flyer. She also tweaked her materials after hearing feedback, adding a step-by-step guide on her website and information in her paperwork on where to leave bags.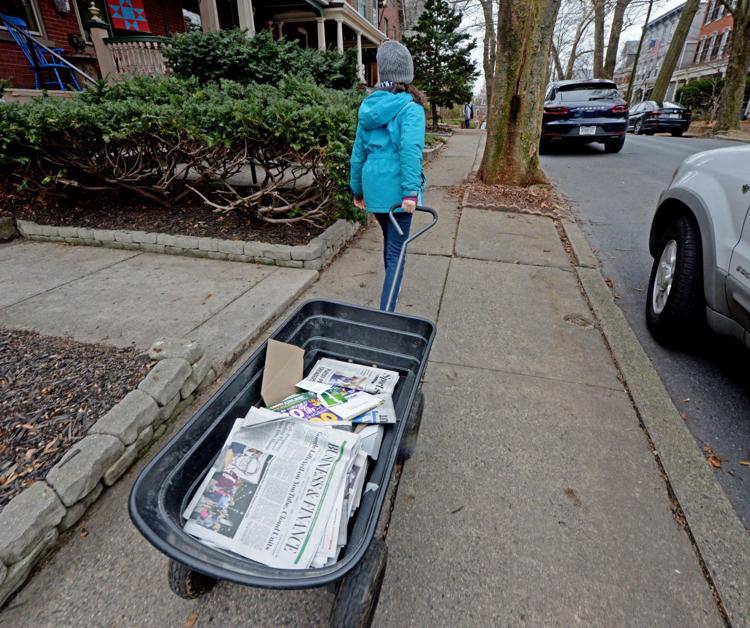 Growing the business
Come spring, it will be time to return her loaned garden cart. Kristin's researching replacement carts and looking for one the right size for pick-ups but not too big for the alley leading to her back yard sorting area.
She's also recruiting businesses to pay West End Recycling's fee for those in need.
For now, Kristin's focused on her walkable Chestnut Hill neighborhood. But she's considering expanding, with the help of friends living in other neighborhoods.
Her sister, Ella, is going to pilot as a paid subcontractor who picks up recyclables near her piano lessons.
Beyond then?
"I'll have to get more into that once school gets out," she says. "Then I would have more time to figure stuff out and plan ahead."