Tyson Foods Inc., which has a plant in New Holland, is recalling more than 190,000 pounds of frozen, ready-to-eat chicken fritter products because of possible contamination with pieces of hard plastic, the U.S. Department of Agriculture reports.
The frozen fritters were mostly sold to institutional food service programs, including those of schools, the USDA reports.
The product involved is 8.2-pound bags of Tyson pre-cooked, ready-to-eat "golden crispy chicken chunk fritters," packed in cases with the code 0599NHL02. The USDA inspection mark contains the establishment number P-1325.
Last week, some schools reported plastic material in the breaded chicken fritters.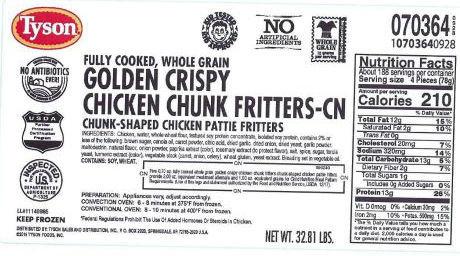 The USDA advises that food service departments that have purchased these products should not serve them, and should either throw them away or return them to the place of purchase.
Those with questions about the recall can call Tyson Foods Consumer Relations at 888-747-7611. The USDA says it has not received any reports of illness stemming from the plastic pieces in the chicken.