Turkey Hill Dairy's Cookies 'n Cream ice cream placed third among 15 top-selling ice cream brands in a cookies-and-cream taste test conducted by the Washington Post, the newspaper reported earlier this month.
A panel of seven experts, including an ice cream cookbook author and several food writers, chose Ben & Jerry's version of cookies and cream — which includes chocolate chip cookies — as the winning brand, followed by Haagen-Dazs.
Of Turkey Hill's Cookies 'n Cream, at number three, the Post said, "The Lancaster, Pa., brand hit the sweet spot for our tasters and scored the highest of any ice cream that comes in a size larger than a quart."
Various panel members described the ice cream flavor's characteristics as a "very pleasing" with a "fluffy, marshmallow-like texture." 
Another panelist said the cream isn't "too sugar-sweet ... it seems like nostalgia for elementary school picnics in the park."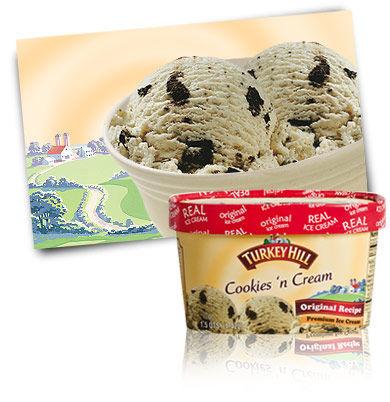 "It does the job on the cookie, creamy and textural fronts," another panelist said, and is "just a tasty, solid ice cream."
Further down in the ice cream rankings, Blue Bell ice cream was number four, tied with Breyers.
Coming in sixth through 15th were Baskin-Robbins, Edy's, Whole Foods 365, Friendly's, Tillamook, Blue Bunny, Van Leeuwen, Alden's Organic, Enlightened and Halo Top.
The Post chose to test the cookies and cream flavor because of its popularity, citing a 2017 survey by the International Dairy Foods Association that declares cookies and cream is America's third best-selling ice cream flavor, behind vanilla and chocolate.
In May, Kroger Co. completed its sale of Turkey Hill Dairy to Peak Rock Capital of Austin, Texas, a private equity firm, for $215 million.
The dairy was founded by dairy farmer Armor Frey in 1931.
Turkey Hill is a national brand, selling its ice cream in every state but Hawaii as of earlier this year.
Turkey Hill Dairy is located on River Road in Conestoga.