A controversial artist who bought a cake created for Donald Trump's wedding by a Lancaster pastry chef and restaurateur has announced what he'll do with the cake — and other pieces of Trump memorabilia.
He'll put them in an art exhibit. And the local chef who made that cake expressed relief Tuesday that it appears the confection will go into the exhibit unaltered.
The Washington Post reports that artist Andres Serrano is putting the cake, made by chef Cedric Barberet, co-owner of Bistro Barberet & Bakery, 26 E. King St., in an art exhibit of Trump memorabilia that opens in New York City Thursday, April 11.
The cake is one of hundreds of individual cakes Barberet made for guests to take home from Donald and Melania Trump's 2005 wedding at Mar-a-Lago, Trump's Palm Beach, Florida, resort. Barberet was executive pastry chef at Mar-a-Lago at the time of the wedding.
Serrano is famous — some might say infamous — for a 1987 photograph he created of a crucifix submerged in his own urine. The image drew wide criticism, protests and even vandalism when it was displayed.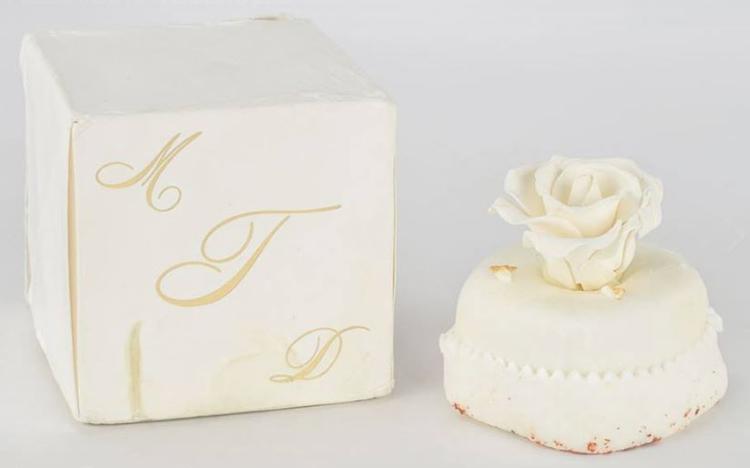 The Post reported in mid-February that Serrano paid more than $1,800 at auction for one Barberet's individual cakes, packaged in a gold-monogrammed box.
The Post says Serrano has been buying up Trump memorabilia for the upcoming exhibit, ranging from 2016 campaign merchandise to souvenirs from the president's hotels and casinos to a Trump-signed fake dollar bill with an image of former Secretary of State Hillary Clinton behind bars.
"I wanted to paint a portrait of Donald Trump using his own brushes," the Post quotes Serrano as saying of the exhibit.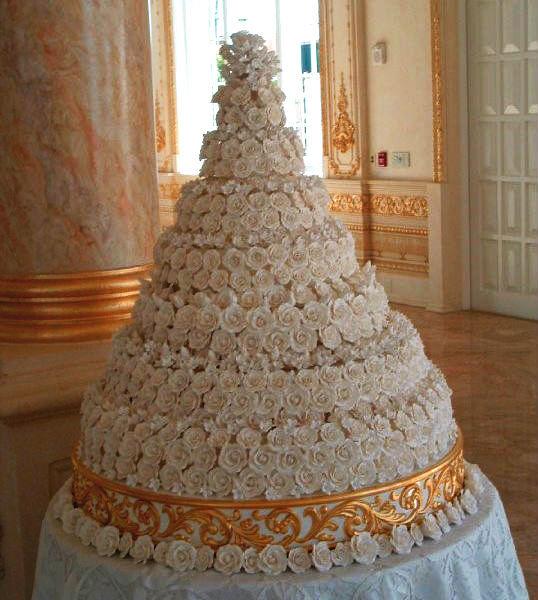 Barberet made three types of cake for the wedding of the future president and first lady: an elaborate Grand Marnier and orange chiffon showpiece cake, the separate sheet cakes that were served during the reception and the individual cakes taken home by the guests.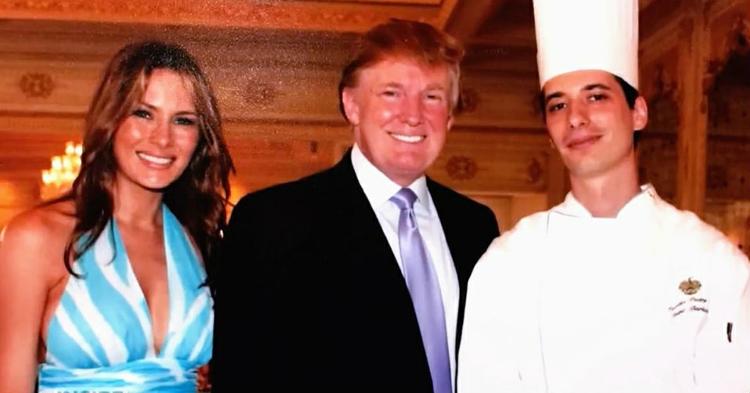 The individual dark chocolate cakes, with chocolate truffle ganache, Barberet said, featured "gum-paste flowers, rolled fondant and 24-karat gold leaf." 
The Post reports Serrano has created a refrigerated tube in which to display Barberet's creation in the art exhibit.
The Post describes Serrano's upcoming exhibit, titled "The Game: All Things Trump," as "an image of the president rendered in his varied acts of salesmanship and self-promotion."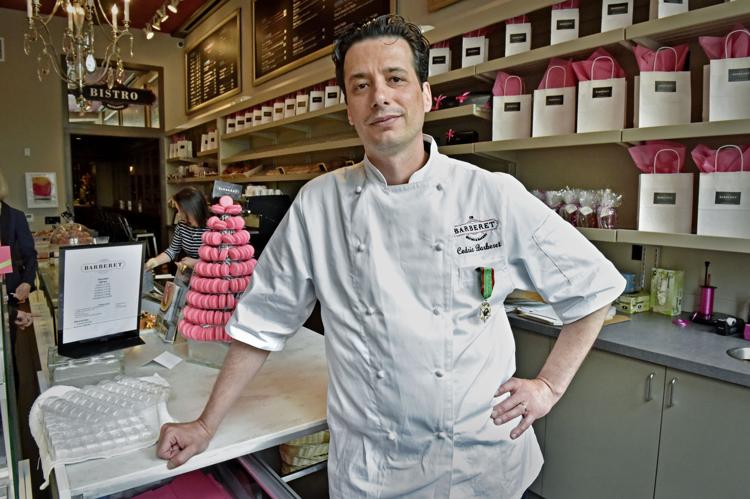 The exact Manhattan location of Serrano's art exhibit has not been announced.
Worried about alteration
When Barberet learned of the February auction — one of the cakes had previously sold at auction in 2017 for $2,400 — he expressed concern over how his cake would be used by the artist.
"My first worry that piece was going to be altered in some way, shape or purpose ... altered to something that (I) will not be very pleased to see," Barberet said Tuesday afternoon, in response to the report in the Post, "especially knowing that the artist is very controversial.
"Now, knowing that he apparently has stated ... this was not the case, and that he (is) actually going to display it in its natural shape and form that it is right now, in the refrigerated tube," Barberet added, "that's actually a lot more flattering. ... That's a lot easier to digest."
In the Post article, Serrano is quoted as saying, "I'm not doing anything to these products. That's the beauty of them — they speak for themselves."
Barberet says his pastries or confections have never been part of an art exhibit before.
Noting that two of his pieces of cake have sold at prices approaching or exceeding $2,000 in the past two years, Barberet says, "maybe people should come to Bistro Barberet & Bakery and buy a piece of cake and keep it in the freezer for 10 years. Maybe they would get a return on their investment. It might be better than the Roth IRA.
"Who knows how many people still have pieces of cake in their freezer?" he said. "Not bad for something you can't even eat anymore."
Will Barberet go to see Serrano's exhibit in New York?
"I'm very curious to see what the exhibit will be, and curious to see how (the cake) will be displayed, what kind of lighting," Barberet said. 
"If I get an invite from that artist to see the cake itself," Barberet said, "yes, I will go."
Barberet, who trained as a pastry chef in France, co-owns his bakery and bistro with his wife, Estelle Barberet. Before moving to Lancaster, he worked at such prestigious restaurants as Le Bec-Fin and Buddakan in Philadelphia. 
In 2017, Barberet was awarded the Chevalier de l'Ordre du Merite Agricole from the government of France for promoting French food, agriculture and culture through his work. In 2016, he was the only Pennsylvania chef named to a top-10 list of U.S. pastry chefs by Dessert Professional Magazine.