Mark Ely sinks his net into the clear water of a concrete raceway, scooping out three plump, thrashing rainbow trout and dumping them into a bucket of ice.
Within minutes, those trout will have been transformed into flat, white fillets, and within hours will be cooking in someone's oven.
Gesturing to his left, Ely points out a group of large trout that are about to be transported live to the owner of an Asian market in Brooklyn, New York.
It's a crisp, sunny day during the busiest week of the year for Ely, owner of Limestone Springs Fishing Preserve in Richland, Lebanon County, and his staff.
Nearby, staff members wade into the water, sorting the fish by size, and cleaning fish waste out of the ponds.
With trout-fishing season having kicked off Saturday in 18 Pennsylvania counties, including Lebanon and Lancaster, the staff has been busy stocking private streams and ponds, in between shipping out fresh fish for distribution to restaurants and markets around the region.
"We raise about 400,000 pounds of fish per year," Ely says, 99 percent of that fish being rainbow trout.
"We raise a special rainbow trout," Ely says. "It's what's called a triploid, so it's a sterile (female) trout."
"The triploids don't produce eggs, so they put all their energy into making meat," Ely says. "So, (since) we go into the food market, that's what we want — the meat."
Fishing and processing
In addition to stocking ponds, the staff at Limestone Springs welcomes visitors 362 days a year to fish in the stream on-site — paying an admission fee and by the pound for what's caught.
"They don't need a license or trout stamp because we buy a license from the Pennsylvania Fish Commission for that purpose," Ely says.
Limestone Springs will also sell fish right out of the water to "walk-ins."
"People will come in and say, 'Hey, I want five fish,'" Ely says. "We go with a net (and) snag them out of the raceway. ... Some people want them whole, on ice. Some people want them filleted. Some people want them dressed. We do all that.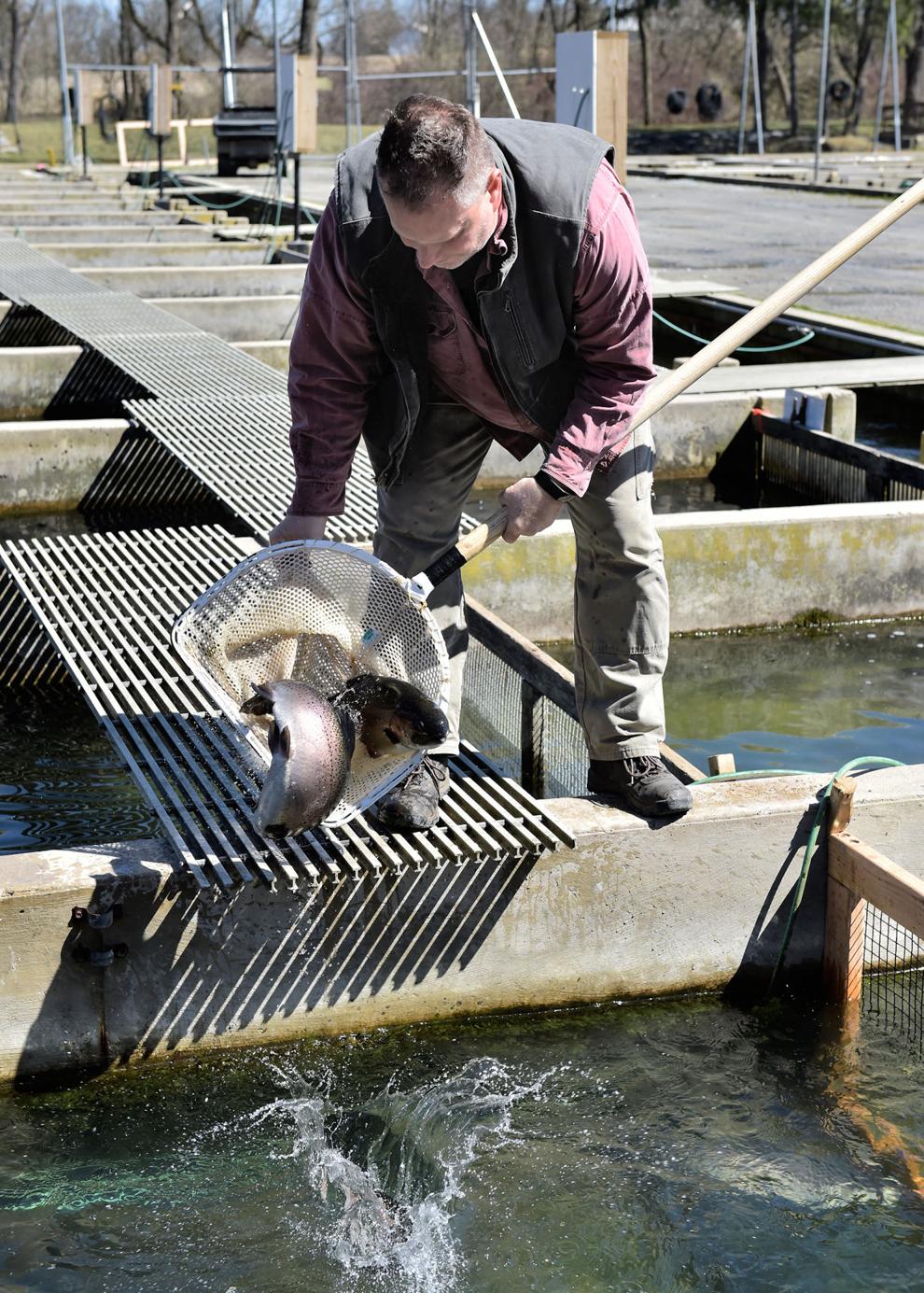 "They can be swimming," Ely says, "and be cooked in less than an hour."
A building up the hill from the trout raceways contains another aspect of Ely's business: processing fish for the food market.
Limestone Springs trout is sold through wholesalers in New York and Philadelphia, and distributors in Baltimore, Washington, D.C., and Harrisburg.
From there, Ely says, his trout wind up in organic, Asian and other markets, and on dinner plates in a variety of high-end restaurants.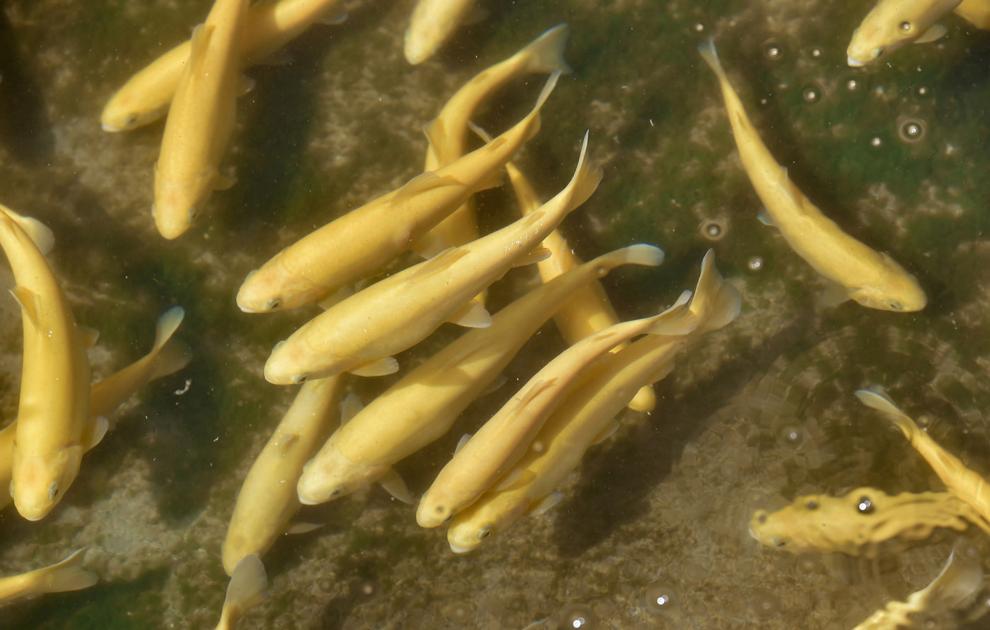 Restaurants such as John J. Jeffries in Lancaster, Koda in Harrisburg, The Porch in Richland and the Harvest Seasonal Grill & Wine Bar chain, which has a Lancaster location, have served his fish, Ely says.
"If you go to the Pennsylvania Farm Show, and you eat a trout sandwich at the PennAg food booth," Ely says, "it's ours."
Limestone Springs also runs a small online business, through which fish fanciers can buy rainbow trout in various forms — including whole for $4.75 a pound, dressed for $5.75 a pound, deboned for $6.50 a pound and smoked fillets for $1.50 an ounce.
Limestone Springs sells packed smoked trout fillets that are prepared at Sugartown Smoked Specialties Inc., West Chester.
Quarry water
Limestone Springs is named for the former limestone quarry from which the fish farm gets its water.
"We capture all the groundwater that comes into that quarry, and it goes through the farm," Ely says. "Right now, it's about 13,000 gallons a minute."
During the 19th century, Ely says, limestone used for buildings in Philadelphia was mined there, Ely says, until the quarry flooded in the late 1800s.
The limestone headed for Philadelphia on barges via the Union Canal. A former part of the canal is now Limestone Springs' trout-fishing stream; there's a marker at the site explaining that history.
The water quality from the quarry is great for raising the fish, Ely says.
"Trout like the limestone in the water — it's a little harder. They like that calcium," he says.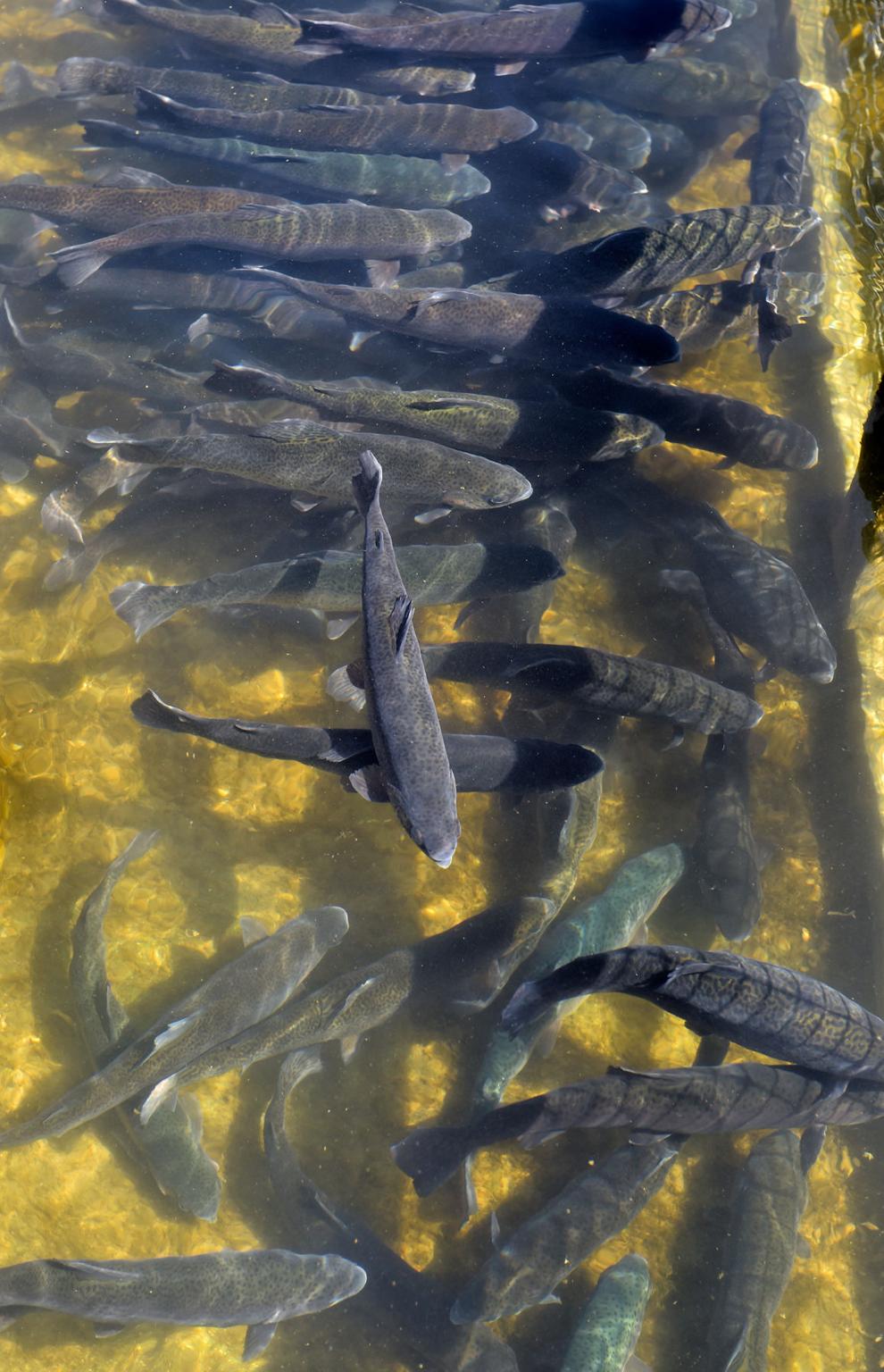 Trout also love cold water, Ely says. From the dead of winter through the hottest part of the summer, he says, Limestone Springs water ranges from about 41 to 62 degrees.
What might strike a visitor to Limestone Springs is the lack of a fishy smell in the air — or even around the water. And the water in the raceways looks very clear.
Fish waste is constantly being cleaned out of the raceways, Ely says, and pushed into a pipe system that goes into a holding tank. In that tank, bacteria eat the waste.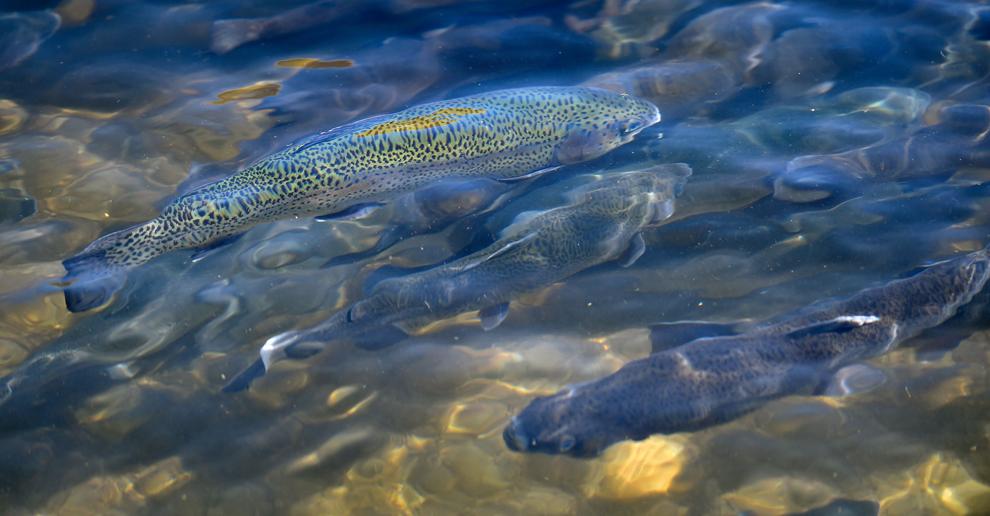 History ... and feed
Fish were raised in ponds at Limestone Springs back in the 1950s, Ely says. The current fish farm, with its concrete raceways, has been in existence since about 1980.
Ely became part owner of Limestone Springs in 2004, and its full owner in 2014.
"I fished all the time as a kid," Ely recalls. "Then, I actually started raising hybrid striped bass (in) 1988 at a different farm," in York Haven, with a business partner. "I started working there out of high school. I was there for 23 years and managed it."
Limestone Springs grows its trout from a small-fish stage called fingerlings, which are raised from eggs in North Carolina.
"We get four shipments of fingerlings a year," Ely says.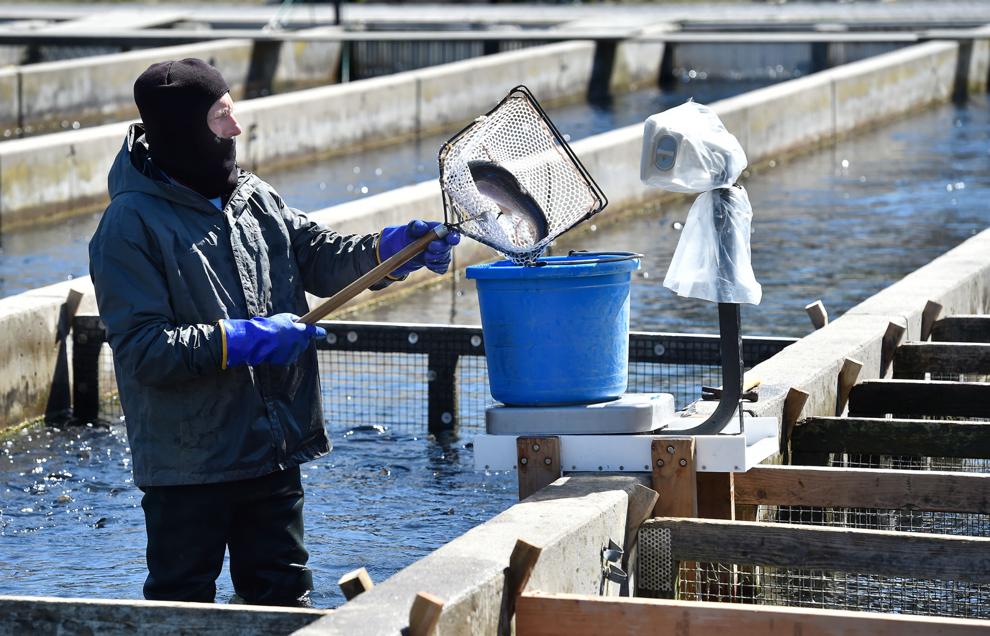 "Our fingerlings come in at 2 inches," he adds, about 100,000 at a time.
As the fish grow, Ely and his staff constantly sort them by size, putting them into other raceways.
The fish are fed a formulated fish food, designed specifically for trout, from an Adams County distributor.
"One of the most important things we buy ... is the fish food," Ely says. When Limestone Springs wanted to tweak its feed recipe recently, they did a blind taste test at a Baltimore restaurant, with five chefs comparing cooked trout raised on the new and the old feed.
"We take the feed very seriously," Ely says, "because it can change the flavor of the fish."
Limestone Springs also sometimes raises a small amount of brook trout and usually has some bright-yellow golden rainbow trout, which Ely says taste pretty much like the regular brownish-gray rainbows.
"People just like them because they're yellow," he says.
Popular on the plate
Ely says he believes trout is becoming more popular as a dish, in part because of health-conscious diners seeking out the omega 3 fatty acids in trout.
Those polyunsaturated fatty acids have been linked to a variety of health benefits, Ely notes.
Nutritionists recommend people eat two servings of omega-3 fish a week, which Ely says has been good for business.
In addition, he says, "the farm-to-table concept that has been around for several years has been very good to us. It's helped us get into more restaurants."
More and more restaurants are looking for locally sourced ingredients, he adds.
Ely adds that the respected Monterey Bay Aquarium's buying guide to selecting fish recommends farm-raised trout as a good choice for the dining table.
Filleted on the spot
On a patio next to the fishing check-in station at Limestone Springs, Ely deftly uses a fillet knife to cut open three trout that were swimming nearby just moments ago.
Off come the head and tail, and out come the entrails, the back pin bone and the little bones along the sides.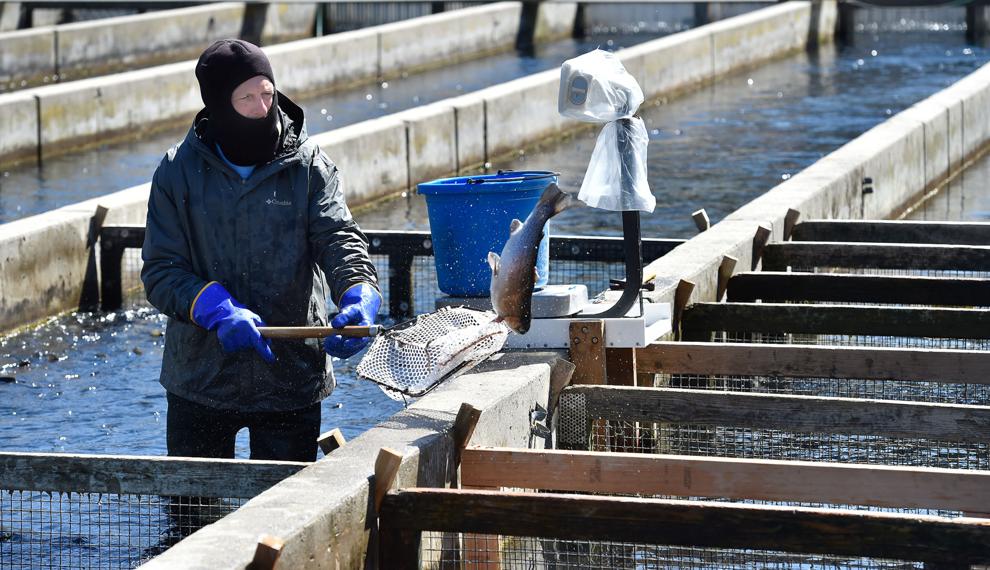 Yes, Ely's cutting board is covered with fish blood, but it's quickly washed as clean, white, boneless fillets are packed in a bag of ice for a customer to buy, take home and pop in the oven within a couple of hours.
Ely and his staff will fillet, dress or debone fillets — however a customer would like to take them home.
He cautions that those who are going to carry their trout around for a few hours while fishing should put them on ice to keep them fresh.
And he recommends keeping Limestone Springs-caught fish in a refrigerator no longer than 10 days.
"If it's fresh, trout is very good," Ely says. "Sometimes I'll smoke it at the house or just (cook it) on the grill with lemon pepper. I'm pretty simple. It's a flavorful fish. You don't need much."