As soft instrumental music plays in a pastel-green room of her Lititz home, Bryna Freeman places what looks like an old-fashioned lightbulb on the shirtless back of a 54-year-old man who's lying face down on her massage table.
Freeman uses a little hand pump, attached by a small tube to the plastic bulb, to suction the air out of the interior of the bulb. A circle of the man's skin, a couple of inches across, rises slightly and turns dark red as the air is suctioned out of the bulb.
Freeman, whose home-based massage therapy practice is called A Healing Touch, is performing cupping therapy, a form of an ancient, holistic health treatment.
Proponents of the treatment believe it offers a variety of health benefits: That it increases blood flow within the muscles and surrounding connective tissue; helps muscles recover from strenuous activity; and even draws toxins out of that tissue so they can be flushed out via the lymphatic system.
Elite athletes
Cupping has been in the news over the past few days, as elite athletes -such as swimmers Michael Phelps of the United States and Pavel Sankovich of Belarus and U.S. gymnast Alex Naddour - have appeared in Olympic competition with cupping's big, telltale red circles dotted across their bodies.
(Over the past few years, the practice has also gained celebrity fans such as Gwyneth Paltrow, Jennifer Anniston and Justin Bieber, who have also been photographed with cupping marks on their bodies.)
"Massage, in general, along with cupping, helps speed up the recovery process," Freeman says. "So in any sports where you're using — or overusing — muscles repetitively, massage and cupping will help speed up the recovery process so they can go back and work just as hard the next day, and train just as hard."
On this recent afternoon, Freeman's massage client is her friend Jay Beckley, of Marlton, New Jersey, who is actually being a good sport — getting cupping done for the first time so Freeman can demonstrate the therapy. Beckley participates in a variety of sports. He's playing in a golf tournament soon; he's also a skier and a race-car driver, and has had shoulder surgery.
He compares the cupping to a sort of reverse massage.
"It doesn't hurt," Beckley says, his face ensconced in the massage-table face rest. "It feels like exactly what you think it does. It feels like having a massage - but it's not pushing, it's pulling."
"Cupping works all layers of the soft tissue, including the more superficial layers," Freeman says.
While you may have seen demonstrations of fire cupping on TV since Phelps first showed off his polka-dotted physique, that's not the kind of cupping Freeman does.
Fire cupping involves igniting a small piece of cotton or other material and putting the flame briefly inside the cup to remove the oxygen and cause the vacuum seal between the cup and the skin.
Freeman's therapy technique does not involve heating the cups. Through the hand pumps attached to the cups, Freeman has manual control over the strength of the suction she uses to attach the cups to her clients' skin.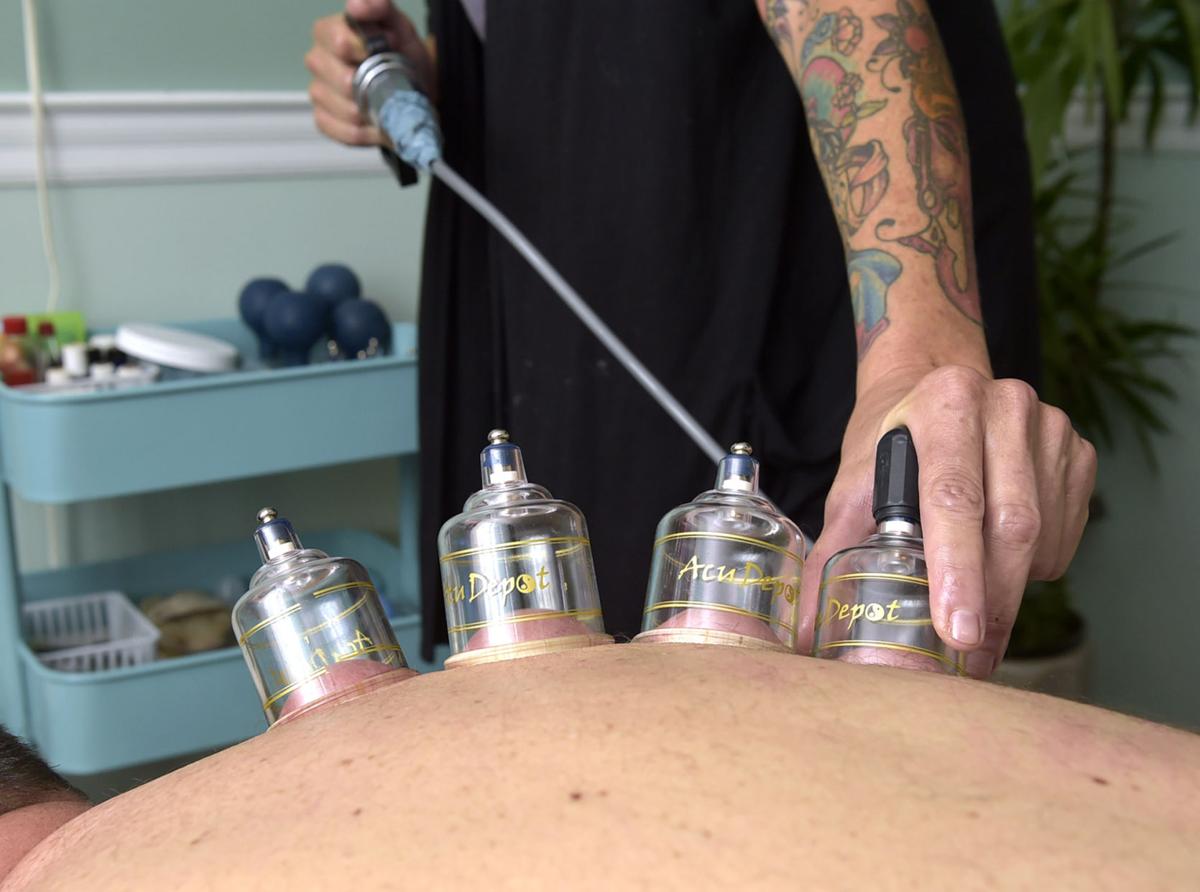 "With fire cupping, once you put (the cups) on … you can't adjust the suction of them," she says. If a heated cup were to cause discomfort, she adds, "you'd have to take them off and do them all over again. You have more control when you hand-pump the suction."
Freeman, who has been a massage therapist for 13 years — 11 of them in Lititz — says she always combines the cupping with a massage; she first massages the area to be cupped to find out where muscles are knotted or sore.
After she does the cupping, "and once the cupping has loosened up the layers of tissue, Freeman says, "I can get back in there with my fingers and work more to work out the deep knots."
Freeman started doing the cupping in May, after taking one of the many continuing education courses she must have to maintain her massage therapy certification.
While the plastic cups remain stuck on Beckley's skin, she hand-pumps the air out of a similarly shaped glass cup to make it adhere to Beckley's back, and then moves it around.
"That feels really good," Beckley says of the moving cup. But he confesses it smarts a little bit when Freeman runs the cup over the area close to where his shoulder surgery was. She'll go back later and do more deep-tissue massage on that area.
"What it's doing is it's drawing out any stagnation, bringing fresh blood and oxygen to the muscles," Freeman says. "(It helps) when you get tight muscles, or trauma to the muscles, knots, things like that."
As for the after-effects of the treatment, Freeman says, "there may be soreness, which goes away in 24 to 48 hours."
The red marks are caused by the blood being drawn toward the surface of the skin, she says. "It's like a hickey. They may fade within a day, but if they're really dark, it could take up to a week."
Freeman concedes there isn't a lot of medical literature in support of cupping as a health technique. But she says both she and the clients in her practice offer anecdotal evidence that it works.
"The medical field tends to not do a lot of studies on the benefits of massage," Freeman says. "But I can feel it. I've seen the benefits of it from my clients.
"I've done it on myself," Freeman adds. "I was having a knee problem when I started doing the cupping. … I did the cupping (on my knee) and I haven't had a problem since.
"I have a client who comes every week since I started doing (the cupping)," Freeman says. "She has a lot of lower-back issues, and she loves it and says she wakes up without lower-back pain."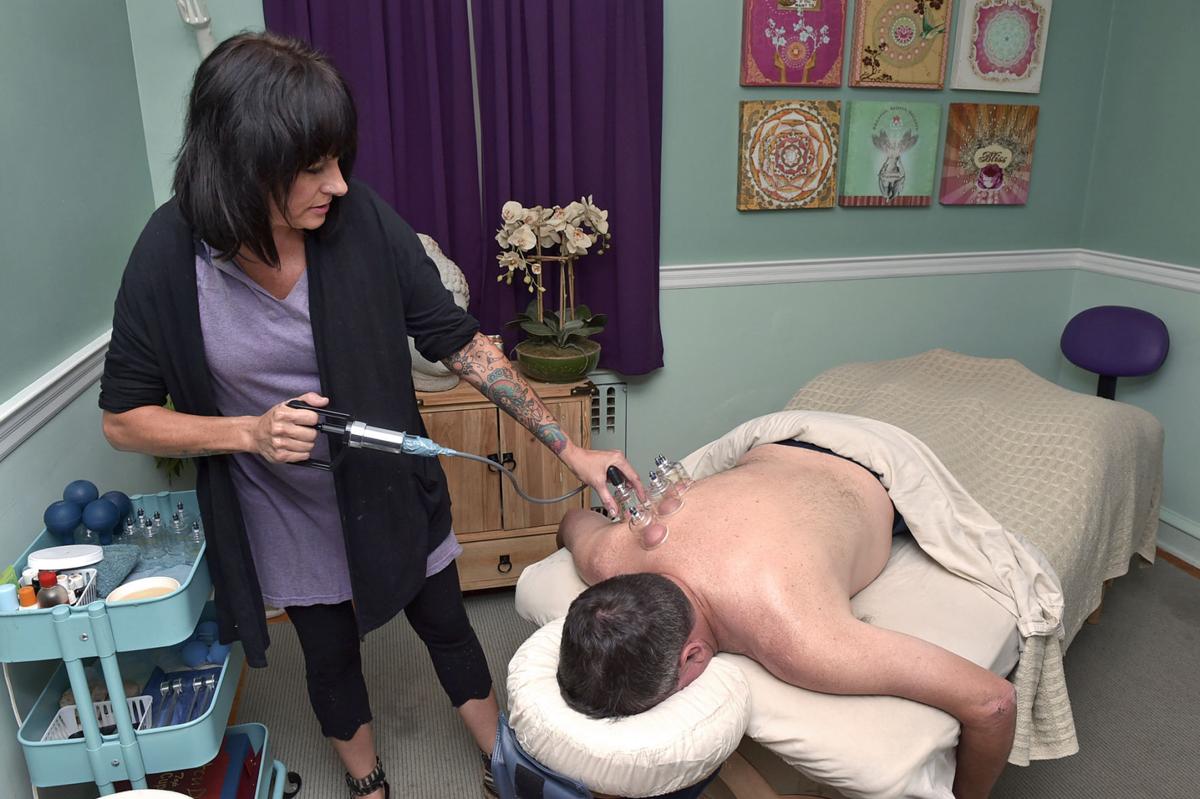 Sports medicine
"We have seen an increased interest in finding information about that technique since the Olympics started, and with all the attention it's getting through the swimming team and through men's gymnastics," says Dr. Patrick Moreno, a sports medicine specialist with East Petersburg Family Medicine. "We've definitely seen an influx of calls about it, a lot more curiosity about it.
"Cupping has been around for a while, and I've treated a number of athletes in the past who have either used it or who are considering using it," says Moreno, who works with the U.S. women's field hockey team — now competing in Rio — and the Lancaster Barnstormers.
(Moreno and another physician at East Petersburg Family Medicine will be opening a sports-medicine practice, Lancaster General Health Physicians Sports Medicine, on Peters Road in the Kissel Hill area next month.)
"You'll come across (cupping) with certain athletes who've had that technique done, and with certain therapists and trainers who use that technique. ... I (work with) an athlete now (who owns) his own cupping set."
Moreno says cupping is one of several therapies that "falls under the category of myofascial release technique," Moreno says. "It really just means separating any adhesions or sticky points between the muscles and the casing around the muscle.
"There are other techniques in that fall into that holistic category," Moreno says, some of which are practiced in sports medicine and by chiropractors. These include dry-needling (using an acupuncture-type needle on a muscle group), and Graston (a soft-tissue, medical massage technique).
Another therapy, kinesio taping - the use of elastic bands around certain muscles -- became very popular during the London summer Olympics four years ago, Moreno notes.
Cupping is "an adaptation from Chinese medicine in the 1950s," Moreno adds.
Though the technique is thought to have been practiced in some form for thousands of years in Asian, Middle Eastern and some Eastern European cultures, it came into common practice in Chinese medicine in the middle of the last century.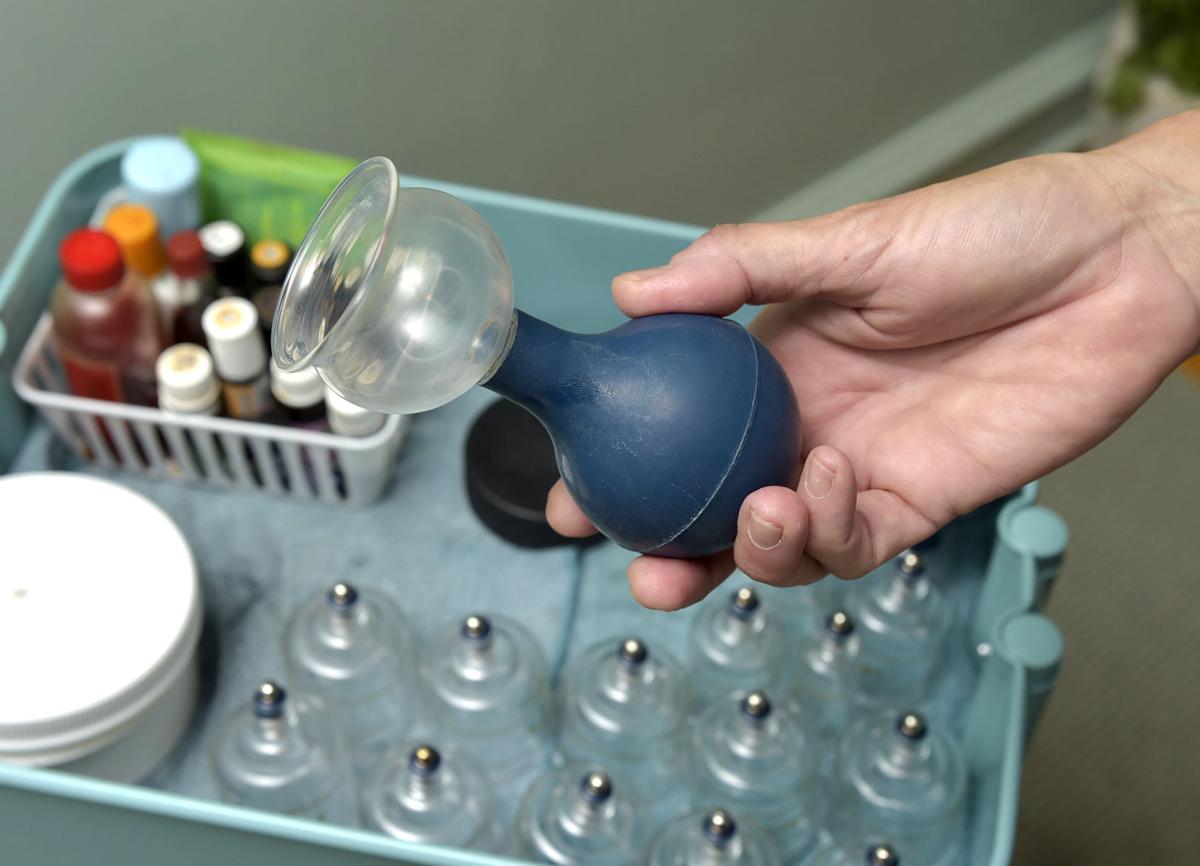 "Those seeking cupping or other myofascial release techniques can be looking to relieve muscle soreness or tightness. … It can be anything from shoulder tightness to improving how the kneecap moves and supporting those muscles," Moreno says. "It's thought to increase blood circulation or reduce muscle tension.
"We do tell (our patients) that there's not necessarily a lot of good clinical evidence for how to use it or what specific injuries it may prevent," he says. "But there are a number of athletes who say they find relief from that and get a benefit from that.
"I really think that it's important that (athletes work) with appropriate professionals in sports medicine, whether that be an athletic trainer or a sports medicine physician or a sports physical therapist -- someone who can help them achieve their goal," Moreno says.
"And the question is, 'What is your goal?' Are you dealing with an injury, are you trying to prevent an injury?" he says. "You don't want to just use a technique just because it's popular. You want to make sure you're doing the right thing to achieve your goal or fix the problem.
"The greatest harm (in cupping) would be using it inappropriately," Moreno says, "and if you have a problem and you haven't determined the true diagnosis - the true root of that problem, and you're treating it with the wrong technique."
Whatever treatment you're seeking, Moreno says, "it's important that you're looking for someone that has experience, ideally in the specific area or problem you're dealing with, and the training behind it."
Looser muscles
After removing the cups from Beckley's back, Freeman applies a cooling liniment.
"It's hard to describe," Beckley says of the cupping treatment. "It just felt like suction. With the moving cupping, you can clearly tell when she moved it off an area that was in good shape and onto one that's not.
"I can already feel my muscles are much looser than they were," Beckley adds.
Freeman advises her clients not to take a hot shower right after getting cupping done, and to drink a lot of water after the treatment; she says that helps flush toxins out the system.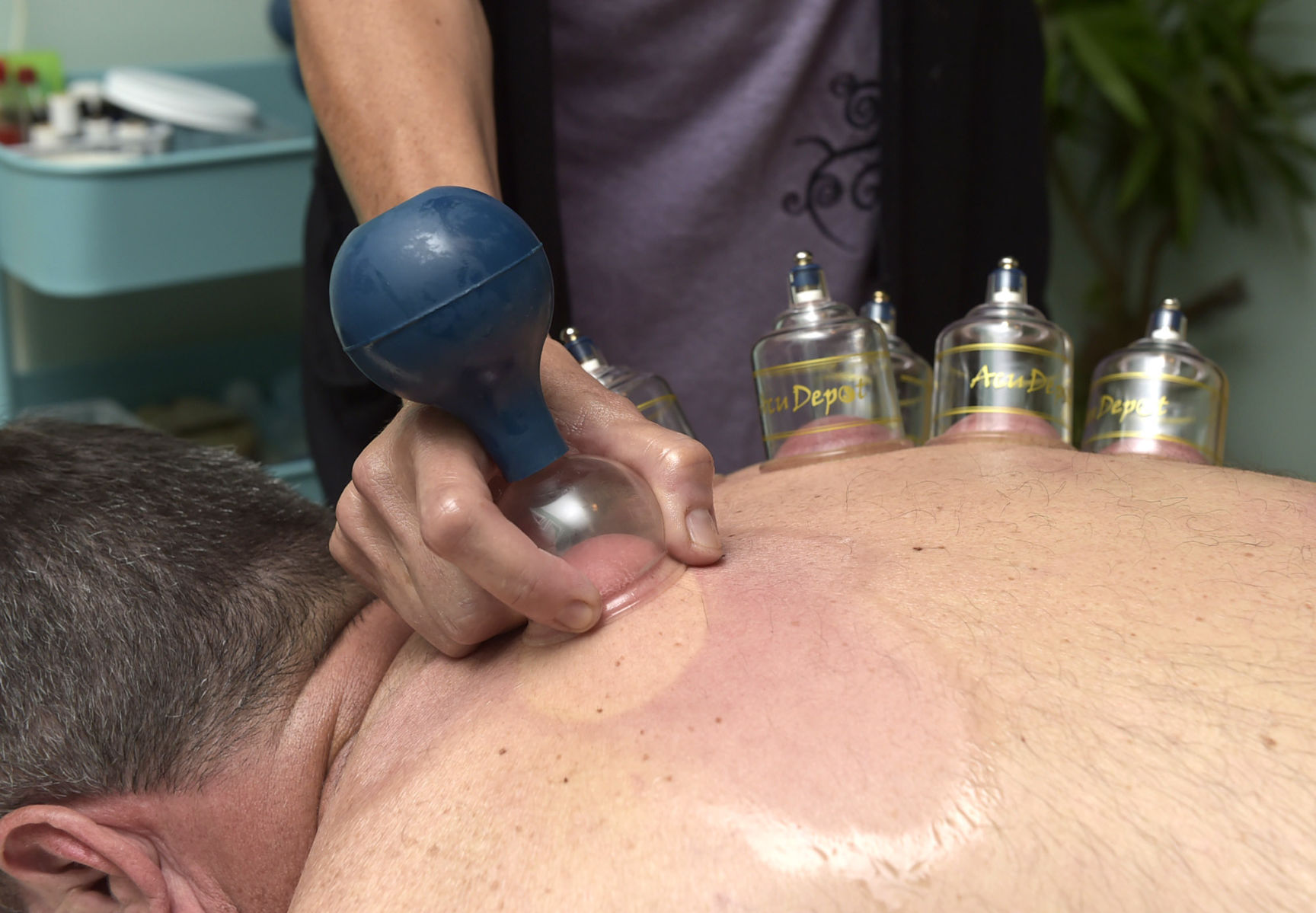 An hour of massage at A Healing Touch is $70; it's an extra $10 to add the cupping to that session, Freeman says.
She plans to take additional training in facial cupping. "You don't leave (the cups) on and get the marks on your face," she explains, but rather move them around the face.
"It's supposed to help with aging."
Freeman says she has received at least one new client because of elite athletes in the news.
"I had a mother of three kids that are swimmers and she called me … after seeing (cupping marks on athletes) during the Olympic trials," Freeman says. "They had a big meet coming up, and the mom set up a (cupping appointment) for two of her kids. Her two boys did it; her daughter didn't because she didn't want the marks on her back.
"No matter what medical science says that there's nothing to back it up," Freeman says, "I look (at) it as if all these people are doing it - especially Olympic athletes, who are winning gold medals - there has to be a reason they're doing it.
"I love that I can make a difference for people," Freeman adds. "Clients say they are happy to see me and they feel better when they leave. I have the best job in the world."