These sharks are not the Great White Shark Michael Phelps raced, ghost sharks nor sharks from The Isle of Jaws.
They're the sharks in your neighborhood. You'll find sharks jaws, vertebrae and teeth in local museums. And some are millions of years old.
Museums often wow visitors with hulking displays of fossilized dinosaur bones and huge mammoth skeletons. You don't see shark skeletons because their skeletons are mostly cartilage, which breaks down extremely fast after death, says Libby Stoesz, exhibits and collections manager at North Museum of Nature and Science.
"So it's usually only the jaw (found) because that's bone and occasionally the vertebrae," she says.
While sharks lack bones, they make up in teeth. Sharks have rows of teeth. Some have up to 50 rows.
"That's why you can find shark teeth everywhere," Stoesz says.
Take a break from Discovery's Shark Week to learn more about the sharks found at local museums.
Great White Shark jaw
Great white sharks are the largest predatory fish on the planet. They grow to an average of 15 feet long, yet some longer than 20 feet have been spotted.
After North Museum staff recently swapped a shark exhibit for a display on marine mammals, they left one piece in the museum: this jaw measuring more than two feet wide with several rows of teeth.
Megalodon tooth
Megalodons were the ancestors of Great White Sharks. They lived 20 million years ago and went extinct 2.6 million years ago. Megalodons were 52 feet long, more than twice the length of the largest Great White ever filmed. This tooth is in North Museum's collection and not on display.
And from Reading Public Museum: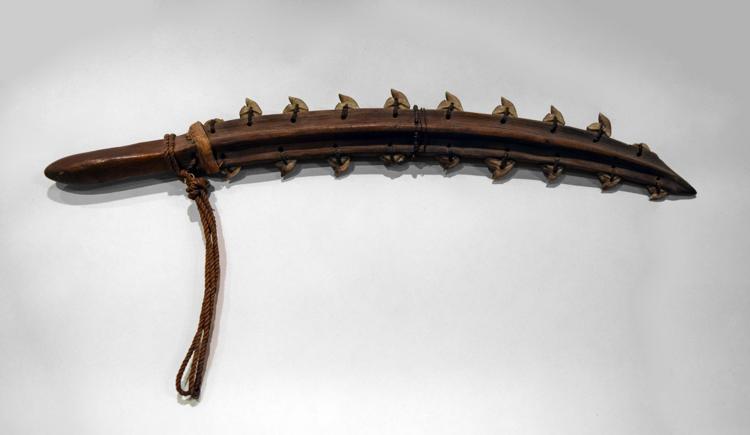 Shark tooth weapon
People of the Gilbert Islands in the central Pacific Ocean, part of the part of the Republic of Kiribati, have made shark tooth weapons for centuries.
"All are built in the same way: the islanders drill hole in the teeth and lash them to buttresses of wood with cords made from coconut leaves," according to "Nature." "All the teeth in one weapon usually come from one species."
A biologist studied those teeth to discover three species of shark that no longer live in the area.
This weapon can be found in the museum's Arms and Armor Gallery.