Violet Ickes may live a life of routine now, taking her daily breakfast of two poached eggs and white toast alongside the same four tablemates each morning.
But throughout many of her 108 years, she has risen to challenges that changed the course of her life, tore loved ones away or gave her new opportunities to demonstrate her strength.
In her 40s, when her job relocated to a suburban setting away from a bus route, she learned to drive a car (albeit with white knuckles).
When her husband of 55 years died in 1988, she renewed her love of football, found a friend to share that with and eventually fell in love again. As she hit the century mark, she took a year of painting classes — her very first — to help fill her days.
It's been a good life, Ickes concedes. But as for any secrets to her longevity, she can't pinpoint any one thing. And while she's proud to be the oldest resident at Garden Spot Village in New Holland, life has gotten more difficult as her hearing and mobility have declined.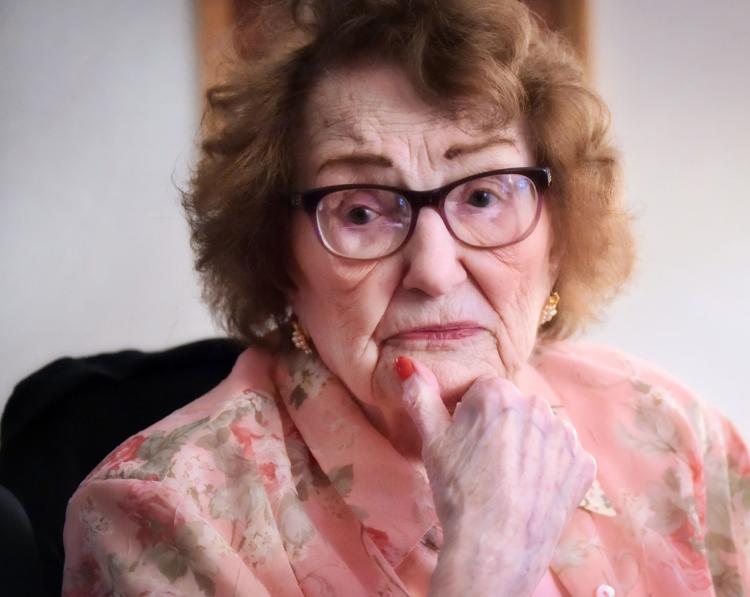 She struggles for names, but lights up when she lands on the right one.
"That's the trouble: I'm in good health," she says in a tone that may or may not be sarcastic. "I never thought of getting old. I was just busy living."
Ickes welcomed the use of a wheelchair a few years back, saying it gave her better mobility than a cane or walker. But she hates the idea of looking old. On a recent visit, she wore her auburn hair in neat waves, her blush pink blouse accessorized with strands of white beads.
---

READ MORE ABOUT THE CENTENARIANS
Like clockwork, her sons and daughters-in-law visit each Thursday afternoon, joining Ickes in the dining room and then spending time back in her sparingly appointed room.
"We've always gotten along," Ickes says. "We never separated."
Ickes lost her father, a miner, to black lung when she was 10. Her mother, a nurse, lived into her 90s, and Ickes cared for her until the end. Her sister lived to 94.
Genes may have played a role in her longevity, but quality rest and the ability to compartmentalize stress may also have played a role.
"She's always been a positive person," her son, Glenn Smith, says. "No matter what happened, she could always sleep at night."
Ickes met her first husband, George Smith, while he was in college at Drexel University.
She still delights in retelling the story. In the years after school, she'd taken an office job and gone on a day trip to a lake house with a few co-workers. An older colleague asked to bring her son along. The young women said sure. That boy was George, very much a young man, and very handsome. While swimming, Ickes got her foot "stuck" in a hole, and George came to her rescue. They married when he finished school in 1933.
Together, the Smiths raised Glenn and Mark in the Philadelphia area, sending them off to college on scholarships and encouraging them as they went on to careers in engineering and accounting, respectively.
A homemaker, Ickes was very involved in church and her boys' lives, whether acting as a den mother for Cub Scouts, teaching Sunday school or cheering at football games.
Today, she is a grandmother of four and great-grandmother to eight, with a ninth on the way. Not necessarily one to hold her tongue, she says: "I want what they want, but I hope it's a boy."
She remains passionate about football, which she followed in the newspapers as a girl. She and her second husband, Jim Ickes, had season tickets for Penn State games.
The couple was married 10 years, and when Jim died, she decided to leave the apartment they'd shared near Philadelphia's Pennypack Park and move to Garden Spot.
If it's a fall weekend, you can bet she'll be in front a of a TV, watching closely as Penn State or the Eagles march down the field.