In a former factory building in the northeast part of Lancaster city, there's a whole town where little kids are in charge.
It's a place where a kindergartner can don a mail carrier's cap and deliver letters to white mailboxes all over the neighborhood.
It's a miniature version of a town square, where youngsters can fix the engine on a 1950s Chevy, be a server at a cafe or scan canned goods at a grocery store cashier's station.
Tiny Town is opening for business Saturday in an 8,000-square-foot warehouse space on Janet Avenue. It's an indoor village of nine large playhouses that are powered by children's imaginations.
"Our slogan is 'big fun for little people,' " says owner Hannah Harris, a mother of three who developed the play place with both young kids and their parents in mind.
With a construction crew putting the finishing touches on two of the playhouses last week, Harris' children and those of some of her staff members were busily living other lives as firefighters, doctors and mechanics.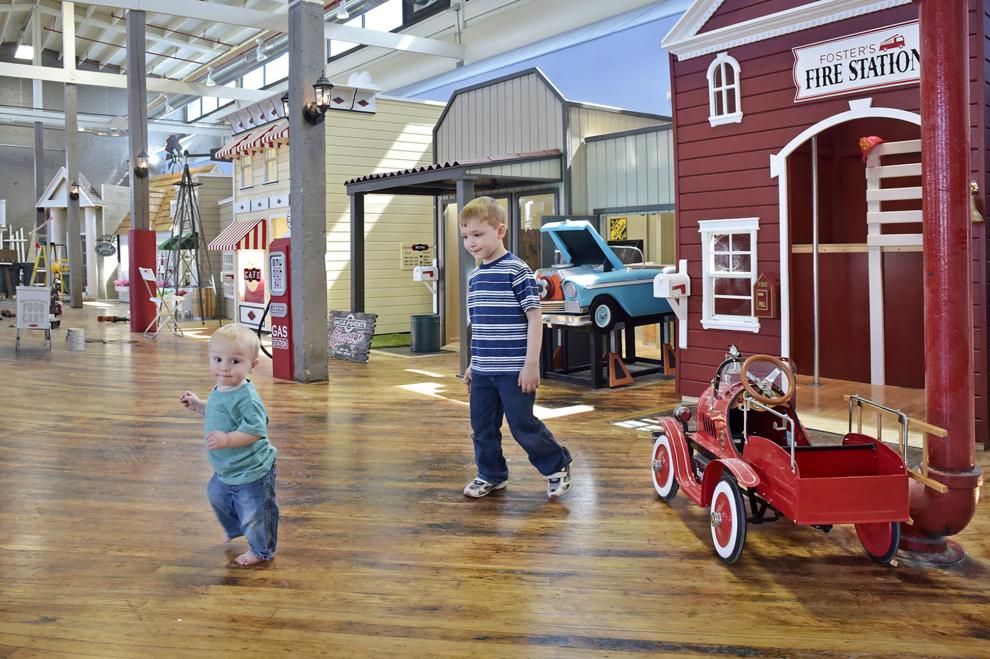 In the miniature market, a 6-year-old girl ran plastic fruit over a checkout scanner that lit up and beeped. A 3-year-old boy piloted a little red plane across the floor, while a 5-year-old girl took toy medical supplies out of a cabinet at the hospital, next to a plastic defibrillator.
A couple of other kids climbed up a ladder in the firehouse and slid down the pole, while a curly-headed little girl pulled the nozzle from the toy gas pump outside the mechanic's shop.
These things that in real life would be far above their heads are right at eye level for young kids.
And there's not a video game in sight.
Harris recommends the playhouses — each representing a business named for one of Harris' mother's grandchildren — for kids 7 and younger.
Each house is several feet tall, and can accommodate about five or six kids at a time.
"A lot of it is educating themselves through play without all that technology," she says. "We want a place where kids can role-play, where they can explore all of these items … with their hands and their minds."
There's a whirring plastic blender on the counter of the cafe, a wide variety of plastic groceries in the market, floor-to-ceiling books in the library and toy dryers in the hair salon.
"There are costumes that go with each (playhouse)," Harris says, from plastic capes in the hair salon to a firefighter jacket in the fire station.
While the kids are in the playhouses, Harris says, their parents can sit in the cafe and lounge area across the room and socialize over coffee and a snack.
There are tables, chairs and comfy couches for the grownups. The cafe will serve coffee and packaged foods such as muffins.
Tiny Town "is designed for moms, dads and grandparents to come in and let the kids play," Harris says. "It's built for moms to catch a break — to come in, sit down and catch up with a friend."
A day's play at Tiny Town costs $10 per kid and $8 for adults; admission is free for children under 12 months. Harris also plans to offer 3-, 6- and 12-month memberships.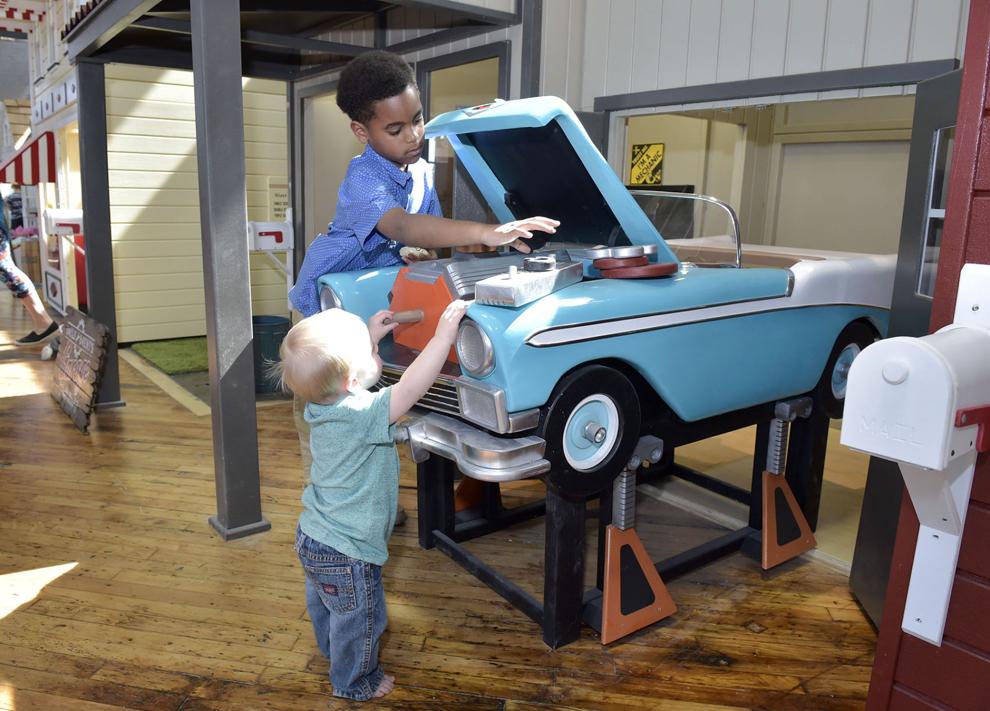 Building community
Harris is a Kansas native who moved her family to Lancaster from Pittsburgh when her husband, Dale, got a job at Tait Towers in Lititz three years ago.
"I've been a stay-at-home mom for 10 years," she says. She now works for Excentia in Lancaster — a nonprofit serving people with developmental needs.
Harris found it hard to connect with other families when she first moved to Lancaster County. She hopes families will make those connections at Tiny Town.
"The goal, ultimately, was just to build community," Harris says.
Tiny Town has 10 employees, who can bring their kids to work with them, Harris says.
Ten years ago, Harris got the idea for Tiny Town from a retail display.
"There was (a miniature town) in Pittsburgh where the playhouse builders actually set one up to sell houses," Harris says.
"Ever since then I wanted to build one that's commercial, where families could come and have fun."
Tiny Town has been under construction since November in the former factory space, featuring painted brick walls, hardwood floors and lots of windows.
Tiny Town is fully accessible, with a ramp from the parking lot to the front door of the business. Each playhouse has a wide doorway that can accommodate wheelchairs, Harris says.
"We want to be a place for anybody to play," she says. "We're going to have a sensory play morning," during which kids with sensory sensitivity can come in two hours before the general public and play, when there's less noise.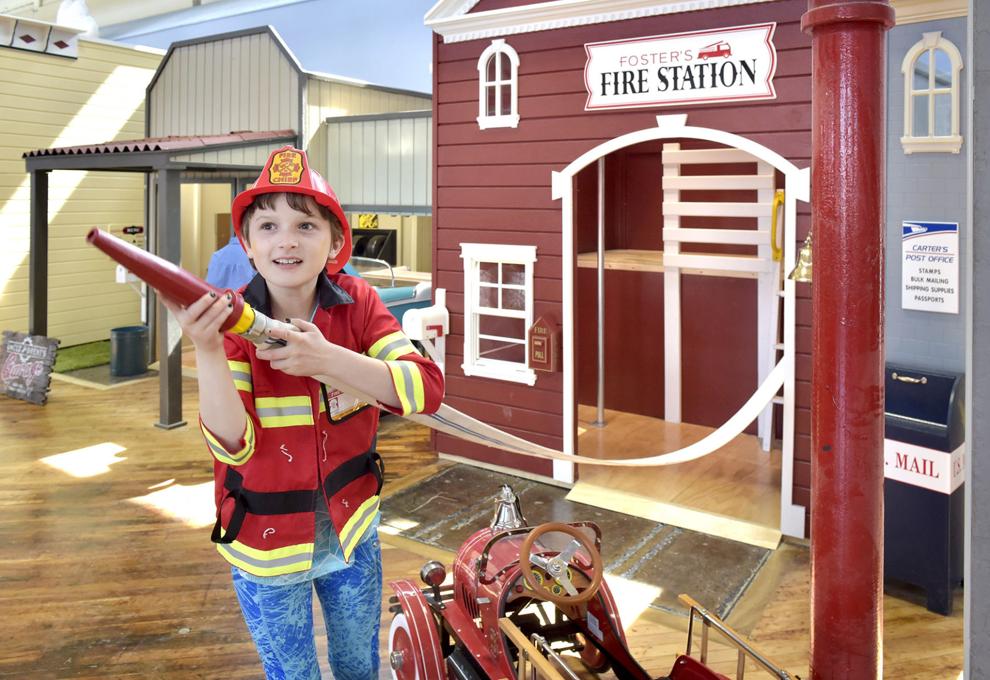 There will be a designated area where parents can sit with their babies while their older kids play.
By summer, Harris expects to establish a Tween Town in one corner of the venue, where older kids can read a book, shoot hoops or do a craft project while their younger siblings are in the playhouses.
Other activities
Tiny Town also will offer a variety of summer camps. There are two private rooms where kids' birthday parties can be held.
"We're going to have story time and craft time," Harris says.
Tiny Town program coordinator Ashley Lavenice worked at a preschool for many years, and was an after-school program director for the Hempfield Area Recreation Commission.
"I'm a big fan of kids using their imagination," Lavenice says. She likes that Tiny Town is not "gaming oriented or electronically oriented."
"This is a place for kids to come and create," she says. "It's going to give kids a chance to see what the real world is like. You go to the grocery store, but you don't get to be the one who checks out, or stocks the shelves."
Lavenice says the summer camps will include Jump into Jobs, where kids will learn more about grown-up professions.
Other camps include Ingenious Inventors, which works with science and math skills, and Around the World in 5 Days, which helps kids explore other cultures.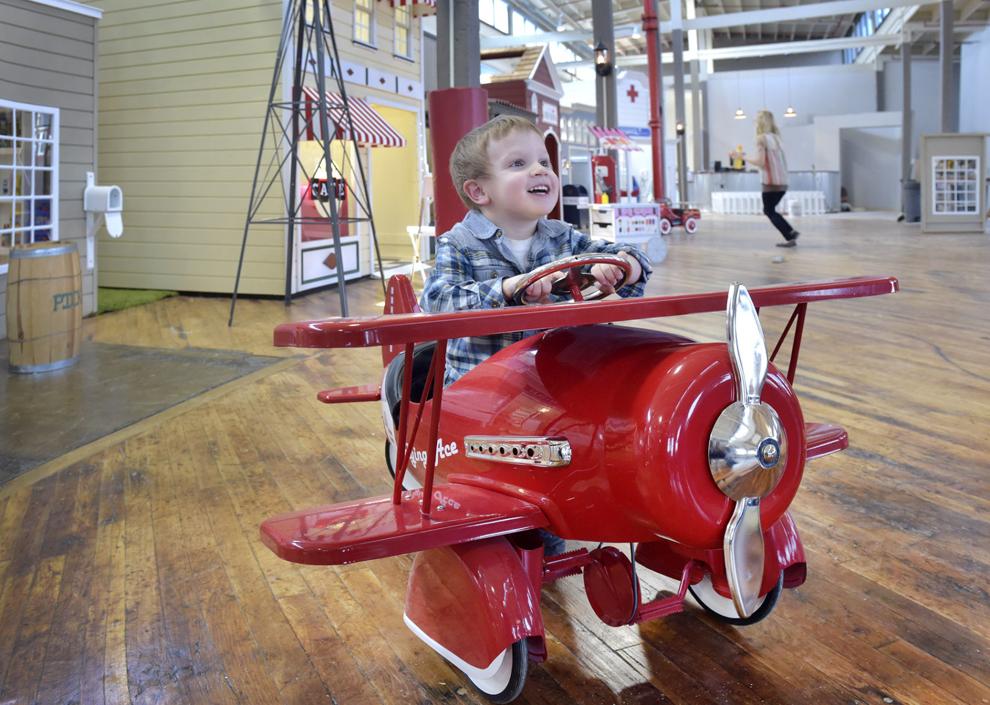 Away from screens
"I like that the kids can mingle with one another and play pretend," says assistant manager Stephanie Quiles. "With video games and computers and those kind of electronics … I don't think that's something that kids do now."
Tiny Town pulls the kids away from their screens and lets them interact with each other, she says.
Playing nearby, Quiles' son, Alex Hurd, 8, says he likes the garage and market houses the best.
"I like that it's not just for big people," Hurd says. "I like working on the car. I like the scanner (in the market)."
Ashley Lavenice's daughter, Emma, 6, drove her brother, Caleb, 3, around the floor in a pedal-car fire engine, the siren blaring.
"I like that the houses are kid-sized," Emma says. "I like the hairstyle (salon), the library and the cafe."
"I like the cafe a lot because you can order what you want off an actual menu, and have it served to you," says Harris' daughter Lindy, 10 — for whom the Tiny Town library is named.
"It's education through play," Harris says. "These little people want to do what we do, but on a smaller scale. They don't know it's educational."
Tiny Town is at 533 Janet Ave. For information, call 717-947-7350 or visit tinytownpa.com.