The sculpture started with an idea and was built with what three high school students could find inside the junk room set aside for their art class.
Last week, the three young artists got to watch their award-winning statue come to life at a Lancaster County foundry.
First, they met the professional artists who crafted each piece of the statue based on the model the students had made. Then they walked into the room where stainless steel was heated to 3,000 degrees, hot enough to be poured into a mold of the sculpture they had made.
They gasped at the 12-foot-tall sculpture and wiped tears from their eyes.
"We literally made this out of window blinds," says Maddie McDaniel, one of the student artists, pointing to the bent steel bands that are part of the model they made. "We sat in (their art teacher's) junk room for 20 minutes, looking around to see how we could put it together and make something beautiful, and now it's here in stainless steel."
McDaniel and two of her classmates traveled to Art Research Enterprises, a fine art foundry in East Hempfield Township, to watch the creation of their statue honoring linemen, the workers who repair telephone and power lines. When finished in June, the sculpture will be installed outside of Lakeland Electric headquarters near Tampa, Florida.
So, how did a trio of high school students from Florida connect with a Lancaster County foundry?
Becky Ault, Art Research's co-founder, has created several sculptures in Lakeland, Florida, including a fallen heroes memorial at the city police headquarters.
Platform Art, a Florida arts group, wanted to honor linemen with a public sculpture. The group asked high school students to share their designs.
Kim Mortimer, an art teacher at Lakeland High School, mentioned the competition to her Advanced Placement art class. When McDaniel, Gabby Thomas and Angel Mitchell turned in their sculpture, Mortimer liked the form, aesthetics and the symbolism.
The three had never thought much about linemen before this project. But they do remember seeing lines of trucks heading to Lakeland to restore power after Hurricane Irma hit Florida in September.
"Seeing that made me want to do the project because these people are underappreciated and they're doing so much for us," McDaniel says.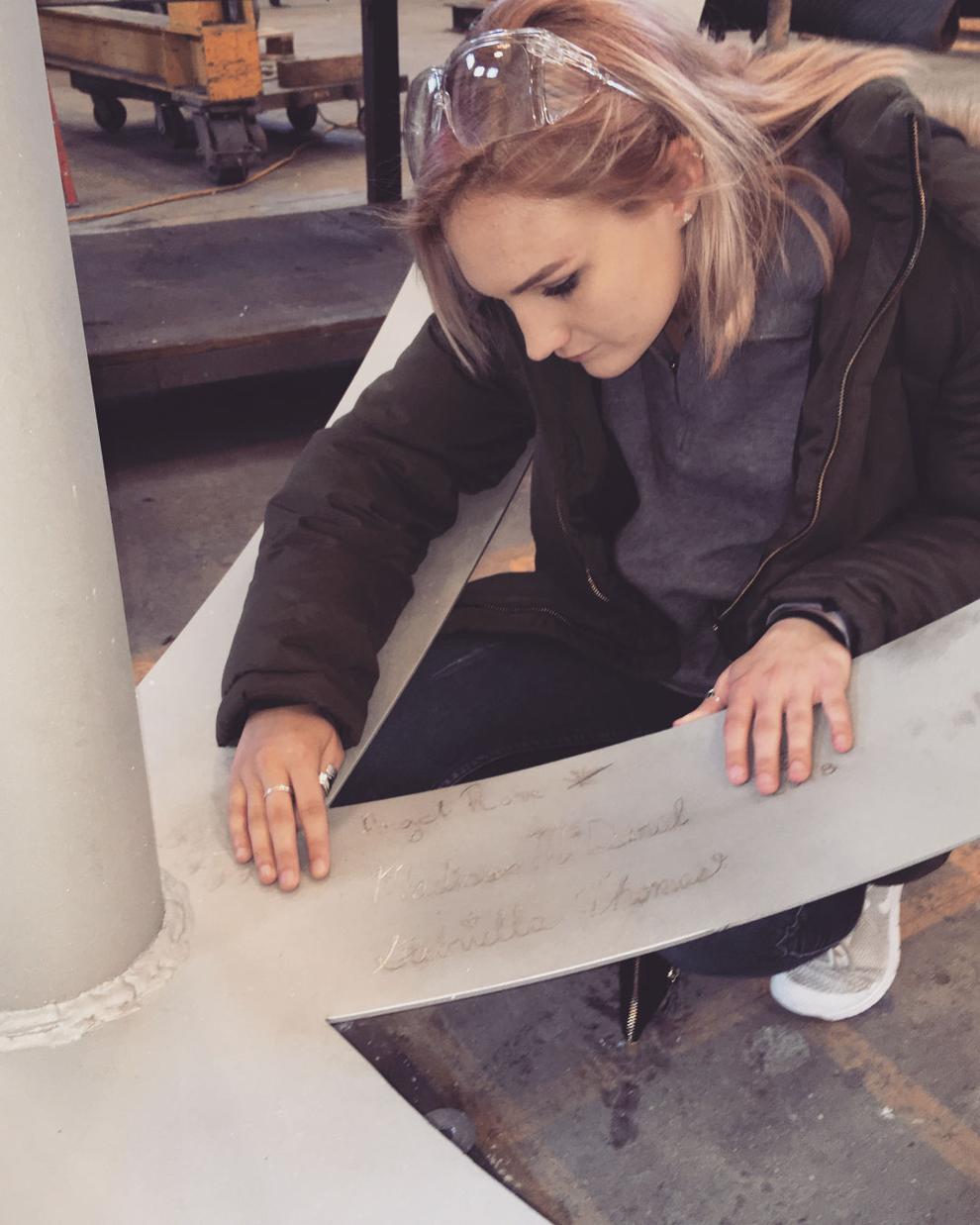 The three friends came up with a design that showed linemen and their connection to the community. They did that by placing a silhouette of a lineman in the center of the statue. The worker is surrounded by lightbulbs with people inside.
A panel of judges, including Ault, evaluated each entry for artistic merit and how each one portrayed linemen as heroes and first responders.
Picking a winner was tough, but the three students' entry stood out, says Cynthia Haffey, executive director of Platform Art. The lineman is the central figure inside a sphere that looks like a globe.
"The community's surrounding him, and the lightbulbs represent the industry," Haffey says. "It covered all of the bases. It worked."
Platform Art raised $150,000 for the project, which includes the cost of the statue, sculpture workshops in Lakeland-area schools and travel for the young artists.
After the winning statue was chosen, Platform Art asked Ault's company to bring the statue to life. Her crew added more details to the linemen, including tools like a high-voltage shotgun stick and gaffs used to climb poles.
"It's nice that linemen are being recognized for the work they do and the time that they put into it," says Dennis Boyer, president of Utility Workers Union of America's local office in Frederick, Maryland. "Typically, we're unseen — until they need us."
He and Ron Kinna, the union's area vice president, were invited to the statue pour and posed for pictures with the young artists.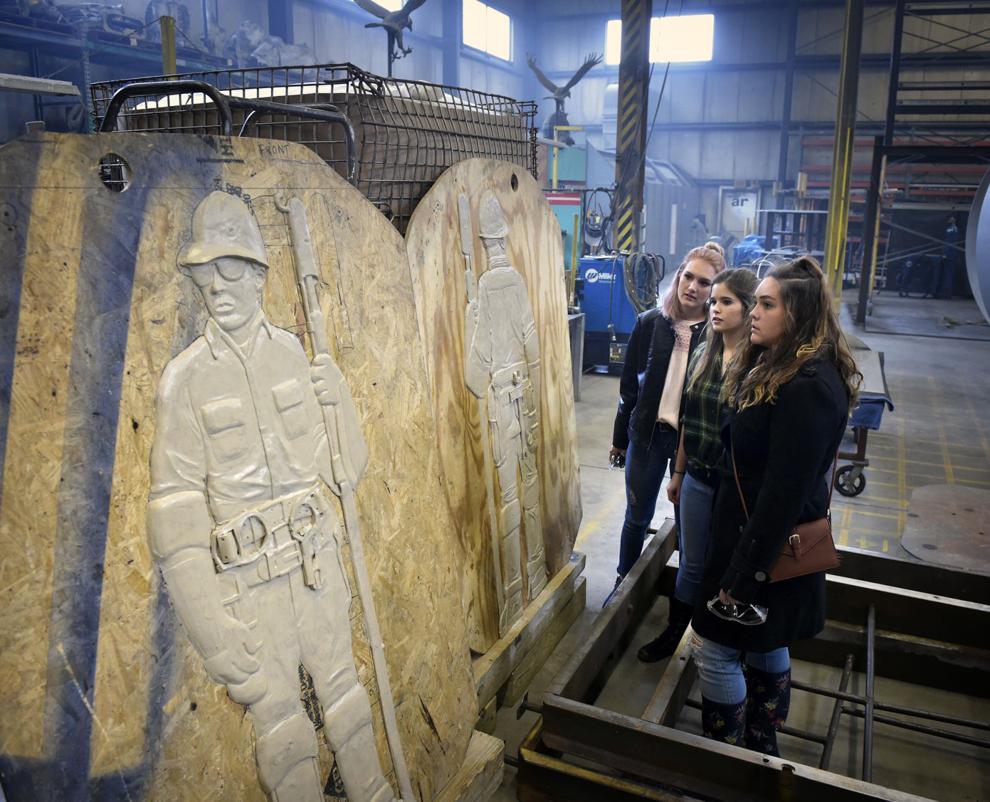 The three friends circled the towering sphere they designed and watched as the red-hot melted metal was poured into the molds.
Ault pointed out the piece that would soon be bent and then welded to the bottom of the sculpture. It reads: "The strength of one will energize many and be the light of hope."
"We did this in a classroom," McDaniel says. "And now we're here. We didn't even think this was a possibility."
"This is so cool," Thomas says.
Mitchell marveled over how she'll eventually be able to show her children and grandchildren something that she made as a teenager.
"It's so awesome that we get this opportunity now when we're young," she says. "I mean, it's just crazy."