Some are woven. Some are crocheted and some are knitted.
They're all made by hand, meant to keep someone warm and show there's good in this world.
Wrap Up! Project started its fourth season of scarf-bombing before Halloween by leaving hundreds of handmade scarves, hats, mittens and headbands in Lancaster's Penn Square and in Columbia. The group plans to continue scarf-bombing monthly through April. The next one is Nov. 28.
Scarf-bombing is similar to yarn-bombing, where people knit around trees, signs or benches. Scarf-bombing allows people to take a scarf or hat.
Each item has a tag: "I am not lost! If you're stuck out in the cold, take me to keep warm."
Angelia Reed of Lancaster Township started the Wrap Up group because there's plenty of need throughout the county, from people who are homeless to those or simply can't afford extras like scarves or hats.
The fact that these items are handmade is important, as well.
"Even if the maker doesn't necessarily know the recipient, it's still a comfort thing," Reed says before the first scarf-bombing at Penn Square. "It's something that someone took time and made for that person. For some people, it may be the thing that lets them know there's still good in this world or maybe the thing that lets them know that somebody cares about them."
People like Diane Cunningham made scarves and hats for the group. Cunningham, of Lancaster Township, showed up Tuesday to help spread the accessories.
In the past, she's knitted items for her church, which sends them around the world.
"Locally, people need them the same," Cunningham says.
Tuesday night, Cub Scout Pack 58 (The Bears) from Willow Street helped distribute the scarves throughout Penn Square.
Pack leader Michelle Alagona signed the boys up so they could earn their community service belt loops.
"This is about taking care of each individual," Alagona says after tying scarves around a bench. "At least we can offer them warmth."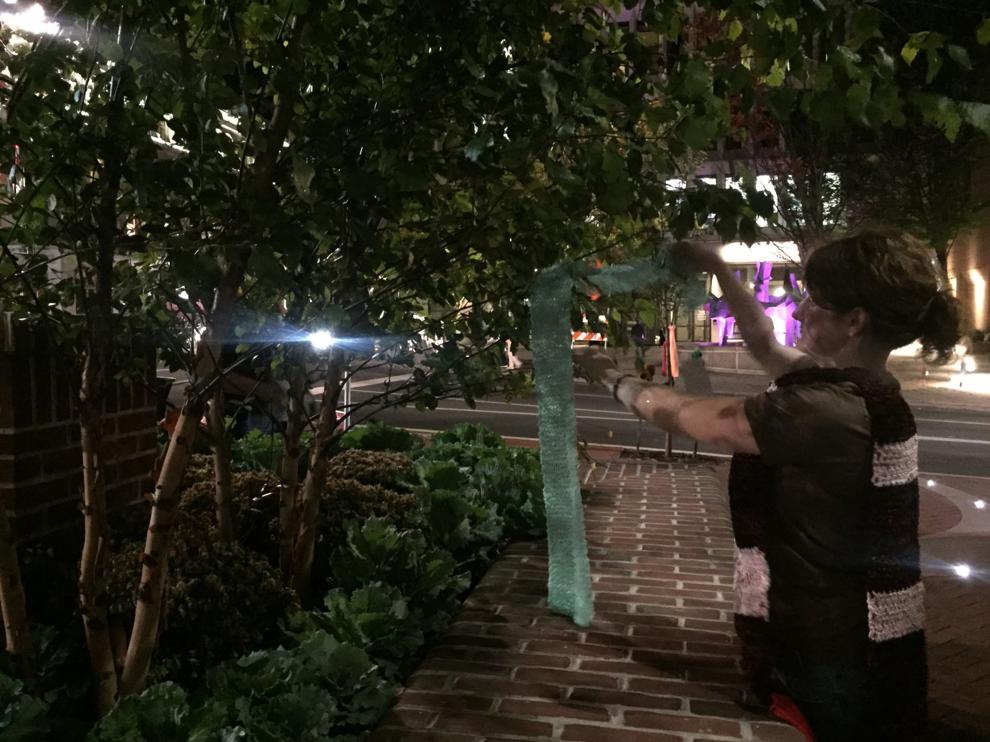 Last year, Wrap Up! expanded to Ephrata. However, police received several complaints about the colorful accessories littering the Warwick to Ephrata Rail Trail. Some people thought the scarves desecrated Veterans Plaza, which has a statute of Major Dick Winters, a World War II hero. The scarves and hats were removed.
Wrap Up! did not scarf-bomb the borough again, but throughout last season, knitters and crocheters made and gave more than 3,000 scarves, hats and gloves in Lancaster and Columbia. That's triple the number given away the previous season.
In the future, Reed would like to expand beyond Lancaster County and possibly into Baltimore, where there's a need.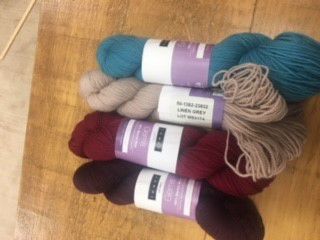 There's also talk about organizing fundraising bus trips to fiber festivals, like the Maryland Sheep and Wool Festival and the New York State Sheep and Wool Festival. The group's creating patterns to sell and raise money. A custom yarn color combination is in the works, too. The Wrap Up colorway will be a combination of teal blue, beige, maroon and a deep purple.
For this season, the group plans to scarf-bomb Lancaster and Columbia monthly through April. There are Sit and Stitch events planned twice a month for people to gather and knit or crochet. The next ones are Tuesday, Nov. 21 at 10 a.m. and 5 p.m. at The Speckled Sheep. A tagging party's planned for Nov. 27 from 7 to 9 p.m. at Kegel's Produce.