More than 160,000 people trek to Austin, Texas, each year for South by Southwest, an annual festival and conference celebrating music, film and technology.
While most attendees this year were discovering their new favorite band or future must-have gadget, seven Millersville University students produced a music showcase featuring up-and-coming artists.
The students were in Austin in mid-March for five days and four nights over spring break. All seven students are senior music business technology majors involved with Marauder Music Productions, a student group that plans concerts and records music.
"We really liked the idea of doing something that was something we could do every single year that benefited seniors, that was an opportunity that they wouldn't otherwise get from doing our classes and stuff," says Eilish McCaul, senior event coordinator for Marauder Music Productions. McCaul was instrumental in planning the trip, but fell ill shortly before SXSW and was unable to attend.
Inspiration
McCaul says she and another student were inspired after instructor Robin Spielberg recounted her SXSW experience in her international business class. Spielberg is partner and chief operations officer of Kosson Talent, a talent booking agency.
The trip was paid for by a professional development fund, which is part of students' tuition. Marauder Music Productions had to complete an application to Millersville's student government to make the trip a reality.
The students' showcase was part of the Midwest Music Foundation's MidCoast Takeover event during SXSW at the Shangri-La, an Austin bar. While not an official part of SXSW programming, the event takes advantage of the music-loving crowds by hosting an annual showcase.
The Midwest Music Foundation is a Missouri-based program that aims to help artists get access to health care, provide performance opportunities and more. The Millersville students were connected to the Midwest Music Foundation through assistant professor Dain Estes, who previously worked with the organization.
Students were required to book artists to perform during their 3 1/2-hour showcase. They also kept things running smoothly on the day of the show.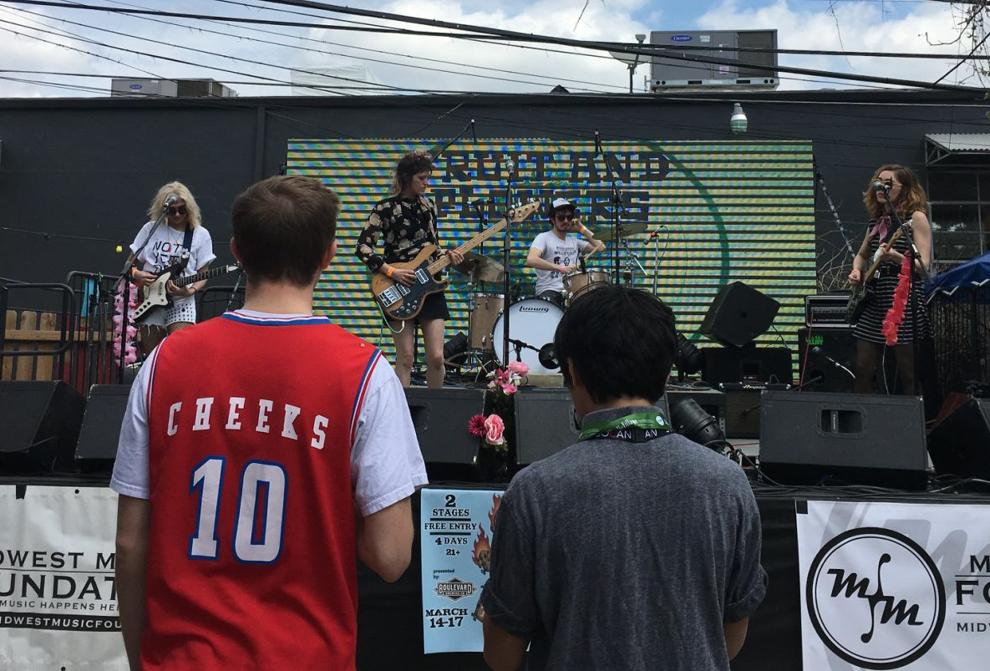 Funding restraints
The showcase's theme was Eastern Afternoon. The students originally wanted to bring Lancaster bands to perform, but couldn't make the vision a reality because of funding restraints. Instead, they decided to focus on bands from the Northeast.
"Ideally, we hope in the coming years that we're able to bring Lancaster bands, maybe even Millersville bands, to SXSW and show off the program that we have here," McCaul says.
Instead, the students sought out acts that were already attending SXSW to cut down on costs. The showcase featured New York's Fieldtrip, Brooklyn band Fruit and Flowers, New York trio Sun Voyager, Brooklyn punk group Honduras, and London singer-songwriter Allman Brown.
Brown was the exception to the Northeast theme, and was added at the last minute when another act dropped out.
It wasn't easy making the showcase a reality, and the students say they learned a lot about how to conduct business.
"The biggest lesson I learned from this experience was how to properly communicate with professionals in the music industry," says Troy Rominiecki, a Millersville senior who booked three of the showcase's five bands. "How to address yourself and communicate clearly. … It makes you look more professional and usually, when you hold yourself to a higher standard, people take you more seriously."
The students were a bit anxious as they waited for a crowd to arrive.
"I was a little nervous, like ... what if no one comes and these bands came for nothing?" says Alice LeHota, a Millersville senior who was part of the trip. "But it was good. I was happy."
Chris O'Leary, another student on the trip, says watching the showcase was gratifying.
"Starting out with a vision and just watching it become reality was probably my favorite part," O'Leary says. "Obviously, going to the festival was cool, but … it was just a big sigh of relief to be able to watch the showcase actually come to life."
The students were happy with the final product.
"Everyone had to really come together to work together to put this on, and I think we did a really good job with that — as a school, as a music department and just as friends," Rominiecki says.