Graduation Day at The Common Wheel usually ends with a race.
The graduates hop on the bikes they've rebuilt, zoom around Reservoir Park and put on the brakes in the middle of the race so they can stop and change a tire.
The last scheduled graduation, however, was a washout, so with rain pouring down the graduates set their bikes aside and started fixing two more. Those two will be given to refugees who are resettling in Lancaster County.
"You know the drill," one of the leaders says to Cera Thorpe, 14, as she hands her a screwdriver.
The girls pulled the tires off and checked for leaks. They removed a rusty chain and examined the bearings before riding off on their own new-to-them bikes. And they know their bikes inside and out because they built them with their own hands.
These four graduates were members of the first all-girls Earn-a-Bike class at The Common Wheel, a nonprofit that works to improve lives in Lancaster through the power of bikes.
In a time when fixing things seems the exception, not the norm, The Common Wheel wants to see kids and grown-ups know how to fix the bicycles they ride.
While that's important for everyone, The Common Wheel's volunteers hope to spark an interest in girls so they'll learn how to use tools, which they also hope will boost their confidence.
At graduation, Sophie McGrann, 12, was eager to talk about her bike's purple-blue color as well as its mechanics.
"I liked doing the brakes," she says. "And learning how it works and seeing the insides of the bike."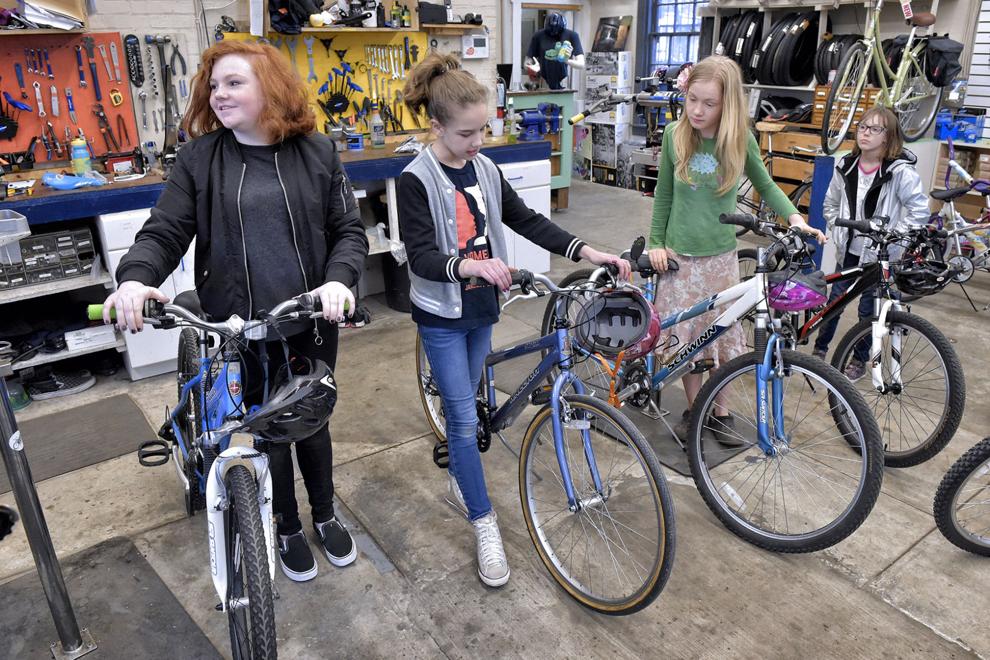 Based in an old pumphouse in Lancaster's Reservoir Park, The Common Wheel does repairs and offers mechanic classes. With the help of partnerships the nonprofit has forged, donated bicycles have been offered for free to low-income residents and refugees through partnerships. Some bikes are also sold to raise money for programs.
The Earn-a-Bike program focuses on the youngest cyclists: Children who range in age from 12 to 17 (and sometimes younger) can pick out a donated bike. During twice-a-week meetings over a five-week period, they take the bikes apart, clean them and recondition them to make sure they're safe and rideable. The class members learn about safety and then the bike is theirs.
Each bike can be a key to freedom, says Meagan Rinier, The Common Wheel's lead mechanic.
The classes cost $150, but most receive at least a partial scholarship funded by donations and sponsors.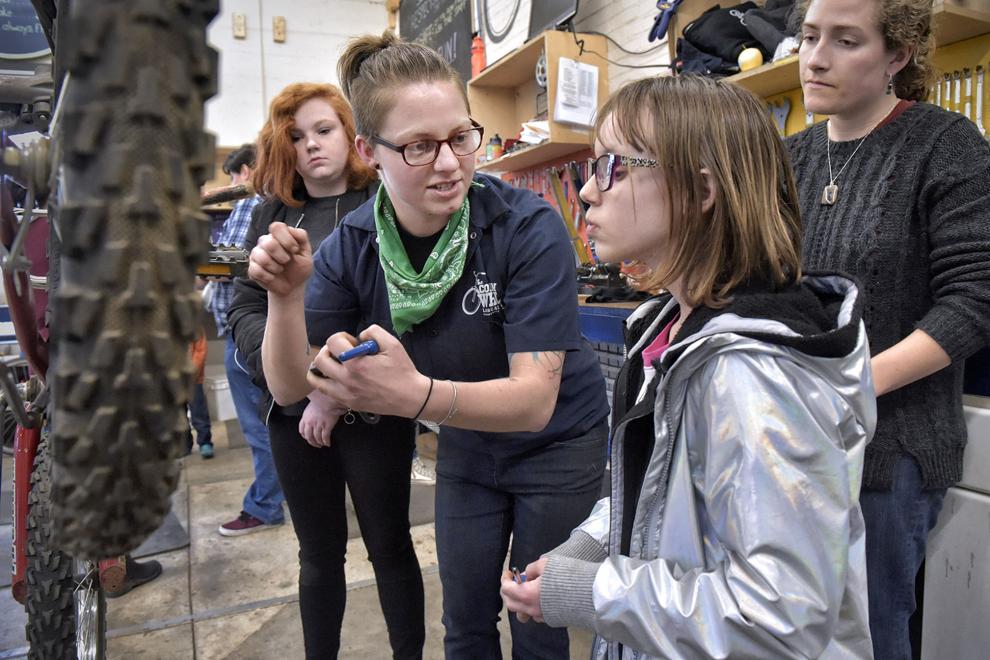 The Common Wheel usually has six classes a year, and most are filled with boys. The group created a female-only Earn-a-Bike program to make sure girls could learn about bikes and start working with basic tools.
"To be able to use them and be able to do something constructive with them is a very empowering experience, myself included," says Rinier. "I was where they were at some point in my life."
Sophie McGrann, 12, signed up to get a new bike and to learn more about how to make repairs.
"I thought it would be cool to learn how to fix up a bike so that if any bike in my family breaks, I can say, 'I know how to fix that,' " says the sixth-grader at Wheatland Middle School.
Perhaps the students will be more likely to fix something that's broken instead of throwing it away, even if it isn't a bicycle, Rinier says.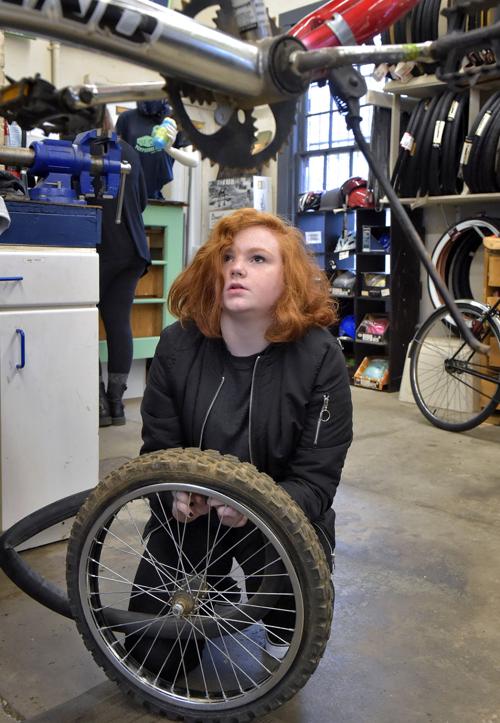 During the classes, women volunteers from Elizabethtown and Franklin & Marshall colleges were there to help. The four girls taking the class worked together well and each latched on to something different.
Isabella Brewer, 12, loved greasing the bike's parts. She's an artist and compared it to painting. At the graduation, the Central Manor Elementary School sixth-grader brought a design she created for an Earn-a-Bike T-shirt and hunted for loose ball bearings to make a new sculpture.
Kirsten Kauffman, a homeschooled sixth-grader, was excited about the new gears and rust-free chain on her bike. It was also just the right size for Kirsten, who is 11.
"My other bike is so small," she says.
Thorpe, 14, liked cleaning the bearings and making sure they were just right so the wheels would turn and the headset would stay in place.
The ninth-grader at Manheim Township High School normally doesn't do things like this, but in the end she says it was fun.
And she now has a bike of her own.
Rinier says she's hoping the first all-girls class will spread the word and recruit more girls for future classes.
The May co-ed Earn-a-Bike class is already booked. There are two co-ed classes during the summer session and another all-girls class planned for the fall.