Nelson Polite Jr. remembers his grandfather's Lancaster home being "an open house."
At the time, he thought everyone's relatives invited strangers to stay in their homes, he says, and everyone's grandmother made sandwiches to serve those strangers.
What Polite didn't understand as a child was that the house was one of three Lancaster County properties that were, at one time, listed in the Green Book.
As many have recently learned from seeing the Oscar-nominated film of the same name, the Green Book was a resource African-American travelers could use to find safe and welcoming places to stay during the early decades of the modern civil rights struggle.
The Polite family's place in local Green Book history is described on one of the historical panels that make up one of two Lancaster city exhibits opening today as a kickoff to Black History Month.
The historical exhibit is titled "The Road to Freedom Takes Many Paths: African-American Heritage in Lancaster County," and can be found on the second floor of the Lancaster City Visitor Center on Penn Square. It is presented by the African American Historical Society of South Central Pennsylvania and LancasterHistory.org.
The other exhibit is an art installation, "For the Culture: A Celebration of Black History Month," which focuses on the artistic depiction of black women.
It opens today, with a reception and special program this evening, and will be on display throughout February (Black History Month) and March (Women's History Month).
Local history
The African-American history exhibit at the Visitors Center is an expansion of last February's display at the Lancaster train station, says Randy Harris, a historian and member of the local African American Historical Society.
"It goes from the Colonial era through the Civil War and the Underground Railroad," Harris says, "and moves through World War I and the mid-20th century."
The exhibit tells the stories of wealthy African-Americans in Columbia who helped enslaved people move through the area via the Underground Railroad; of black barbers and others who ran businesses in Lancaster city; the history of African-American civic organizations and their contributions to the community; and much more.
One of these more recent historical stories is of the 540 North St. home of social activist and civic leader Abraham Polite and his wife, M. Blanche Polite, which was one of three Lancaster "tourist homes" for African-Americans listed in the 1940 Green Book.
The Polites were the parents of the late City Council President and civic leader Nelson Polite Sr.
The Polite home is the only one of the three Green Book entries still standing, Harris says. The other two, on South Duke and Rockland streets, were torn down decades ago.
"I lived there with my parents," Nelson Polite Jr. says. "I was extremely young at the time," Polite says. "I remember people always visiting the home. The doors were always open.
"I thought every home was like that," Polite says. "That's all I knew."
He didn't realize black travelers were, according to what his father told him later, staying overnight in an attic room.
"As a kid, they didn't tell you that," Polite says. "It was more or less, when the adults started talking ... you were ushered to another room, or outside."
Another panel in the historical exhibit recalls Lancaster's 19th-century "freedom spies," Edward Rauch and Robert Boston, Harris says.
Rauch, a white employee of the county court, also worked for George Hughes, whose office was in a building that once stood at 8 W. King St. — now site of LNP Media Group, publisher of LNP, Harris says.
For a fee, Harris says, Hughes would assist bounty hunters who had come to town trying to recapture slaves who had escaped from their Southern owners.
Boston was an African-American barber who, from his nearby shop, could see who went in and out of Hughes' office, the exhibit explains.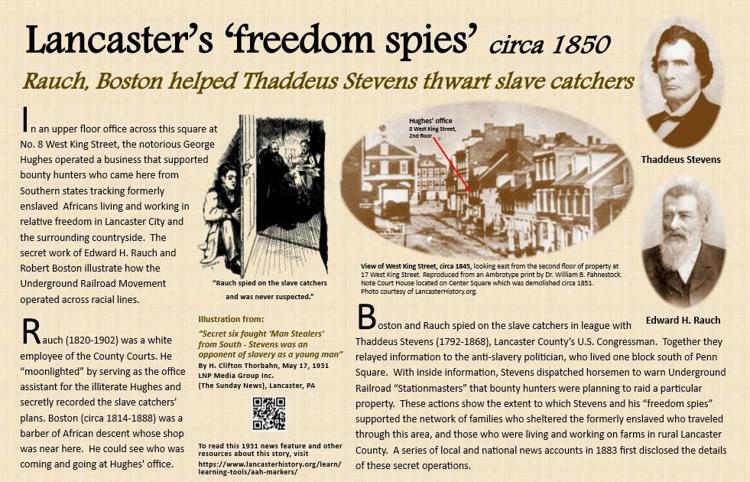 Boston and Rauch would secretly report to Thaddeus Stevens, Lancaster's congressman, who fought against slavery and discrimination against African-Americans, Harris says. Stevens was then able to get word to those working with the Underground Railroad to prevent capture of escaped slaves.
Another story told in the exhibit is that of the Elite Hotel.
"The Elite Hotel was at 30 S. Queen (St.), and it was founded by Samuel Sanders," says historian and historical society President Leroy Hopkins Jr. "Sanders was a steward at the Rossmere Hotel, and with the money he earned there, he built this place. It was a place where (middle-class) African-Americans visiting the city could stay.
"The hotel was established around World War I, Hopkins adds, "and disappeared during the Depression."
Harris and Hopkins say they hope those viewing the exhibit who might have additional artifacts, or who might know people who remain unidentified in vintage photos, will provide information to expand the society's knowledge of local black history.
Tour training
The historical exhibit also will be part of a February program for those who want to serve as new "conductors," or tour guides, on the African American Historical Society's Heritage Walking Tours of Lancaster city, which run one Saturday a month from May through November.
The training for new guides takes place in the Visitors Center gallery on the four Saturdays of February.
Debbie Smith, a tour guide and one of those conducting the training, calls the tours "one of the best educational opportunities in this town."
"As we do more research, as people tell more stories" Harris says, "we're going to evolve this whole narrative. That's why we need more people to wrap their brains around this and do more research — like these new recruits (for the tours)."
Twenty people have signed up, so far, to be new tour conductors, Smith says. But more are welcome.
"You need to get more people involved to tell more stories, to do more research, to get more truth," Harris says.
He and Hopkins say the African American Historical Society hopes to recruit younger members — particularly young African-Americans — who can continue this historical work in the future.
Art exhibit
The art exhibit opening today at the City Hall Gallery displays the works of eight local artists, Joanna Davis, the city's public art manager, says.
They are Keisha Finnie, Gracie Berry, Myles Harris, Nia Hammond, Kaya Hobbs, Kearasten Jordan, Dreya Moore, Justin Carney and Lancaster Country Day School student Kaela Stankiewicz. About 20 works are in the exhibit.
"We have photography and painting and quite a bit of mixed-media," Davis says. "There's a textile — a handmade shirt ... and one sculpture."
Finnie's colorful paintings of the faces of African-American women greet visitors to the corridor that makes up the gallery.
Gracie Berry says her three works in the exhibit, one of which incorporates one of her own poems — "Ode to Melanin" — were inspired by her recent discovery of family roots in Sierra Leone.
"My visual art is mixed media — vintage, upcycled," Berry says.
Her "Melanin" incorporates concentric circles of black cowry shells — symbolic in African culture — and her "Got Pink Music," is a photographic self portrait of herself holding a xylophone — "seeing myself reflected in music," Berry says.
Hobbs' mixed-media paintings capture images of people, nature and even a rib cage on slabs of wood that are cross-sections of trees.
And Hammond combines images of black women with objects including jewelry in her mixed-media works.
The opening reception from 5 to 8 p.m. today will include African-inspired food and music by black artists played by a DJ, Davis says. From 6 to 7 p.m., a program in council chambers will include Berry and fellow Lancaster poet Evita Colon presenting spoken-word performances.
Invitation to history
Those who have helped with research for the historical exhibit, and who help guide the walking tours, say these views into local African-American history are an integral part of the overall history of Lancaster.
"I think one of the most important things is that people are unaware that, with our proximity to the Mason-Dixon line, African-Americans lived here free even before the Civil War," says genealogist and retired educator and Lancaster city police Lt. Gerald Wilson. "We're telling the story of (black) people owning businesses on the square and all around downtown."
And Polite says he has been learning a lot about his own community's history through being involved in the project.
"We were much more visible, and had a more intricate part in the development of Lancaster, than what I was taught," Polite says. "I'm just now learning how significant those in the African-American community were to the overall Lancaster community.
"Hopefully, we can continue to pass that along to the younger ones ... who participate in the tour."¶