At 97, Mary Risk's sight was deteriorating, making bill-paying more of a struggle than it should have been.
She was fortunate to have a daughter who could stop by regularly to visit, balance the checkbook and divide up medications for the week ahead.
She also was fortunate to survive when she fell ill that same year and needed emergency surgery to receive a pacemaker.
Her failing sight and surgery might have slowed Risk, but it didn't stop her.
Seven years later, Risk is well enough to make regular trips to Bob Evans for a Lil' Farmer breakfast (complete with a crispy bacon strip), go for rides in the country with her son-in-law and videochat with her grandchildren on her iPad.
Being 100 — or 104, in Risk's case — is not what it used to be.
Today's centenarians are dancing, driving and often doing the same things that made their lives meaningful before they hit triple digits. Many in Lancaster County are getting the care they need in retirement communities they have called home for decades, with a built-in support system guiding them as they age.
Relative prosperity, better nutrition and rapidly advancing modern medicine all have helped drive the number of centenarians upward. Just before most of today's centenarians were born, the world's life expectancy was 48 years.
Twenty years ago, newspapers, including this one, might have celebrated the rarity of a 100th birthday with a front-page article.
We once looked at the select few who made it to centenarian status with awe, but health care and policy experts say it's no longer enough to ask for their secrets.
"We're not asking the right questions about what it means," says Ben DiCicco-Bloom, Ph.D., visiting assistant professor of sociology at Franklin & Marshall College. "It just isn't a big enough population yet. ... The questions we mainly ask are biomechanical: What did they do to live this long?"
The nation's 65-plus population is its fastest-growing segment, and the most notable growth is among those 85 and over. The so-called Silver Tsunami is carrying a wave of aging Baby Boomers that eventually will require supportive physical and emotional care, life-affirming opportunities and planning that ensures those with limited resources don't end up neglected.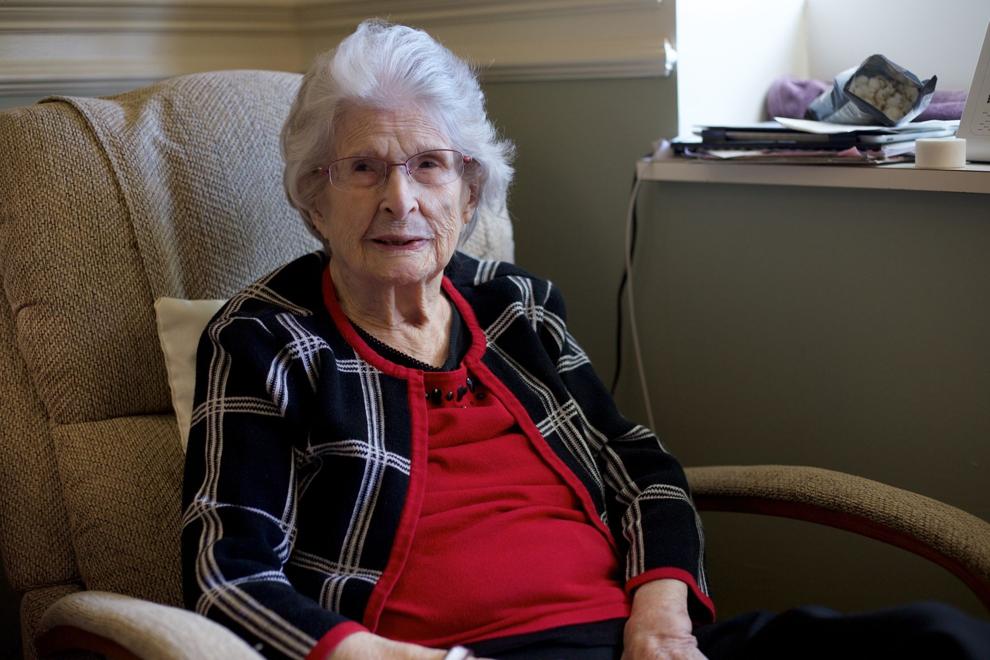 As this group grows, they'll place more demands on their families, public health and transportation systems, and housing and health care resources.
That's why those who study and work with seniors want to shift the conversation about centenarians. The goal, they say, must be to ensure physical health, safety and quality of life for those who approach or surpass the 100-year mark.
"When you're 40, you can easily get into the car and go to the doctor," says Dr. Leon Kraybill, LG Health's Geriatric Division chief and post-acute care medical director. "When you're 65 or 85 and disabled, clearly, transportation becomes a concern. The need will be to provide care to people at home. ... There is a great opportunity now to explore how we can do that. But I think there are restrictions, because all of that costs money."
---

READ MORE ABOUT THE CENTENARIANS
---
By the numbers
By 2050, the Pew Research Center estimates, there will be 3.7 million centenarians worldwide. By their count, the 100-plus population could account for almost one-quarter of all people 65 and over.
For now, the census makes tracking centenarians difficult. It lumps the oldest seniors into one group, defined as those 85 and older.
Last year in Lancaster County, there were 15,199 people who were 85 or older, according to estimates released in June by the U.S. Census Bureau. That's up from 8,965 in the 2000 census.
The county's Office of Aging has no way to track 100-year-old residents beyond those for whom it provides services.
Anecdotally, though, the numbers seem to be climbing here — and that likely will continue as Lancaster County racks up more accolades touting it as a retirement-worthy destination.
At Masonic Villages in Elizabethtown, 16 of the 1,982 residents are 100 or older. Four of them still live independently in retirement homes, while the others live in settings offering more help with personal care or nursing.
In 2014, the community had five 99-year-old residents but none 100 or older, according to spokeswoman Debra Davis.
At Willow Valley Communities, Risk and fellow resident Roberta Frank are among 17 residents who are 100 or older.
The fact that Risk, a farm girl-turned-nurse, and her school principal husband moved in years ago has made many late-life transitions easier. As a personal-care resident, she can play Bingo, read magnified books on her iPad, get help into or out of her wheelchair anytime she needs it and see the doctor when he makes rounds on her floor.
"We're all very grateful that they made this decision," says her daughter, Jean Robinson. "They were able to do it early and establish a support group. … But no matter how good the facility, everybody still needs an advocate. You still need to keep an eye out."
Currently, the county Office of Aging provides services for just five community-dwelling seniors over 100. Those are seniors who still live in family homes but need some help with daily activities, such as bathing or meals.
The number and location of other 100-year-old people who live alone without assistance or whose families provide all of their care are unknown —as are their needs.
"That's the big challenge," says Executive Director Lon Wible. "Why it's so significant is we've never seen it before in the numbers we're seeing now. The need for services is going to be much larger than it is for those between 65 and 85."
Longevity levers
Many of today's 65-year-olds have a great shot of making it another 35 years.
You can thank advances in sanitation, clean water and personal hygiene for much of that, Kraybill says. Throw in the development of antibiotics, the advent of vaccinations and trauma care that saves many lives that once would have been lost, and you've got a recipe for societal longevity.
"Fifty or 100 years ago, there was no expectation that you lived long," Kraybill says. "You lived with disease, infections and accidents, and one of those was going to take you."
Now, though, genetic limits mean most of us will face other health challenges. After having possibly survived cancer or minor cardiac events, older seniors will increasingly face the kinds of health problems that give advanced age a bad rap: incontinence, dementia, frailty.
"The most dangerous thing for any person when they get older isn't cancer," says DiCicco-Bloom. "It's not heart disease. It's falling down."
Decline can be rapid when physical problems pop up over age 85, often forcing seniors out of their homes, robbing them of control and stripping them of dignity.
Kraybill wants to see a system that supports seniors in the environment most suited for them, to keep them part of a community that offers emotional and spiritual support even if their body is not as capable as it once was.
"Depression and isolation will kill you more quickly than many of the diseases that are out there," Kraybill says. "Most people benefit from the human voice, the human touch, the love that's around that."
Staying connected may be one reason why seniors in urban settings remain the most content in later life.
Moving forward, Wible says, community partnerships will play an important role in developing safety nets for Lancaster's elders —particularly those who aren't in senior- care settings.
Wible points to ride-sharing services provided by individual churches and Love INC, as well as the 10 community organizations his agency contracts with to deliver hot, nutritious food through Meals on Wheels.
In some cases, those services sustain seniors who have no housemates, little income and rare interaction with family or friends.
At the nonprofit Garden Spot Village, officials are looking to the future as they design programming and facilities that serve a broader population. The new Cooperative Living House accepted its first residents last fall. It charges a sliding fee based on Social Security income for a private room and bath; residents share several common areas, a kitchen and TVs.
It gives aging seniors who don't have the benefit of a built-in safety net the opportunity to build a new one.
"A strong social network is so important, to have people around them that care for them and to be in a place where they feel a sense of belonging," says Scott Miller, Garden Spot's chief marketing officer. "They have to have a voice in everyday living."
That's an approach the Office of Aging is working to incorporate as it plans for an influx of seniors. Wible says he wants all seniors to have a say in their care, even when that means taking risks their children might not appreciate.
Most seniors prefer to stay in their homes as they age. Financially that makes sense because according to Wible, who says it costs 2 1/2 times as much to provide services in a nursing setting. But it's a Catch-22. Medicare is only beginning to support more at-home care, meaning many independent seniors will outlive their financial resources.
"Americans like to ask, 'How long could I live?' " DiCicco-Bloom says. "It's much more interesting than, 'How long should we live?' "