Americans have rarely gone long stretches of time without attempting to renegotiate the national contract.
The first 10 amendments, America's Bill of Rights, officially became part of the Constitution in 1791, barely four years after work on the nation's founding document had begun.
Since then, 17 more amendments have been ratified — and more than 11,000 others have been proposed.
Two years ago, on the 225th anniversary of that Bill of Rights, the National Archives curated an exhibit that explores how those first 10 amendments were composed. "Amending America: The Bill of Rights" then went on a cross-country tour of America that arrives in Lancaster later this week.
When "Amending America" opens at LancasterHistory.org Saturday, it will be the 11th stop on a tour that's taken the exhibit to the presidential libraries of Gerald Ford and Richard Nixon, the home of Founding Father George Mason, a museum in Dealey Plaza, Dallas, and, most recently, to the Jewish Museum of Maryland in Baltimore.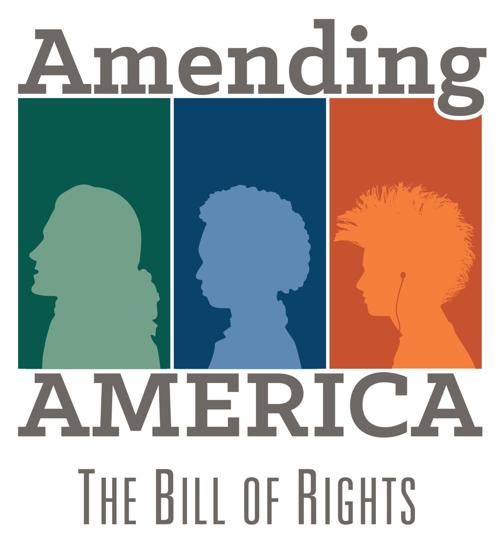 Using reproduction documents and petitions, political cartoons and interactive stations, the exhibit also will have a feature none of the other stops on the tour has had.
Local curators have assembled a complementary exhibit on President James Buchanan and Congressman Thaddeus Stevens. Both immensely powerful mid-19th-century politicians and both Lancastrians, Stevens and Buchanan held radically different ideas about what powers were permitted and prohibited by the Constitution.
Robin Sarratt, vice president of LancasterHistory.org, says the timing of the exhibit's arrival here "is fortuitous."
'Civic literacy'
"Amending America," Sarratt says, encourages the process of asking questions, of thinking about what citizenship means, about what the words in the Constitution and Bill of Rights meant in that era — and what they mean today.
Having an exhibit based on archives, on original documents, helps make the connection between "old history" and how those founding documents affect our daily lives.
"(The Bill of Rights) impacts our lives, all the time," Sarratt says. "And this is a timely opportunity to promote civic literacy — people going through the naturalization process in this country are probably better versed in our founding documents than the majority of American citizens. We may have studied them in school, but that was years ago."
Jennifer Johnson, a Kansas City, Missouri, curator of the exhibit, agrees.
"A little bit of what we do is civic literacy," says Johnson, who works with the National Archives Traveling Exhibits Service. "And I don't think we could have predicted this would resonate the way it has.
"Americans are kind of renegotiating the historical contract, and this examines how we've done that historically, and offers up that past experience for people to (think about). It shows how easily historical topics can funnel into contemporary conversations."
Part of the exhibit, Johnson says, centers around the way the amendment process has changed over the centuries. Signatures gathered and pasted end-to-end into scrolls to be counted or weighed ("Maybe that's where 'the weight of public opinion' originated," Johnson says) have given way to online petitions and social media "campaigning."
"Amending America" also looks at how the topics addressed by amendments have changed. "There are 'amendment eras,' historians call them. There was the Civil War era, of course, with the 13th, 14th and 15th amendments," the era of Thaddeus Stevens' great influence. "And there were 'progressive era' amendments." But no matter the era, she says, "the majority (of amendments) address expanding citizens' rights."
Amendments, Johnson says, are a way that the Constitution's authors ensured "an explicit path" for future generations to change the Constitution, "and give us a way to do that without having another revolution."
"The thing with amendments is, they take time, versus laws. They're discussed for decades or more, and there must be consensus.
"It's very difficult for a reason: You're changing the structure of our government when you pass an amendment."
Lancaster's impact
When the exhibit opens locally this weekend, it will include a full slate of special events, tours and activities offered only here.
Using its extensive archives of historical materials, the museum is creating what LancasterHistory.org's Sarratt calls "supplementary material" to help tell the story of American amendments through the history of Stevens and Buchanan.
"Buchanan, for better and worse — and mostly worse — was a strict constructionist when it come to the Constitution. He believed that his hands were tied when it came to addressing any of the issues of slavery, (and he used) the Constitution to say, I'm not really able to address this issue ... it's beyond the presidency."
Stevens, of course, agitated for years for a Constitutional amendment that would abolish slavery.
"In his (Congressional) floor speech about the 13th amendment, he specifically said that the Constitution was made so ... that Congress at any point can take up these issues and address them."
Some of LancasterHistory.org's localized displays will center on Stevens and his connection to Civil War-era amendments. But, because the exhibit will be hosted during the normally quiet summer months, Sarratt and her staff have been able to fit in extra programming tied to "Amending America." Along with curator's tours of the exhibit, LancasterHistory.org is designing interactive, self-guided activities that help both adults and younger visitors explore current events and Constitutional issues in depth.
There also will be a free series of storytimes for young children which tie into the themes of freedom, civil rights and the Bill of Rights.