More Americans are taking vacations this summer — but they're spending 20 percent less money and taking shorter breaks than they did last year.
Another trend? Multiple generations traveling together.
The trend toward briefer, less expensive vacations was outlined in a poll conducted this spring by Generali Global Assistance. But the trend toward multigenerational trips has been inching up for several years.
"It's somewhat been the case for the last 10 years or so, ever since the baby boomers have gotten to the point of retiring," says Terry Bigler, an owner/travel consultant with Zeller Travel in Lancaster. "It becomes tougher and tougher to get family together," Bigler says, and baby boomers "often are getting to the point where they can afford it ... and want to give family" something memorable.
Travel adviser Martha Good agrees.
Over the last five years or so, she says, extended families who decide to save for, plan and take a trip together are "becoming more mainstream."
"I think personally it reflects a shift in our society, with people wanting to spend time together and share experiences as opposed to spending money on possessions," says Good, a Lancaster-based adviser with luxury market travel planner Departure Lounge.
Coordinating a large group of people, of varied ages and interests, on a trip that makes everyone happy, though, can be a big task.
"It's a lot of work," says Corinne Stevenson, who owns Outfitters Adventure Travel with husband Matt. "To arrange a trip for (a big group of) people puts whoever's in charge under a lot of pressure."
That means many people who want to take a special trip with grandparents, kids, grandkids and extended family turn to the experts for help. But whether you're using a travel adviser or going the DIY route, there are some decisions that need to be made right up front — and some destinations that take off a lot of the pressure.
All together now
Andrea Hartzler and her husband, Matthew, were taking trips with extended family even before they got married. Now, the Manheim couple continue the tradition with James, 9; Serena, 14; and Maya, 16.
The requirement, she says: planning ahead. The reward: It's always been a hit with the Hartzler children because they get to hang out with their cousins.
In the past, Hartzler says, she and her husband went with family to Ocean City, New Jersey, every year. But they've planned more ambitious trips as the kids have gotten older — the biggest, to Turks & Caicos Islands, a British territory southeast of The Bahamas, with 19 members of the extended clan.
"I think it's because my mother-in-law has always valued family and travel," Hartzler says. "She also likes the tradition of going to the beach every year. It's important for the kids to have that kind of tradition, and she's kind of the one who's made it happen."
The Hartzlers also have gone to Disney, and have rented a house in Maine, with grandparents along for the ride.
"The key is to find something that works for a 5-year-old and works for a grandparent," Hartzler says. "And it's a benefit because you can bring along your folks as they get older," with younger generations sharing some of the heavy lifting so the older generations can relax .
"It can seem a little daunting, planning it and making sure there's a balance for everyone," she says, "but it's such a neat experience to do new things together.
"Everyone has different economic levels of what they're comfortable with and what they want to and can pay," she adds, so the Hartzlers choose an all-inclusive, family-oriented resort. That way, individual families can tailor what they want to spend by choosing the room and level of service they want.
There are two keys to a successful multigenerational vacation, Hartzler says. The first is to make it as easy as possible — the all-inclusive aspect helps, she says, as does the fact that they use Stevenson of Outfitters Adventure Travel to handle the logistics.
The other key? Making sure each individual or family has their own space. "You want to still love each other when you get back from the vacation," Hartzler says with a laugh.
Something for everyone
In the past, Stevenson says, extended families who vacationed together would often rent a beach house, or keep it low-key. The multigenerational trend she's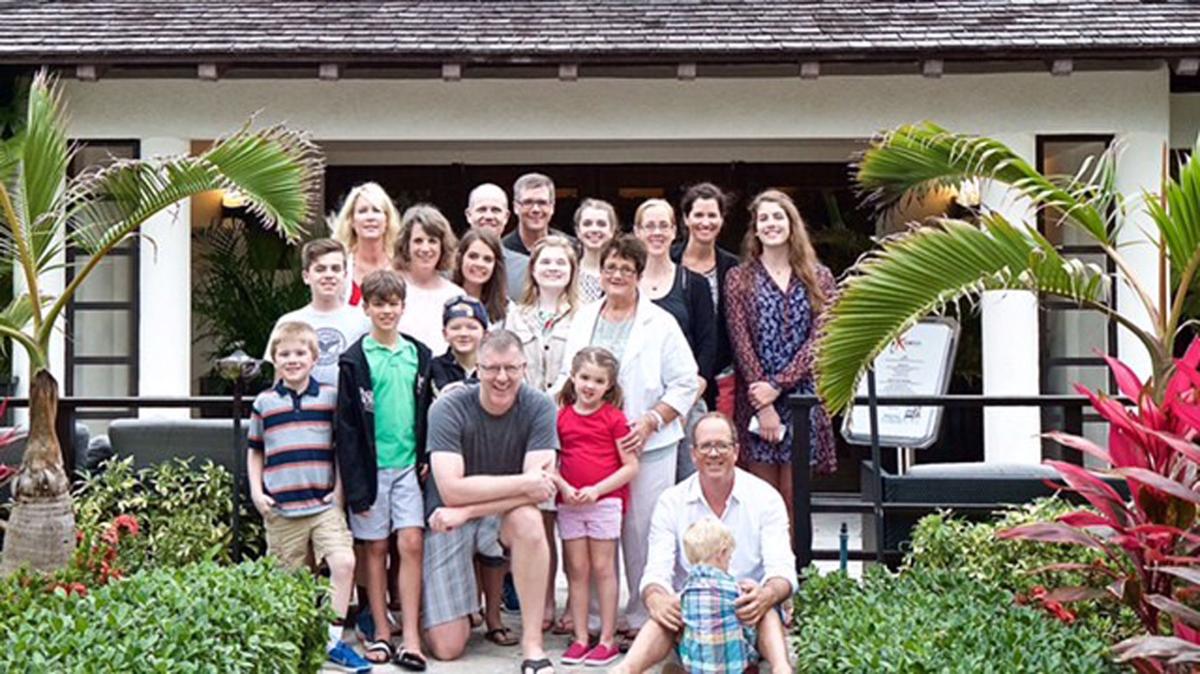 seeing is an increase in families "who will say, 'I've been saving for 15 years and this is what I want to do: make memories,' " she says.
Maybe they've hit a milestone anniversary or birthday. Or sometimes, says Bigler of Zeller Travel, the older generations who are retiring want to gather scattered family members for a trip that will create special memories.
"Generally speaking," he says, "if the grandparents are putting (the trip) together, they make the decisions."
The two most popular destinations he sees are Caribbean beach resorts and Disney.
"There are activities for every age bracket" he says. "If the grandparents don't want to do something, they can sit on the beach and watch the kids play.
"Depending on how much they want to spend, there are a lot of choices as far as islands," Bigler says. "Punta Cana (on the eastern tip of the Dominican Republic) and Cancun (Mexico) are two of the most popular destinations if somebody's on a bit of a budget. But if someone doesn't care what they're spending," he says, the destination list is endless.
And since more people are looking at the trip in terms of experience and not just to "get away," Stevenson says, they are asking her to find them something "out of the ordinary" to do. "They might take the kids to Alaska, Australia," she says. "They want them to see the world."
Destination unknown
Corralling several families into a single destination, time frame and cost isn't always easy, Bigler says.
Then, says Good, you have to be realistic about the amount of activity everyone can handle. Will you need to factor in naptime for small children? Will the older generations be able to take part?
She starts by determining what the family as a whole is interested in, Good says. For domestic travel, she arranges many trips to national parks, Florida and Hawaii, she says, or Maine over the summer months.
For those who want to travel farther and can afford it, she says, France and Italy are popular, as is the more convenient Mexico.
All three travel experts say renting a house together or traveling to all-inclusive resorts and on cruises can provide a high degree of flexibility — in terms of price and activities — for large groups.