UPDATE, AN INTERVIEW WITH THE BRIDE (MARCH 15, 2019):
A newly married couple and several local businesses found themselves in the spotlight Saturday night when a Lancaster County-set episode of a new reality show aired on the TLC channel.
The premiere episode of "Drag Me Down the Aisle," in which four drag queens (who appeared on VH1's "RuPaul's Drag Race") help a bride have the wedding day of her dreams, featured the leadup to the Dec. 30, 2018, Lancaster wedding of Emily and John Lewis.
The episode has one more airing on TLC this week, at noon Friday.
On the episode, the bride-to-be does not feel comfortable in the dress she originally bought for the wedding.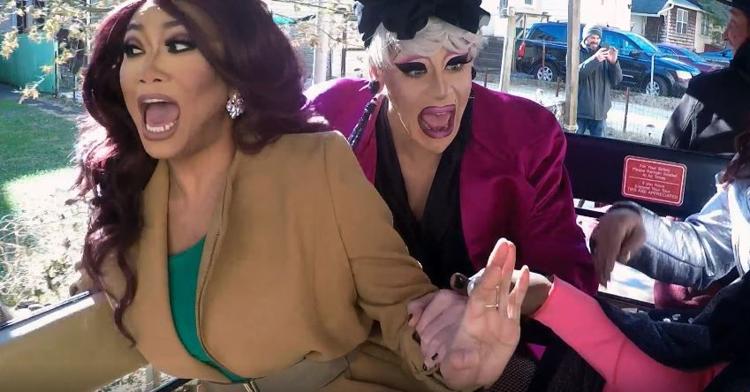 The series' four drag queens, Alexis Michelle (Alex Michaels), Jujubee (Airline Inthyrath), Thorgy Thor (Shane Galligan), BeBe Zahara Benet (Nea Marshall Kudi Ngwa), ride into Lancaster city in a horse and buggy, waving to people on the street along the way.
All four have been contestants on the popular Logo TV and VH1 reality competition, "RuPaul's Drag Race."
Click here to watch the episode.
They meet the bride at her Lancaster home and help her and her fiance plan some of the decor, music and bride-and-groom dance for their wedding.
Along the way, they surprise groom John Lewis at Anita's on Walnut, a cafe on East Walnut Street, and take the couple to a studio space at Universal Athletic Club on Oregon Pike to help the couple plan a special dance at their reception.
Thor, who plays violin, viola and cello, takes off his drag in order to go to the Unitarian Universalist Church of Lancaster on West Chestnut Street and check out the music being planned for the ceremony and demonstrate his violin skills.
The queens take the bride to New York to buy a new wedding dress in Manhattan and for hair and makeup design in Brooklyn.
Lancaster County floral designers Fetching Flora and Floral Designs of Mount Joy provide decor for the wedding and reception at a Lancaster wedding venue.
During the wedding ceremony, the four queens ditch their drag, donning suits, during the wedding ceremony, but reappear in drag to dance with guests at the reception.
During the show, there are many drone shots of Lancaster city and county.
According to their The Knot wedding website, Emily and John Lewis got engaged in October 2017, the same day they got their basset hound, Copper.