When Matt and Jess Misel set out to renovate their daughters' bedrooms, they asked what the girls wanted.
Olivia, 5, asked for a magical unicorn room.
Ella, who just turned 10, wanted a treehouse.
They did just that, and they did the work as a family. One room now has a secret hideaway, and the other has a bed in the treetops. The rooms were designed to be perfect today and change as the girls and their tastes grow. These are two of the renovations the Misels tackled themselves in their Grandview Heights home. Their work blends Jess' vision, Matt's construction skills and their combined knack at finding a good deal.
"I'm able to know what I want," Jess says. "And he's able to make that happen."
When the Misels starting house-hunting, they narrowed their neighborhoods based on schools. Jess, a reading specialist in the Solanco School District, had a few schools in mind, including Schaeffer Elementary in Manheim Township School District.
She and Matt liked Grandview Heights and kept an eye out for a house on a good street that needed a little work. The couple found that in a 2,000-square-foot house built in the 1950s. They moved there in 2014.
---
A new dining room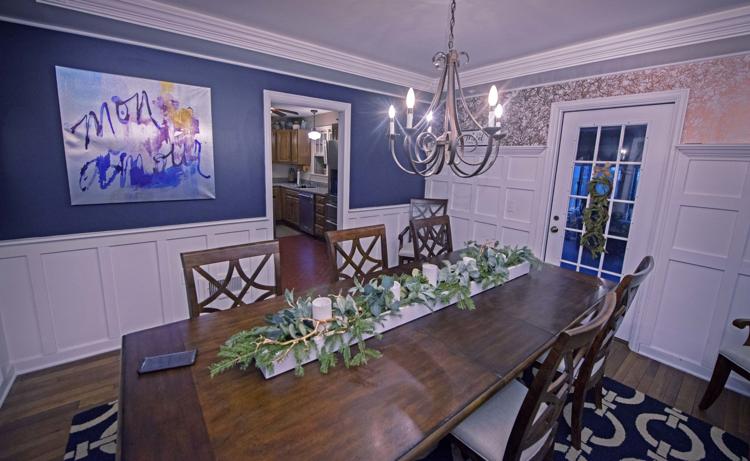 Matt, who works in HVAC, handled construction for the renovations.
Downstairs, the biggest transformation is the dining room.
Matt added a tray ceiling, where he installed recessed lights. He added dimmers for lots of lighting options.
To make a focal point in the room, the Misels added gold squiggle wallpaper to one wall. Instead of mixing up paste, they found a decal online that could be peeled and stuck into place like a big sticker.
And to decorate the dining room table, they made a trough from pine boards.
"She'll show me something that she finds on Pinterest. 'Hey, can you make this?' " Matt says. "This one, I said; we'll make this together."
Use the slider to see before and after photos Misel's dining room.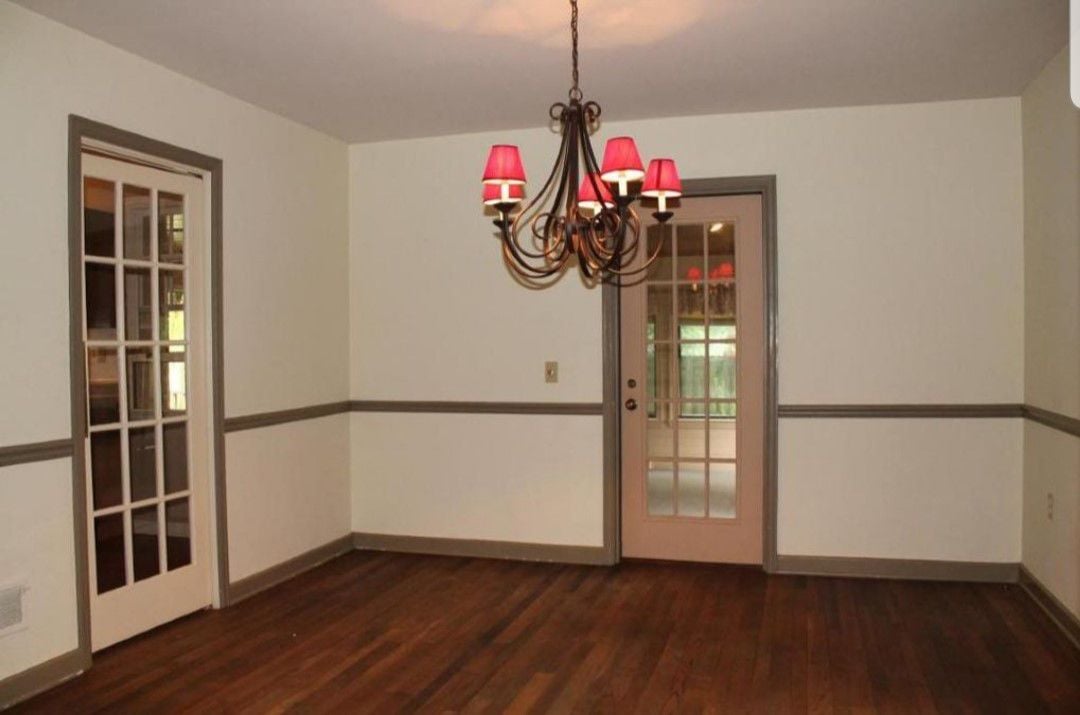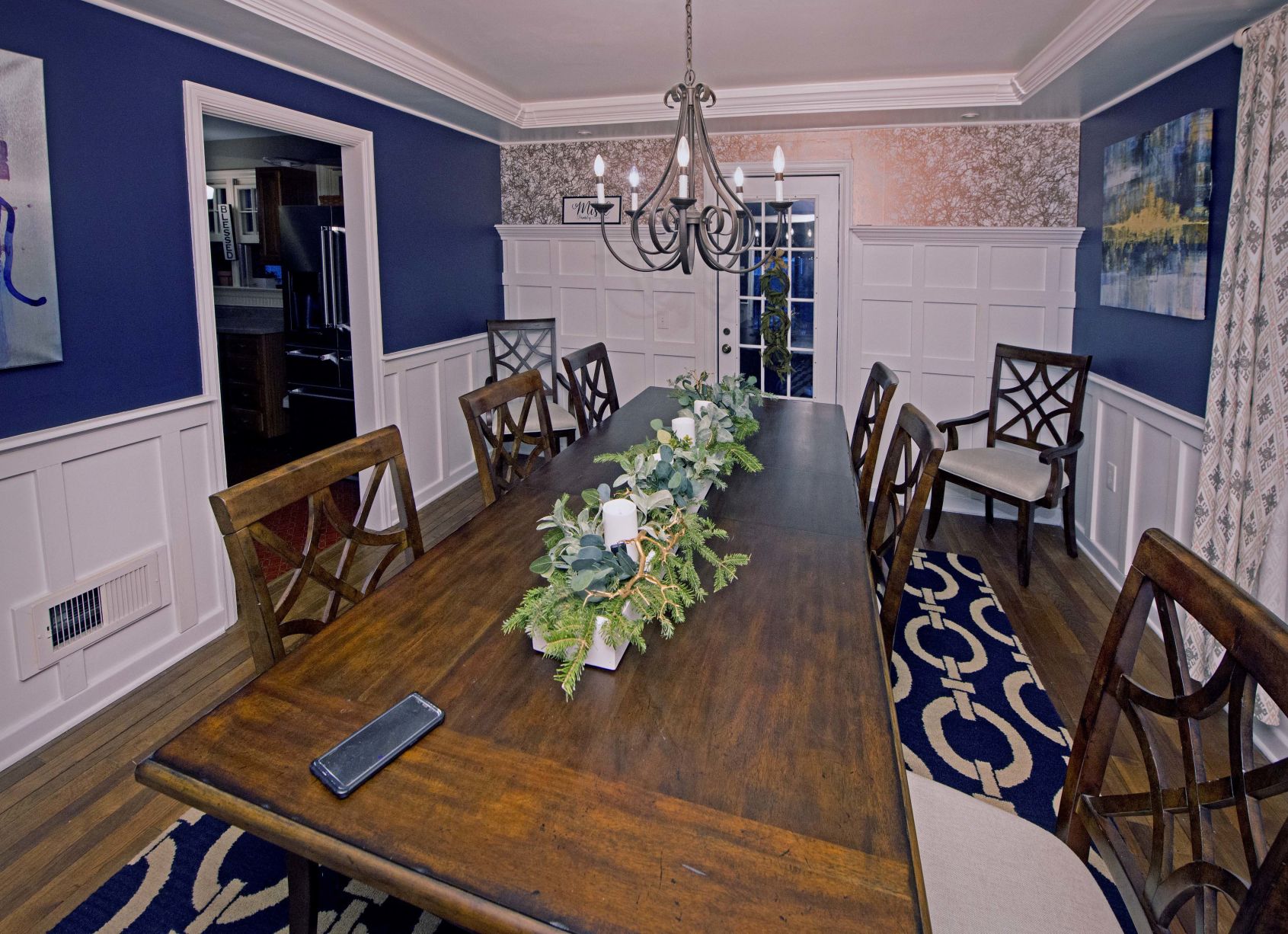 ---
An indoor treehouse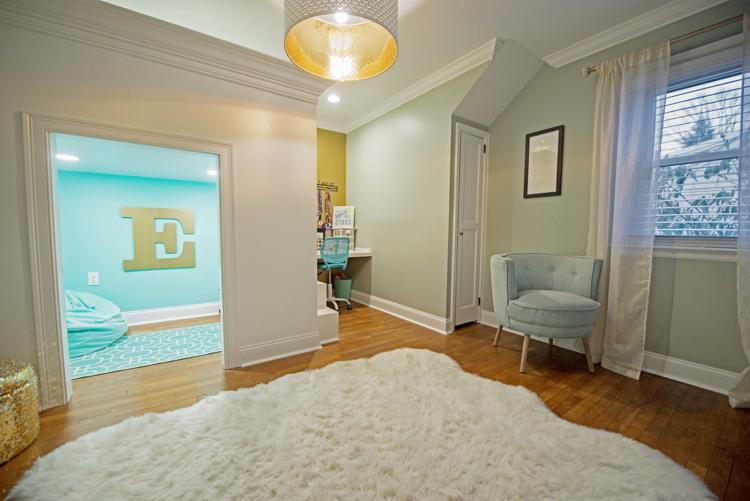 For Ella's bedroom treehouse, Matt came up with the compromise of a loft bed. There's a desk built into the side, shelving tucked under the steps and a new light switch at the top of the loft.
Ella helped out with demolition to make way for her bed.
"I destroyed the wall behind it," she says.
Underneath the lofted bed is a book nook, designed to fit a full-sized mattress. The loft is made with two-by-fours and drywall and can be disassembled in a day.
"I wanted it to be that way because she's 10," Matt says. "When she's 20, that might not be ideal."
---
A magical unicorn bedroom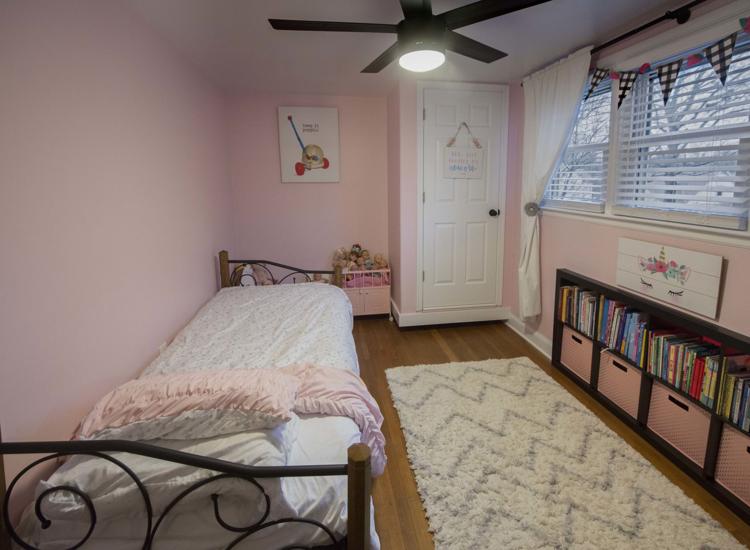 Olivia's room renovation came next.
Her room had a small door leading to a storage space fit for a child. For Olivia's magical unicorn room, Matt came up with a way to make the storage space magical.
He added beams to the side of the storage room, extending them into her bedroom. The beams support a new "floating" closet.
Open the closet door and the lights underneath turn on. Push the clothing aside and find a second door to the secret room.
"She can crawl back there and have a magical fun time," Matt says. "It's like a whole new world."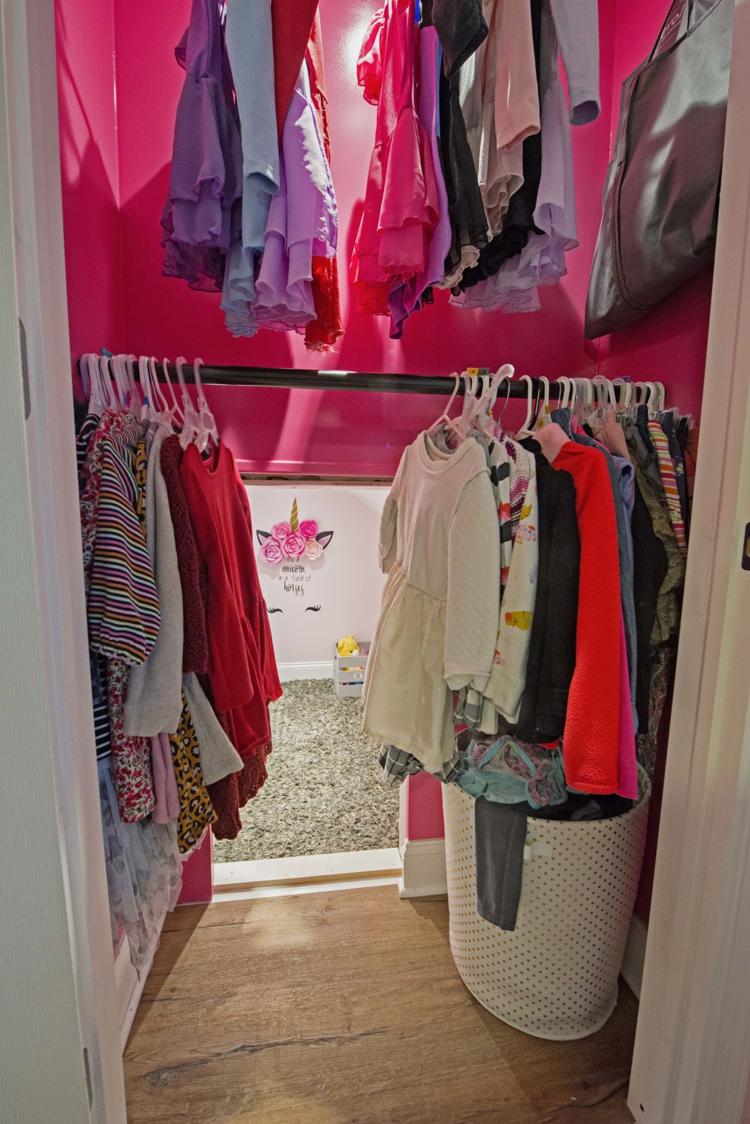 Olivia says she likes to read inside her secret room.
During the month-long renovations, Matt framed a space underneath the windows to perfectly fit a bookshelf found at Ikea. The bookshelf now is painted hot pink and has lights in the back: a place for books and a night light.
There are unicorns decorations in the room, but they can be changed easily as tastes evolve.
---
Bargain hunting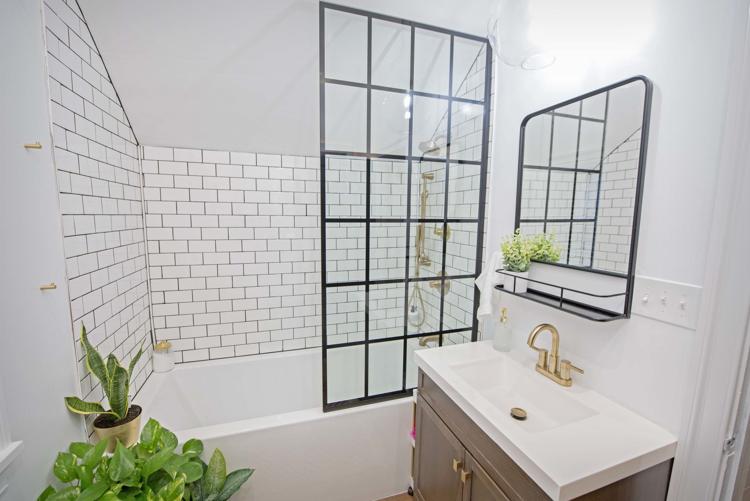 The upstairs bathroom is the latest renovation.
Matt opened up the ceilings and walls, making room to replace a 5-foot tub with a 6-foot tub. He also added a vanity recessed into one of the walls.
A bathroom skylight was scrapped after the Misels spotted pendant lights on clearance at the West Elm outlet store in Rockvale Square.
"We're always checking out the clearance sections," Jess says.
The Misels stay on the lookout for great deals for materials, furniture and accessories at places like Lowe's, Home Depot and HomeGoods. They often go to the Habitat for Humanity ReStore on weekends. That's where they found artwork, flooring and even $10 upholstered chairs for the girls' rooms.
Using inexpensive materials in a creative way also helps save money. Take the upstairs narrow hallway. Matt bought strips of subflooring that are only a quarter-inch wide, glued them on the walls and painted them white. It's a shiplap look for less.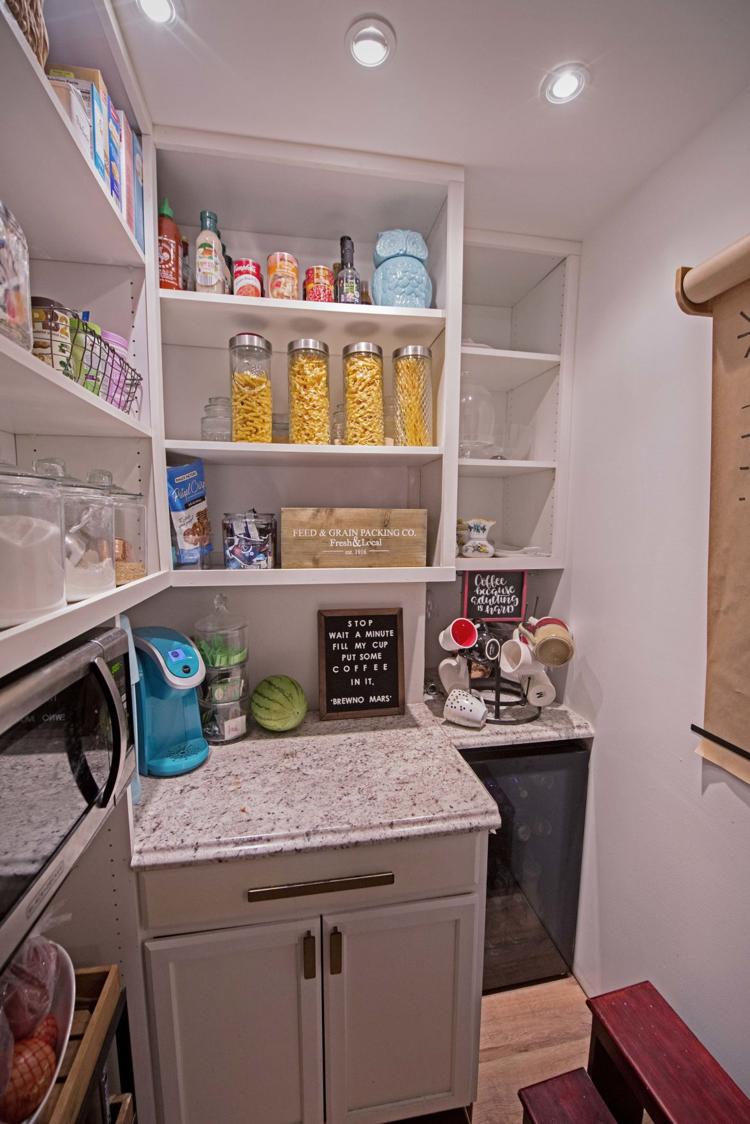 A surprise pantry
Next up is a kitchen renovation. The Misels got a head-start when Matt discovered a surprise in the room. He moved the refrigerator to clean and found enough space behind the fridge to create a pantry. He added a countertop and shelves just the right size for a microwave and coffeemaker.
In the meantime, the hunt for appliances continues.