"When I am dead and in my grave and all my bones are rotten,
When this you see remember me, or else I shall be forgotten."
These moody words wouldn't be out of place in a teenage diary.
They're found on a version of a diary, circa 1840, stitched into the center of a sampler by Mary Nissly, age 16. Her message to the future is sandwiched between rows of letters and patterns: flowers, stars, birds and animals.
This sampler was a reference for when she moved on to make the textiles of her home and wasn't meant to be on display.
In 1840, this needlework showed she could read, write and stitch words, too. These stitches showcased her skill and her patience, possibly as part of her search for a husband, says Amy Moorefield, museum director of Franklin & Marshall College's Phillips Museum of Art.
On a gallery wall, this sampler shows us a rare glimpse of women's creativity from that era. It's part of "Stitched Stories: Women's Narratives in Regional Textiles," a show with more than two dozen items made in Lancaster County.
The exhibit comes with the 50th anniversary of the college first enrolling women. For the anniversary, museum staff debated how they could celebrate women. They came up with "Stitched Stories" and "50 Years: A Celebration of F&M's Alumnae Artists," an exhibit with art from two alumnae artists from each decade. Both exhibits opened with the fall semester and continue through Dec. 6, along with the art and art history department biennial.
Focusing on textiles was one way to honor women in history, Moorefield says, even in a time period when they often disappeared, along with their names, after marriage.
Through the years, the museum has pulled textiles from its collection for rotating exhibits of regional art, especially quilts. However, most of the items in the "Stitched Stories" exhibit haven't been on display, says Lindsay Marino, curator and collections manager, which should offer something new for visitors.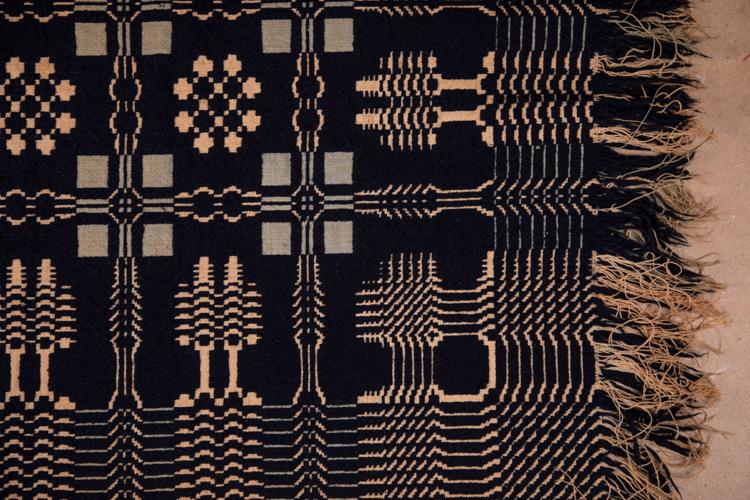 This exhibit also comes at a time as textiles are shifting from craft to art. This year, there are big textile exhibits across the country from Sheila Hicks, Anni Albers and Mrinalini Mukherjee, who have spent decades in the field. And new fiber artists are embracing this tactile medium in an increasingly digital world.
"A lot of the women's art that you'll see here maybe wasn't traditionally thought of as being pieces of art," Marino says. "They have a lot of practicality when it comes to it. So it's almost like it's a piece of art that doubles as something for a practical purpose."
"Stitched Stories" shows the technique and skill of women in Lancaster County as they sew, stitch and knit. It also shows their creativity and resourcefulness.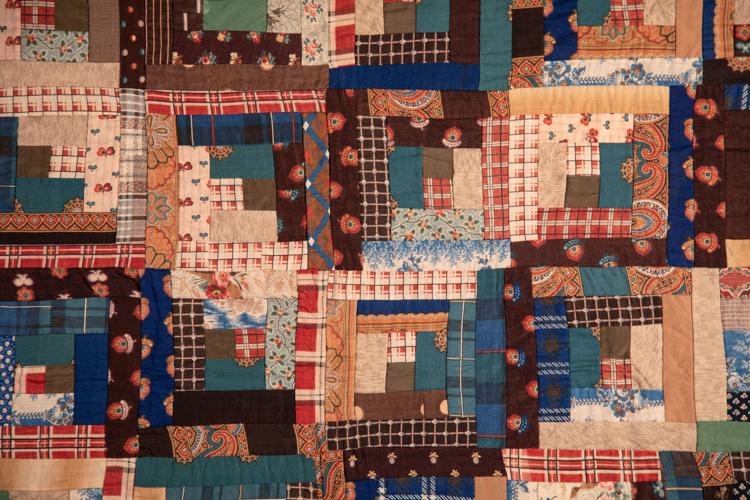 The quilts and covers in this exhibit include a log cabin-pattern quilt from the 1890s from Miriam Sterner. Each patch has a small square in the center, a log cabin, surrounded by a light shades of fabric (the sun) on one side and a dark side (the shadows) on the other side. Sterner pieced together scraps to make a striking geometric design.
More contemporary is a 1940 sunshine and shadows-pattern quilt made by an unnamed Amish woman. Diamonds of bold colors and black radiate from the center. The edge is quilted in intricate patterns of stitches.
Another quilt may have been made by a child learning how to sew but it's filled with imagination. It's like a Where's Waldo quilt of Lancaster County, circa 1900. It has a star barn, a family of bears, an outhouse, a beehive and a lot more.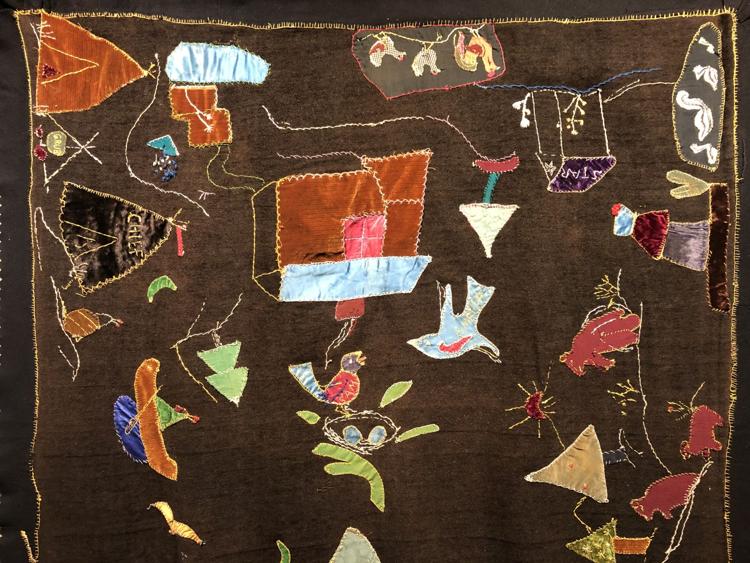 It's a favorite of Marino.
"The stitches on here are wacky and fun," she says. "And it really tells a story about childhood."
Samplers range from Nissly's to a few meant to be on display, with elaborate designs. One piece of needlework comes from Linden Hall around 1820. It shows a scene from James Thomson's popular poems "The Seasons." This was not made with scraps. Instead, the sewer used silk, chenille and metallic threads on silk with metallic spangles.
A pair of show towels show off the makers' best stitchwork, good enough to be hung in a home, not used in the kitchen. These patterns are pretty and they also were passed down from woman to woman, keeping long-held traditions alive. Some patterns can be traced back to pieces made hundreds of years ago in Germany.
The exhibit also has handmade clothing, from bonnets and knotted silk gloves, to knitted socks and leather boots, all made by women. This was a hobby for some but also a way to make a living if needed.
A needlework rug from the 1930s, the largest piece in the gallery, is made from 49 hand-embroidered squares. Susanna S. Haigh Hardy used patterns from the Caswell carpet in the Metropolitan Museum of Art to make this rug over several years. Some of the squares are autobiographical (Hardy was a psychoanalyst who was one of the first female graduates from Columbia University's College of Physicians and Surgeons). Some are decorative and all are worthy of a closer look.
While most of the items in "Stitched Stories" were created in the 19th and 20th centuries, visible in the next gallery with the alumnae exhibit is another piece with roots in textile. Michèle Colburn, class of 1976, knits trip wire in "The Trip Wire Project." Each stitch represents a life wounded or lost in Iraq and Afghanistan. As the body count rises on both sides, her piece grows. She often knits in public at places where decisions on these conflicts are made.
In this handiwork, one stitch equals one life.