Rick Thomson and Bill Powers weren't sure what to expect when they brought a drum and bugle corps show to Lancaster County last year.
As co-organizers of The Buccaneer Classic, a drum and bugle corps competition hosted by the Reading Buccaneers performance group, they had little recent precedent. Last year's Buccaneer Classic at Hempfield High School marked the first time a major show of its sort was held in Lancaster in decades.
And it turns out, the Lancaster community was happy to have award-winning drum corps back. Thomson says Georgelis Law Firm Stadium was near capacity; the stadium holds about 2,200.
"We were very pleased with the response that we got," Thomson says.
So pleased, that the Buccaneers are bringing the event back. The 2019 Buccaneer Classic will occur Saturday at Hempfield High School. As with last year's event, the show is hosted by the Buccaneers and the Hempfield Band Booster Club. Proceeds from the event will benefit both groups.
Thomson says a few changes have been made based on attendee comments from last year. There will be fewer people per bleacher at this year's show, offering a wider seat to each attendee. The Buccaneers also have added more handicapped parking and expanded food options at the concession stands, Thomson says.
The show will feature five corps in competition: Atlanta CV, from Atlanta, Georgia; the Buccaneers, from Reading; the Bushwackers, from Princeton, New Jersey; the Skyliners, from Scranton, Lackawanna County; and the White Sabers, from Dansville, New York.
All corps competing Saturday are 2018 Drum Corps Associates finalists. Three of the groups were ranked in the Top 5.
Four other groups will perform in exhibition: Buccaneer Banner Brass and Buccaneer Alumni Corps, both of Reading; Hawthorne Caballeros Alumni Drum & Bugle Corps, of Hawthorne, New Jersey; and the U.S. Marine Drum & Bugle Corps, "The Commandant's Own."
The latter group's mission is to provide music and ceremony for the commandment of the Marine Corps and the commanding officer, according to its website. The group is based in Washington.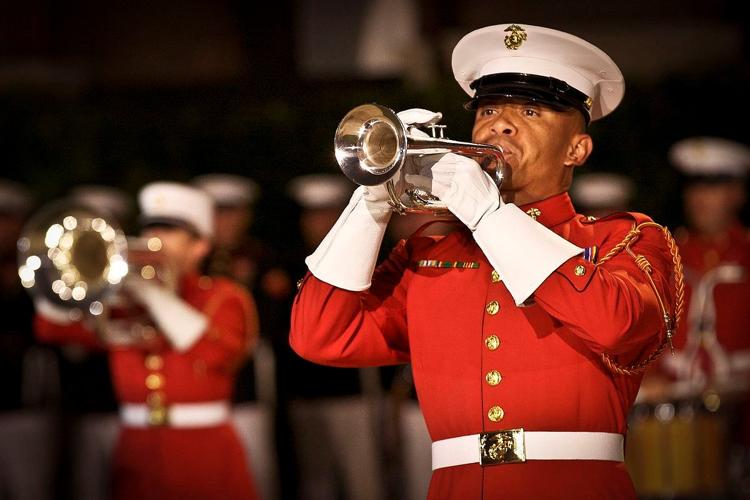 "They are known worldwide as one of the top musical pageantry units in the world," Thomson says. "Their precision and their musicianship is second to none."
He says the Hawthorne Caballeros corps was a "fan favorite" at last year's show. Its members still march on the field, which Thomson says is unusual for an alumni group.
"The type of music that they play, which is Latin and Spanish-oriented music, is very uplifting. … They just do a tremendous job putting on a great show," Thomson says.
Thomson has been involved in the Buccaneers since 1989. He first saw the group perform when he was a teenager growing up in Berks County. He joined the group in adulthood, marched in the cymbal line, and has helped with organizing in recent years alongside Powers.
Powers, of Landisville, grew up going to annual drum corps performances in Lancaster. He went on to direct Hempfield's band program for 26 years. After his retirement, he began marching with the Buccaneers.
The Buccaneers are 16-time Drum Corps Associates world finalists. Last year's performance, "Here to There," illustrated an army of insects' plight as they navigated toward a picnic basket. This year's performance "Dans La Chambre," or "In the Womb," features everything from Russian classical music to "Bohemian Rhapsody" and original music composed by the Buccaneers staff.
Thomson says there are a lot of people involved in bringing a drum and bugle corps show to life. Major corps can easily run budgets of $250,000 annually, he says, making fundraising efforts like Saturday's crucial.
While many of last year's audience members were longtime fans of drum and bugle corps shows, Thomson particularly encourages those who have never seen this sort of performance to check it out.
"It's entertaining for any age group really," Thomson says. "Anyone who likes music, you're going to see music in motion. The color guard really adds to the storytelling."