Now that the communal meal of Thanksgiving has passed, it's time to start getting serious about Christmas cookies — and cookie exchanges.
Home bakers have long used plates of holiday cookies as gifts to family members, friends and co-workers.
For decades, groups of friends and family members have taken this gifting of sweets to the next level by creating social events around the swapping of cookies.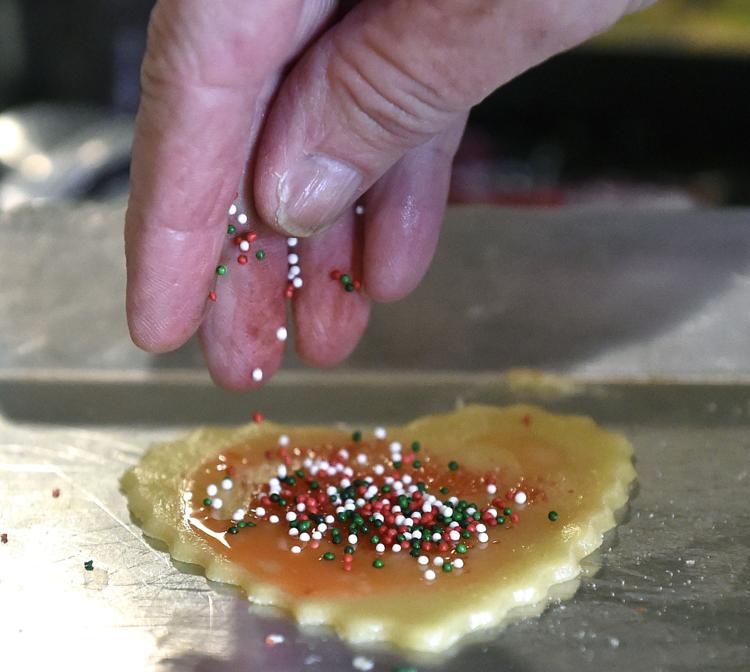 These exchanges give people a reason to gather and socialize during the holiday season, while having to bake only one kind of cookie in order to have a wide variety to enjoy later.
Nonprofits have even used the swaps as fundraisers, with the former auxiliary to Ephrata Community Hospital — now WellSpan Health — holding a cookie exchange for decades. Half the cookies were swapped and half were sold to raise funds to support the auxiliary's projects.
Dozens of members of the Steffy family hold a traditional cookie exchange as part of a huge sand tart cookie bake they hold at a local church in mid-December every year.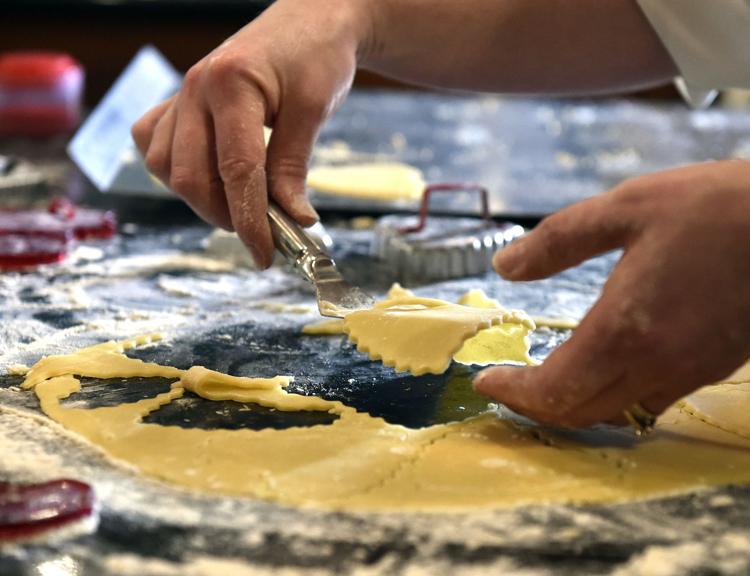 "We each commit (in advance) to what flavor or variety of cookie we want to bring to the exchange," says Jan Steffy Mast, one of the daughters of cookie bake founder Maribelle Steffy, formerly of Leola. "We make sure it's a good mix and that there's not duplication."
Her sister, Joan Steffy Ranck, keeps the records of both the family cookie bake and the cookie exchange and stresses the importance of staying organized with the assignments of who is bringing what kind of cookie to the exchange.
The list of family members participating, along with the kind of cookie they're making, is sent out via a family email a few weeks before the annual cookie bake.
Each person makes one dozen cookies for each other person participating in the exchange.
"Each dozen is individually packaged on a paper plate inside a Ziploc bag" by the baker, Mast says. Before family members gather in the church to bake hundreds of sand tarts for everyone to take home, those participating in the pre-bake cookie exchange gather outside.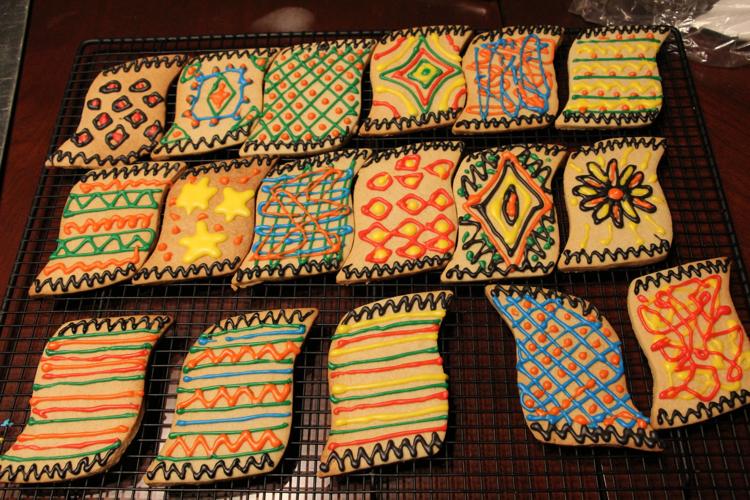 "We meet in the parking lot and everybody opens their trunk," Mast says. "We go from trunk to trunk swapping our cookies. And at the end I should have a trunk full of 12 different varieties, each in individually packaged Ziploc bags."
A self-published book contains recipes that are commonly used for the Steffy family exchange — from chocolate crinkles to pecan tarts.
Swapping stories
For Jenni Leister and her family and friends, a cookie exchange that's been more than a quarter-century in the making is held in the form of a cookie bake each year at the home she shares with husband Yousaf Chaman and son Nouraiz.
She started the exchange with a couple of friends in the early 1990s while she was a student at Eastern Mennonite University in Harrisonburg, Virginia.
"We invite friends, family, friends of friends. We invite co-workers; we invite friends of co-workers," Leister says of their event: the 12 Sycamore cookie exchange.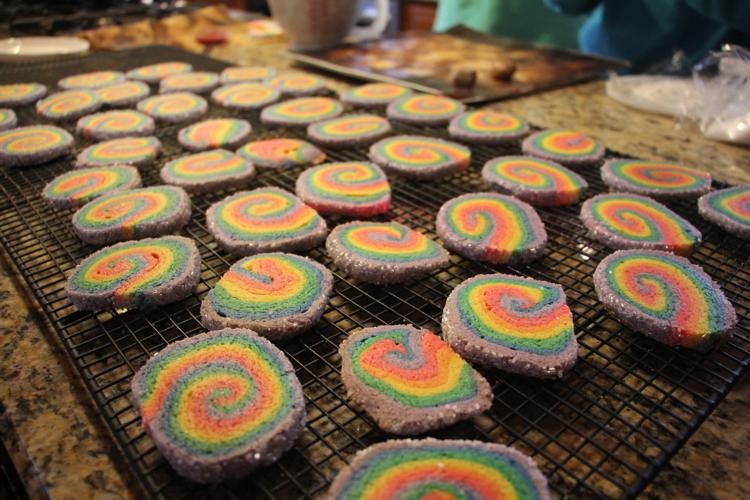 It's is as much about swapping stories, culture and heritage as it is about exchanging cookies.
"Our sphere is fairly diverse," says Leister, who, with her husband, runs the fair-trade Bunyaad Rug Room at Ten Thousand Villages in Ephrata. "And so, we love to hear the stories that get told around the cookie-making table."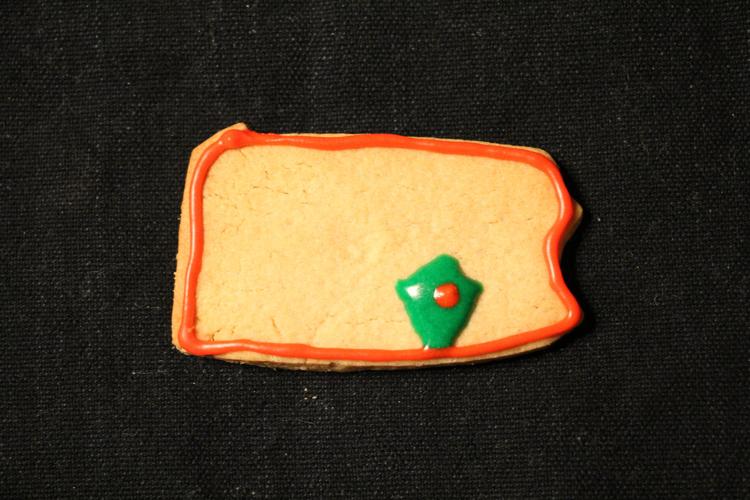 Leister says she asks the 70 to 80 people invited each year to bring two batches of cookie dough.
"For some, a batch (serves) 100 people, and for others it's 24 cookies," Leister says.
"We ask everybody to bring one to two different types of cookie dough to the house, and bring the recipe along, and how we're supposed to bake it," she says.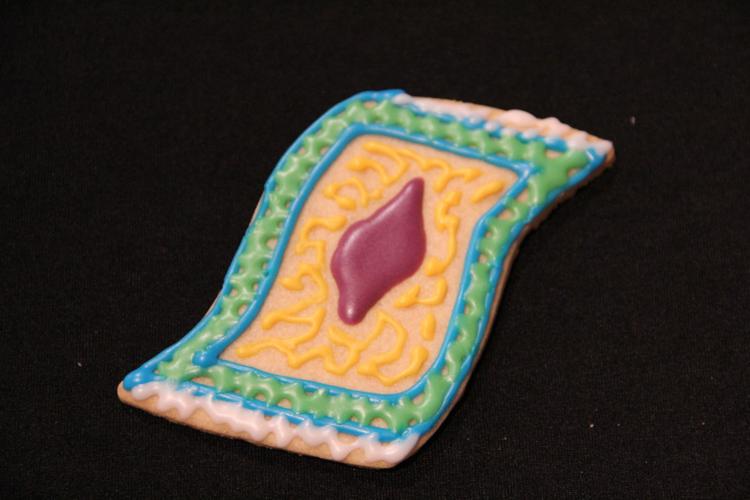 "We turn on the oven around 11:30 (a.m.), and we turn them off around 7:30 or 8 (p.m.)," Leister says. "We always have a buffet of food."
Adults and kids play games, watch football or help decorate a couple of gingerbread houses, and then take turns shaping or cutting cookies and watching the ovens as they bake.
Occasionally, Leister says, people bring their cookies already made if they're concerned the treats might not come out the way they want them with other people doing the baking.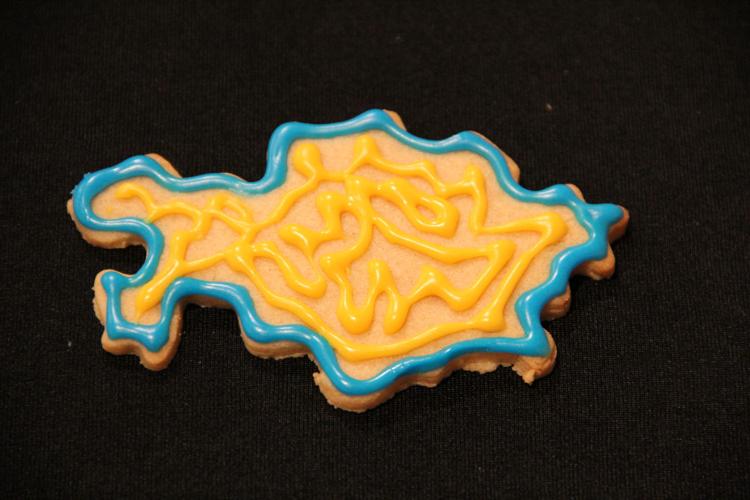 "Everyone packs up whatever they're ready to take home whenever they're ready to go," Leister says.
"We bake a ton of cookies," she adds. "Everyone is encouraged to bring containers to take cookies home and ... to bring containers for friends and family and people who don't have access to home-baked cookies," such as seniors in assisted living.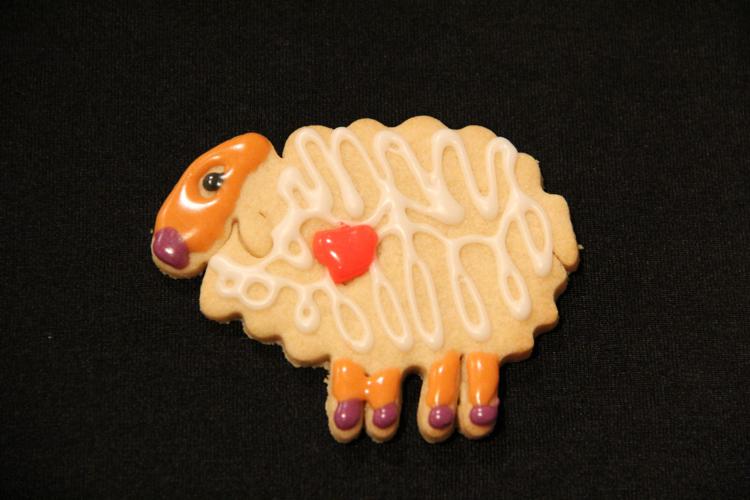 Leister says she tells her guests, "If there's a cookie that means something to you and your family, bring that dough. It's not about bringing the dough that's the fanciest, but for us to realize how much cookies bring back memories of holidays past, and of people who are no longer with us.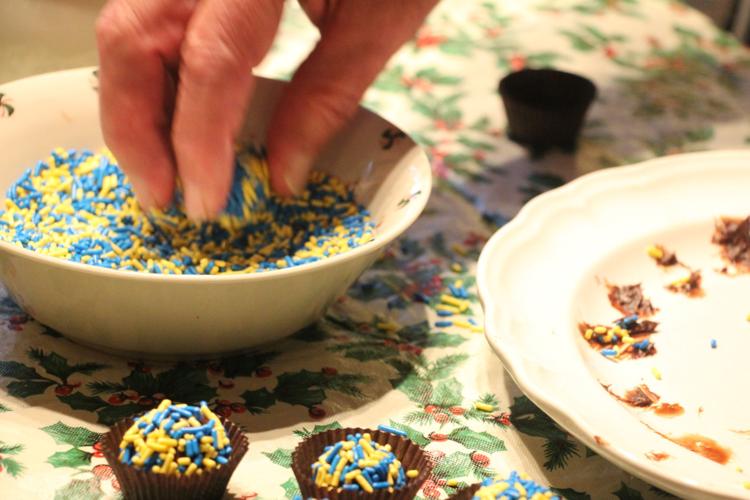 "For me, it's my Great-Aunt Helen," Leister says. "Every year she would make these almond cookies and pecan balls. They were made every single year, perfectly shaped, as only Great-Aunt Helen could.
"For me, every time we make those, it's like, (although) Great-Aunt Helen passed away 20 years ago, she's still there," Leister says.
Shared culture
Leister also became aware of how much heritage and culture is shared around the cookie-making table.
People have brought everything from the standard chocolate chip cookies to Scandinavian ginger crisps to Nankhatai, a cookie from India and Pakistan that's made with ghee (semi-solid clarified butter) and chickpea flour.
Because of the exchange's international flavor, Leister says, her collection of cutters is diverse.
"Ours range from the standard bell and heart to Bernie Sanders and the shapes of Kazakhstan and Pakistan," she says. "We keep adding countries, depending on who comes. We have an Iraq, Vietnam, South Korea, Ireland. We have Harry Potter, Star Wars, angels and dinosaurs.
"We do an annual cookie contest, where there are no rules for entry. There's no categories, and no one really knows who the judge is," Leister says.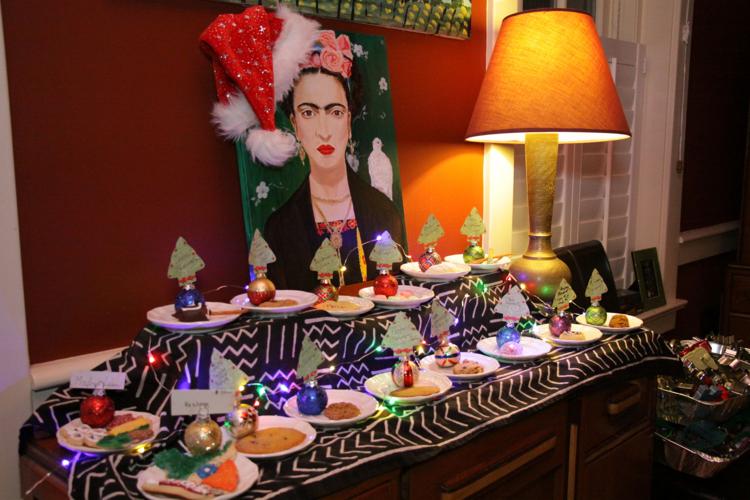 They set up a "cookie walk" of entries under a picture of artist Frida Kahlo and give out "bogus prizes" for fun.
Leister adds that she and her husband even kept the tradition alive one December nearly a decade ago when they were in Kazakhstan adopting their son.
They and another adopting couple, who came from Dublin, Ireland, found a recipe for butter cookies and then adapted it to the ingredients they found at the local store. They made red "sprinkles" by coloring sugar with juice from a beet.
Leister asks her cookie exchange guests to "be willing to work, be willing to share stories, be willing to share of yourself and be willing to get to know someone else."