In the 225 years of their existence, the Lancaster newspapers have provided home cooks with thousands of recipes for dishes and desserts from puddings to dumplings and from gelatin salads to veal, beef and chicken entrees.
While preparing for LNP's quasquibicentennial — our 225th anniversary as a newspaper company — we've excavated decades' worth of Lancaster recipes going back as far as the latter part of the 19th century.
Here is just a sampling of those recipes, some of them submitted by Lancaster County cooks and others from other publications or syndicated food columns.
Some recipes list ingredients and step-by-step directions; others were preserved in paragraph form, and can be a bit of a guessing game as to timing and oven temperature.
We've left most of the recipes as they are, and made some of them a bit clearer by putting them into a contemporary format.
Decades of recipes
Found within the Nov. 14, 1866, edition of the Lancaster Intelligencer Journal, a story reprinted from the Cincinnati Commercial offered this "receipt" — the archaic term for recipe — for a "palatable dish, but one that it is hardly safe to indulge in during cholera times."
CABBAGE PUDDING
After boiling the cabbage well, place it in a baking pan with layers of crumbed bread, butter, salt and black pepper liberally used, sprinkled well on the top with grated cracker and baked gently until a crust is formed on top.
——————————
Here's another pudding recipe, from the Oct. 30, 1873, Intelligencer Journal. It employs a unit of measure called a gill, which is equal to 4 fluid ounces. 
In its use of rosewater, this recipe was way ahead of the curve in the use of floral flavorings — a culinary trend over the last couple of years.
POTATO PUDDING
Ingredients:
• 1 pound mashed potatoes
• 3/4 of a pound of butter
•  3/4 pound sugar
• 4 eggs
• 1 gill of brandy
• 1 gill of rosewater
• 1 gill of cream
Directions:
Work the potatoes and butter well together. Beat the sugar and eggs to a froth. Mix them well and bake in a quick oven (375-400 F).
——————————
This recipe for a Pennsylvania Dutch classic made it onto the front page of the July 24, 1879, edition of the Intelligencer Journal.
TOMATO CHOW-CHOW
Ingredients:
• 6 large tomatoes
• 1 large onion
• 1 green pepper
• 1 teaspoon salt
• 2 teaspoons brown sugar
• 1 pint vinegar
Directions:
Peel tomatoes and cut them fine.
Chop fine the onion and pepper, add salt, sugar and vinegar. Stew gently for 1 hour.
——————————
A couple of months later, this colorfully written recipe greeted readers of the front page of the Sept. 9, 1879, Intelligencer Journal as part of a series on various ways to fix oysters. 
You'll want to be sure, as the recipe suggests, that you've brought in those eggs fresh from the barn, and that the dish is cooked to "a rich, foxy brown" color.
FRICASSEED OYSTERS
Parboil 50 of the freshest of extra-prime oysters — not in water, but in their own juice. One good scald is sufficient.
First remove the scum and strain off all the juice. Put in a hot tureen, which cover and set aside in a warm place. 
Rub well together 6 ounces of the choicest of table butter, 3 tablespoonfuls of the best flour and 3 tablespoonfuls of scalding hot cream into a fine, smooth paste, entirely free from lumps or grains.
Place this in a quart of hot cream in a stew pan on the fire, and stir constantly. Add 3 full salt-spoons of salt and 2 each of ground white pepper, allspice and mace. Stir it all until it is thick.
Now add the well-beaten yolks of fresh eggs, brought in this morning from the barn. Strain the whole through a fine sieve. Pour the same over the oysters.
Cover thickly with fresh bread crumbs.
Place all in a quick oven, where allow to remain until the top is deepened to a rich, foxy brown.
Serve piping hot. 
——————————
"This is the season when the good man wants something toothsome for his after-dinner dessert," says the Feb. 9, 1882, edition of the Intelligencer Journal, "and, in the absence of summer freshness and the scarcity of fruit, the housewife is often put to her wits' ends to think of a proper dessert."
To the rescue comes this recipe, reprinted from "The Country Gentleman."
BAKED APPLE DUMPLINGS
Make a good crust as for biscuit or shortcake.
Pare some small-sized tart apples, halve them and take out the cores.
Put the halves together and wrap around each apple a piece of crust.
Cover the bottom of the dripping pan with these, then pour around them a sauce made of hot water, a piece of butter the size of a small egg, with sugar, cinnamon and nutmeg.
The pan should be about one-fourth full.
Bake about a half an hour, or until the apples are tender.
——————————
Raisins and dried currants were common ingredients in the early part of the 20th century. Here's a recipe from the July 28, 1908, Intelligencer Journal.
WHEAT CURRANT BREAD
Scald (do not boil) 1 1/2 cups of sweet milk and a cup of water.
When tepid, add half a cake of yeast after soaking 10 minutes in cool water, 2 tablespoonfuls of sugar and a teaspoonful of salt.
Stir in enough whole wheat flour to make a stiff batter.
Allow to rise.
Three hours is long enough, if kept warm; overnight if cool.
When light, add an egg, a tablespoonful of melted butter and a cup of cleaned and dried currants.
Beat well, then add whole wheat flour to make a soft dough.
Work well, mold into two loaves, place in greased pans, brush over with melted butter, let rise until light and then bake in hot oven.
When brown, which should take about 20 minutes, cool the oven one-half, and bake 30 minutes longer.
——————————
"Housekeepers can defy the increased cost of food," a headline in the Intelligencer Journal of April 26, 1910, promised. Here are two of the recipes offered to aid in that defiance.
SUET PUDDING
Take 1 cupful of finely chopped beef kidney suet and add it to 1 teaspoonful of salt, 1 teaspoonful each of cinnamon and cloves and 1/2 of a nutmeg, grated.
Warm a cupful of molasses, add to it a teaspoonful of soda, and when the latter is dissolved, pour the molasses over the suet and spices, mix quickly and stir in a cupful of sour milk.
Sift 3 cupfuls of flour and add enough to make a batter thick enough to show the track of the mixing spoon after it is quickly turned around in the batter.
A cupful of raisins, currants or chopped figs may be added. Flour them well before putting them into batter. Pour into a covered pail and steam 4 hours.
COLONIAL PUDDING
Wet six tablespoonfuls of yellow cornmeal with enough milk to moisten; add to one cupful of hot milk and cook in a double boiler until it thickens.
Add one cupful of molasses, one quart of sweet milk and salt to taste; stir thoroughly, pour into a buttered baking-dish, adding one-half cupful of raisins.
Bake in a moderate oven (350 F) for 3 hours.
——————————
In the pages of the Aug. 28, 1924, Lancaster New Era, Mrs. T. Wallace Reilly of East King Street came to the aid of those who might need to whip up a breakfast or dessert on the fly.
EMERGENCY DESSERT
Take stale sponge cake and cut it into pieces 1 1/2 inches thick. Spread with quince honey.
Now, put 2 tablespoons of sherry or other wine in a dessert dish; put the sponge cake in and let it stand 2 or 3 minutes.
Then turn the cake, so that it becomes saturated with the sherry on the other side; add blanched almonds and grated coconut and serve with wine sauce.
EMERGENCY BREAKFAST
Place individual casseroles in the oven to heat. While heating, prepare your dish. Use leftover meat — chicken preferably.
Mix it with a white sauce with a dash of nutmeg, pepper and salt to taste. Put this mixture into the casseroles.
While this is heating, get some leftover potatoes, heat them with hot milk and butter and by that time the meat in the casseroles is ready. Add the potatoes and put in oven.
When brown on top, serve. This makes a breakfast dish that is not only quickly made but one that is very good.
——————————
On a page from the Aug. 28, 1924, Lancaster New Era, which included an advertised special on Spreadit Nut Margarine at Aptekar's Pure Food Store at Beaver and Hager streets, Mrs. B.R. Kieffer of East James Street had submitted these "practical and economical" recipes for meat and for pudding.
MEAT CROQUETTES
Take one pint of chopped, cold boiling meat, and salt and pepper to taste.
Add chopped parsley or celery.
Take a cup of milk and, when boiling, add 1 tablespoonful of butter.
When at the boiling point, add 2 tablespoons of flour and let it boil a few minutes longer.
When cool, mix well with the meat and form into balls. Toss in egg and bread crumbs, and fry it a nice brown in hot lard.
APPLE PUDDING
Fill the bottom of a buttered dish with sliced, tart apples.
Pour over them a batter made as follows: 1 tablespoonful of butter, 1/2 cup sugar, 1 egg, 1/2 cup of sweet milk, 1 1/4 cups flour, 1 teaspoonful baking powder.
Serve hot with sugar and milk or cream. Either cherries or peaches may be used in the same way, canned as well as fresh fruit.
——————————
And, in the same edition, Mrs. Charles R. Crawford of East Orange Street contributed a recipe for fudge cake, as well as for a fruit salad dressing that she had created, tested and perfected.
FRUIT SALAD DRESSING
Take the juice of a can of sliced pineapples, 1 egg, the juice of a lemon, 1 tablespoon of corn starch and boil in a double boiler.
When cold, add a half-pint of double cream, well-beaten, and 1/4 cup of sugar.
Serve on a fruit salad and place a maraschino cherry on top.
FUDGE CAKE
Ingredients:
• 3 eggs
• 1 cup of sugar
• 1/2 cup butter
• 2 squares unsweetened chocolate
• 1/2 cup seedless raisins
• 1/2 cup pecans, ground fine
• 3/4 cup of flour
• 1 teaspoon baking powder
Directions:
Sift the baking powder and flour; stir in the beaten eggs.
Add the sugar, melted butter and chocolate, stirring in the nuts and raisins.
Bake in a solid cake in a moderate oven (350 F).
——————————
"Daily indulgence in raw carrots makes not for the curly hair little girls desire, but for bright eyes, a clear complexion and shiny tresses. In fact, a carrot a day is a beauty wonder-worker," proclaims a culinary column in the April 24, 1928, Lancaster New Era.
"This jellied pineapple and carrot special is all that could be desired," says part of the colorful description of the following salad. "With a dab of mayonnaise, your own make or the ready-to-use, and a sprinkle of paprika, there it is — a beauty aid. Easily prepared and served, Sunset Salad appeals to the busy woman."
SUNSET SALAD
Ingredients:
• 2 tablespoons gelatin
• 2 tablespoons cold water
• 1 cup boiling water
• 2 tablespoons sugar
• 3 tablespoons lemon juice
• 1/4 teaspoon salt
• Syrup from a No. 2 can of pineapple
• 1 cup crushed pineapple
• 1 cup grated carrot
• Lettuce
• Mayonnaise
Directions:
Placed the gelatin in a bowl and add the cold water; in 5 minutes, dissolve in the boiling water.
Add the sugar, lemon juice and salt. Cool.
Now open the pineapple and drain the juice off; there should be about 1/2 cup. Measure the crushed pineapple, about 1 cup, and set aside.
(Serve the remaining pineapple for breakfast the next morning; keep on ice.)
When the mixture is cool, add the pineapple syrup and let begin to harden.
As the salad sets, stir in the crushed pineapple and 1 cup freshly grated raw carrot. The carrots need not be peeled, for the peel is edible. Grate with a regard for fingers and knuckles; the carrot element in the salad should not mean undue exertion!
Pour the salad into a rinsed square loaf tin and set it in the icebox to become firm. Unmold upon a board and cut into neat slices, placing each slice upon a lettuce bed.
Top with salad dressing (the mayonnaise), dust with paprika and serve pronto. Jellied salads will not wait.
——————————
The Lancaster New Era offered this recipe for tripe on page May 30, 1929, the same day that columnist Dr. Royal S. Copeland talked about the progress the commercial canned-food industry had been making against botulism.
SAUTEED TRIPE
Ingredients:
• 2 pounds tripe, parboiled
• 1 egg
• 2 tablespoons water
• 1/2 teaspoon salt
• 1/4 teaspoon paprika
• 2 cups cracker or bread crumbs
• 4 tablespoons fat
Directions:
Cut the tripe into convenient-sized pieces for serving.
Beat the egg and add the water, salt and paprika.
Dip the tripe in the egg mixture and then in the crumbs.
Brown in the hot fat.
——————————
A package of Plee-zing rolled oats or pure vanilla extract cost 10 cents, 2 packages of macaroni cost 15 cents and "absolutely boneless" Plee-zing salt codfish cost 25 cents at Aument Brothers Wholesale Grocery on Nov. 18, 1932, when this recipe was in the Intelligencer Journal.
CORN DELUXE
Serves 6.
Ingredients:
• 2 cups cooked corn
• 1 cup crumbs
• 1/2 cup cheese, cut fine
• 2 tablespoons chopped onions
• 2 tablespoons chopped pimentos
• 1 teaspoon salt
• 1/4 teaspoon pepper
• 2 eggs
• 1 1/2 cups milk
• 3 tablespoons butter, melted
Directions:
Mix ingredients. Pour into buttered baking dish.
Bake 25 minutes in moderate oven (350F). Serve in dish in which baked.
——————————
The New Era of Oct. 13, 1932, published a group of recipes using egg noodles.
Here's one of them.
EGG NOODLE DIXIE GUMBO
Ingredients:
• 4 ounces medium egg noodles
• 2 tablespoons peanut butter
• 1 chopped shallot
• 2 ripe tomatoes, chopped
• 1/2 pound okra, cut thin
• 1 cup peas
• 1 cup shredded cooked chicken
• 1 pint chicken stock
• 1 cup water
• 1 teaspoon salt
• 1/4 teaspoon pepper
• 1 teaspoon sugar
• 1/2 teaspoon celery salt
• 1 tablespoon browned flour
Directions:
Cook noodles in boiling, salted water until tender; drain.
Melt peanut butter, and saute it in the chopped shallot, tomatoes, okra, peas, noodles and chicken.
Add stock and water; let simmer in covered pan for 3/4 of an hour (1/2 hour is sufficient if using canned tomatoes and peas).
Add seasonings and moistened brown flour.
Cook gently for 15 minutes; keep hot until served. More liquid may be added if too thick.
——————————
Mrs. A. Oscar Rivera of San Juan, Puerto Rico, formerly Miss E. Gertrude Goldbach of Lancaster, sent in this steak recipe, which ran in the Lancaster New Era on Nov. 14, 1939.
TROPICAL STEAK
Ingredients:
• 1 1/2 pounds round steak
• 1 small bottle olives and capers
• 1 large onion
• 1 can tomato soup
• Salt and pepper to taste
• Sliced peppers, optional
• Flour
Directions:
Wash meat. Combine flour, salt and pepper, and pound the meat.
Sear in hot fat, then place in roasting pan with cover. Pour over the meat olives, including the liquid from the bottle, capers, sliced onion and tomato soup.
Sliced peppers may be added. Bake in a hot oven for 45 minutes. If condensed soup is used, add about two cups of water.
——————————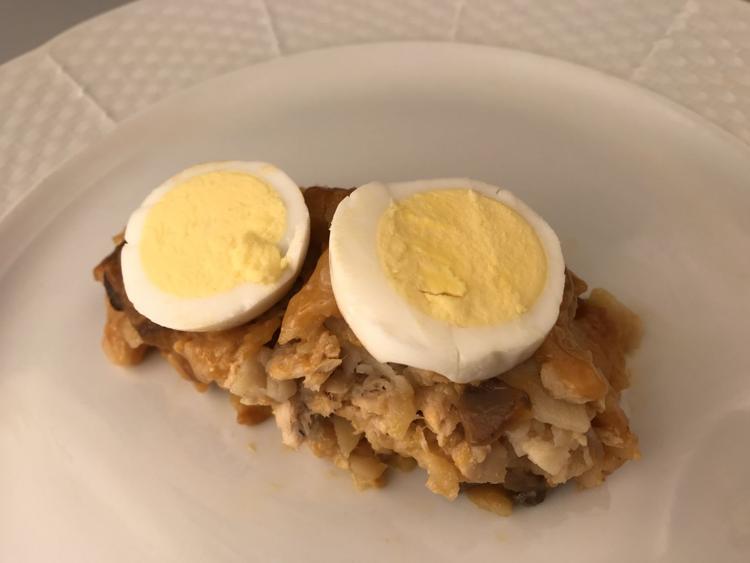 From a post-war Lancaster New Era, from Aug. 13, 1946, comes this recipe assembled from canned ingredients and snacks.
POTATO CHIP SALMON
Ingredients:
• 1 (5-ounce) package of potato chips
• 1 (7-ounce) can of salmon, or leftover boiled salmon
• 1 can (10 1/2 ounces) condensed mushroom soup
• 1 cup milk
• 2 hard-cook eggs, sliced
Directions:
Break up potato chips lightly. Flake salmon.
Arrange alternate layers of potato chips and salmon in a well-greased, 1-quart, heat-resistant glass loaf pan — starting and ending with potato chips.
Blend condensed mushroom soup and milk and pour over layers of potato chips and salmon.
Bake in a moderate oven, 350 F, about 30 minutes, or until top is lightly browned.
Garnish with slices of egg.
——————————  
"Using imagination with old favorites results in distinctive dishes," says an article in the April 9, 1959, Intelligencer Journal. "You'll never be at a loss to produce a hearty supper or luncheon entree with a can of green beans and one of minced clams on hand. It's a superb flavor combination, and one that sure to please.
"Serve this puffy, light entree with sliced tomatoes and a pan of crusty cornbread for a satisfying, quick meal."
GREEN BEAN-CLAM PUFFS
Makes about 6 to 8 servings.
Ingredients:
• 1 cup milk
• 1 tablespoon instant minced onion or 1/4 cup chopped green onion
• 1 cup coarsely crumbled soda crackers (about 16)
• 1 (No. 303) can cut green beans
• 1 (7-ounce) can minced clams and liquor
•  1/2 teaspoon salt
• 1/2 teaspoon Worcestershire sauce
• 2 well-beaten eggs
• 1/4 cup melted butter or margarine
Directions:
Combine milk, onion and crackers; let stand 10 to 15 minutes. Drain green beans and add with all remaining ingredients to cracker mixture.
Turn into buttered baking dish, about 1 quart size, and bake in moderate oven, 350 F, for 35 40 minutes.
——————————  
The same newspaper edition also offered this veal recipe.
CHINESE VEAL CASSEROLE
Makes 6 to 8 servings.
Ingredients:
• 2 pounds boneless veal, cut in 1-inch cubes
• 1 (4-ounce) can mushrooms
• 3 tablespoons lard or drippings
• Water
• 1/2 teaspoon salt
• 1/8 teaspoon pepper
• 4 teaspoons soy sauce
• 1/2 cup diced onion
• 1/2 cup chopped green pepper
• 2 cups 1-inch pieces of celery
• 1/4 cup enriched flour
• 1 (4-ounce) can Chinese noodles
Directions:
Drain mushrooms and save liquid.
Brown veal cubes in lard or drippings. Pour off drippings.
Add mushroom liquid and enough water to make 1 cup liquid. Add salt, pepper, soy sauce, onion, green pepper, mushrooms and celery.
Cover tightly and simmer 45 minutes.
Pour off liquid and add water to make 2 cups. Mix flour with 1/2 cup of liquid. Add liquid and flour mixture to veal and vegetables.
Cook, stirring constantly, until thickened.
Pour mixture into a greased 2-quart casserole. Arrange noodles on casserole.
Bake in a moderate oven (350 F) for 10 minutes.
——————————  
Christmas cookie recipes sent in by readers, which ran on Dec. 22, 1954, in the Intelligencer Journal, included these from Alice E. Rote of South Prince Street.
SUGAR COOKIES
Makes 4 dozen cookies.
Ingredients:
• 2/3 cup shortening
• 2/3 cup sugar
• 2 eggs, well-beaten
• 1 teaspoon vanilla
• 2 cups sifted enriched all- purpose flour
• 1/2 teaspoon salt
• 1 1/2 teaspoons baking powder.
Directions:
Cream shortening and sugar together. Add vanilla, eggs and mix. Add the sifted dry ingredients.
Chill the dough at least two hours or overnight, if possible, then roll out to 1/8-inch thickness.
Cut into desired shapes with a floured cutter. Place on greased cookie sheet and bake 10 minutes in heated 375 F oven.
If glazed effect is desired, brush tops with slightly beaten egg white, then sprinkle with sugar, or top with chopped nuts or anything you desire.
BUTTERSCOTCH COOKIES
Ingredients:
• 4 cups brown sugar
• 1 cup butter and lard, mixed
• 4 eggs
• 6 cups flour
• 1 tablespoon soda
• 1 tablespoon vanilla
• 1 tablespoon cream of tartar.
Directions:
Form into loaves; let stand overnight, then slice thin.
Place on slightly oiled baking sheet and bake 10 minutes at 420 degrees.
——————————
During the Lenten season in 1957, the Lancaster Sunday News ran a series of recipes from pastors' wives in Lancaster.
Mrs. David C. Mark, wife of the pastor of Faith Evangelical and Reformed Church (now United Church of Christ) in Lancaster, offered a recipe for this popular seafood dish.
LOBSTER NEWBERG
Ingredients:
• 2 cups canned lobster (2 small cans)
• 2 tablespoons cooking sherry
• 1/4 cup melted butter
• 1 tablespoon flour
• 1 cup thin cream
• 2 egg yolks, beaten
• 1/4 teaspoon salt
• 1 teaspoon lemon juice
• Paprika
Directions:
Heat lobster thoroughly with the sherry and 3 tablespoons of butter.
Be careful not to brown the butter.
In another saucepan, blend the remaining butter with the flour.
Add cream and stir constantly over direct heat until the sauce boils.
Remove from heat and stir in the beaten egg yolks.
Return to the saucepan, cooking over low heat with constant stirring for about 2 minutes or until thickened.
Add the heated lobster and seasonings and mix well. Do not heat again or the sauce may curdle.
Serve immediately on crisp toast or cooked rice. Garnish with parsley.
——————————
An ad in the April 9, 1959, Intelligencer Journal, indicated the local Sanitary Food Stores on Chester, South Queen and East Frederick streets were carrying tender pork liver for 33 cents a pound, frying chicken for 32 cents a pound, California asparagus for 19 cents a pound and two 29-ounce cans of cling peaches for 63 cents.
The same page offered this recipe in which "leftover lamb serves you in a nutritious as well as economical way. ... You'll undoubtedly want to try this as soon as you're hostess to the neighborhood afternoon gathering."
LAMB-TOMATO ASPIC
Makes 6 to 8 servings.
Ingredients:
• 2 cups julienne-style cooked lamb
• 3 cups tomato juice
• 4 bouillon cubes
• 2 tablespoons gelatin
• 1/2 cup cold water
• 2 teaspoons Worcestershire sauce
• 2 teaspoons grated onion
• 1/2 cup finely chopped celery
• 1 cup cooked baby lima beans
• Lettuce or parsley
Directions:
Heat tomato juice to boiling. Add bouillon cubes and stir until cubes are dissolved. Soften gelatin in cold water.
Add to tomato mixture and stir until gelatin is dissolved. Add Worcestershire sauce and grated onion.
Cool until mixture begins to thicken. Stir in lamb, celery and beans.
Turn into a 1 1/4-quart ring mold which has been rinsed in cold water. Chill until firm.
Unmold on a chilled platter. Garnish with lettuce or parsley.
——————————
In the Intelligencer Journal of Dec. 29, 1964, this one-dish meal — indicative of the trend toward using cans of condensed soup as a recipe shortcut — was presented as a solution for "harried holidayers."
SUCCOTASH CHOWDER A LA MODE
Makes 1 generous quart
Ingredients:
• 1 can (1 pound) French-style Blue Lake green beans
• 2 tablespoons prepared mustard
• 1/4 teaspoon salt
• 1 can (10 1/2 ounces) condensed cream of mushroom soup
• 1 can (1 pound) cream-style corn
• 1 can (12 ounces) luncheon meat, cubed
• 1/3 cup ripe olives, coarsely chopped
• 3/4 cup milk
Directions:
Heat beans in their liquid with mustard and salt.
In another saucepan, mix remaining ingredients; heat thoroughly.
Ladle soup mixture into mugs or bowls. Drain beans; spoon onto chowder.
——————————
Quiche was in vogue in the 1970s, including this Nov. 20, 1974, Quiche Lorraine recipe from the Intelligencer Journal.
CANADIAN BACON QUICHE LORRAINE
Ingredients:
• 1 (9-inch) unbaked pie crust
• 2 teaspoon chives or green onions, chopped
• 3/4 cup Canadian bacon, diced
• 3/4 cup Swiss cheese, diced small
• 4 eggs, slightly beaten
• 1 cup milk
• 1 cup heavy cream
• 1 teaspoon salt
• 1/2 teaspoon white pepper
• 1 pinch nutmeg
Directions:
Line a 9-inch pie dish with pie crust. In a small, heavy saucepan, saute bacon and green onions in small amount of oil.
Cover bottom of pie crust with sauteed bacon and green onions.
Sprinkle 1/4 cup diced Swiss cheese into pie crust.
In mixing bowl, combine remaining cheese, eggs, milk, cream salt, pepper and nutmeg.
Mix well.
Pour mixture over sauteed bacon and onions into pie crust.
Bake at 450 degrees for 10 minutes. Reduce heat to 350 F and continue baking for 30 minutes longer, or until custard is well set.