The one-room schoolhouse in Conestoga Township has been around for more than 150 years. It's fitting the decorations outside were built to last.
On the front window of the schoolhouse on Sand Hill hang two rings made of dried hydrangeas. The wreaths soon will sport red accents for Christmas and then blue in January. Hearts will follow, then shamrocks, and eggs will help these wreaths move into spring.
These are the first of many wreaths Ron Walton makes for the holidays. He's following a family tradition started by his grandfather, who made wreaths from "crows foot" vine and sold them at Lancaster city's Southern Market. These days, Walton makes wreaths from grapevine, boxwood and evergreens like pine, fir and spruce.
"It's a simple decoration," he says. "You can make them out of anything."
By Black Friday, the wooden market stand owned by the Waltons down the road from the schoolhouse is filled with holiday greens, including a few wreaths.
The retired Penn Manor teacher leads wreath-making classes inside the schoolhouse he and his wife own. The classes are sold out, but he still took time to talk about the wreaths he hangs on the schoolhouse and his nearby barn home. He also hangs some indoors, too. The work started months ago when Walton started drying apples, lemons and limes.
Read on to learn more about four styles of wreaths made in the Lancaster County region.
---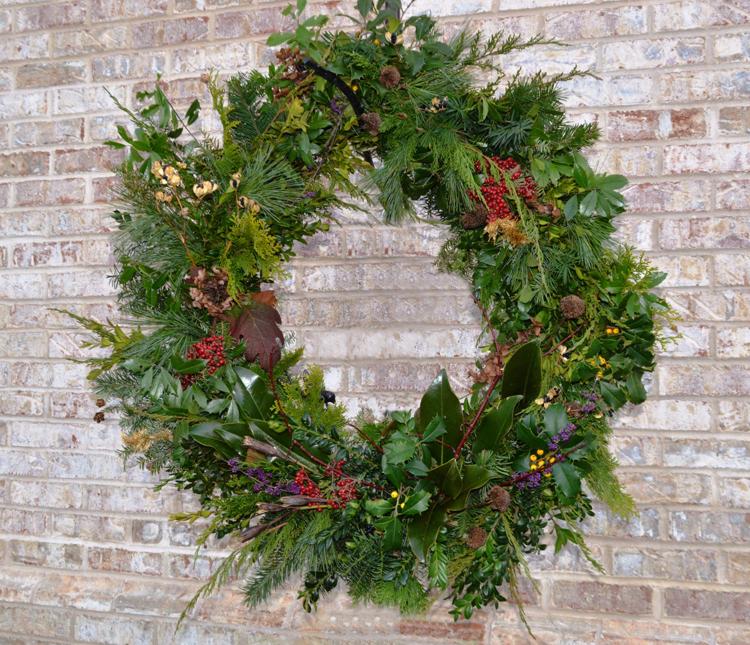 Traditional wreath
This wreath is traditional yet there's still a lot going on.
Jody Davey, indoor horticulturist and programs specialist at Hershey Gardens, likes to start with a mixture of greens, which gives layers of texture and color even before she adds accents.
Most of the greens come from trees at Hershey Gardens, as they are pruned for shaping and health. These branches also can come from the bottom of your Christmas tree.
The bulk of greenery usually is spruce, fir and pine. Then Davey adds boxwood, juniper and holly.
Cedar is her favorite.
"It's got a good fragrance," she says. "It has a feathery texture, and it drapes down off of your wreath form."
Cedar adds a lime green color. Firs add dark green, and spruce adds blue-green. Magnolia leaves add light green and copper.
For accents, add natural objects like winterberry and holly. For pine cones, Davey prefers dawn redwood and hemlock. Save and dry celosia and globe amaranth from your perennial garden.
And if you want some sparkle, spray-paint sweet gum seed pods gold or silver.
---
Boxwood wreath
This wreath made from boxwood gives you the green color of the holidays, but is a little different from traditional evergreens.
Ron Walton picked English boxwood for his wreath, which will last a while — even when it's left outdoors.
"When it dries, it's still nice," he says.
To make this wreath, Walton starts with a wire wreath frame. He takes a handful of boxwood branches and wraps them onto the frame
with floral wire. Walton keeps going with the same strand of wire until he's made a full circle.
Then it's time to add natural elements for texture and color. Walton prefers wild rose hips, holly or bittersweet for pops of red; plus extras like broom corn, spinner gourds and dried amaranth. Even a broken pine cone has a purpose. He breaks a pine cone in half to reveal a perfect rosette.
---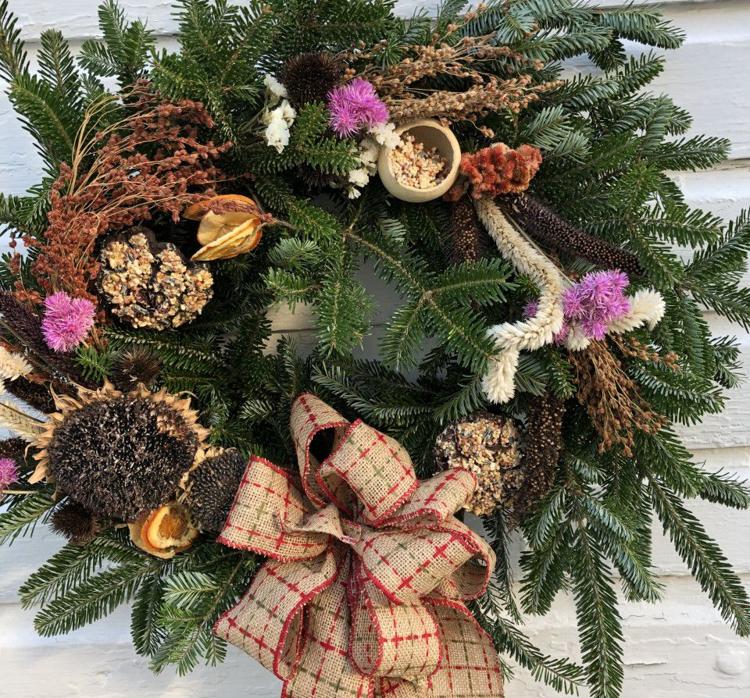 Birdfeeder wreath
This wreath from Ken's Gardens is for decoration and for the birds.
"We found that people are very interested in attracting birds to their backyards," says co-owner Kathy Trout.
So this fall, the garden center added a birdfeeder wreath-making class to its roster.
The wreath has a base of fresh greens along with natural elements
that look nice and attract birds. That includes dried sunflower heads, dried coneflowers, millet and broom corn.
Milkweed pods can be filled with homemade suet, a high-energy food that's especially important when temperatures drop.
And Trout will add dried orange and apple slices, which can attract birds like orioles. Mainly she's adding fruit because it looks good.
"We want a few things for pretty," she says.
---
Modern wreath
This wreath has greens and natural elements, but it's much more modern.
Florists like Perfect Pots and Flourish Flowers have added this style, which has popped up on social media.
Trish Snyder, owner of Flourish Flowers, is adding the minimal
wreath as an option to the wreath class at her flower farm in East Earl. Wreath-makers can make something traditional or create a wreath from a minimal gold hoop.
"It's more of an airy look," Snyder says. "It's not as thick and full."
The minimal wreaths have similar ingredients as the traditional style, just fewer pieces. In addition to the greens and natural accents, Snyder likes adding cinnamon sticks and nuts. Another
favorite is seeded eucalyptus, which has sage-colored leaves and delicate seeds.
Laura Lapp, owner of Perfect Pots in Strasburg, makes hoop wreaths
with a base of greens, plus seed pods, succulents or jingle bells.