Michaela Dietz has been a humanoid alien gemstone and an orange dinosaur, and will soon be a Dalmatian puppy.
More accurately, Dietz's voice has brought these characters to life on beloved television shows such as PBS' "Barney & Friends" and Cartoon Network's cultural phenomenon, "Steven Universe."
Dietz will meet fans and sign autographs at this weekend's Zenkaikon, the convention drawing together fans of anime, science fiction, fantasy, comics and video gaming.
Dietz, who also has done voice work for video games, is best known for voicing carefree, fun-loving Amethyst, one of the gemstone "moms" who protect both the Earth and a half-gem, half-human boy named Steven on the animated "Steven Universe."
The vivacity she brings to the mauve-haired Amethyst comes through loud and clear during a phone interview from her home in Venice, California. Dietz says she's excited to come to Lancaster and greet fans at Zenkaikon.
"To meet people in person who connect so much to Amethyst, and the show in general, is really special," Dietz says. "You hear from people on Twitter, but to be able to talk to them in person (at conventions) is great.
"I feel like that's sort of a bonus that I don't think every actor gets," Dietz says. "They leave their work in the booth, and then it airs and that's sort of the end of it."
"Steven Universe" is Cartoon Network's first series created independently by a woman — that woman being Rebecca Sugar, who formerly worked on the network's popular series "Adventure Time."
"Steven Universe" celebrates self-acceptance and the importance of family — regardless of what form that family takes — and has drawn lots of media attention and raves from fans, cultural critics and the LGBT community.
"I think no one could have expected that," Dietz says. "I am often asked, 'Oh, did you know it was going to be this big?' Of course not. I think that's something you hope for, but it's something you could never assume.
"Rebecca Sugar is brilliant," Dietz says, "And I feel so fortunate that she chose me."
Family dynamic
So, how did Dietz find the voice of Amethyst?
"I pretty much used my same, physical voice," she says. "But her inner personality — I would say that Amethyst is sort of like a heightened version of me in my sassy teen years, and maybe stretching to my sassy thirties.
"What I like about her is her openness to change," Dietz says. "I love her character growth (and) her willingness to be vulnerable to forgive herself and others.
"I think one of the reasons why the show appeals to so many people is because of the family dynamic," Dietz says. "It's not the classic familial structure that we see on TV nowadays, and I think what that signals to people is ... that you often choose your family and how you support yourself."
Dinosaur breakout
Dietz, 36, was born in South Korea, adopted and raised in Cooperstown, New York.
While growing up, she performed in regional theater in Upstate New York, "which certainly piqued my interest in pursuing acting."
After college, she was living in New York, pursuing acting and comedy.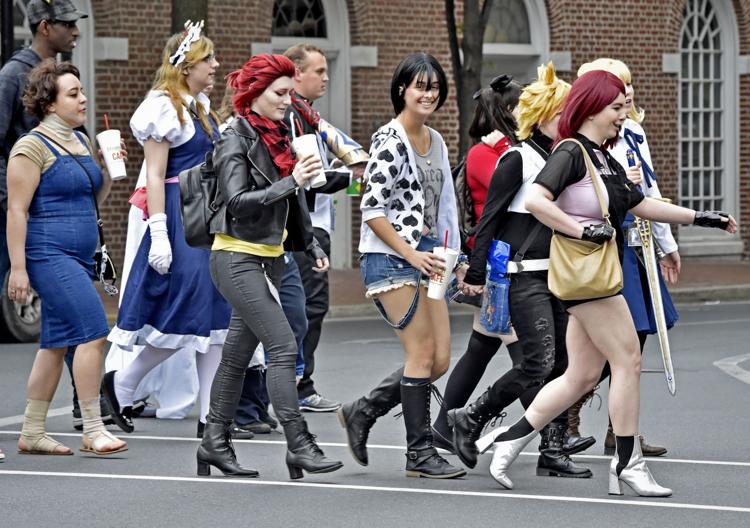 "My agent sent me out for an audition, titled 'Dinosaurs,' " she says. "I remember I rapped 'Happy Birthday.' "
It turned out that the audition was for "Barney & Friends," the popular PBS TV series about a big purple dinosaur. She wound up voicing an orange dinosaur named Riff.
"What a cool experience," she says. "I learned a lot of what I use now from the other actors" on "Barney."
"In animation, the ability to just kind of riff and improv and really think yourself into a character, I think that helped me immensely in other ... interactive work that I've done."
Dolly dog
Dietz has also recorded the voice of Dolly the Dalmatian puppy for a new animated TV reboot of the Disney
"101 Dalmatians" story, called "101 Dalmatian Street."
Dietz says she's not sure when it will air in the United States; it had a December sneak-peek premiere in Britain, on Disney Channel UK.
Dolly "is just a fun-loving Dalmatian, and sort of a skater chick," Dietz says. "And the story revolves around her and her brother, Dylan. ... She's been so much fun to voice.
Dietz says she feels the show, like "a lot of (animated) content these days, appeals to both adults and kids," Dietz says.
"I'm an adult and an inner child, and I certainly will watch it," Dietz says with a laugh.