One of the first things Canadian artist Steve Coffey did when he arrived in Lancaster for his opening at Red Raven Art Company was visit the Demuth Museum. Coffey was particularly interested in Charles Demuth's studio.
"His work was very intimate, personal and powerful," Coffey says. "He's in the paint. He's in the floors. He's in the walls. That (studio is) where his passion bled out in many ways. He expressed himself on canvas in that room. It means his energy is there in my mind."
Coffey, whose show "Big Skies" runs through June 29, leaves his energy and passion on his canvases, too. His gestural oil paintings of landscapes and psychedelic swirling clouds evoke an intimate sense of being connected to a much larger world.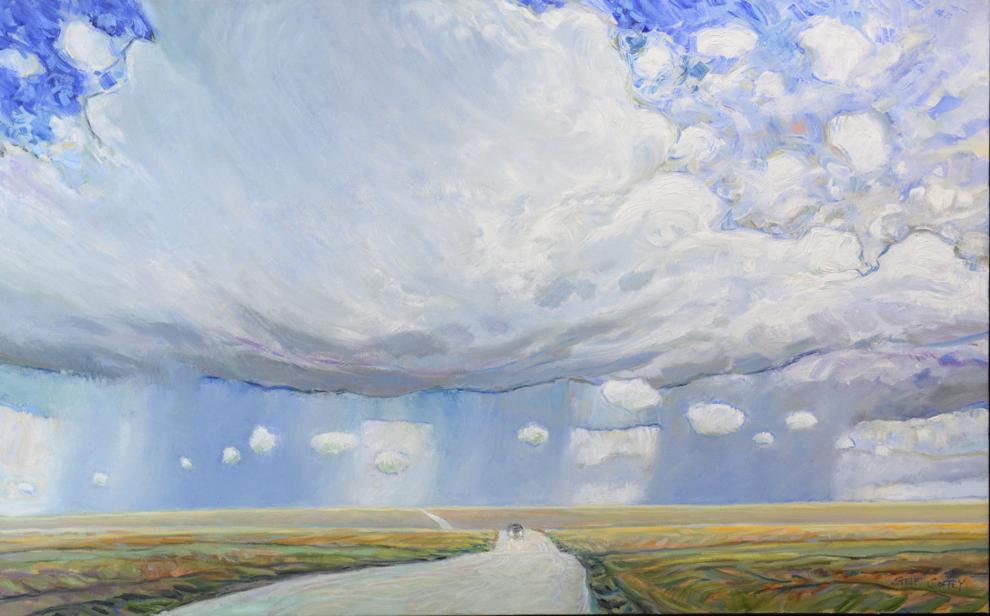 Coffey's skies play a dominant role in his compositions as smaller figures pass in the foreground below. It creates a comforting effect — as though we are being held by the world. It's a similar feeling of awe and wonder you get from looking down into the light and shadows of a vast canyon or the clouds moving over the trees and fields from a high mountain.
In one of the paintings featured in "Big Skies," a tiny train rumbles through a prairie under immense swirling skies. In another, Coffey presents a distant car passing through a summer shower raining down from a huge lush cloud. Coffey hints at the soft rain in the warm haze of the car's headlights. There are small people walking small dogs in spacious landscapes and skies, farmhouses dwarfed under brilliant clouds and laundry lines of clothes in fields.
"Some people have said my work has a sense of loneliness to it, but I don't know about that," Coffey says. "I would say more individual. You're surrounded by this incredible landscape, but you're there. You're a part of that."
Coffey's subjects are universal. Everyone has looked up at a sunset with that feeling of gratitude that comes from direct encounters with spontaneous natural beauty. The paintings will look especially familiar to anyone who has spent any time driving through Lancaster County's more remote and rural areas.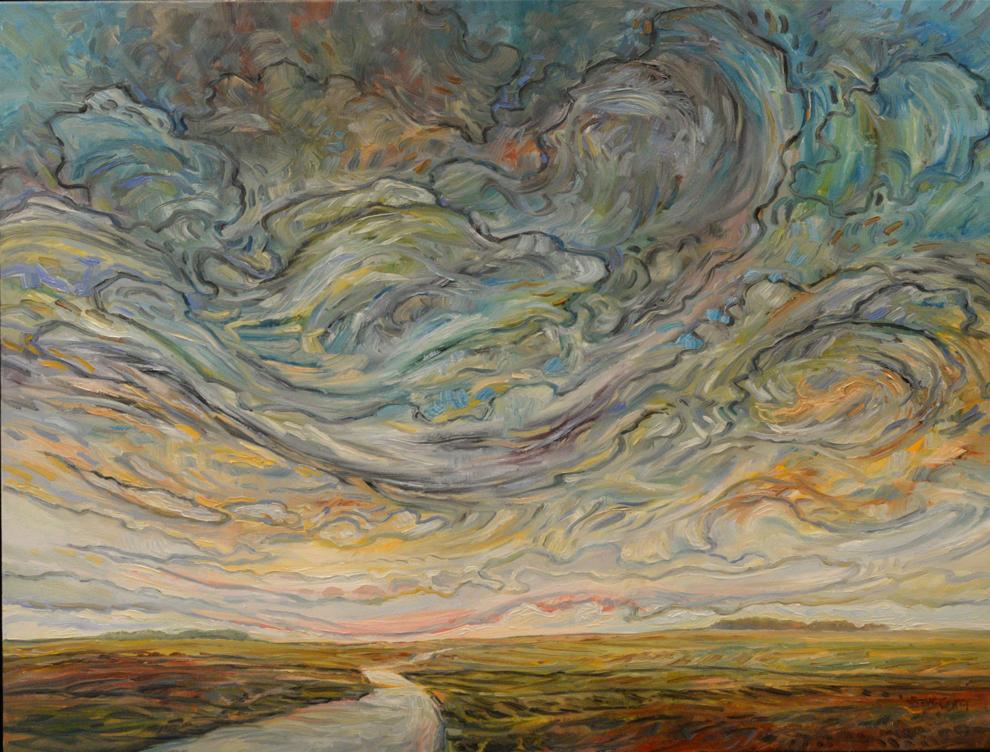 "I think that was the connection that was made with Red Raven. The Prairie Provinces (of Canada) have so much in common (with Lancaster County)," Coffey says. "It's farming country. It's heartland. There's a lot of inspiration here."
Another draw for Coffey was Red Raven's commitment to young emerging artists.
"I'm an advocate for art in schools," Coffey says. "I think it's really important for our kids to have a voice. We're all naturally driven to drawing, and to me, society sometimes squishes that down."
Coffey began his own art education by studying sculpture and creating huge abstract metal pieces.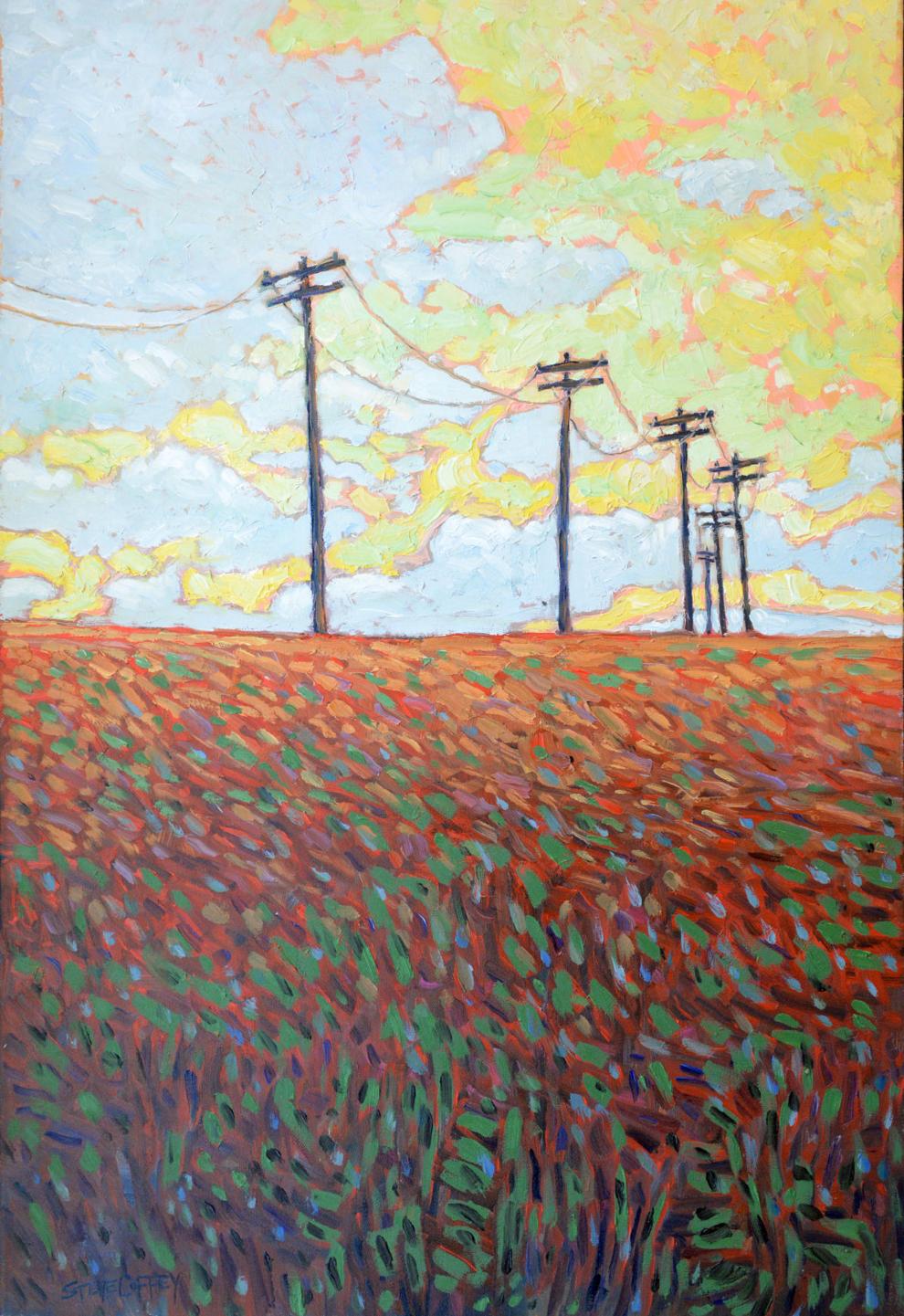 "You would call me a formalist sculptor. So there wasn't as much as a representation of something. It was more kind of stepping off into abstraction," Coffey says. "Anyway, at one point, I remember thinking I'm more interested in the welding and the tools then I am the actual sculpture. I realized I didn't know what I was actually abstracting. I became sort of bored with it. Then I picked up the paintbrush."
But Coffey's experience with sculpture remained with him in his new medium.
"I work in fairly thick textural surfaces. That's the connection (to sculpture)," Coffey says. "Surface, to me, is really key to the paintings. To me the texture brings it to the next level."
Coffey, who earned his Master of Fine Arts degree from the University of Regina in 1990, credits his formal training with providing him a toolbox — a foundation of technical skills to fall back on.
"I guess I ended up trying to forget a lot of what I learned," Coffey says.
But it may have been a different kind of artistic tool that helped him discover his fluid, swirling, lyrical style — a guitar. Coffey's father was a musician. And eventually Coffey taught himself to play guitar. Exploring music allowed him to embrace the unknown and discover new things about his art.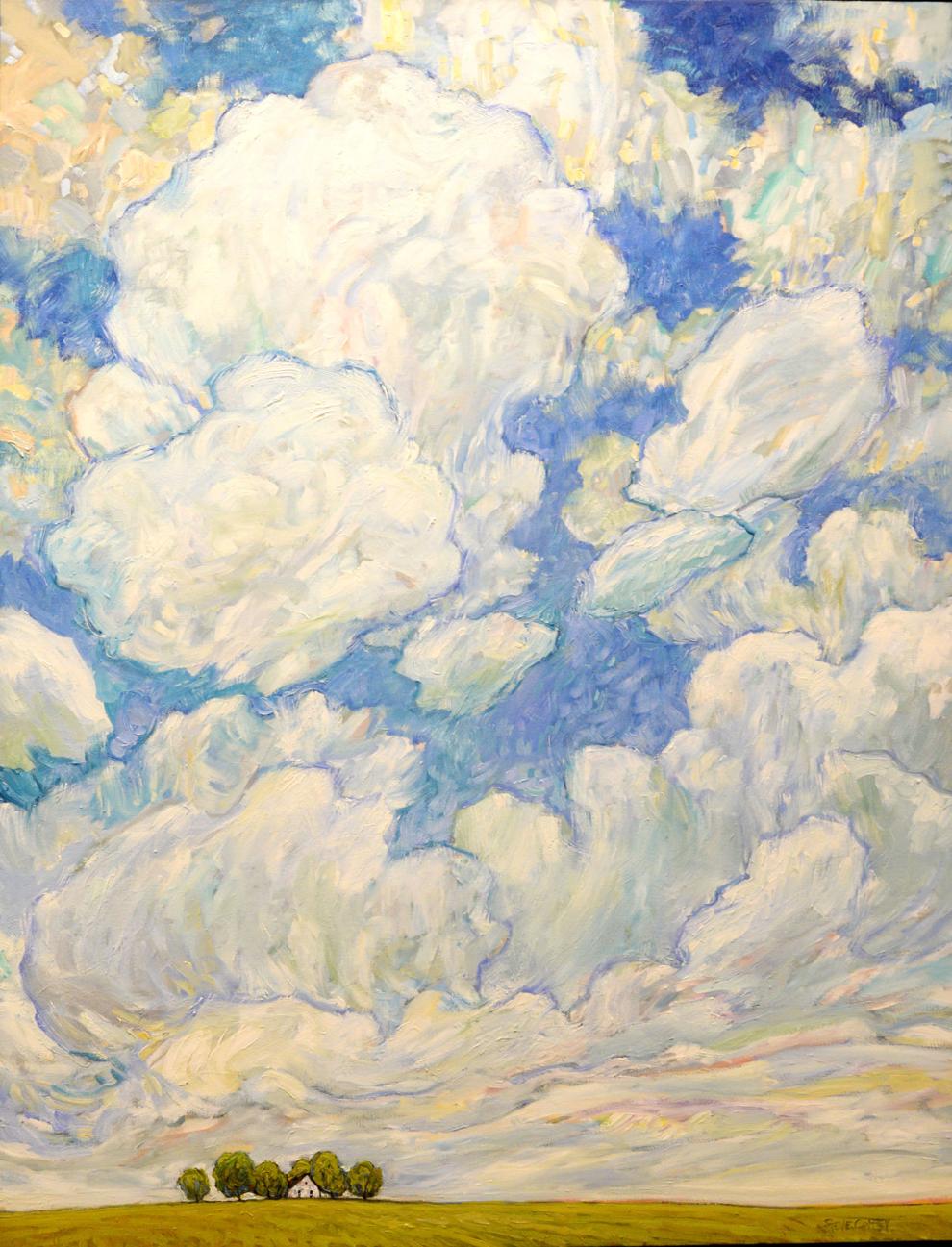 "The self-taught approach, for me, created a unique sound," Coffey says. "The self-taught aspect can create a uniqueness to that artist."
For Coffey, the two mediums are just different ways of trying to tell a story.
"Something just triggers it," Coffey says. "That would make an interesting painting or I could turn that experience into a song. Where does it come from? I'm not entirely sure, but that's why I want to explore it."
Recently, Coffey has taken a bit of a hiatus from making music and touring with his band, The Lokels, and credits this break to a resurgence of creative energy with his paintings.
"The more that I took my life out of music, the more the music went into my painting," Coffey says. "It's been a really busy and prolific year. I think without removing myself from that I wouldn't have been able to get the work that I have now, which I'm very happy with."
He's right to be happy with his work. Coffey's paintings breathe with life. And the music is in there, too. You can almost hear the laundry flapping in the wind, the train whistle across the fields, the swish of a car driving along a rainy country road, or maybe a steel guitar coming from an unseen radio.