In creating the masterpieces that are among the favorites of art fans of all ages, the late 19th-century French impressionists started with a different way of seeing their subject matter.
That new view translated into their capturing everyday life with quick brush strokes, an experimental interplay of color and light and unusual perspectives for their images.
A new exhibit at the Philadelphia Museum of Art celebrates these artists' way of seeing by offering examples from the heavy hitters of impressionism and post-impressionism, from Claude Monet and Pierre-Auguste Renoir to Paul Cezanne and Vincent van Gogh.
"The Impressionist's Eye" brings together 90 pieces of art — paintings, works on paper and sculpture — most of which are from the museum's own collection. It runs through Aug. 18.
"The exhibition shows us not only what they saw, but how they saw it," says curator Jennifer Thompson, who spoke about the show at a recent exhibit preview.
Look, for example, Thompson says, at the unusual square canvas on which Monet painted his familiar 1899 blue-and-green floral scene, "Japanese Footbridge and the Water Lily Pool, Giverny."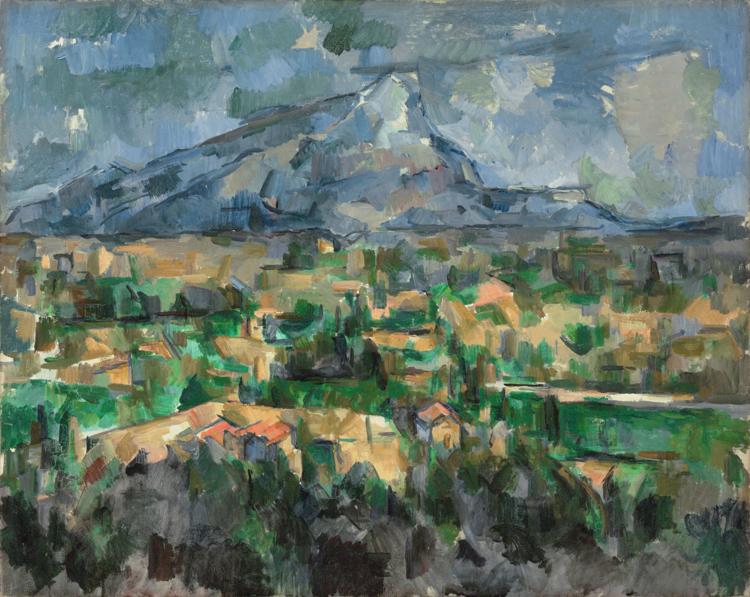 Themes and perspectives
Thompson has arranged the exhibition thematically rather than chronologically, so 19th- and early 20th-century works are mixed together under such categories as nature and landscapes, portraits, life in the modern city and everyday objects.
There are bright, juicy still lifes, such as Renoir's tumble of gauzy, green branches and orange fruit in "Peaches" from 1895.
If you're a pointillism fan, you'll enjoy how tiny dots of color, light and shade are combined into an image in the viewer's mind in the shining 1891-92 painting by Henri Edmond Cross, "The Pointe de la Galere."
The sunset glows orange on the horizon, while scrubby trees stand in a shadowy grove and sailboats cast dotted blue shadows on the water.
Fans of Edgar Degas' ballet scenes will be rewarded for their visit with his bronze sculpture, "Little Dancer, Aged Fourteen," from 1878-81. Her arms behind her back, her legs in a ballet pose, the young dancer wears a silk skirt around her bronze waist.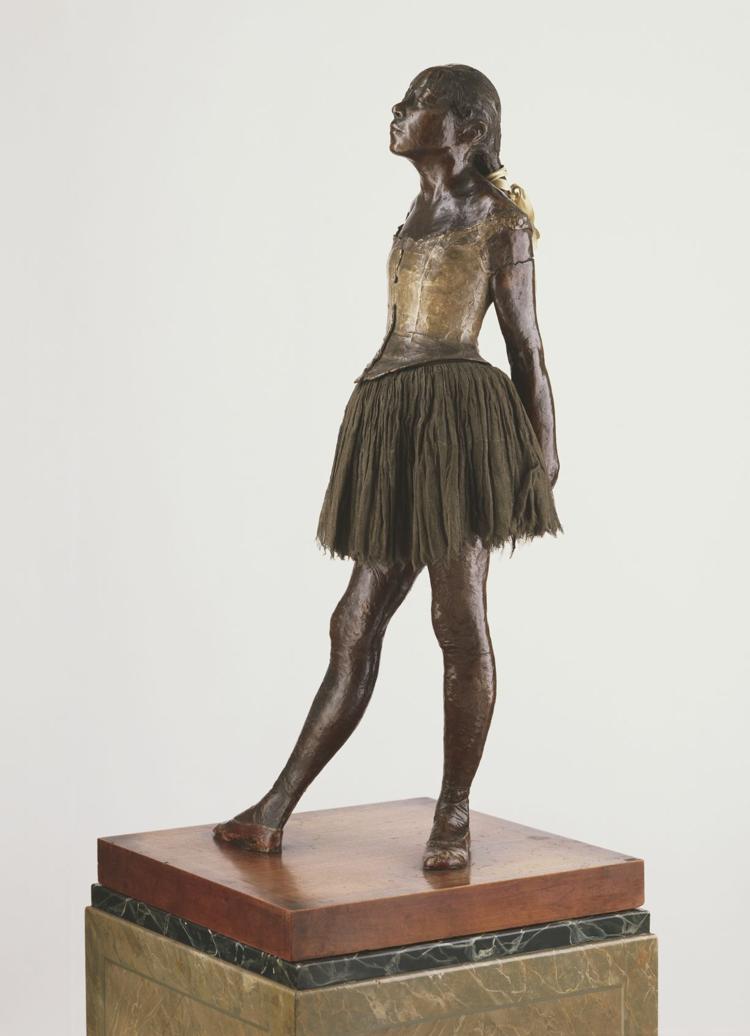 Visitors can sense Paul Cezanne, who bridged both the impressionist and post-impressionist movements, prefiguring cubism with the geometric splotches of green, blue and brown that make up his mountain landscape in "Mont Sainte-Victoire" from 1902-04.
Van Gogh is here, too, with the fuzzy, bright-yellow petals of his 1889 "Sunflowers," and more.
Thompson has included fine examples of works that capture people engaging in or watching various entertainments.
From Mary Cassatt, the Pittsburgh-born artist who briefly lived in Lancaster as a child, comes the complex 1879 painting, "Woman with a Pearl Necklace in a Loge."
Light and shadow play in interesting ways across the front of a woman in a low-cut gown, sitting with her back to her mirrored reflection, amid the tiers of theater seating.
Works on paper
Because more than a quarter of the artworks the impressionists exhibited in their eight group shows in the late 1800s were watercolors, drawings, sketches and other works on paper, Thompson says, they make up nearly a third of the pieces in this exhibit.
"The light-sensitive nature of the works on paper," Thompson says, "means that many of them will rotate halfway through the exhibition," around mid-June.
On display now is a quill pen-and-ink rendering of van Gogh's famous haystacks, which he created as a separate work a month after completing an oil painting of the same subject.
Pen-sketched dots and lines cause the haystacks, surrounded by fields, houses and people, to pulse with energy, Thompson notes.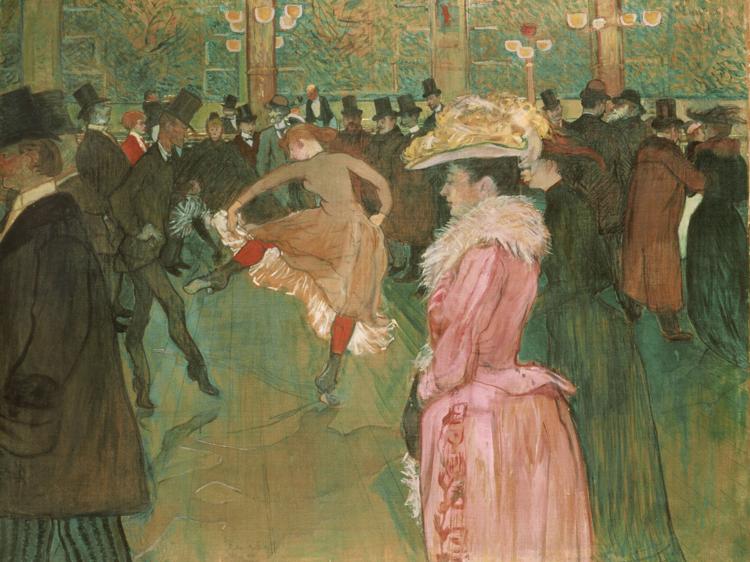 Refreshed
While many of these artists' works will be familiar to visitors, for 10 of the paintings, "you are literally seeing them anew," Thompson says, "since they've been cleaned or have had layers of varnish removed by museum conservators."
One of those newly refreshed works is what Thompson considers the highlight of the show, located in the last room of the exhibit.
The flesh of five naked women fairly glows white in Renoir's large canvas, "The Great Bathers" (1884-87), one of several small and big paintings of people bathing or swimming that are grouped in one room at the end of the show.
The women's skin folds and their limbs bend as they twist toward and away from the viewer's gaze, while the green and brown trees and grass and the blue water fall out of focus in the background.
It's a great example of how different an experience it is seeing artwork up close, rather than in a book or on a digital screen.