Lancaster County loves sauerkraut.
It's a thrifty and healthy dish that preserves well and is easy to make if you're a farmer or simply have a bunch of cabbages.
An archive dive found more than a dozen recipes with sauerkraut, from traditional New Year's Day dish paired with pork to desserts (really).
Here are a dozen sauerkraut recipes from our archives:
Apple-Glazed Pork Roast with Sauerkraut
Serves 8
Ingredients:
4-5 pounds sirloin pork roast
1 tablespoon brown sugar
1 tablespoon cornstarch
3/4 teaspoon caraway seed, divided
1/4 teaspoon salt
2 cups apple juice, divided
1 tablespoon lemon juice
1 32-ounce jar sauerkraut, drained and rinsed
1 1/2 cups apple, chopped
1/2 cup carrots, coarsely shredded
In medium saucepan, combine brown sugar, cornstarch, 1/4 teaspoon of the caraway seed and salt. Stir in 1 1/2 cups apple juice and lemon juice. Cook and stir over medium heat until thickened. Set aside. Place pork in shallow roasting pan. Roast at 350 F for 1 hour.
Spoon combined sauerkraut, apples, carrot, 1/2 cup remaining apple juice and 1/2 teaspoon caraway seed around pork roast. Pour apple juice mixture over pork roast and sauerkraut; cover.
Roast 30 minutes longer, until internal temperature on a thermometer reads 145 F.
Remove roast from oven; let rest about 10 minutes before slicing to serve.
Nutritional information: 460 calories, 52 g protein, 19 g fat (7 grams saturated fat), 850 mg sodium, 19 g carbohydrates, 4 g fiber.
Source: National Pork Board via LNP archives
---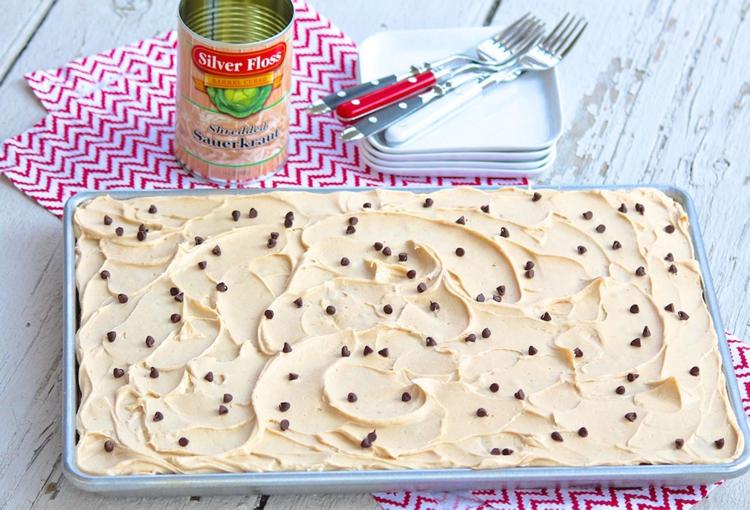 Lucky Cake
Yield: 8 to 12 servings
Ingredients
2 cups all-purpose flour (can substitute all-purpose gluten-free flour mix)
1 cup granulated sugar
¾ cup brown sugar
1 teaspoon baking soda
½ teaspoon kosher salt
½ cup butter, room temperature
½ cup crunchy peanut butter
4 eggs
1 teaspoon vanilla
1 cup sauerkraut (a little more than half a 14-ounce can), rinsed, well-drained and finely chopped
½ cup mini semisweet chocolate chips (plus an extra tablespoon for sprinkling on top, if desired)
Preheat the oven to 350 degrees, and grease a 10-by-15-inch baking pan. (See notes)
In the bowl of a stand mixer or another large bowl, whisk together the dry ingredients. Add the remaining cake ingredients, except the mini chips, and beat until well-blended. Use a spatula to make sure the dry ingredients on the bottom of the bowl are thoroughly incorporated. Fold in the chocolate chips.
Spread mixture in the prepared pan, and bake for 20 to 25 minutes or until the cake is just cooked through, being careful not to over-bake.
Allow the cake to cool completely and then frost. (If you prefer a thinner layer of frosting, you may have a small portion left over.) Sprinkle the top with mini chocolate chips, if desired.
Foolproof Peanut Butter Frosting
Yield: 17 ounces of frosting (enough to frost a 10-by-13-inch cake or the combination of smaller pan sizes described above with a little extra to spare)
Ingredients:
½ cup creamy peanut butter
½ cup butter, softened to room temperature (I use salted)
1½ cups plus 2 tablespoons powdered sugar
2 tablespoons milk
½ tablespoon vanilla extract
In a mixing bowl, beat the peanut butter and butter until creamy. Add about half of the powdered sugar and blend well. Add the milk and vanilla. Blend again.
Beat in the remaining powdered sugar until the mixture is fluffy and smooth.
Frosting may be prepared several days in advance and stored, covered, in the refrigerator. Bring to room temperature and stir well prior to using.
Notes: This recipe makes a large cake that is slightly thinner than a standard 9-by-13-inch cake. Think snack cake. If you do not have a pan this size, you could spread the batter between one 9-inch square and one 8-inch square pan. (Additionally, a 10-inch round will substitute for a 9-inch square pan, and a 9-inch round will work for an 8-inch square pan.) When varying pan size, keep an eye on the oven and augment the baking time a few minutes either way, as needed. As a final option, you could put all of the batter in one 9-by-13-inch pan for a thicker cake. In this case, the baking time will need to be lengthened, and there will be leftover icing.
Source: Fountain Avenue Kitchen via LNP archives
---
Pork and Sauerkraut
Ingredients
4 pounds Boston butt
2 pounds sauerkraut, undrained
Pepper to taste
1 pound smoked sausage
3 tablespoons your favorite mustard
1 cup or more sour cream
Place pork in a slow cooker. Pour undrained sauerkraut over the roast. Add mustard, sausage and pepper.
Cook on high for one hour, then stir top ingredients. Cook on low for six hours or more. Add sour cream and stir.
Source: Michele Walter Fry via LNP archives
---
Pork (Chops) and Sauerkraut, the short version
Put 4 pork chops, a can (14-ounces) of sauerkraut, a sliced apple or two and a little brown sugar in a slow cooker, cover it up, set it on low for 6 or 7 hours, and go out on the deck and read a book. Taking a nap is good, too.
Source: Peggy Schmidt via LNP archives
---
Grilled Pork Tenderloin with Sauerkraut
Ingredients:
1 pork tenderloin sauerkraut, in proportion to your serving demands
apple cider, to marinate
¼ teaspoon black pepper
½ teaspoon salt
vegetable oil, to coat
Marinate the tenderloin in apple cider overnight.
Heat your grill to about medium and arrange your preferred amount of kraut in an oven-safe baking dish, large enough to accommodate the combined pork and sauerkraut. Cover the kraut and place it on direct heat with the grill lid down for about 45 minutes.
Remove the tenderloin from the cider and blot dry. Rub with the black pepper and salt, and brush or rub with vegetable oil (I used canola). After the sauerkraut has been baking for 45 minutes, remove the covering and let it continue to bake, uncovered, while you grill the meat.
Place the tenderloin on direct medium heat, and when grill marks appear, rotate the meat 90 degrees and continue grilling until the grill marks create a diamond shape on the meat. Flip over and repeat this process on the other side.
Continue grilling, cutting into the meat to check for doneness. When it is done to your liking, remove to a platter or cutting board and let it rest about five minutes. Slice the tenderloin into ¼-inch rounds, mix with the sauerkraut and continue baking, grill lid down, until the sauerkraut is slightly brown on top.
This is a very easy and tasty way to prepare pork and sauerkraut and should be served with the traditional mashed potatoes and applesauce.
Source: Joe Stehman via LNP archives
---
Chocolate Sauerkraut Cake with Peanut Brittle
Makes 6 to 8 servings
For cake:
⅔ cup butter
1½ cups sugar
3 large eggs, beaten
1 teaspoon vanilla
½ cup cocoa
2¼ cups flour
1 teaspoon baking powder
¼ teaspoon salt
1 cup water
⅔ cup chopped sauerkraut, drained and rinsed
For peanut brittle:
1 cup water
2 cups sugar
1 cup corn syrup, preferably light
2 cups raw peanuts
½ teaspoon salt
2 tablespoons butter, plus extra for pan and fingers
1 teaspoon baking soda
For garnish:
Chocolate sauce
Whipped cream
For cake: Preheat oven to 350 degrees. Grease and flour 2 8- or 9-inch cake pans.
Cream butter and sugar. Beat in eggs and vanilla. In another bowl, combine cocoa, flour, baking powder and salt with wire whisk.
Slowly add to creamed mixture, alternately with water. Fold in sauerkraut and pour into prepared pans.
Bake for 25 to 30 minutes.
For peanut brittle: In a 3-quart, heavy-bottom saucepan, mix together the sugar, water, corn syrup, salt and peanuts. Stir over low heat until well-blended, then raise heat to medium-high and boil, without stirring, to 300 degrees on a candy thermometer. (If working without a thermometer, see Note.)
While syrup cooks, generously butter a baking sheet and set aside. Measure butter, baking soda and vanilla. Have them within reach.
When syrup reaches 300 degrees, remove from heat and immediately add butter, baking soda and vanilla. Stir in, then pour and scrape candy onto prepared sheet. Spread it out as much as possible — it will be stiff and begin to harden quickly. It can be pulled and stretched (with buttered fingers) to make a thinner sheet, but do this very carefully, as the candy will be hot.
Cool on the sheet and break into pieces. Store in an airtight, wax paper-lined container.
Serve cake with peanut brittle, chocolate sauce and whipped cream. 
Note: If you don't have a candy thermometer, have a bowl of ice water near the stove. When the boiling syrup begins to turn golden-brown, drop a small amount — about 1-w teaspoon — into the cold water. When the syrup immediately hardens into a brittle string or ball, it is done.
Source: Belvedere chef Steve Drake via LNP archives
---
Middle European Classic Pork and Sauerkraut
Serves 6
Ingredients:
1½ pounds pork (any kind), cubed
1 pound bacon
3 pounds sauerkraut, drained
1 can beer (or water)
1 apple
1 onion, diced
Paprika, to taste
1 bay leaf
1 teaspoon salt (use only with fresh pork, smoked pork; doesn't need salt)
Cut strips of bacon into small pieces. Put into Dutch oven or large pot on high heat and cook slightly. Drain ½ of grease. Add cubed pork and let it brown. Add sliced or cubed apple and onion, sauerkraut, beer or water, paprika and salt. Mix well. Add bay leaf and put in preheated 325-degree oven for 45 minutes, covered, mixing every 15 minutes.
"I serve this with mashed potatoes. The amount of paprika is not mentioned in the recipe. I remember it called for a lot and I use lots of it, also. This dish improves with age. When we have only a little left, I serve it as a side dish when I make sweetened canned beans, a tasty combo. Happy cooking."
Source: LaDeva Davis of "What's Cooking" via Mary Jane Zorenda, Oxford in LNP archives
---
Pork and Sauerkraut with Canadian Bacon
Makes 4 servings
6 whole peppercorns
2 whole cloves
1 sprig parsley
1 bay leaf
4 slices Canadian bacon, cut into 1-inch pieces
1 medium onion, chopped (1 1/2 cups)
2 tablespoons packed light-brown sugar
1 can (16 ounces) sauerkraut, rinsed and drained
2 medium potatoes, peeled and quartered
2 medium tart apples, peeled and sliced
4 smoked pork loin chops, 1 inch thick
2 cups fat-free, low-sodium chicken broth
Tie the peppercorns, cloves, parsley and bay leaf in a cheesecloth bag or place in a tea ball and set aside.
Spray a large pot or Dutch oven with nonstick cooking spray and place over medium-low heat. Add the bacon and onion, and cook, stirring occasionally, until the onion is soft and translucent and the bacon is completely done, about 10 to 12 minutes. Stir in the brown sugar and sauerkraut. Add the potatoes, apples, pork chops and herbs in the cheesecloth bag. Pour the broth over the mixture.
Bring to a boil, reduce heat to low and cook, covered, for about 30 minutes, or until the potatoes are tender.
Remove and discard the cheese-cloth bag. Remove the sauerkraut, potatoes and apples to a large platter with a slotted spoon. Arrange the pork chops around the edge.
Each serving contains approximately: 276 calories; 9 gm fat; 50 mg cholesterol; 816 mg sodium; 28 gm carbohydrates; 19 gm protein; 14 gm fiber.
Source: Jeanne Jones, Cook It Light via LNP archives
---
Alsatian Sauerkraut and Pork
Makes 6 servings
1 jar (32 ounces) sauerkraut, rinsed and drained
3 cups white wine
2 large onions, finely chopped
2 large carrots, peeled and thinly sliced
2 large Golden Delicious apples, peeled and thinly sliced
2 tablespoons juniper berries
6 lean smoked pork chops (1 1/2 pounds)
Combine the drained sauerkraut and wine in a bowl, mix well and set aside. Preheat the oven to 350 F.
Place the onions in a large skillet and cook, covered, over low heat until they are soft and translucent, about 10 minutes. Add the carrots and apples, and mix well. Continue to cook until the carrots and apples can easily be pierced with a fork, about 10 more minutes. Add the juniper berries and mix well.
While the vegetables are cooking, spray another large skillet with nonstick cooking spray and place over medium-high heat. When the skillet is hot, add the pork chops and brown on all sides.
To assemble, add the sauerkraut-and-wine mixture to the onion mixture and mix well. Spoon the mixture into a large, 9-by-13-inch baking dish.
Place the browned pork chops in the baking dish and bury them in the sauerkraut mixture. Place the baking dish in the preheated oven and bake for 1 1/2 hours.
To serve, remove the pork chops from the dish and place one chop on each of six plates. Top each serving with 1 1/3 cups of the sauerkraut mixture.
Each serving contains approximately: 325 calories; 4 gm fat; 74 mg cholesterol; 993 mg sodium; 21 gm carbohydrates; 26 gm protein; 5 gm fiber.
Source: Jeanne Jones via LNP archives
---
Pork and Sauerkraut with sausage and spare ribs
3 pounds very meaty, country-style spareribs
2 pounds Polish sausage
1 large onion, cut in half and sliced
2 cloves garlic, minced
1 bay leaf
4 peppercorns
1/2 teaspoon celery seeds
1 pound sauerkaut, not drained
1/2 teaspoon caraway seeds
1 apple, sliced
1 tablespoon brown sugar
1 cup white wine
Place meat in pan that can be used both on top of stove and in the oven. Brown pork and sausage on all sides; let stand hour. Prehat oven to 325 degrees. Add all ingredients around meat and place roaster in oven for about 4 hours. Check for liquid; add more wine if necessary and continue baking for another hour. Must be juicy. Serve with fluffy mashed potatoes.
---
Choucroute Garnie (Sauerkraut in the French mode)
4 pounds sauerkraut
3 cups chicken broth (fresh, not canned)
3 cups white wine
2 large carrots, scraped, washed and cut into quarters
4 whole cloves, stuck into carrot pieces
30 juniper berries
1 huge onion, peeled, washed and cut into large pieces
1/2 pound lean bacon, cut into 1-inch pieces (see note)
1 bay leaf
15 whole black peppercorns
1 teaspoon salt
2 tablespoons sugar
6 sprigs fresh parsley or
1 tablespoon dried
Wash sauerkraut well with cold water to remove salt. Since wine is being used, kraut must not taste salty/or briny or flavor will not be right when dish is finished. Let sit in cold water for 5 minutes. Remove from water and squeeze well.
Note: Put bacon in saucepan, cover with cold water and bring to boil. Boil 3 minutes then drain well. Dry with paper towels. Place in heavy kettle along with onions. Saute together for 10 minutes, stirring to keep from burning. Set aside.
Have bacon and onions prepared. Add squeezed sauerkraut to kettle (a heavy Dutch oven is ideal), then add chicken broth, wine, carrots with cloves, juniper berries, bay leaf, peppercorns, salt, sugar and parsley. Mix well. Bring to boil on top of stove. Boil slowly for 15 minutes.
Cover with lid and place in preheated 325-degree oven for 2 hours. Remove and bury sausages and other meats (see suggestions below) in kraut. Return to oven and bake another hour to an hour and a half.
After 4 hours total baking time, remove from oven. Place kraut on a large oblong stainless steel platter (removing as much liquid as possible) and arrange meats and wursts over the kraut until the kraut is covered. "It is a lovely arrangement."
Serve with Irish potatoes that have been boiled in water with 1 teaspoon salt, 1 teaspoon sugar and a knob of butter.
Suggested meats: Thuringer, smoked links, smoked pork chops "which I prefer to broil, then add to platter when putting it together," bratwurst, knockwurst, any variety of sausages you can find in the area -- and there are many. Boiled ham -- "do not add to kraut until last 10 minutes of baking or it will be overcooked"-- slices of picnic ham that have been blanched and sauteed, ditto bacon.
Serve with crusty bread, apple compote and beer -- or, a good white wine.
Source: Catherine Hunt via LNP archives
---
Chilled Sauerkraut
1 large can sauerkraut
1 medium onion chopped
1 1/2 cup sugar
1/4 cup water
1 cup chopped celery
1 green pepper, chopped
1/2 cup vinegar
Drain sauerkraut well. Thoroughly mix all ingredients. Set overnight in refrigerator. Keep in a large Mason jar and serve as a salad.