Salad are must for the warmer days of summer.
There's nothing like a fresh salad loaded with seasonal ingredients for a picnic, entertaining at home or a quick, healthy dinner.
This is a time to get adventurous and move beyond the leafy greens and creative flavorful and colorful salads.
Here, we've collected a number of interesting salads and grouped them into three categories — grain salads, veggie/fruit salads and meat/seafood salads.
Enjoy.
GRAIN SALADS
U.S. dietary guidelines suggest at least half of our grain intake be whole grains. This recipe, from Penn State Extension, fills the bill and also makes the most of some great Lancaster County produce.
FIESTA QUINOA SALAD
Ingredients:
1 cup quinoa
2 cups vegetable broth
2 ears corn, roasted and cut off cob
1 red bell pepper, roasted and chopped
1 15-ounce can black beans, rinsed and drained
3 scallions, sliced
1/2 cup chopped cilantro
3 limes, juiced
2 tablespoons extra-virgin olive oil
1 teaspoon ground cumin
1/2 teaspoon salt
1/4 teaspoon fresh ground black pepper
1/8 teaspoon cayenne pepper
Directions:
Put quinoa and broth in medium saucepan, bring to boil, cover and simmer 15 minutes or until tender.
In a large bowl, mix quinoa, corn, pepper, beans, scallions and cilantro.
In a small bowl, whisk together lime juice, olive oil and seasonings. Pour over quinoa mixture.
Cover and chill for at least 30 minutes to let flavors set.
---
Back in 2016 Stephanie Snader, a registered dietitian at WellSpan Ephrata Community Hospital, demonstrated how to assemble this meal in a bowl: a salad that combines grains, protein, vegetables and dried fruit. The recipe originated at food.com.
ASIAN BROWN RICE AND PEANUT SALAD TOSS
Ingredients:
3/4 cup uncooked brown rice
3 ounces dry-roasted peanuts
1 cup snow peas
1/2 cup chopped red onion
1/2 cup chopped green pepper
1/2 cup dried cranberries
2 tablespoons cider vinegar
2 tablespoons reduced sodium soy sauce
2 tablespoons honey
1/8 teaspoon red pepper flakes (adjust to taste)
Directions:
Prepare the rice and add the roasted peanuts, snow peas, red onion, green pepper and cranberries.
Combine the cider vinegar, soy sauce, honey and red pepper flakes in a small bowl, stirring with a whisk. Pour over rice mixture toss well to coat.
---
Local cooking classes provide a wealth of skill-building and recipes — including this, from a 2015 class led by Phoebe Canakis (phoebespurefood.com) at Zest! in Lititz. Canakis writes on her blog that the salad's flavors mingle even better by day two or three, and she often serves it on a bed of fresh greens with a slice of manchego cheese and toasted fresh bread.
FARRO CITRUS SALAD WITH BRAISED SWISS CHARD
Serves 6 to 8.
Ingredients:
For the dressing:
1/4 cup balsamic vinegar
1/4 cup extra virgin olive oil
1 tablespoon freshly squeezed orange juice
1 teaspoon maple syrup
1/2 teaspoon sea salt
1/2 teaspoon grated orange peel
For the salad:
2 cups farro
2 tablespoons olive oil
5 cups of water
4 cups chopped kale or Swiss chard
1 tablespoon maple syrup (honey optional for a nonvegan version)
1 orange, peeled, segmented and chopped
1 apple, cored and cubed
1/2 cup chopped pistachios or pepitas
1/2 cup feta or blue cheese
1/4 cup dried fruit (raisins, currents or cherries)
Directions:
Whisk together all dressing ingredients and set aside.
In a medium saucepan over medium heat, lightly toast farro in 1 tablespoon of olive oil for 1 to 2 minutes; stir to evenly coat and prevent burning. Add 5 cups of water, bring to a boil then reduce heat to a simmer. Cover and cook for 12 to 15 minutes. Drain and rinse the farro.
In a large skillet over medium heat add 1 tablespoon of olive oil and Swiss chard. Continually stir, adding more olive oil if necessary. As the Swiss chard begins to wilt, stir in the honey. Once wilted remove from heat.
In a large bowl combine the farro, Swiss chard, orange, apple and dressing. Garnish with pistachios and cheese.
Combine the dressing, farro, greens, orange, apple and pistachios. Garnish with cheese and dried fruit.
---
Veggie/Fruit salads
Dietitian Kilene Knitter shared this recipe at a Giant supermarket event in Lancaster.
MANGO-AVOCADO SALAD
Makes 4 servings
Ingredients:
1 ripe avocado, cubed
2 ripe mangoes, peeled and cubed
1/2 pound Caputo Brothers Creamery (or other brand) mozzarella cheese, cubed
1/2 cup fresh basil leaves
1/4 cup Bolthouse Farms Classic Balsamic Vinaigrette Dressing (or other balsamic vinaigrette)
Salt and pepper, to taste
Directions:
In a medium bowl, mix together the avocado, mango, mozzarella and basil leaves.
Add the dressing to the bowl, and lightly toss together.
Sprinkle salt and pepper as desired.
Cover and chill in the refrigerator for at least 20 minutes before serving.
---
Staff writer Jenelle Janci shared this recipe last summer after it was a hit at a gathering of extended family. It takes little time or space to assemble. Note: This salad does not keep well, Janci says, so don't make more than you'll eat at a single sitting.
AVOCADO, CORN AND TOMATO SALAD
Serves 10-15
Ingredients:
3 avocados
6 ears of corn
2 cups of cherry tomatoes (local if available)
3 limes, juiced
Salt
Pepper
Directions:
Soak the ears of corn in water for at least 30 minutes. Grill with the husks on for 15 to 20 minutes, rotating every 5 minutes. Let cool.
Peel the ears of corn, paying close attention to removing all the silk. Cut the corn off the cob into a large bowl.
Halve cherry tomatoes, and add to mixture. Cut avocados into cubes, and add to bowl.
Squeeze the juice of three limes into the mixture, and add salt and pepper to taste. Stir gently, as to not mash the avocado chunks. Serve immediately.
---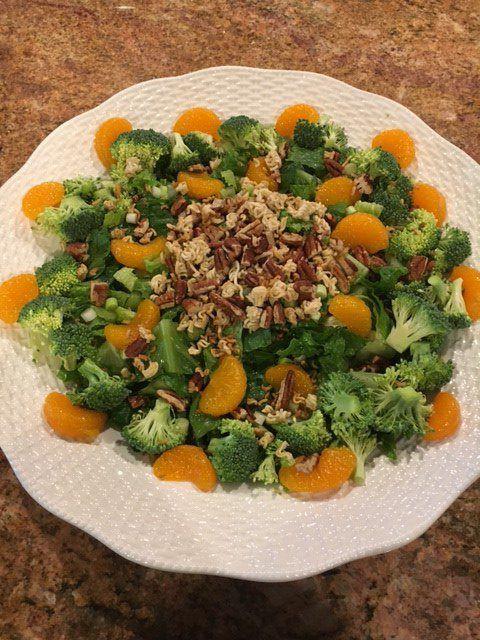 LNP staffer Penny Grubic introduced readers to this extra-crunchy meal-in-a-salad in LNP's former "Press Table" column. She noted it's not a salad that "keeps" particularly well, as the dressing can make it limp by the next day.
CRUNCHY ROMAINE SALAD WITH RAMEN NOODLES
Ingredients:
1/4 cup sugar
1/2 cup vegetable oil
1/4 cup cider vinegar
2 teaspoons soy sauce
3 ounces ramen noodles
2 tablespoons butter
1 1/2 cups broccoli, chopped into small pieces
1 small head of romaine lettuce, torn
4 green onions, chopped
1/2 cup slivered almonds and/or other favorite nut
1/2 cup mandarin oranges, drained of juice.
Directions:
In a jar with tight-fitting lid, combine sugar, oil, vinegar, soy, salt and pepper; shake well.
Discard season packet from the ramen noodles. Crumble noodles into skillet where butter has been melted. Brown the noodles and the slivered almonds. You can add additional nuts; cashews taste wonderful in this salad.
In a large bowl, combine the toasted noodles and nuts, broccoli, romaine lettuce and onions.
Just before serving, toss with dressing and top with the mandarin oranges.
---
Community and church cookbooks can be a trove of tried-and-true dishes. This salad recipe, published in a fundraising cookbook by St. John's United Church of Christ in Boalsburg, was shared by staff writer Mary Ellen Wright.
WATERMELON TOMATO SALAD
Serves 16 to 18
Ingredients:
10 cups cubed seedless watermelon
2 pints of yellow grape or pear tomatoes
1 medium red onion, chopped
1/2 cup minced fresh parsley
1/2 cup minced fresh basil
1/4 cup lime juice
Directions:
In a large bowl, combine the watermelon, tomatoes and onion. In a small bowl, combine the parsley, basil and lime juice. Pour over watermelon mixture and toss to coat. Refrigerate until salad is served.
---
This recipe, by Paul Anater of Lancaster, takes advantage of a parsley patch run amok in the summer. It was included in 2016's "Bounty From the Box: The CSA Farm Cookbook," by Mi Ae Lipe.
PARSLEY SALAD WITH OLIVES AND CAPERS
Serves 6
Ingredients:
1/2 cup oil-cured black olives, pitted and halved
1 cup flat-leaf parsley, coarsely chopped
1/2 cup red onion, coarsely chopped
1/4 cup capers, rinsed
2 large garlic cloves, finely chopped
5 anchovy fillets, chopped
Freshly grated zest of 1 lemon
1/4 cup olive oil
Freshly ground black pepper
Lemon juice
Sea salt
Thin slivers of pecorino Romano cheese
Toasted bread, brushed with olive oil, for serving
Directions:
Just before serving, combine the olives, parsley, onion, capers, garlic, anchovies and lemon zest in a bowl, and toss well to combine. Add the olive oil and black pepper, and mix well. Add the lemon juice and salt to taste (the capers and anchovies are very salty, so you may need only a small amount, or even none at all).
Spoon onto a serving plate, scatter with the pecorino Romano cheese, and serve with toasted bread.
---
Inundated with garden cucumbers this month? Fairmount Homes in Ephrata last year hosted a Cooking for Diabetes event highlighting healthy cooking. This entry was the side dish for winner Aaron Zimmerman, dining manager for Fairmount Homes.
CUCUMBER SALAD
Makes 8 half-cup servings
Ingredients:
4 cups cucumbers, sliced
1 cup sweet corn
2 ounces lime juice
1/2 teaspoon dill
1/4 cup red onion
4 ounces sour cream
1 lime, zested
2 tablespoons sugar
Directions:
Peel and slice cucumbers and onions.
Whisk together sour cream and lime juice, lime zest and sugar. Pour over cucumbers, onions and sweet corn. Refrigerate for 1 to 2 hours.
---
Meat/Seafood salads
Lancaster city's Plum Street Gourmet shared this hearty recipe in 2014.
SALMON PANZANELLA SALAD
Serves 4
Ingredients:
2 pounds fresh salmon poached in court bouillon or roasted in the oven
2 pints grape tomatoes, halved
1/4 pound sugar snap peas, blanched
1 minced red onion
1 bunch of basil, chiffonade
Salt and pepper, to taste
1/2 large baguette, cubed and toasted in extra-virgin olive oil
1/2 pint French vinaigrette dressing
Directions:
Poach or roast salmon and allow to cool. Crumble in a bowl.
Add next six ingredients and toss gently. Drizzle with vinaigrette. Adjust seasonings to taste.
---
This recipe for a traditional Laotian dish hews closest to the "salad" category and is remarkably versatile. Lahp, a combination of vegetables and grilled meat, was shared five years ago by Green Circle Organics of Lancaster Central Market.
LAHP
Serves 2
Ingredients:
About 1 pound lean beef (grass-fed London broil or other lean cuts recommended)
1 tablespoon rice powder (See note.)
1/2 cup fresh mint, chopped small
1 lime, juiced
2 chili peppers, chopped
1 medium to large shallot, sliced
1 tablespoon fish sauce
3 stems fresh dill, fronds torn or chopped
Additional greens and vegetables of your choice (See note.)
Directions:
Slice and grill beef until medium-rare, or slice and cook in a oven at 475 degrees for approximately 8 minutes, turning once, until medium-rare.
In a medium bowl, combine rice powder, mint, lime, peppers, shallot, fish sauce and dill. Add greens and/or vegetables to the mix. Place meat on top and serve.
Notes:
For vegetables, use what's seasonally available: sliced cucumber, fresh green cabbage leaves, romaine lettuce, cilantro, bitter Thai eggplants (also called apple eggplants), fresh long green beans, Thai sweet basil (not Italian basil; it's also called pak boualapha) and/or sawtooth herb.
If you can't find rice powder in stores, it can easily be made by putting uncooked rice in a pan and heating it until smoky — best done outside, because the process itself can be smoky — then grinding into a powder.
---
Pining for a quick seafood salad? Dr. Joseph McPhee, a bariatric surgeon and medical director of Lancaster General Health's Healthy Weight Management Center, shared this healthy recipe in LNP's former "Surgeon's Kitchen" column.
SEAFOOD SALAD
Makes 2 sandwiches' worth, about 350 calories each.
Ingredients:
2 6-ounce cans lump crabmeat, drained
1 cup cooked baby salad shrimp
1/4 cup mayonnaise
1/4 cup Hass avocado, mixed semismooth
1/4 cup tomato, chopped
1/4 cup fresh parsley
1 teaspoon Old Bay seasoning
1 tablespoon Worcestershire sauce
Salt and pepper to taste
Directions:
Mix all ingredients.
---
An elegant chicken salad was lightened up for summer with the addition of grapes and a flavorful dressing to tie it all together. This recipe was shared in 2014 by Pierre DeRagon of the former Pierre DeRagon Personal Chef Services in Lancaster.
CHICKEN SALAD VERONIQUE
Ingredients:
For salad:
4 split (2 whole) chicken breasts, bone-in, skin-on
Kosher salt and freshly ground black pepper
1 1/2 tablespoons chopped fresh tarragon leaves
1 cup small-diced celery (2 stalks)
1 cup green grapes, cut in half
For dressing:
1/2 cup good mayonnaise
1/4 cup sour cream
Splash of half-and-half
Directions:
Salt and pepper the chicken and roast at 350 degrees until just done. Let cool, remove the skin and remove from the bone. Roughly chop.
In a bowl, combine grapes, celery, tarragon leaves and chicken.
Combine the dressing ingredients; pour over the chicken mixture and gently combine until everything is coated. Salt and pepper to taste.