The history of a Lancaster company that built the bodies of some of America's most recognizable car brands during the 1920s will be the subject of a talk to be presented next month by Millersville Area Historical Society. 
Automotive historian and writer Bill Rothermel will talk about the short-lived Charles Schutte Body Co., which manufactured car bodies on South West End Avenue, at 9 a.m. Saturday, Dec. 14, in the Millersville Municipal Center, 100 Municipal Drive.
His presentation is titled "The Coachbuilt Cars of the Charles Schutte Body Co. 1916-1930."
Starting in the second decade of the 20th century, Charles E. Schutte started making car bodies for such prestigious and well-known brands as Rolls-Royce, Bentley, Dusenberg, Pierce Arrow, Packard, Oldsmobile and Cadillac in his South West End Avenue factory, according to local newspaper archives.
In July 1916, according to the Lancaster New Era, Schutte also operated a local Saxon car distributorship.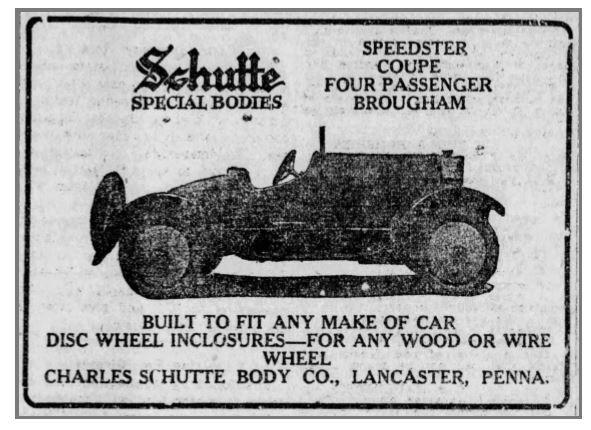 Illustrated with archival photos, Rothermel's presentation will trace the history of the company, which was filled with highs and lows.
"Exhibit of the Charles E. Schutte Body Took the Show by Storm," proclaimed an article in the Lancaster New Era in January 1920, when the company's work was honored at the New York Automobile Show.
"This firm takes a new or late model Stutz, Locomobile, Packard or Pierce Arrow, lengthens the chassis to any desired length, and fits it with special radiator, lights, hood, fenders, wheels, body, wind-shield and top," the article said. "Schutte, who is only a young man, has surprising ideas and ... has no use for the word 'impossible' or the common expression 'it can't be done.'"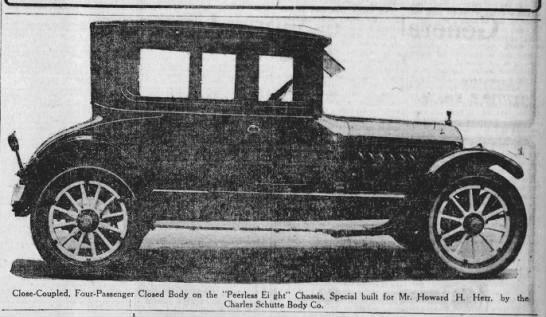 The Lancaster News-Journal reported in August 1924 that the Schutte company was among Lancaster companies that had been registered by the state to deal in securities.
Within three years, Schutte would have moved his Lancaster operation to his Schutte Blue Ribbon Body Corp. in Bridgeport, Connecticut, and would have been charged with stock fraud and manipulation related to that move, according to Lancaster archives.
Placed in receivership with the Peoples Trust Co. of Lancaster, the assets of the Schutte company were advertised for public sale in 1927.
Rothermel, of Manheim Township, is an expert on vintage automobiles and is often a color commentator, master of ceremonies or judge at vintage automobile Concours d'Elegance events in various cities. 
He has written articles for a variety of automotive magazines.
Admission to the Dec. 14 presentation is free, but donations are appreciated.