"Mamma Mia!" which opened Thursday night at the Fulton, is a pretty silly show about a girl on her wedding weekend trying to figure out which of three men is her father. And the story is designed to fit around some great pop hits from ABBA.
It's an opportunity to have a lot of fun with those great songs, including "Money, Money, Money," "Voulez Vous," "Take a Chance on Me" and the catchiest tune of the show, "Dancing Queen."
And it's all set on a mythical Greek island. 
The show can be foolproof if audiences love ABBA enough. 
But director and choreographer Marc Robin, with assistance from Buddy Reeder, digs deeper in this production.
First, he's brought together a terrific cast. 
Katie Bates is sweetly terrific as Sophie Sheridan, the daughter in search of her father. She's got a powerhouse voice and a charming innocence.
Christine Sherrill is her mother, Donna, who has never talked to Sophie about her father because she isn't quite sure who it is. She slept with three men one summer 21 years ago and any one of them could be the guy.
Sherrill also has a wonderful voice and sounds especially strong in some of the more emotional songs, including "The Winner Takes It All" and "SOS."
Donna's two best friends, Rosie (Charis Leos) and Tanya (Megan Nicole Arnoldy) have fun in their comic roles.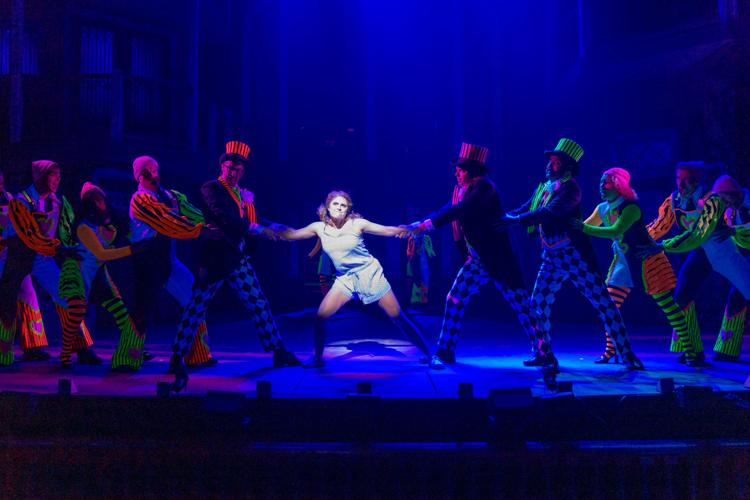 As always, Leos gets plenty of laughs in her physical humor and  perfect comic timing. Her song "Take A Chance on Me," which she sings with Bill Austin, one of the dads, is hilarious. 
And Arnoldy shares in plenty of those laughs as she has a fling with one of the young waiter studs at Donna's taverna.
But the best is when the three ladies sings together. "Chiquitita" was a hoot and "Dancing Queen," complete with swirly lights, was something to see and hear.
The dads get their share of ABBA songs too.
Jeffrey Coon is Sam Carmichael. Twenty years ago, Donna was in love with him until he told her he was engaged and had to go home and get married. It broke Donna's heart.
Fran Prisco is Bill Austin, a writer who boasts about his being independent until Rosie gets her clutches in him.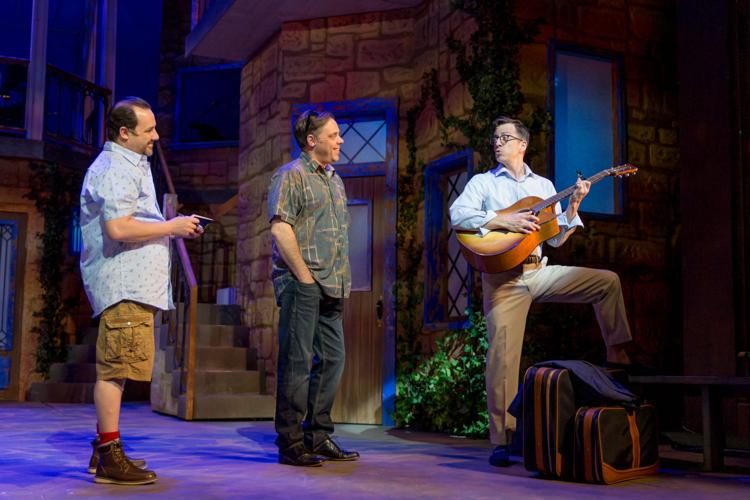 And Chuck Ragsdale is Harry Bright, a proper Englishman who met Donna in Paris.
As a trio, they get to sing "Thank You for the Music" and the title song.
Individually, they get to chisel out a character, and in the case of Sam (who shares "SOS" with Donna) and, to a lesser degree, Harry, give those characters some depth.
And that's where Robin also digs deeper. There are some serious moments in "Mamma Mia!" as characters think about choices they've made and regrets they have.
And then there are the colorful, over-the-top musical numbers that flow through "Mamma Mia!" like wine. And having the large cast supplement the singing to many of the songs adds a welcome heft.
Robin's production values are, as always, first rate and a little over the top. Why have one disco ball when you can have three?
Kudos to musical director Ray Fellman and his band for giving oomph to those ABBA songs. Set designer Wiliam James Mohney did a great job with the multilevel set, which was used wisely and creatively by the large cast.
Last but not least, costume, wig and makeup designer Anthony Lascoskie Jr. deserves a round of applause for his amazing 1970s throwback costumes.
"Mamma Mia!" is a hugely popular show around the world. (It's already extended its run at the Fulton.) Who doesn't want to spend a few hours remembering old pop tunes and watching a story unfold that is guaranteed to have a happy ending and plenty of laughs along the way. And this production gave us a little poignancy too.