The Ephrata Performing Arts Center likes  to do cutting edge shows, but their latest, which opened Thursday night, is so cutting edge, we can't even tell you the title. 
"The (expletive) with the Hat" is definitely an adults-only show, chock full of profanity and extremely creative metaphors and arguments that might make you blush.
But strip away all of the profanity  and you've got a play about a group of people who are struggling with the challenges of life. Addictions rule their lives, whether it's drugs, bad relationships or self-help obsessions.
Jackie (Julian Ruiz) has just gotten out of jail and returns to the room he shares with Veronica (Helene D. Reeser), his girlfriend since eighth grade. The reunion quickly sours when Jackie finds a man's hat in the room and assumes Veronica was cheating.
Despite being on parole, Jackie wants a gun to shoot the (expletive) with the hat. He visits his sponsor, Ralph D. (Jeremy Patterson), who advises against it of course, and after he gets a gun, he asks his cousin, Julio (Irving Gonzalez in a wicked wig), to hide it. One of the best-staged scenes in the show involves Julio and the colorful short set he wears. 
Steve Schelling's set, featuring the three homes that Jackie goes to throughout the play, is excellent and works with the scenes.
During these visits, an angry Jackie is combative and edgy. 
Playwright Stephen Adly Guirgis has pitched everything so high from the beginning, there is nowhere for the actors to go.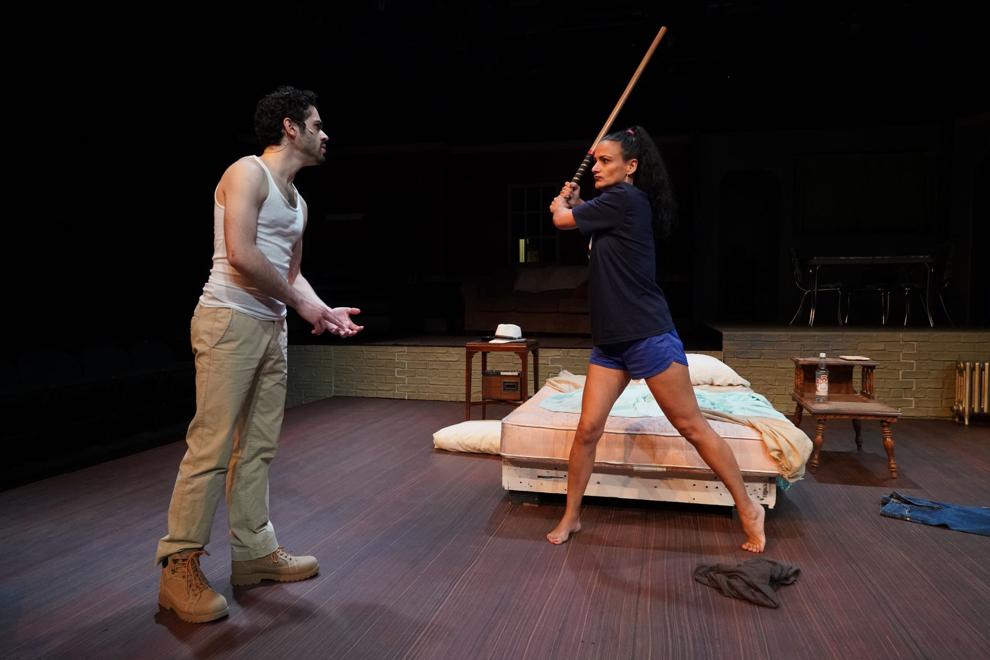 An emotional revelation later in the play barely gets noticed because everything before was so emotional.
Plenty of the arguing is funny. Jackie's rants and especially Veronica's will make you shake your head and laugh at the same time. But they tend to go on too long. It seems like Guirgis is a little in love with his lines. 
Director Robert B. Checchia gets fine performances from his cast but he needed to tone the heat down a bit and let temperatures get hotter through the play.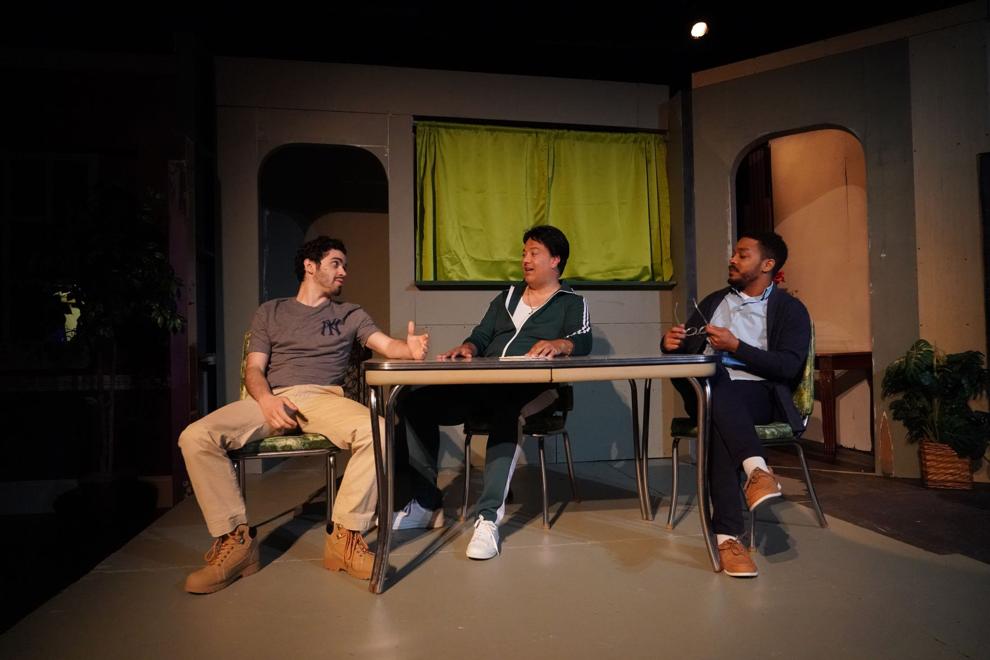 Ruiz, who carries the weight of the show, looks entirely comfortable on stage. His performance - only his third stage appearance and his first lead - feels lived in.
Reeser is excellent as well, slipping into the dialogue of playwright Guirgis like it's a glove. 
Patterson's smugness is never overdone, though I'd like to have seen a little more slickness in him.
A fifth character, Ralph's wife, Victoria (Andi Jo Hill), puts the moves on Jackie in hopes of disappearing for a while. Life is too painful.. 
The play has some interesting things to say about addictions and why people keep sabotaging their lives. Some of it is nihilistic - does anything matter? Some of it is sad - there is just so much pain in  life. And some of it is universal - life is hard for everyone.